ellaslist Reviews: Our Wanderlust Took us to Wonderful Western Sydney
ellaslist Reviews: Our Wanderlust Took us to Wonderful Western Sydney
Toddlers
Preschoolers
Kids
Teens
Family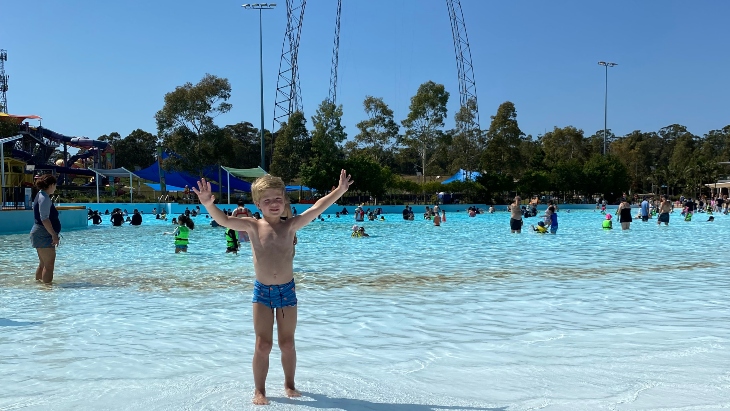 The afterglow of Christmas and New Year has always been a weird 'in-between' month for our family. Without the scheduling pressures of school and work, we can never seem to remember what day it is or where we're supposed to be. 'Holiday mode' sets in, and a calmness settles over the whole family. But, this year, something was different.
Instead of chillaxing by the pool, watching more Christmas movies, and eating our body weight in chocolates and leftovers, we all seemed to have ants in our pants. Holiday mode was replaced with adventure mode, and an eagerness to get out and explore set in - wanderlust, if you will.
After two years of lockdowns, travel bans, and the fear of catching pesky covid every time you leave the house, it's no wonder we (and many Sydney families!) have a desperate desire to travel again. To get out of your comfort zone, to escape the humdrum of daily life, to experience new cultures and cuisines, to go on adventures, and feel new again.
This year, instead of giving in to the January lull and wasting the days away at home, we decided to completely indulge in our wanderlust. Since we aren't eager to jump on an aeroplane (January fares are so pricey!), and long road trips are a nightmare with kids who refuse to sit still, we decided to venture into unchartered territory right in our own backyard.
Our Wanderlust Took us to Wonderful Western Sydney
Here's a little unknown fact about our family: we've never visited Parramatta before! Yes, I'm embarrassed to admit that I've lived my whole adult life in Sydney and have never visited the fifth-largest city in NSW and Sydney's second CBD.
Parramatta is the commercial heart of Western Sydney and home to a bustling culinary and arts scene. With the glistening Parramatta River meandering through the heart of the city, lively Eat Street and Riverside Theatre taking pride of place in the city centre, and historic Parramatta Park just a stone's throw away, Parramatta was a coveted choice for our family staycation in Sydney.
Since we were venturing west for our Sydney staycation, we added two of Western Sydney's most popular attractions to our itinerary: Treetops Adventure and Raging Waters.
First Stop: Treetops Adventure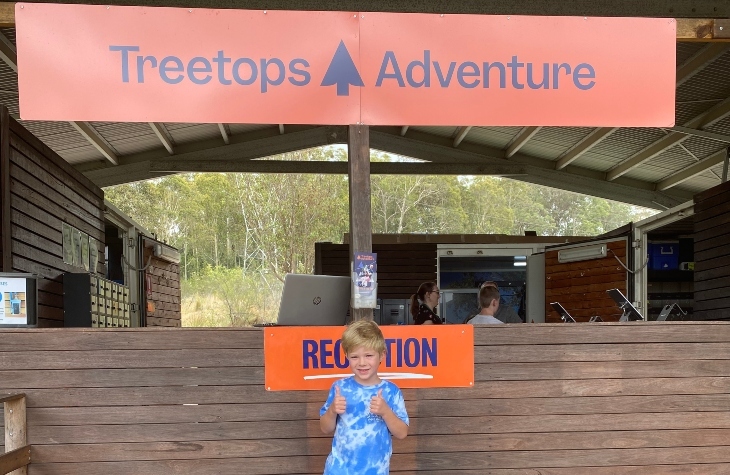 A trip to Western Sydney just isn't complete without a pitstop at Western Sydney Parklands.
With 5,280 hectares of glorious outdoor spaces on offer, Western Sydney Parklands is heaven for adventurous families. From the famous Lizard Log playground to Sydney Zoo, the largest BMX hub in Australia, Bungarribee Park and plenty more, Western Sydney Parklands is a destination in itself. Since this trip was about getting out of our comfort zones, we decided a stop-off at Treetops Adventure was a must.
Treetops Adventure is located on the Abbotsbury side of Western Sydney Parklands, right next door to Plough and Harrow. Nestled at the furthest most tip of the Parklands, the Treetops courses are surrounded by exquisite natural bushland. From the minute we arrived, were zipped into our harnesses and shown how to clip our way along the wires, we knew that we were in for an adventurous time.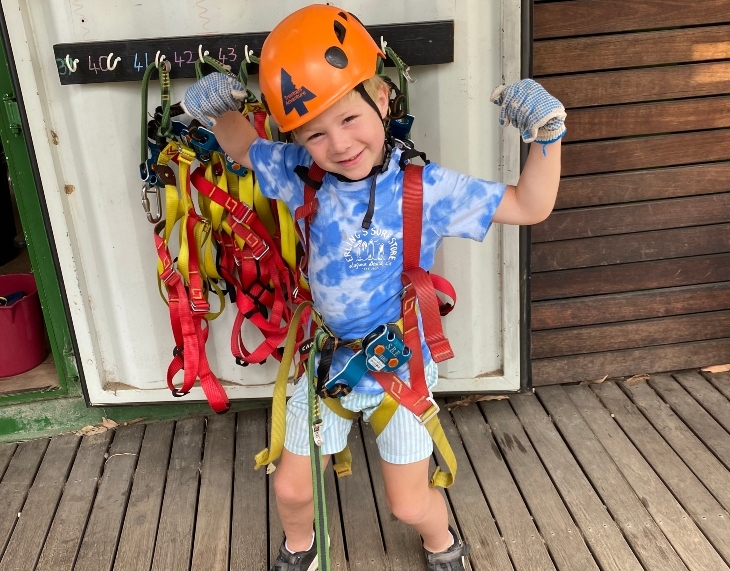 Treetops Adventure has four junior courses (ages three to seven) and four tree rope courses (ages seven and up). Mr Six-year-old maneuvered himself along the junior courses easily and even managed to scale a zipline or two! Parent supervision is mandatory for all junior climbers, and I enjoyed watching my little climber conquer some big heights from my vantage point on the ground. Clapping and encouraging squeals are most welcome!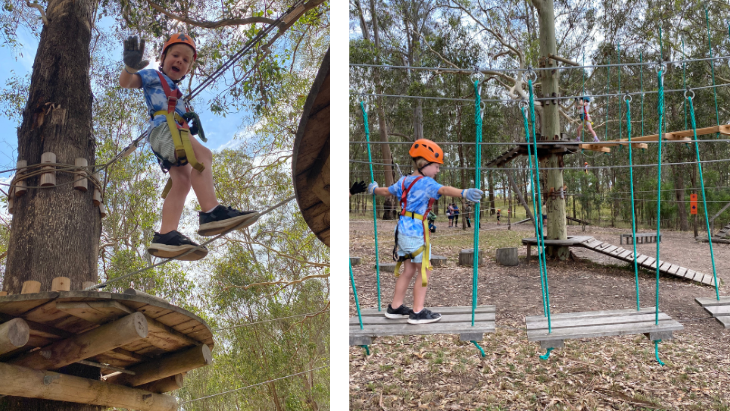 Adventurous adults and older kids (seven and up) can climb to their heart's content on the tree rope courses located a short walk away from the junior courses. Get ready to literally fly through the treetops as you scale the Beginner, Intermediate, Advanced, and Expert courses at your own pace - leave your nerves at home!
An Overnight Sojourn at Novotel Sydney Parramatta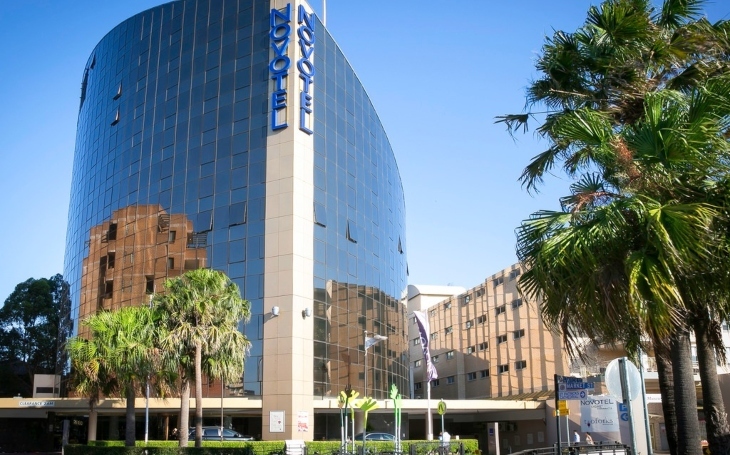 After a day of climbing, we were excited to head to our next destination: Novotel Sydney Parramatta.
Having never been to Parramatta before, what struck me most when driving through the city was how much it felt like a whole other city. Suddenly, we weren't in Sydney anymore. Driving through the quaint streets of the CBD and catching glimpses of the glistening Parramatta River as the sun hit the waters imparted the Old World charms of an elegant European city.
If you're going to stay the night in Parramatta and are keen to make the most of the city's charms, you couldn't pick a better hotel than Novotel Sydney Parramatta. Located on Church Street, opposite Riverside Theatre, overlooking Parramatta River and just a few steps from the famous Eat Street, everything is right at your fingertips when staying at Novotel Sydney Parramatta.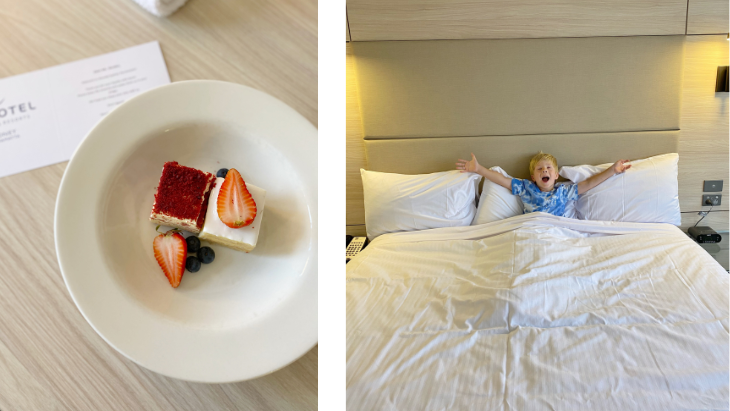 After a quick and easy check-in at reception, the charms kept on coming once we made it up to our family suite.
Our two-bedroom suite included two bathrooms, a living area, a master bedroom with an ultra-roomy king-sized bed, views of Prince Alfred Park and two TVs! The sofa was made-up into a queen-size bed for Mr Six-year-old to enjoy all to himself, but first, a trip to the pool!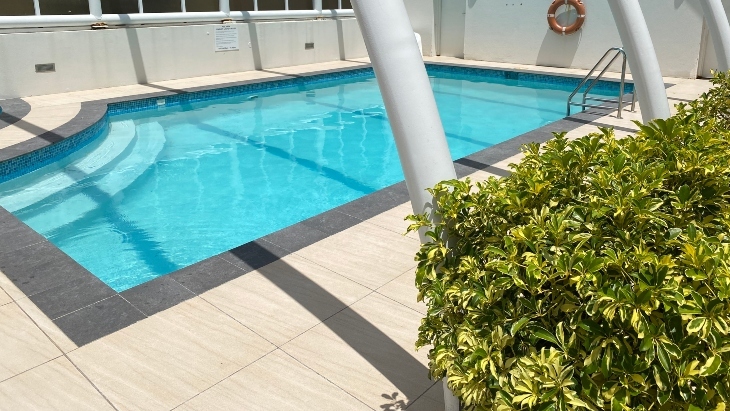 The outdoor pool and spa complex gave us the refreshing respite we needed to recharge our batteries before dinner.
While Mr Six-year-old was right at home splashing in the pool and the adjacent spa, I tucked myself away in the (very!) steamy steam room for a much-needed mini detox.
The complex also has a fully-functional gym for those keen to fit in a workout during their stay (not guilty!), plus plenty of sun loungers to soak up some rays.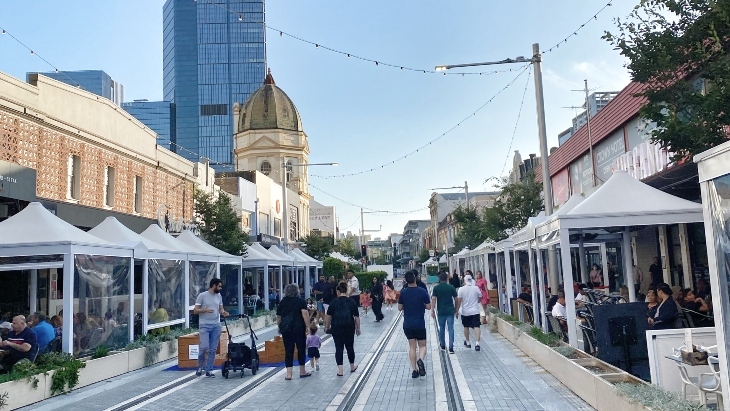 For dinner, we decided to head to one of Sydney's most exciting up-and-coming culinary destinations: Eat Street.
Parramatta's Eat Street is located toward the southern end of Church Street and sees the whole bottom end of the street taken over by exotic restaurants from all corners of the globe. From authentic Cuban to moreish Italian, Indian, Greek, Spanish and more, a world of cuisines is at your fingertips on Eat Street.
Eat Street is the perfect spot to bring your family along for a night out on the town, particularly the kids, as the laneway is dotted with kids' cubby houses and activity stations to burn off those last morsels of energy before bedtime. We highly recommend grabbing a yummy scoop of gelato from Gelato Messina to devour during your stroll back to the hotel.
One of my favourite things about staying at a hotel is enjoying a bang-up buffet breakfast in the morning, and Novotel Parramatta's offering did not disappoint!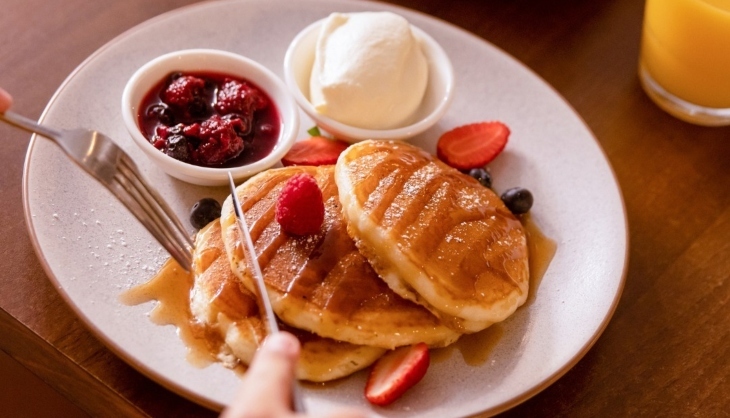 Novotel's 350 Restaurant & Lounge is located next to the lobby and serves a sprawling breakfast buffet for its guests from 7 am. Guests can also choose to have their breakfast delivered to their room, but we just love the sound of coffee roasting, the smell of bacon cooking, and seeing happy families enjoying a hearty breakfast before starting their day.
From savoury dishes including eggs, bacon, roasted mushrooms, and crispy potatoes to fresh fruits, muesli, croissants, muffins, fresh bread, coffee, tea and even a personalised juicing station, all hungry tummies are adequately catered for at the 350 Restaurant breakfast buffet. We definitely needed a hearty feed before venturing to our next destination!
Summer Fun at Raging Waters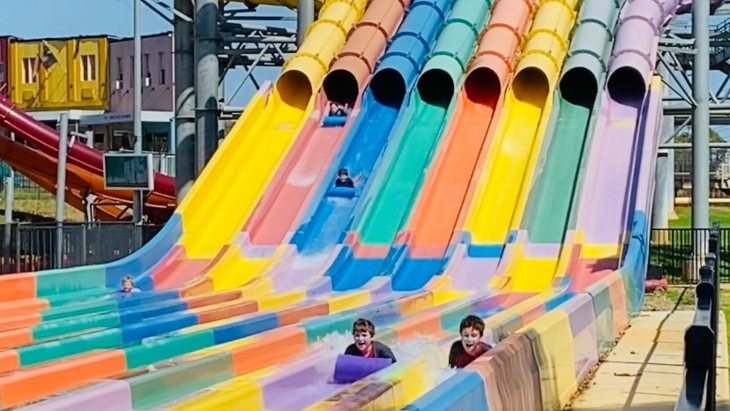 You can imagine the excitement levels when Mr Six-year-old heard that we would be spending our Sunday at none other than Raging Waters!
When the summer months roll around in Western Sydney, there's really no better place to be than Sydney's largest water park. With 42 water slides, a mega beach wave pool, Dinosaur Lagoon, a dedicated Juniors' section, shops, restaurants and more, Raging Waters is the happiest place in Sydney for families.
Naturally, our first stop just had to be one of the slides, of which there are so many to choose from. We decided to give the H2Go Racers a go as they were closest to the entrance, and Mr Six-year-old literally could not wait another second! We were pretty impressed that he plucked up the courage to slip, slide and loop his way down such a mega water slide because, truth be told, the slides at Raging Waters are ginormous when you get up close to them!
All of the rides at Raging Waters are rated based on their intensity and also have height and weight requirements in place to keep everyone safe.


Next, it was on to the Beach Wave Pool. The Beach Wave Pool is the largest of its kind in Australia and simulates refreshing, family-friendly waves every few minutes. The sprawling beach has loads of beach chairs and umbrellas to relax by the water, or there are private beach cabanas available (at cost) that include a kitchenette, TVs, and your own private seating area overlooking the pool.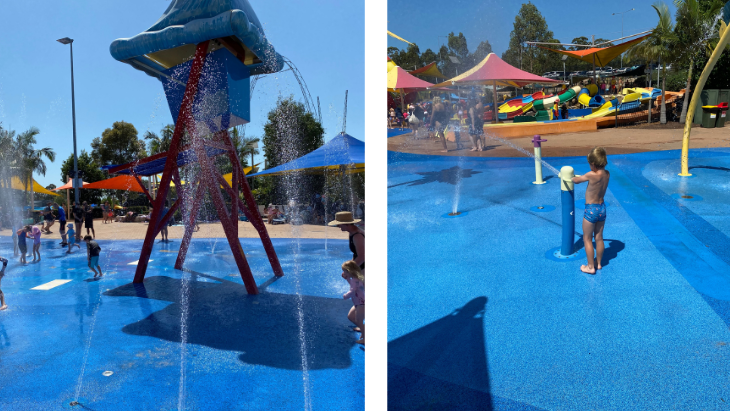 Raging Waters Junior was hands-down Mr Six-year-old's favourite spot in the park. The colours, the rides, the slides, the splash pads, the ginormous splash bucket - kids are well and truly catered for in this splash oasis.
We couldn't drag Mr Six-year-old away from his heaven-on-earth; he was utterly enthralled and gave almost every ride more than one go. Luckily, there are chairs and umbrellas so parents can take a load off while the kids play.
We probably could've left our little splasher at Raging Waters Junior for the rest of our visit, but there was no way I was going to miss out on a visit to the Dinosaur Lagoon!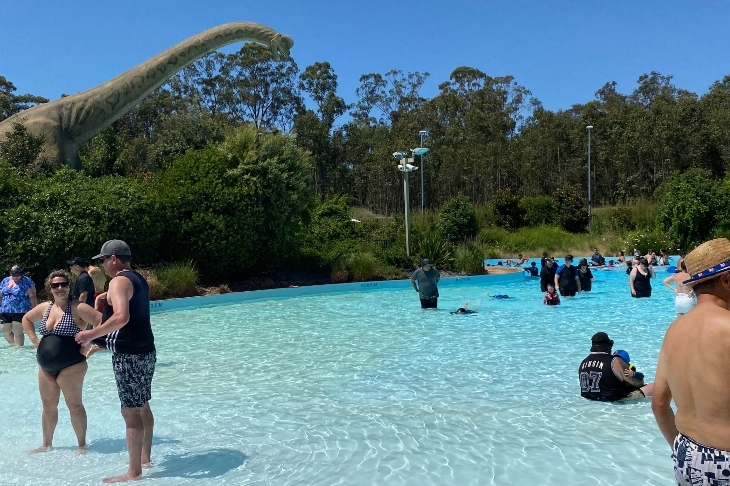 Dinosaur Lagoon was my favourite attraction in the whole park and a great last ride to add to our itinerary. The lagoon meanders along the edge of the park and has doughnut floaties for all to use to relax as the moving waters push you along.
The water was so nice and refreshing on such a hot day, and I'm embarrassed to admit that we hogged our floaties for probably a bit too long to enjoy multiple trips around the lagoon - oops!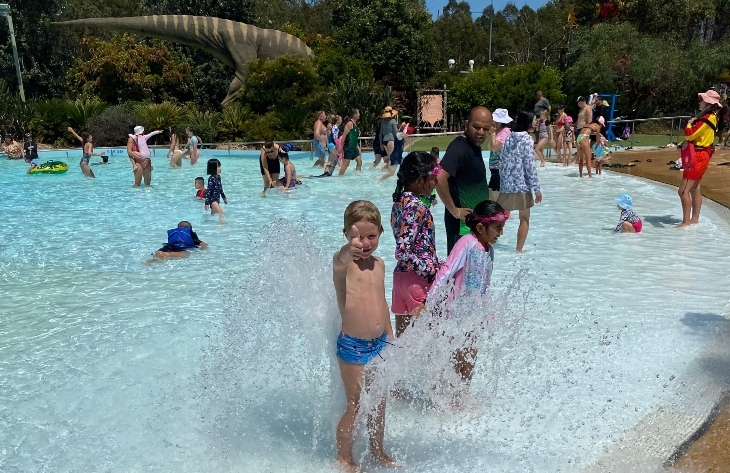 One thing I noticed about Raging Waters is that the happiest place in Sydney for families is also one of the safest. There were so many lifeguards scattered throughout the park and at every ride that made me, as a parent, feel particularly at ease. The lifeguards are also on hand to answer any questions and point you in the right direction if you get lost or show you where the lockers are if you need to store your valuables.
We treated ourselves to a tasty ice cream from Melt! Ice Creamery to (literally!) put a cherry on top of our perfect day and perfect staycation in Sydney.
We Heart Western Sydney!
If you need to get away from it all from time to time (don't we all), I highly recommend booking your family a staycation in Sydney.
Sydney is one of the most beautiful cities in the world and can cater to just about any desire you have for a mini getaway. For us, we were craving some adventure to get us out of our comfort zones, and Western Sydney was ready and waiting to deliver an action-packed weekend with just the right amount of thrills and spills we were craving to get us through a busy 2023 ahead - thank you, Western Sydney, we will be back!
Haylie and her family were guests of Accor and DNSW. To book your own family getaway in Sydney, head to www.all.com.
Check out More ellaslist Reviews
Merlin's Summer of Amazing Discoveries
ellaslist Reviews: Swimply, the Airbnb of Pools
The Flynn Family Experience at The Four Seasons Hotel Sydney

Have you signed up for our newsletter? Join ellaslist to get the best family and kid-friendly events, venues, classes and things to do NEAR YOU!