Best Gymnastics Classes in Sydney
Best Gymnastics Classes in Sydney
Toddlers
Preschoolers
Kids
Teens
It's no secret that gymnastics helps your kids develop both physically and mentally—teaching them commitment, discipline, listening skills, concentration, social skills—the list goes on.
Thanks to the government's Active Kids Vouchers, there's never been a better time to enroll in a gymnastics class in Sydney. So, if you're looking for a class to suit your little bundle of energy, we've handpicked a bunch of the best!
10 of the Best Gymnastics Classes in Sydney
1. Gymkidz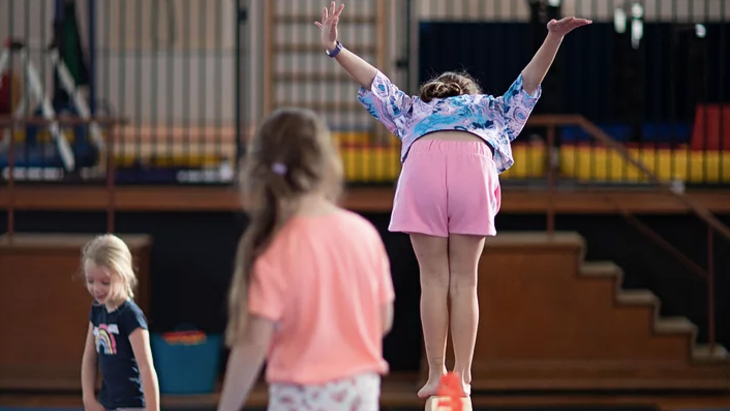 Tucked away in the backstreets of Newtown in Sydney's Inner West, Gymkidz is super popular with the locals. Their focus is child development through gymnastics based on three essential pillars: Movement, Thinking, and Growing. Classes are designed for children ages nine months and up to 12 years and have a friendly, supportive environment (with great music, too). And it's not just traditional gymnastics, you can also learn the fundamentals of acrobatics and tumbling in a safe and fun environment. Plus holiday camps and birthday party packages if your child wants to live and breathe gymnastics!
If you're keen to give it a 'whirl' they offer FREE trial classes each term AND they have drop-in style Play Time Classes on Mondays and Thursdays if you prefer not to sign up for a whole term.
Location: Coronation Hall, 95 Lennox St, Newtown
2. East Gymnastics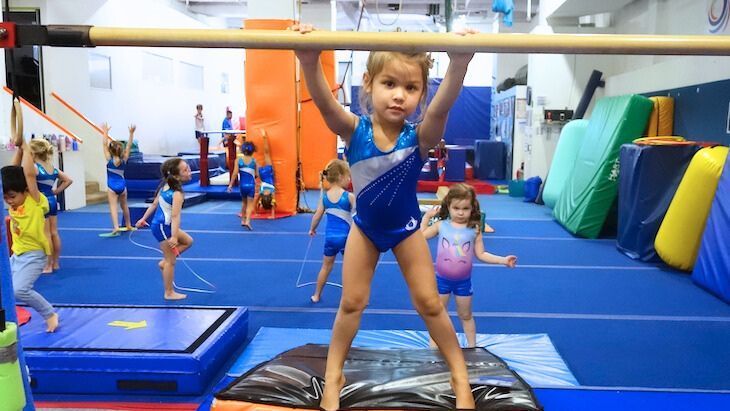 East Gymnastics brings over a decade of experience to provide top-quality gymnastics classes for toddlers, kids, and teenagers. Their primary focus is on delivering exceptional recreational gymnastics in a secure and enjoyable setting with all the gear; tumbling mats, beams, bars, rings, a trampoline, and a vault, plus ample space for both participants and spectators.
East Gymnastics classes cater to various age groups, starting with Mini and Junior Gym programs (Kindergym) for 2- to 5-year-olds, emphasising play-based learning, physical movement, social interaction, brain and language development, imagination, and listening skills. For those aged 5 and above, Recreational Gymnastics classes champion skill development, strength, flexibility, and coordination. Experienced coaches promote a growth mindset, teaching values like perseverance, practice, and embracing challenges. View the current class timetable online to see real-time availability and book in!
Location: 1/100 New South Head Rd, Edgecliff
3. Gymnastics NSW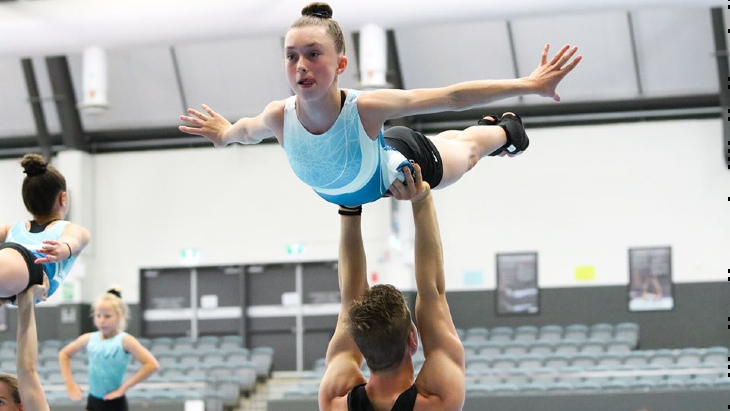 Gymnastics NSW (GNSW) is the State governing body for gymnastics and has classes all over Sydney providing fun, fitness, friendship, and fundamental movement skills in a safe and positive environment
If your child is just starting out, try the KinderGym programs which teach children to master the basic skills while having lots of fun. So what are you waiting for, find a gymnastics club near you.
Locations: Multiple throughout Sydney, see Gymnastics NSW Locations for details
4. Sydney Hills Gymnastics Club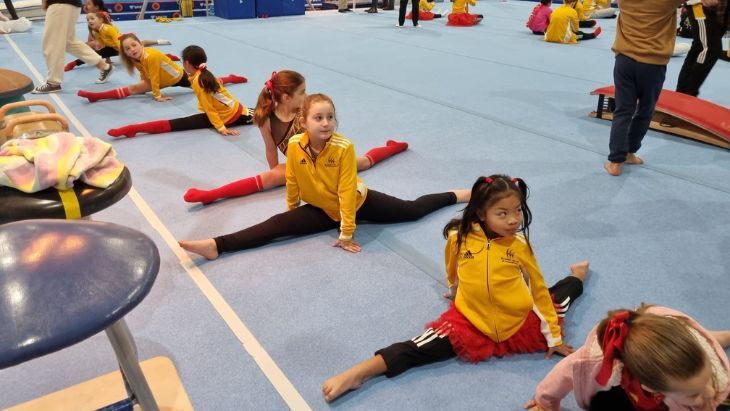 Sydney Hills Gymnastics Club's Director and Head Coach Vassili Trofimov is an Australian Gymnastics accredited coach with more than 20 years of experience and is ready to whip your child into shape! His goal is to create a professional and safe environment where children of all ages can keep fit, make friends, and have fun in a state-of-the-art facility. Find out how your child can prosper at Sydney Hills Gymnastics Club.
Locations
Castle Hill: 3/4 Gladstone Road
Bella Vista: 1/1 Meridian Place
5. Club PERÓ

Club PERÓ, operating at venues in Darlinghurst, North Parramatta, and Cherrybrook, offers Rhythmic Gymnastics programs that are aimed at developing strength, flexibility, hand-eye coordination, spatial awareness, and music appreciation with Rhythmic Gymnastics apparatus including Rope, Hoop, Ball, Clubs and Ribbon.
There are Foundational and Competition streams with classes to fit all students of all ages including Pre-Beginners (4-5 Years Old), Beginner (Kindergarten-Year 2), Junior (Years 3-6), Intermediate (Year 7+). Club PERÓ is a Gymnastics NSW affiliated club and their team of dedicated coaches are committed to developing skills, as well as confidence, resilience, and self-discipline in their gymnasts. OFFER! Mention 'ellaslist' and they will take 5% off your first full school term booked with them!
Locations: Multiple throughout Sydney, see Club PERÓ Locations for details
5. Gymnastics All Stars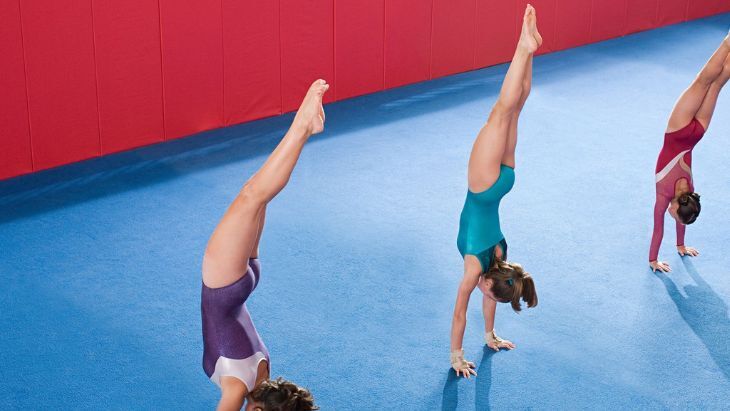 Start your child on a fulfilling lifetime journey of gymnastics at Gymnastics All Stars in the heart of Bondi. Founder Marianne Butler has trained and taught under the Olympic Gymnastics coach at the time Andre Rizzo. Having taught gymnastics, dance, and yoga in schools she realised the Gymnastics All-Stars system had a profound effect on every child's physical, social, and mental development, ensuring each child reached their full potential socially and at school.
Location: St Matthews Anglican Church, 34 Ocean St, Bondi
6. YMCA Gymnastics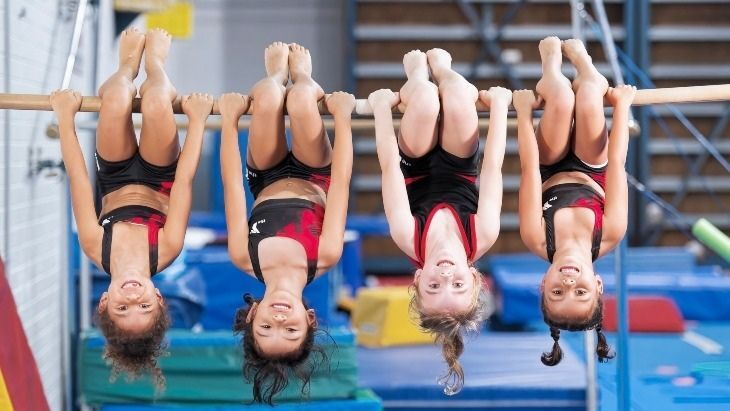 It's fun to play at the YMCA! Did you know YMCA offers Gymnastics classes for all levels and ages? They are located all over Sydney, at Bankstown, Caringbah, Epping, Penrith, and St Ives, and offer classes for all ages from Kindergym to Teen and Adult classes. So whether they want to give artistic gymnastics a go or just learn to tumble, you'll find a class to suit your child's needs.
Locations: Multiple throughout Sydney, see YMCA Gymnastics for details
8. Ninja Gym at the YMCA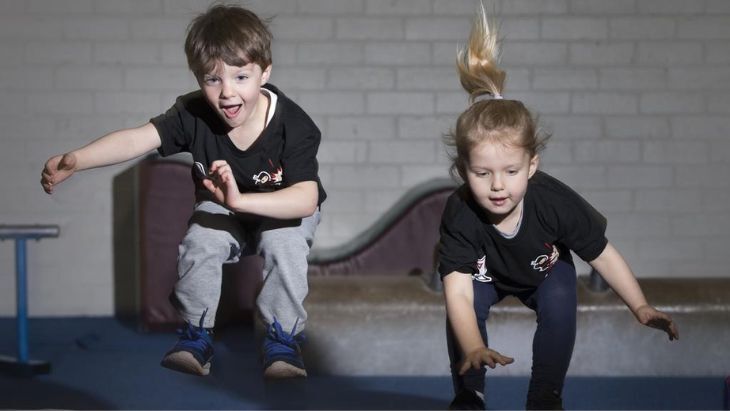 Why do ordinary gymnastics when you can learn to move like a ninja at Ninja Gym! At these special classes, it's all about the thrills, spills, and tumbles, and learning that getting back on your feet is the best way to tackle any of your goals, especially if you're aiming to be a Ninja Master!
Locations: Multiple throughout Sydney, see YMCA Gymnastics for details
9. My Gym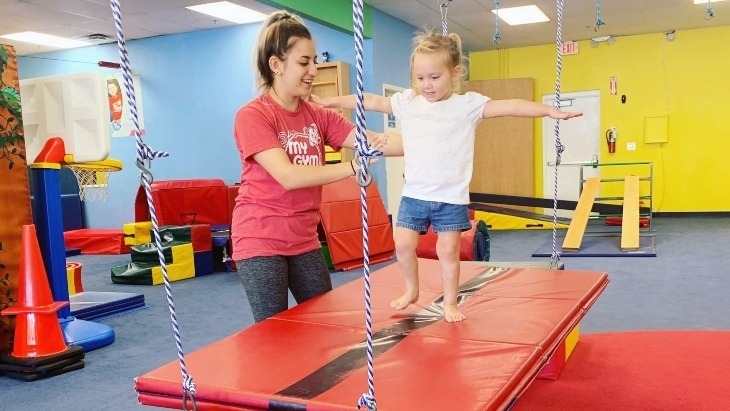 Start them tumbling early with a unique My Gym class. They offer Mummy and Me classes, camps, and other fantastic fun-filled programs for kids ages 6 weeks to 10 years old. These classes are found all over the world and pride themselves on creating an environment where children feel loved and supported so their self-esteem and confidence can flourish.
Locations: Multiple throughout Sydney, see My Gym for details
10. Aerialize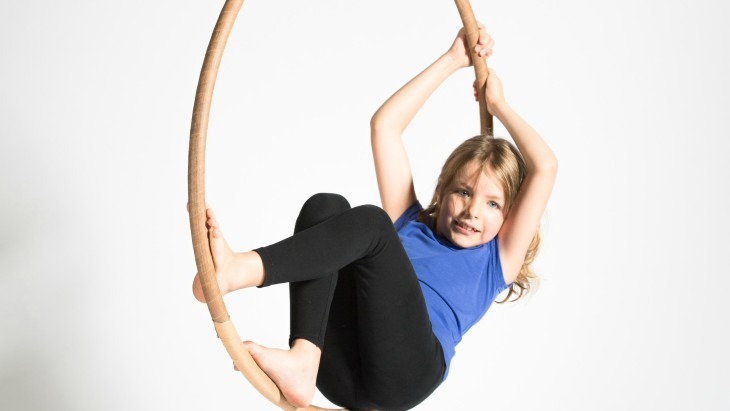 Why jump when you can fly! Aerialize: Sydney Aerial Theatre is a leading aerial and circus arts training centre and performance company in Sydney's inner west. They run a variety of courses that are fun and challenging in a safe and comfortable environment for children and teens of all ages and abilities, from as young as 2 years. So if your kids have ever threatened to run away and join the circus, sign them up for one of these classes!
Location: 7/9 Close St, Canterbury
More Kids Classes to Try
Sydney's Best Dance Classes
Sydney's Best Music Classes
Sydney's Best Ballet Schools
Have you signed up to our newsletter? Join ellaslist to get the best family and kid-friendly events, venues, classes and things to do NEAR YOU!