Awesome Family Farmstays Near Melbourne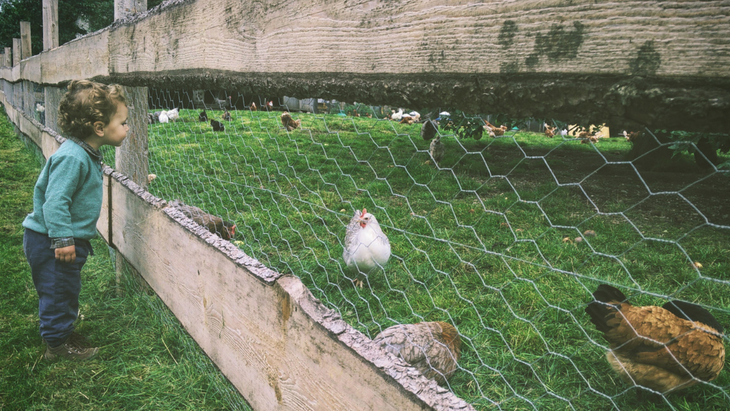 By: Claire Halliday, ellaslist
Farm living may have been the life for the folk on that classic show Greenacres, but the reality for most city-slickers in Melbourne is that understanding what life on the farm is really like is limited to quick visits to the petting zoos dotted around the city and suburbs.
Unless, of course, you sleepover at a farmstay getaway location…
If it's something you'd like to explore around Australia, one great resource is this site – which matches visitors with host families.
Or, if you prefer a quick weekend break closer to home, try this list of some of the best farmstays for families near Melbourne.
1. D'Oro Tourist Farm
Two different locations are on offer through this business – run by Doug and Jan – and the emphasis is definitely on tourist.
The farms are open for day visits and also have limited, affordable accommodation, with one four-bedroom heritage farmhouse available at the Birregurra site and more modest cabins and a caravan ready to stay in at the Freshwater Creek venue. The animals differ slightly from site to site – expect more native animals to see at Freshwater and more beef cattle at the Birregurra farmstay. On top of that, there are alpacas, chickens, donkeys, sheep and more – and the kids can get hands-on and up close to see what living on a farm is like, with some extra fun. Expect hay rides in the ute, donkey rides, animal feeding and egg collecting – and all pretty handy to Melbourne.
What You Need To Know
The accommodation option and animal experiences vary slightly across the two sites, so it's worth a chat to the owners to see which one you and your kids might prefer.
Phone: 03 5264 5130
Address: Freshwater Creek & Birregurra
More information – visit the website
2. Animal Land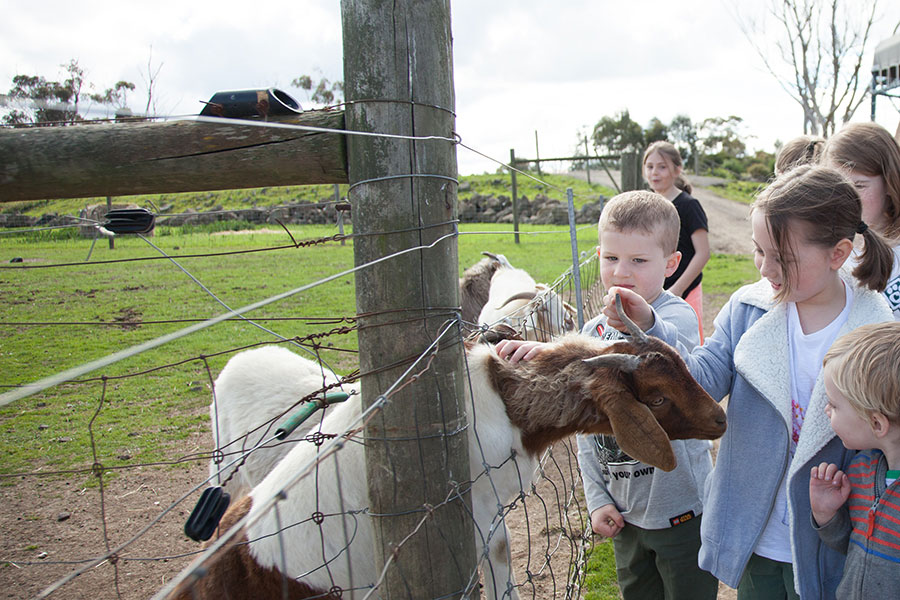 It's close enough to Melbourne for a day visit but if you want to embed yourself in a farmstay experience, there is accommodation to sleep 7 people in a self-contained unit on the property.
The accommodation includes a continental breakfast – including fresh eggs you can collect yourself from the chicken coop. Farm tours during the day are also available (a family voucher is included when you book a 2-night stay).
Patting the baby animals and pony rides will add to the experience for your little ones and ending the evening with some toasted marshmallows over the campfire, will be an added sweet bonus.
What You Need To Know
Because it's only a 30-minute drive from the CBD, it's an easy spot for a quick weekend getaway the kids will love.
Phone: 9740 1345
Email: [email protected]
Address: 200 Duncans Lane, Diggers Rest
More information: visit the website
3. Tarndie

At just under 150 kilometres from Melbourne, the town of Warncoort is an ideal distance for a short break with the kids.
This working wool farm is a slice of Victorian farming history in action, with a couple of accommodation options (including the Farmers Cottage and Bleak House) suited for families and other options that are much more adult. It's been in the same family since 1840 and is one of Victoria's oldest surviving homesteads. But what do the kids want to know? That there are animals for them to feed, cuddle and pat and plenty of open space to run around in.
What You Need To Know
The property's Polwarth sheep produce amazing wool that you can touch – and buy to take home for craft projects. The wool-filled pillows, quilts and underlays add a touch of country comfort.
Phone: 03 5233 6241
Email: [email protected]
Address: 37 Roseneath Road, Warncoort
More information: visit the website
4. Sylvania Park
Goats? They've got 'em.
Mohair goats, to be precise. Shaggy, friendly, soft-to-the-touch goats.
Classic farmstay experiences always include collecting fresh eggs from the chickens, and animal feeding is another important part of your stay. The farm tours take place in a restored shearing shed from last century and the kids will love feeding and cuddling baby goats, as well as the freedom to simply run and frolic in the open space – as well as have a tractor ride.
If you're looking for bushwalking nearby, the Grampians National park has plenty of great trails to discover.
What You Need To Know
It's quite a drive from Melbourne – about 9 kilometres from Horsham – but, once you're there, the kids will enjoy country living and exploring this farm retreat.
Phone: 0419 322 605
More information: visit the website
5. Donkeys Tales Farm Cottages
Love donkeys? Especially miniature donkeys? Your kids will love this.
With names like Moondust, Sunshine, Magic Skye and Manhattan, the cute factor is in overdrive and the conversation during the drive home from a weekend here may be along the lines of asking why you can't get a miniature donkey for your own family. We'll leave that one to you…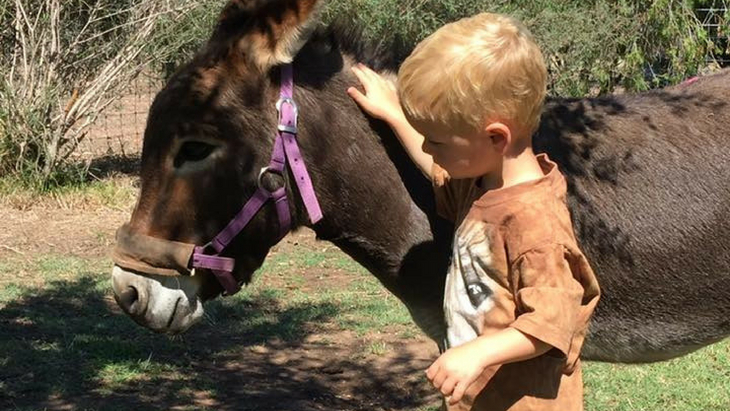 The location in Maryborough is in the heart of goldfields country, so there are lots of other touristy things to see and do in the region. Even if you simply stay put for a lazy weekend, with sixteen acres of farmland to wander across, there are lots of native animals to see and plenty of relaxation and together time to enjoy.
What You Need To Know
Each cottage has two bedrooms and sleeps up to five people.
Phone: 03 5461 3782
Email: [email protected]
Address: 30 Leeway Lane, Daisy Hill
More information: visit the website
6. Fernleigh Farmstay & Bike Park
Yes, there are animals but there is so much more. When the weather is warm enough, there's a swimming pool to splash around in. And if the kids are feeling active, there is plenty of room to kick a footy, have a hit of cricket, or even play volleyball or tennis.
If you're handy with a fishing rod or a yabby net, there are dams to explore, plus there is the usual farmstay fun, with eggs to collect, animals to feed and lots of lovely places to walk and take in the scenery.But what else is special about this place is the bike park. You can bring your own bikes, or hire them here – and the kids will love the tracks they can tear around on. Just the thing to build up an appetite for marshmallows toasted on the open fire later…
It's all on a sprawling 11acres near Mansfield – about 2.5 hours from Melbourne.
What You Need To Know
A few different accommodation options offer something to suit your family, with Fern Cottage sleeping up to 8, Miners Cottage sleeping up to 6 and Goughs Cottage perfect for a family of four.
For a group booking that has room for 38 people, try The Lodge.
Phone: 03 5777 3531
Email: [email protected]
Address: 735 Pirires -Goughs Bay Road, Goughs Bay
More information: visit the website
Reviews

Reviews get lonely too
Be awesome and write a review