8 Things You Want To Know About Private Online Tutoring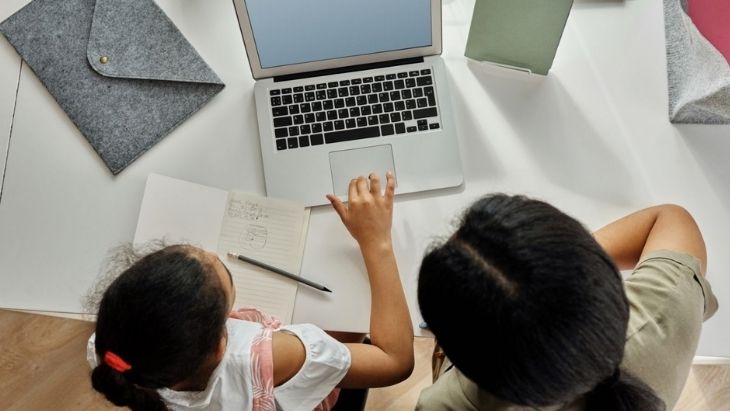 Cluey Learning's personalised tutoring service has worked wonders for ellaslist's founder Yvette and her daughter—who had a tough year of school refusal after suffering anxiety in the wake of schools shutting down due to COVID. Yvette's daughter has now gone back to school, after catching up on 9 months worth of maths and English lessons in 12 weeks.
We sat Yvette down to ask her some nitty-gritty questions on how exactly the private online tutoring service game works. Here are the top things you want to know about what private online tutoring for kids looks like.
8 Things You Want To Know About Private Online Tutoring
1. Was the Cluey tutor a good match?
The tutors were great matches, and I was so pleased with how quickly my daughter felt comfortable with them. They kicked things off with a really clear grasp of her situation, and they were great at bringing personal details to the table in order to forge that instant connection. When we had to use a stand-in tutor for a couple of weeks while our regular tutor was away over the school holidays, the transition between tutors was seamless and provided what felt like a true continuation of support.
2. Was there one teacher for every subject, or a variety of different teachers?
My daughter had different tutors for maths and English—some are trained in primary, some in secondary and some in both—which is worth bearing in mind if, like us, your child is in year 6 and going into year 7. If you were wanting to continue tutoring, it could be worth initially requesting a tutor that specialises in both primary and secondary to ensure you can carry on with the same tutor.
3. How and when are the lessons undertaken? Are they 'on-demand' or at set times?

Our schedule was negotiated at the beginning between tutor and student—although there is plenty of flexibility to the program and lessons can easily be rescheduled if necessary. Because our priority was the consistency of tutors, we had set times; but these could be adjusted if necessary. They also offer the capacity to book extra lessons, and once the session is over, there are plenty of activities on offer via the Cluey Learning platform that kids can do to bolster learning.
4. What equipment is needed to conduct Cluey sessions?
All you need is a good wifi connection and a laptop. Everything is done via the Cluey Learning Hub.
5. How is progress tracked?
After every session, the tutor provides comprehensive learning feedback that parents can access, which includes what the goals of the session were, how the session went, what the child learned and how they learned it, as well as discussing how the learning might develop within the next session. This gave us great peace of mind as we were able to really track how things were going.
There's also the option for parents to request to watch a session after it's taken place and the chance for the child to offer feedback for all sessions.
A summary page for each year and subject is provided and continually updated, which lists what has been learned and what learning goals have been addressed—as well as a percentage report on how the child is progressing within the curriculum.
6. What techniques do the tutors use to ensure the child stays engaged?
Our tutors used a digital whiteboard and question and answer style format, however, because the service is so tailored to the individual needs of each child, the way in which the children learn will differ from case to case.
7. How are children assessed to start with? Do they sit a test to see where they're at?
At my daughter's first session, the tutors conducted a review of where she was at in terms of current knowledge—asking her questions in a conversational and low-pressure way in order to ascertain gaps in her learning and where the starting point of lessons should be.
The style of learning is really progressive—and it's been so effective that she has fully caught up on the year 6 curriculum despite missing 3 terms, and has even covered some of the Year 7 curriculum in just 3 short months.
8. What are your final thoughts on the service?
When we started, we had a child who had lost all interest and confidence in learning. Thanks to Cluey, she has entirely re-engaged her capacity and interest in learning, as well as being prepared for tackling longer lesson times at high school, and a more heavily concentrated style of learning.
To try Cluey Learning for yourself, head over to their website where you can save 20%!
More Fun Reads
Why Cluey Learning's Personalised Tutoring Service Is More Important Than Ever
Where To See Sunflowers In NSW
Top FREE Water Parks for Kids in Sydney
Have you signed up for our newsletter? Join ellaslist to get the best family and kid-friendly events, venues, classes and things to do NEAR YOU!