6 of the Best Spring Activities in Melbourne for Families and Kids
SPRING HAS SPRUNG! Oh what a time to be alive in Melbourne, the sun regains its strength, the blossom is out in force, and suddenly it's not impossible to be outside for more than five minutes.
If you find yourself hanging for some fresh air, why not hit up any of these places to really bask in spring?
1. Have a picnic in the park
Caught between the icy winds of winter and the eyeball-shrivelling white hot heat of summer, Melbourne's springtime is the actual best time to get out and enjoy one of our extraordinarily beautiful parks for the day.
We've got an epic list of which spots are great for picnicking in, which playgrounds are great for making a whole day of it, and
2. Go on a bushwalk
Lucky for you, we've rounded up some of the best bushwalks to take kids on in and around Melbourne - from super-short, super-easy strolls with prams and little ones, to longer, more challenging trails for older kids. Spring is a fantastic time to go, as the riot of colour in the natural environment is something not to be missed. The sun is warm but not too hot, and the breeze pleasant. It's also a great time for birdwatching after the cold of winter.
If you prefer a shorter stroll, why not tackle these bike-friendly paths and get the kids to take their wheels?
3. See the Yarra from the water
What's nicer than a gentle float down a beautiful river in the beautiful sunshine? Not much, actually!
Why not check out any one of these tour and cruise folk to get you out on the water stat: City River Cruises, the Lady Cutler Melbourne Showboat, Melbourne River Cruises, Bay and River Cruises, or indulge in a special meal on the Spirit of Melbourne cruising restaurant?
Visit Luna Park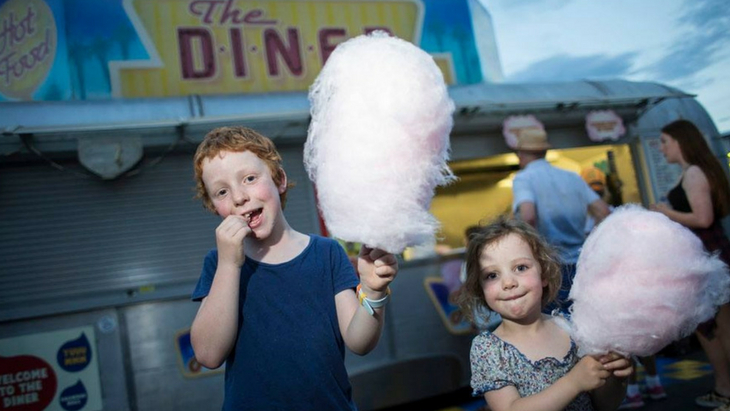 The September school holidays are a fantastic time to visit this Melbourne institution, especially when they have such a range of fun, family-friendly rides. These include dodgems, silly serpent and a swinging pirate ship.
For more info: head to the website.
If Luna Park isn't for you, maybe one of these other fun parks might be?
Hang out at Collingwood Children's Farm
Spring is the ultimate time to see all the new growth happening all across the farm, including pearl-white almond blossom, and the birth of baby animals. To add to the fabulousness of the excursion, the farm cafe has been selling fresh-baked cakes! Who's gonna resist that?
Opening hours: The Farm is open from 9.15am to 4.45pm
For more info: head to the website.
It's Royal Melbourne Show Time!
Get some old-fashioned fun happening this spring at the Melbourne Showgrounds with all the rides, animals, food and showbags we loved as kids. Thankfully the weather is usually absolutely hitting its stride at that point, which makes it a darn good day out for the whole family.
When: 22nd September to 2nd October 2018
For more info, check out the schedule here.