Best Bike Paths For Kids in Melbourne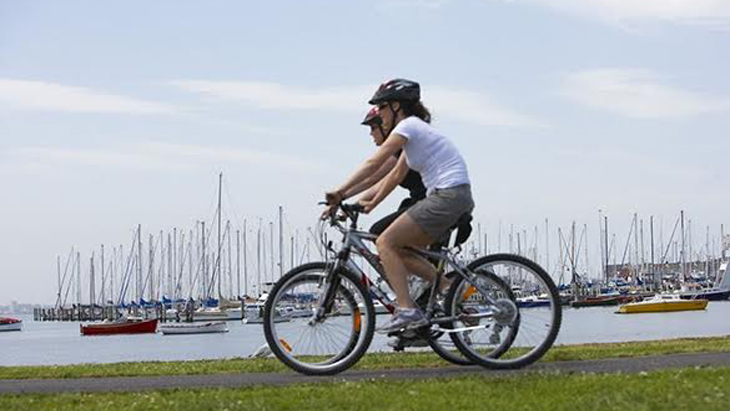 By: Claire Halliday, ellaslist
Remember the days when you'd tell your parents you'd be home for dinner and the neighbourhood streets were yours to roam on, unaccompanied?
Just you, your friends, no helmets and those quiet, wide roads to try how long you could steer your Malvern Star – no hands – without crashing.
Yup. Those days are gone.
I mean…really! What were our parents thinking?
Luckily we can help our own children get the same lovely exercise and fresh air on safe bike paths we can all enjoy riding together.
Here are some of Melbourne's best bike paths for children to enjoy.
Jells Park
On a perfect weekend day, the trails here can get packed with happy families keen to traverse the scenic paths. The goods news is that parking is still usually easy and there are a number of playgrounds – plus a kiosk and even a restaurant (when you need some food-based rewards or ice-cream bribery after a long day of two-wheeling).
The tracks wind their way through the park and there are some gentle slopes – make sure your little ones know how to use their brakes safely to minimise the danger factor.
With a few unfenced ponds, and one large unfenced lake, it's worth ensuring the kids are good riders – although the paths are far enough from the water that it shouldn't be too much of a worry.
Don't let the kids feed the ducks (it is bad for those feathered friends unless you've got proper duck-friendly food and not just white bread)! The happy sight of the wildlife paddling in the cool water is still a good way to help you cool down – a nice way to rest before finishing your ride. The park is large enough that a ride around all it has to offer will be tiring for little legs – perfect for a
Sunday activity to wear out back-to-school students for an early night.
Just be aware that all paths are multi-use so train the kids to watch out for walkers – as well as other cyclists. In addition to those hungry ducks, native birdlife to keep an eye out for includes the Purple Swamphen and the pelican.
What You Need To Know
Phone: 13 1963
Address: Waverley Road, Wheelers Hill
More information: visit the website
The Bay Trail

Riding a bike through greenery is fun enough but there is something extra invigorating about riding with the view to the cool waters of the Port Phillip Bay. And if it's hot enough to pack a towel and your bathers for a mid-ride swim, it's even more fun (although do make sure you have dry clothes to put back on afterwards to minimise any uncomfortable chafing issues).
This popular bike trail follows the edge of the Bay for the distance between Port Melbourne and Seaford – an exhausting 49+ km of path to choose from.
The most congested section is the stretch between Elwood and St Kilda – of course – but unless your children are good riders and not freaked out by the idea of riding through crowds (roller-bladers included), it's worth avoiding in the peak summer season.
If you do decide to go for it, the best place to start is either the North Road or Elwood Beach car-park but make sure you allocate the costly metered parking into your activity budget (that hourly rate can add up fast). Whichever piece of the trail you choose, you're sure to find kiosks, cafes and playgrounds to help break up the ride and keep your little ones motivated to go that little bit further.
The mostly flat tracks are reasonably easy riding – even for beginners – and with no vehicle traffic to worry about, it's fun for all the family. Investing in a tag-along can be a positive thing if your kids are a bit too little to last long distances. It will give them the taste of family bike riding and they can graduate to pedalling their own bikes as their legs get stronger.
What You Need To Know
Plan your journey based on weather conditions (little ones won't handle the heat and a long ride), and the time of year/week. Novice riders won't cope well with the over-populated sections of the path on weekends but further along, with more room to move, the Bay Trail is a lovely way to have an active family adventure. If you plan to ride a long way – remember that you then have to come back. Don't be too ambitious the first time. Riding should be fun, not torture!
More information: see the website
Hobson's Bay Coastal Trail
The ride from Altona to Williamstown is 23 kilometres of safe bike paths that could be great for older, experienced riders but way too far for little legs to pedal all the way. Be realistic about the skill level of each member of your bike-riding clan – you're only as fast and fit as your slowest rider, after all.
The difficulty level is low-medium and with wetlands, beaches and the Bay, there are waterbirds a-plenty to look for along the way. Break it down into shorter rides for younger ones and build up to the whole distance.
Nautical-themed signs along the way add to the seaside outing vibe and if you're not in a rush, you can learn interesting facts about the area as you ride.
There are enough decent cafes nearby to make sourcing refreshments easy enough, so whether you're longing for a summer day's icy-pole or a cold weather hot chocolate to warm you up, this can be a fun family ride for all seasons.
What You Need To Know
Check weather conditions – too windy along any part of coast is just as un-fun as too hot. To help your brood have a love of all things active, make bike riding fun, without being too taxing. This scenic bike trail was upgraded a few years ago and the 3-metre wide paths give you room to move, even when it's busy.
More information: visit the website
Dandenong Creek Trail
The difficulty level here is medium, thanks to some decent ups and downs. Little ones and average weekend riders won't tackle the full 44-kilometre stretch of trail with any ease but there are plenty of short chunks to explore bit by bit on future weekends. It begins in Kilsyth South and wends its way through the south-eastern side of Melbourne – all the way to Patterson Lakes, and offering plenty of wetlands watching along the way. On the way through, it connects to Scotchman's Creek Trail at Jells Park. For older teens training for the Great Victorian Bike Ride, this can definitely help them find their endurance but be aware that some sections connecting different parts of the trail are interrupted by bursts of general roadways – and traffic on these major arterials can be heavy.
What You Need To Know
The three main sections to the trail are:
· Upper Dandenong Creek – Heathmont to Jells Park
· Middle Dandenong Creek – Jells Park to Dandenong
· Lower Dandenong Creek – Dandenong to Patterson Lakes
More information: visit the website
Ruffey Lake Park
The Ruffey Trail is the perfect entry for very young ones to go bike riding with the family and feel like they have accomplished something. It's only three kilometres in length and the track is easy to ride, with sealed paths that suit all types of bicycles. Training is still recommended – for little ones used to riding in the driveway, there is a lot to know about sharing paths with other riders and walkers but here is a great place to learn.
With great park facilities – including an adventure playground, toilets, BBQs, wetlands, drinking water, picnic shelters and more, this is a wonderful place to spend a lazy Sunday afternoon – especially if you load up your backpack with all the supplies you need for a full day of fun
What You Need To Know
The Ruffey Trail joins the Main Yarra Trail for those times when you're ready to take things a bit further.
More information: visit the website – http://www.manningham.vic.gov.au/ruffey-trail