Trampoline Games: 10 Fun Things to do on a Trampoline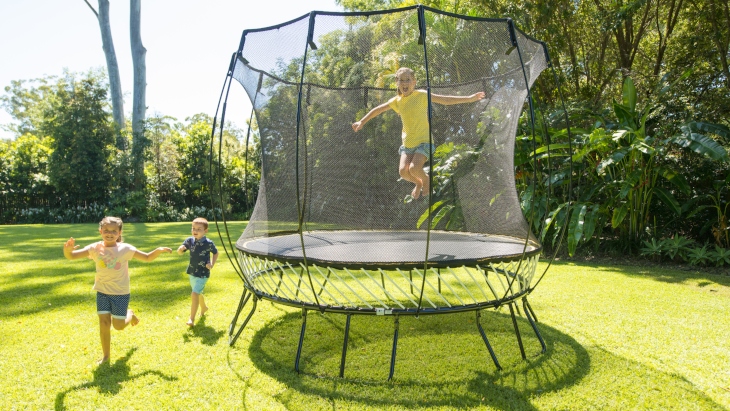 If you are the coolest parents in the world and have bought your kids a trampoline, you're no doubt all excited to see what that little bad boy can do. Owning a trampoline is a terrific way to have fun as a family and keep up a decent amount of exercise for you and the kids, particularly during winter. Known as rebound exercising, jumping on a trampoline can shed those unwanted kilos in winter like crazy. In fact, a study by NASA found that rebounding exercise is 68% more beneficial than running.
So, now that you've discovered the incredible health benefits of owning a trampoline, here are 10 trampoline games the whole family will love.

The Best Trampoline Games
1. Create the Ultimate Ball Pit
If you own a trampoline with an enclosure, then you've got the perfect location for the ultimate trampoline game: an outdoor ball pit! If you don't already own plastic ball pit balls, you can grab a bag of 50 for next to nothing at Kmart or Big W. Fill your trampoline with as many coloured balls as you wish and you've got yourself a bouncing ball pit.
2. Just Add Water

This trampoline game is a great summer activity but can also be fun on a sunny winter day. Kids will love the excitement of adding water to the trampoline surface and seeing how the water jumps along with them. For added adrenalin, put a sprinkler underneath the trampoline and watch as the sprinkles fly up through the surface.
3. Trampoline Tag
A terrific trampoline game for toddlers, Trampoline Tag will keep the little ones entertained for hours as they try and catch you while running along on the trampoline. Trampoline Tag is best played in an enclosed trampoline to keep your little ones secure.
4. Build a Fort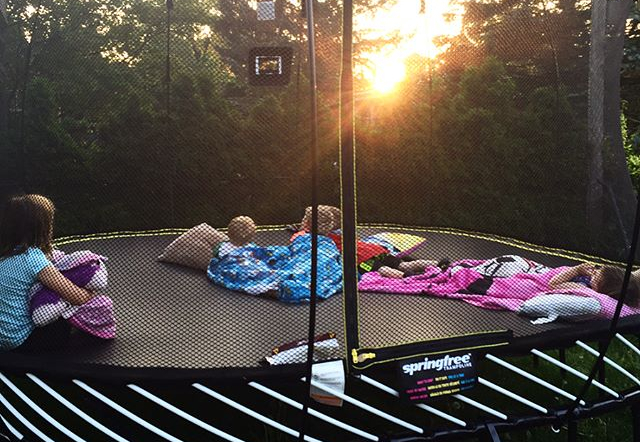 Create a classic childhood memory by building a fort on the trampoline. This can be done during the day or can extend into the night for a cosy slumber party. Kick the wow factor up a notch by adding fairy lights to the top of the trampoline enclosure. Springfree's range of trampolines with enclosures is ideal for cosy slumber parties!
5. Trampoline Yoga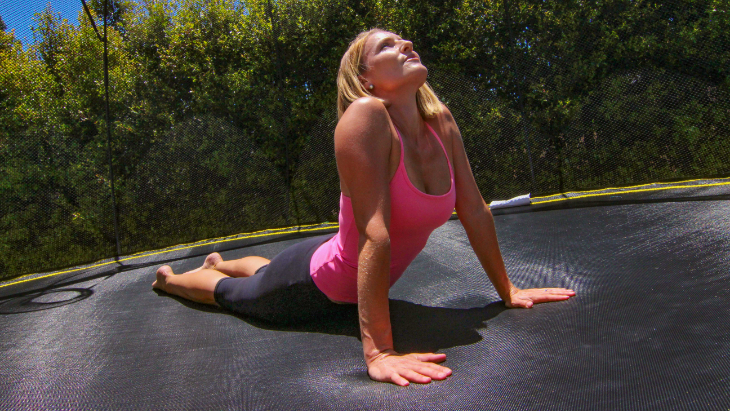 Not so much a trampoline game but definitely one to add to the list! The stretchy surface of the trampoline will really test your balance, your core strength and burn off those extra winter calories!
6. Dodge the Animals
Another fun trampoline game to play with toddlers, Dodge The Animals sees your stuffed animals become the taggers and your kids become the tag-ees. Start by adding one or two stuffed animals to the trampoline and watch as your kids jump and try to avoid being "tagged" by the bouncing animals. The more animals you add, the more challenging it gets!
7. Go Backyard Camping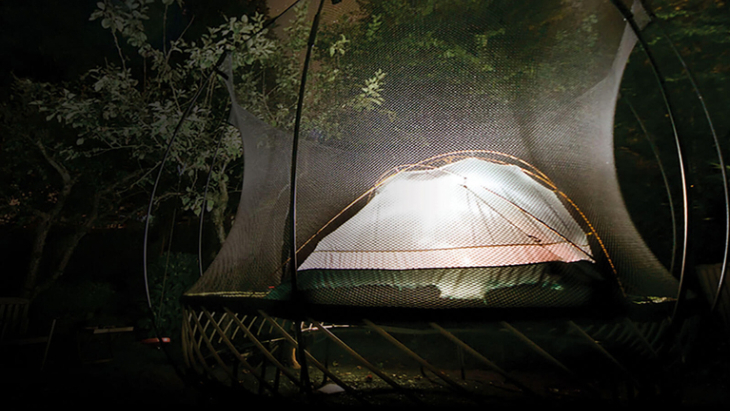 No need to travel far, take the kids camping in the backyard! Just grab some pillows and sleeping bags and sleep under the stars right on your trampoline. It's suuuper comfortable. And with the safety net, you won't have to worry about rolling off. Plus if the kids do want to leave, there's no long journey home!
8. Outdoor Cardio
Trampoline cardio is an excellent activity for the whole family to keep active and fit. Turn on some music and get the kids up and moving with some jumping jacks, burpees, and lunges.
9. Chalk Twister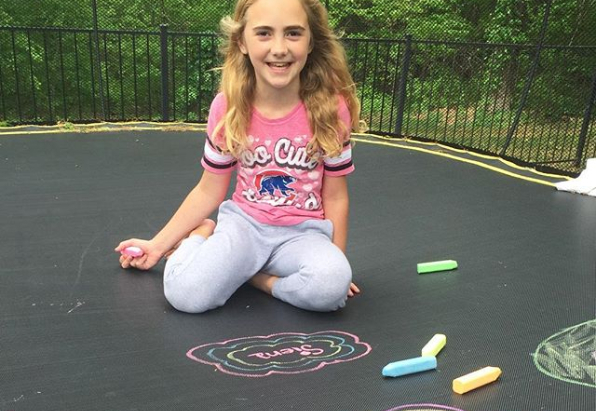 Chalk Twister is like real Twister only you've got the added challenge of balancing on a bouncing surface! Use some chalk to draw the colourful Twister circles, and you've got yourself one very challenging game.
10. Jump and Grab
Another great way to make use of your trampoline enclosure, attach a bunch of colourful streamers to the top of the enclosure and make it a race to see who can grab the most streamers.
Find out more about what Springfree Trampolines can do for your family here.
Other Fun Things to do at Home
How to Make Your Fast Food Favourite at Home
Cool Cubby House Ideas
The Ultimate List of Indoor Activities for Kids
Have you signed up to our newsletter? Join ellaslist to get the best family and kid-friendly events, venues, classes and things to do NEAR YOU!
Reviews
A couple of other games. Use balls of all sizes and play "ball tag" (similar to the stuffed toys one). Also water beads (Orbeez) are great too. Makes an amazing video. A huge pain to clean up though. Wait until they dry and shrivel up so you can sweep it up.