Mad Hatter❜s High Tea at Sir Stamford
Sat Apr 20 2019
Kids
Family
From: $74.00
This Easter you and your family are invited to the wonderful world of the Bonkers and Brilliant Mad Hatter's High Tea buffet at Sir Stamford at Circular Quay hotel!
Join them on a decadently delicious adventure down the rabbit hole as their utterly mad Easter celebrations transform their hotel into a wonky world of wonderful sweets and treats.
You would be Mad not to attend!

Mad Hatter's High Tea Buffet:

Adult Menu

Savoury
'Off With Her Head' Ham Cheese & Mustard Sandwiches
'The French Quarter' Cucumber & Cream Cheese Sandwich
Tweedle Dee's Tuna and Celery Sandwich
Tweedle Dum's Pastrami & Caramelised Onion Sandwich
'March Hare' Roasted Thyme Chicken Pinwheel in Tomato Bread
'Times a Tickin'' Crab & Avocado on Tartlet
'The Caterpillar's Hookah' Cherry Tomato & Bocconcini Skewers
Wonderland's Signature Curry Puffs
'Underland' Mediterranean Vegetable and Pinenuts on Goat Cheese Wafer
'Who Are You?' Prosciutto & Persian Feta on Baguette

Sweets
Curious Passion Coconut Verrine
Cheshire Cat's Mysterious Brûlée Tart
Fussy Bunny Assorted Pastries
Lemon Tart & Mock Turtle Meringue
The White Queens's Lemon Scones with Crème Fraiche and Mix Berry Jam
Queen of Hearts Fruit Tart
Eat Me Macarons
Topsy Turvy Mini Pavlova
Mad Hatters Assorted Little Sweets Cup
Duchess of Mango Paradise
The Queens Yellow Peach Yoghurt Palace

Kids Mad Hatter's High Tea Menu

Sandwiches
Tweedle Dee's Egg Sandwich
Tweedle Dum's Ham & Cheese Sandwich
'March Hare' Roasted Thyme Chicken Pinwheel in Tomato Bread

Sweets
Alice's Chocolate Brownie
Cheshire Cat Cupcakes
Caterpillar's Blueberry Cheesecake
The White Queen's Lemon Scones with Cream Fraiche and Mix Berry Jam
Lolly Station
Chocolate Fountain

All special diets can be catered for, simply let them know your requirements when booking.
Menu items are correct at time of publishing, but may be subject to change.

Where: 93 Macquarie Street, Sydney
When: Saturday, 20 April 2019, 11am - 2pm
Cost: $79.40

To BOOK

For more information, please visit the website.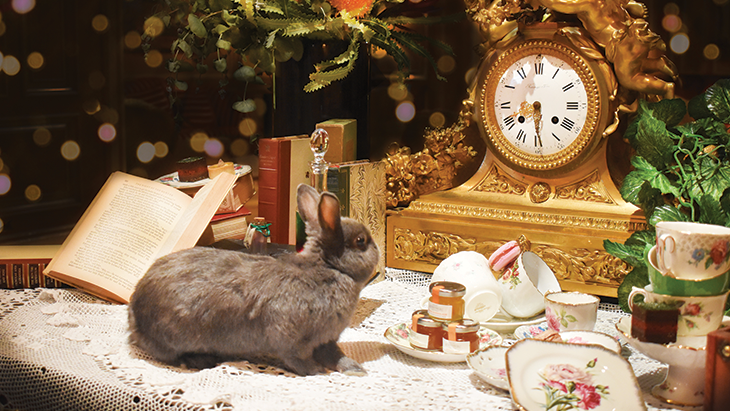 Tell them ellaslist sent you!