Kit Kat Chocolatory Opening In Sydney
Mon Jul 06 - Mon Jul 20 2020
Family
All Ages
$0.00
Nestlé is going to extraordinary lengths to celebrate World Chocolate Day - they are opening Sydney's first-ever KitKat Chocolatory boutique on Monday 6th July!
Offering a premium, personalised experience for chocoholics, the Chocolatory will centre around a Create Your Break hub where you can design their own deluxe KitKat from a possible 30,000 combinations that include premium chocolates, gourmet ingredients and custom packaging.

There is also a KitKat Chocolatory Tasting Table where you can sample a curated selection of KitKat-inspired desserts, a sushi-style KitKat Chocolate Train serving up innovative creations like KitKat filled with Yuzu Ganache, Peanut Butter & Raspberry or Wasabi Crème, and the exclusive Mix Your Break range with delicious fresh flavours like Cotton Candy and Matcha.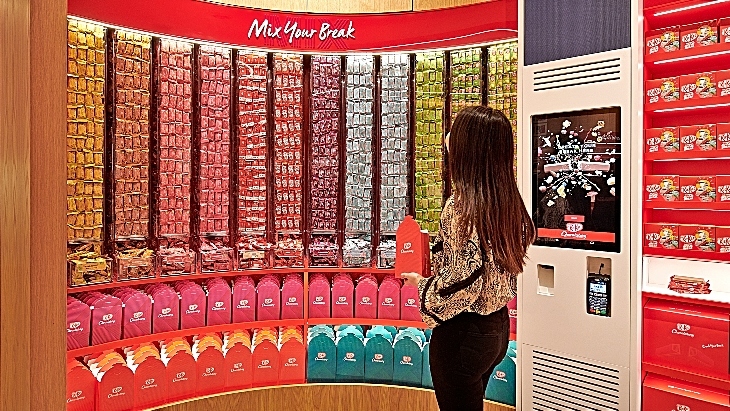 "We are looking forward to offering Sydneysiders a KitKat Chocolatory experience that allows them to explore their creativity and discover amazing chocolate combinations, handcrafted by our incredibly talented chocolatiers," Nestlé General Manager Confectionery Chris O'Donnell said.
"A great deal of passion goes into the creation of every bar at the KitKat Chocolatory, and we look forward to greeting new guests as they discover a break like never before." added Head Chocolatier at KitKat Chocolatory Connie Yuen.
P.S KitKat Chocolatory Boutique in Sydney is celebrating World Chocolate Day by giving away FREE HOT CHOCOLATE today (July 7)!
Please note: minimum wait time for the Create Your Break experience is 90 minutes.
Location: KitKat Chocolatory Mid City Sydney, Shop 54, 197-211 Pitt Street, Sydney
Opening Hours: Monday to Wednesday 7am – 6pm; Thursday & Friday 7am - 9pm; Saturday & Sunday 9am - 7pm.
Tell them ellaslist sent you!
Reviews
Go early so you have a shorter waiting time ( You need to line up). Due to Covid social distancing . - Try all the flavours . (This is not a pop up shop, so you have time ). You would be pleasantly surprised of the flavours you could come to love .. Prices - Not the cheapest, HOWEVER not too pricey considering these flavours are not found in your local shops ... - Most of these are more for the more mature palette i think (But that purely depends on the individual child of course). Overall I was really surprised . The flavours I thought i would 100% Love , i didn't. The ones i thought i wasn't going to like (such as the' Sake' ) I loved .. These are the ones I have tried so far .... .. * Strawberry - Subtle Strawberry flavour . * Matcha - Mild Matcha flavour . * Passion fruit - the passion fruit flavour is within the biscuit. It is strong and sour . So it doesn't taste like a Passion fruit that is 'in season '. (if that makes sense ? * Ruby - Kind of Raspberry / mixed fruit tasting .. Fruity and tangy * Choc Mint Fudge and Cookie - This reminds me of the old time favourite ' Peppermint Crisp ' chocolate . Loved it .. There are alot of textures here .. *Sublime - Incoa (Made with Cocao fruit ). Oh dear ... this was my least favourite . It's for the aquired taste ... Quite bitter , it's like that black tar tasting coffee. BITTER BITTER BITTER ... * Peanut Butter Jelly - mmm. Not quite like a traditional Peanut butter Jelly . The Jam was quite sour ... * Hokkaido Melon and Mascopone cheese - I don't like Rockmelon . But i enjoyed this one . It was like eating vanilla cream or vanilla icecream with Rockmelon . * Cotton Candy - The colour blue is pretty , but that's about it .. It tasted sweet, but no distinctive taste of anything in particular ... * Pineapple - Slight Pineapple taste . * Guava - Definate taste of guava. The flavour is in the white chocolate that covers it .. It leaves a lingering guava taste in your mouth .. * Peppermint - I found this to be too strong. The mint is too overpowering * Churros - YUMM !!!!! You need to try this one ... tastes like Caramel .. * Caramel - LOVE this one two ... it's like a nest level Caramello Koala .. * Japanese Sake ...Now this was a pleasant surprise . It smelt quite strong. But geez it's nce !!!!! * Raspberry - this reminded me of Sherbert . .. A slight sour aftertaste .. * Pistachio - Very strong Pistachio flavour . It reminds me of an Asian drink/ dessert i had once tried ...( I can't remember which one though). I would purchase this one again ... You can really be experimental in the kitchen and serve kit kats with ice cream, incorporate them into your desserts . Serve them with tea or coffee or even mix the flavours when serving a dessert / cheese wine platter ... I see endless possibilities ... Hope it helps ..... Happy tasting ....