Jurassic World: The Exhibition Roars into Sydney
Jurassic World: The Exhibition Roars into Sydney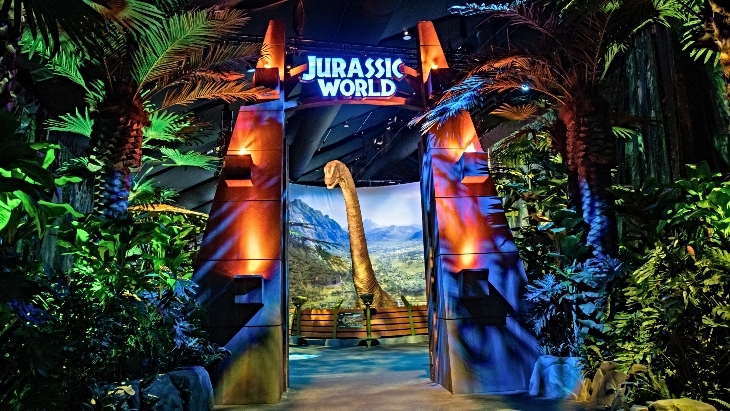 Stomp into a prehistoric adventure as the award-winning Jurassic World: The Exhibition roars into Sydney to celebrate 30 years of the legendary franchise!
Journey through the iconic Jurassic World gates and immerse yourself in a world where dinosaurs reign. Get ready to meet a life-sized brachiosaurus, cheeky velociraptors, and the fearsome Tyrannosaurus Rex, and who could resist the adorable baby dinosaurs, including "Bumpy" from the popular Netflix animated series, Jurassic World: Camp Cretaceous?
This massive and immersive experience is an unmissable event for dino fans of all ages. Having sold over five million tickets and stomped its way around the world, Sydney finally gets to experience this global sensation in the newly reimagined 3,000 sqm SuperLuna Pavilion at the Sydney Showground.
Your Jurassic Journey
Ferry Ride to Isla Nublar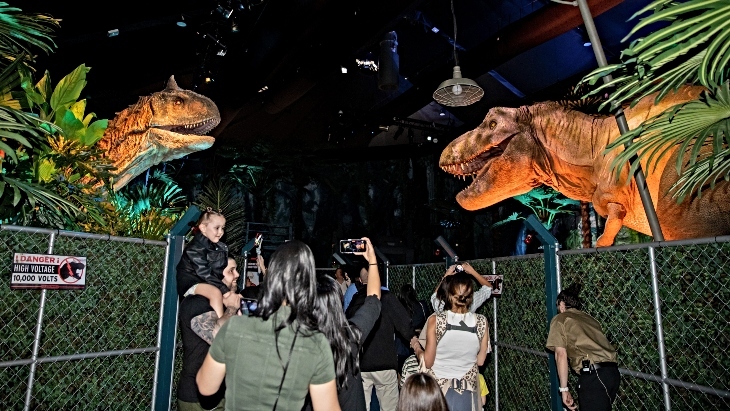 Your epic adventure begins with a ferry ride to Isla Nublar, the home of Jurassic World. Buckle up, because this is only the beginning!
Land of Giants
Get up close with the gigantic Brachiosaurus, one of the largest creatures to ever roam the earth. You'll be awestruck at the sheer size of these magnificent dinosaurs.
Meet the Stygimoloch
Ever heard of a dinosaur named after a demon? Meet the Stygimoloch, a small herbivore with a domed bony head and a crown of horns. We promise it's friendlier than it sounds!
Selfie Time with Baby Dinos
Snuggle up for a selfie with our adorable baby dinos, including the mischievous Baby Raptor and everyone's favourite from Camp Cretaceous, Bumpy!
The Genetic Creation Lab
Step into the Creation Lab, where Jurassic World's top geneticists use advanced techniques to bring dinosaurs back to life. Be among the first to meet the park's newest Parasaurolophus babies, crafted by our expert geneticists!
T. Rex Kingdom
Feel your heart race as you come face-to-face with the fearsome Tyrannosaurus Rex, one of the largest meat-eating dinosaurs that ever lived. Just remember, the high-voltage fence isn't the only thing you should be worried about!
The Raptor Experience
How close dare you get to the raptor paddock? Come and meet our Velociraptors, small but ferocious carnivores with sharp claws and teeth. But remember, not too close!
Gyrosphere Valley
Continue your journey through the Gyrosphere Valley. Snap a picture with a baby dino, explore the Dig Site, and marvel at the life-size gyrosphere display.
Carnotaurus Encounter
Meet the Carnotaurus, a massive predator known as the "meat-eating bull". With devil-like horns and tiny forelimbs, this 35-foot-long creature is truly a sight to behold.
Embrace the Prehistoric World with SEN Sessions at Jurassic World: The Exhibition
Jurassic World: The Exhibition is proud to introduce SEN sessions, offering a welcoming and inclusive environment for families with special needs. Experience the awe-inspiring world of dinosaurs in a setting tailored for comfort and accessibility. Our SEN sessions feature:
A comprehensive agenda with essential information, including parking and facility access.
Open-door policy throughout the exhibit for ease of movement.
Swift exit routes with staff assistance for a stress-free experience.
Calming break points and a serene quiet room equipped with sensory aids.
Specially trained staff to ensure a safe and enjoyable visit for everyone.
When:
Every Thursday at 4:30pm and 5:00pm
Cost:
Starting at $39 for children and $49 for adults
Where: SuperLuna Pavilion, Sydney Showground, Olympic Boulevard, Sydney Olympic Park
When: Starting Friday, 22 September 2023 for a limited time
Cost: Tickets start at $39 for children and $49 for adults | Under 3 FREE
Get ready for a Jurassic-sized adventure and book now at Jurassic World: The Exhibition.
The Best Kids' Shows in Sydney
Sydney's Prettiest Cafes
Kid-friendly Museums in Sydney
Have you signed up for our newsletter? Join ellaslist to get the best family and kid-friendly events, venues, classes and things to do NEAR YOU!