Fit Mamma: Fun Group Exercise Classes for Mums + Crèche
Fit Mamma: Fun Group Exercise Classes for Mums + Crèche
Fit Mamma was developed with mums in mind. This isn't just about an hour of exercise and sweat. It's about an hour of down-time. An hour to connect with other mamma's. It's as much for your sanity as it is your physical wellbeing.

Their specially crafted classes, located in Bellevue Hill, Coogee and Potts Point, are designed for new mums (and beyond) and cater to all levels of fitness. They provide a large range of modifications and variances to ensure any physical concerns are safely managed. No one gets left behind, and no one leaves without a solid workout. All of their trainers are skilled in post-natal exercise programming and will deliver you safe, challenging, rewarding, and fun classes.

Their crèche and workout space are separated (out of earshot and eyesight). If what you are looking for is to focus on yourself for an hour, this is a great place.

Locations

Special Offer! Mention Ella's List and not only will your first session be free, you'll receive 15% off your first 10 pack.

Pricing: start from $21.

For more info on locations and timetables, please visit the website.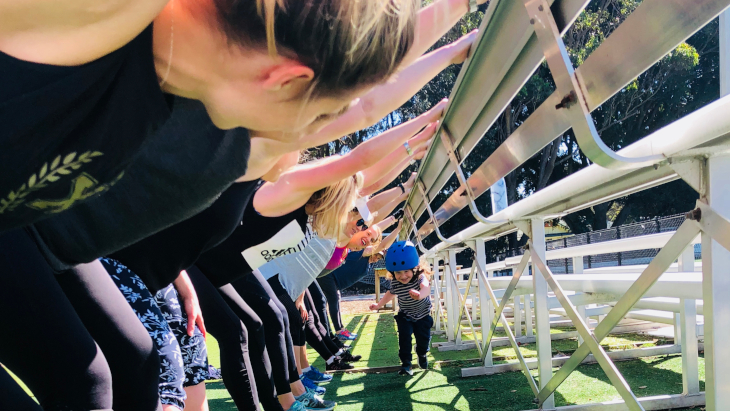 Tell them ellaslist sent you!
Reviews
Fantastic group training indoor and out door. I love it especially as I know my bubs is safely inside the crèche away from the elements with excellent nannies. Jack the founder has a fantastic vibe and has created a supportive and fun group. The work outs are great for any level of fitness and Jack and his team are excellent at providing modifications to work around injuries and strains. Highly recommend
A perfect space to reconnect with yourself! Beautiful people, awesome training and fantastic nannies :-) Absolutely the best thing I did post bubs!
Fit Mamma has been an absolute lifesaver for me. The simple chance to get an hour to myself and get sweating with a bunch of other amazing mums was enough... but the classes are amazing and really do cater to all mums, the trainers are super knowledgeable and really know how to adapt the workouts as required. I've got a few more kilos to go but I feel better than I ever have, have learned a whole lot... and made some awesome friends along the way. Highly recommend.