Australian Music Schools (AMS): Kids Music Lessons & Birthday Parties (2-9yrs)
Australian Music Schools (AMS): Kids Music Lessons & Birthday Parties (2-9yrs)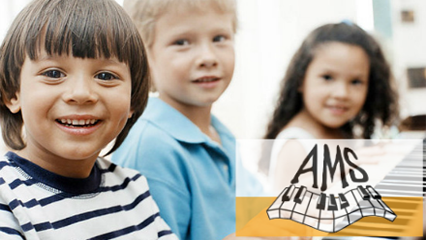 Winner of the AMEB shield for Theory & Musicianship 2007, 2008 & 2009 and with multiple locations throughout Sydney, Australian Music Schools (AMS) is the home of fantastic music classes for children from 2yrs.
Choose from a range of small, age-approprate classes for your child, including:
Tiny Musos (2yr olds): Sing known and new songs and use actions, percussion, toys, scarves, feathers, tunnels and parachutes to teach music appreciation, listening skills, taking turns and confidence building.
Mini Musos (3yr olds): Mini Musos is all about experiencing music in as many ways as possible – we sing, dance, listen, pretend and play percussion as well as using finger play, hoops, tunnels, pipe cleaners and colouring to help learn all about music.
Junior Starters (4yr olds): A fun, creative, structured course, "Junior Starter" has a book and CD for use at home and in class and teaches keyboard/piano skills, introduction to pitch notation, rhythm reading and music appreciation.
Junior Courses (for Kindy & Yr 1 school kids): A progressive course over 2 years, "Junior Course" books and CDs are each used for 2 terms and contain all of the keyboard pieces, notation, worksheets and songs used in class and at home.
…plus many more, including for adults!
AMS Birthday Parties!
How about a music party for your next celebration!? AMS parties are lots of musical fun with singing, percussion, dancing, games, music appreciation and making percussion instruments.
Suitable for 1-9 year olds, AMS parties are run by highly trained AMS teachers who are selected for their ability to relate to children of all ages. Some AMS venues hold parties on site and parties can be run at home or in a community hall, and all parties include a musical party take home bag with lots of goodies and a special present for the birthday child!
For more information on either classes or birthday parties, contact your local AMS centre:
Eastern Suburbs & Inner West: 02 9314 7282 or by email.
Northern Beaches: 02 9314 7282 or by email.
North Shore: 02 9499 5955 or by email.
Tell them ellaslist sent you!
Reviews
This is great. I'd love to have a try at that musical party for our kids. This will be perfect since my little boy seems like he was born a musician. I am so happy because he likes music so much. I'll check the website for more details first.