ellaslist reviews Cedars Cottages Farmstay, Kangaroo Valley NSW
ellaslist reviews Cedars Cottages Farmstay, Kangaroo Valley NSW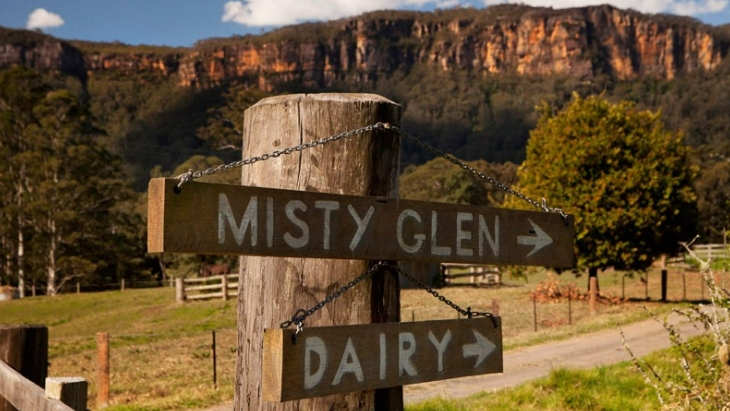 One of our ellaslist explorers and her family had the very exciting opportunity to visit Cedars Cottages farmstay in the Kangaroo Valley. Here's what she thought.
Cedar Cottages Had A Farm, E-I-E-I-O
To say our two girls were excited to have the chance to spend two nights at Cedars Cottages Farmstay surrounded by farm animals and wildlife is an understatement. They couldn't contain themselves listing all the animals they might encounter and ensuring their gumboots were securely packed ready for feed time at the farm! It was breathtaking; the panoramic views across the valley and sandstone escarpments as you arrive through the farm gates were picture-postcard perfect.
Free Range Family Time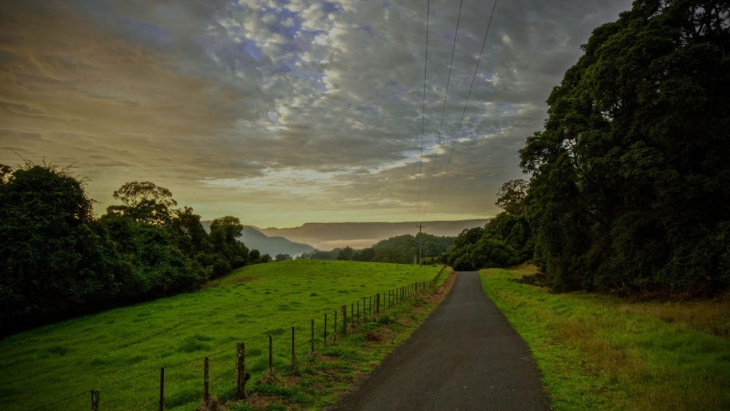 Animals of all shapes and sizes are a firm favourite at our house. An opportunity to spend quality time up close and personal with farm animals and native wildlife is something our family had been hoping to do for some time. Giving kids the chance to enjoy fresh country air, safe, endless spaces to explore and building their understanding of where their food comes from and daily farm life seems even more important with our super-fast paced lifestyles. Our eldest daughter Cleo even saw an egg laid right in front of her, which she then took back to the cottage to prepare for her breakfast.
Escaping The Screens
We found a farm stay was a great chance to spend time together without the distractions of phones, computers and TV. There is phone reception throughout the property and a TV in your cottage, but we found we were having so much fun that we didn't rely on them as we did at home. The kids were nicely exhausted at the end of the day, which was an added bonus.
Superb Farmstay Accommodation
Cedars Cottages comprises four self-contained cottages on 1,200 acres. Each cottage is fully equipped with everything you will need for a family farm stay holiday; great quality towels and linen are provided, comfy beds, full bathrooms with large showers, kitchens containing all the equipment you'll need to prepare your own meals, plus there is a BBQ out on your verandah. We bought along easy to put together meals for dinner which we could throw together quickly in the kitchen – pasta and meatballs and sausages and salad. Cereal was an easy option for breakfast and the fresh eggs, sourdough bread and jams and spreads provided were an added treat. The bedrooms have plenty of space to pop up a portable cot if needed.
Perfect Family Accommodation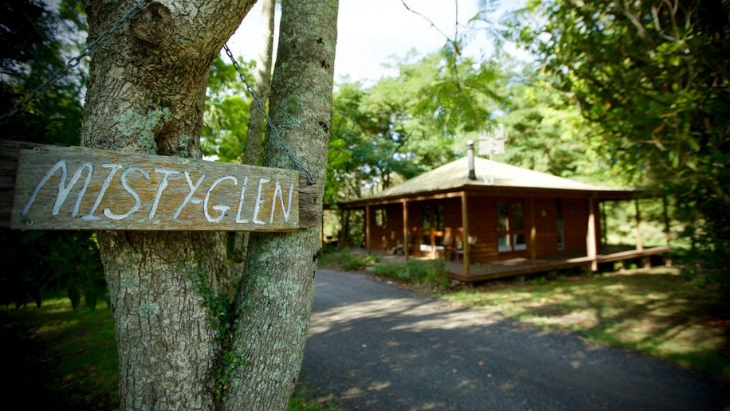 Like all the Cedar Cottages, Misty Glen Cottage was perfect for families. It was whisper quiet and safe for kids to run and explore. It had a wonderfully warming pot-belly stove which kept us cosy. Bringing in the pre-cut firewood, which you will find on your verandah, and getting the fire started with Daddy, was another experience which was out of the ordinary for our girls. We were also lucky enough to have a visit from George the resident peacock who spent an afternoon enjoying the verandah of our cottage much to the delight of Cleo and Ava. There is also a swing in a tree at the front of Misty Glen; another nice addition for families.
Animal Encounters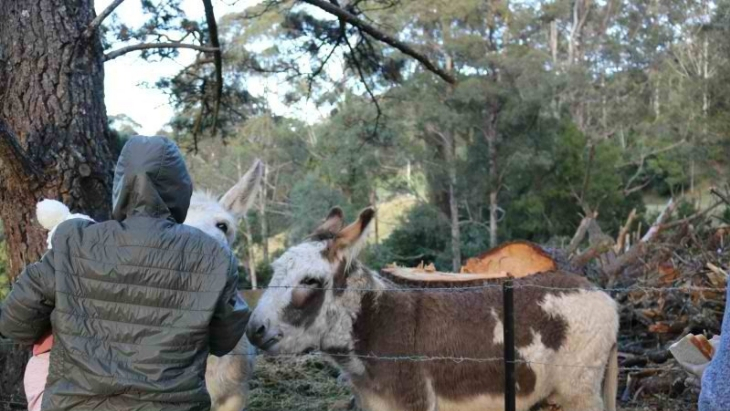 Undoubtedly the highlight of the stay for kids will be the time they get to spend with the farm animals. And a time not to miss is morning feed up at 8 am at the chook sheds. If you're staying in Misty Glen, there's no need to set the alarm as the donkeys and cows gather ahead of time with a few courtesy 'ee-yores' and 'moos' to let everyone know they're ready for breakfast! During feed up, everyone gets a chance to get involved. Digger and Greg were great at explaining what we would be feeding to the different farm animals and they helped put together the feeds.
Cheeky Donkeys & Cows
First up we headed over to the donkeys and cows who had been waiting patiently and fed them some hay which the girls had great fun passing through the fence to the very cheeky donkey duo and lovely cows whose long tongues elicited lots of giggles.
Freshly Laid Eggs
Next up it was time for the chickens to enjoy some feed, Lebanese bread, plus corn. Cleo and Ava were lucky to find some freshly laid eggs and have a quick pat with the chickens. Cleo also learnt some of the realities of farm life after hearing about a recent attack on the chickens by a fox.
Pearl & Her Piglets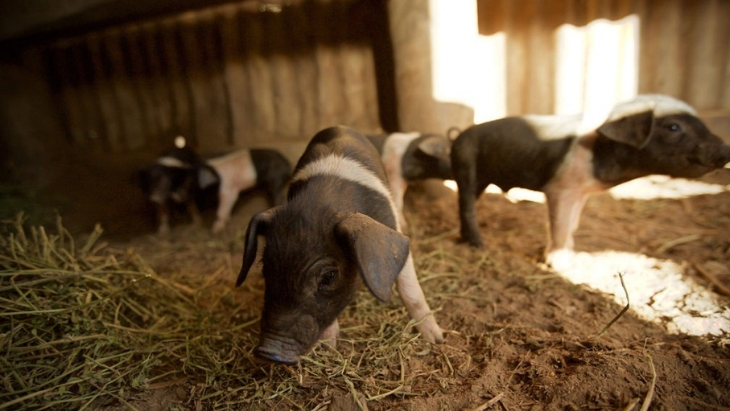 We were very excited to visit the pigs as we'd read in the Cedar Cottages newsletter that Pearl the sow had just had a litter of seven piglets only two weeks before we arrived. The small squealing piglets were our youngest daughter's favourite and she is still hoping we can get one of our own! We also met their very large father Napoleon and another sow Ruby with two of her piglets, just a few months old.
Fun With The Goats
After lots of fun with these animals we jumped in the back of the ute and went to another paddock with goats and sheep. The goats are highly animated and very focused on getting to the food, which provided lots of laughs.
Gentle Giant Shires
Our last stop was at the magnificent Shire Draught horses, bred at Cedars Cottages. These were my favourite and we made sure to stop by at other times during our stay to treat them to some apples and carrots which we'd bought along with us. They are such large horses but both of our little girls were completely confident hand feeding them without hesitation.
Visiting Kangaroo Valley Village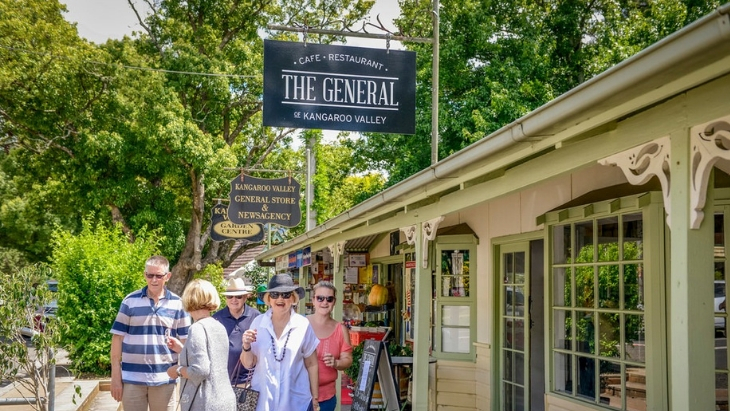 Lunchtime is a good opportunity to head into Kangaroo Valley Village for a bite to eat – there is a bakery and pie shop perfect for lunch. During our visit, the girls loved crossing over the ''castle bridge'' (Hampden Bridge) thinking they were in the midst of a fairy tale. The village has a small selection of shops (lots of second hand and antiques) perfect for strolling through and a little playground the kids will enjoy. Lollies and fudge are also popular!
If you'd like to head into town for dinner the Friendly Inn Hotel pub is family friendly and there are a small selection of other options (Bistro One46 and Jing Jo Café) that also looked good and would work for families.
ellaslist Top Tips
Gumboots – be sure to pack your gumboots so you can get involved in feeding the animals and exploring the farm
Apples and carrots – take some with you! It was lovely to be able to feed the animals some extra apples and carrots throughout our stay
Don't forget your camera – there are such amazing views and so many wonderful opportunities for photos of the native wildlife and with the farm animals
Getting There
We took the M5/Hume Highway route to Kangaroo Valley and stopped in Bowral for coffee and cake at the delicious Gumnut Patisserie. This route was quick and easy with kids. You can also take the coastal route which has lovely views of the beaches but takes a little longer.
Find out more about Cedars Cottages Farmstay Accommodation.
More Farmstays For Families
Winter Farmstays With Fireplaces
Gypsy Willows Hunter Valley
Best Alpaca Farm Stays In NSW
Have you signed up to our newsletter? Join ellaslist to get the best family and kid-friendly events, venues, classes and things to do NEAR YOU!