Escaping City Life For The Simple Life At Gypsy Willows, Hunter Valley
Escaping City Life For The Simple Life At Gypsy Willows, Hunter Valley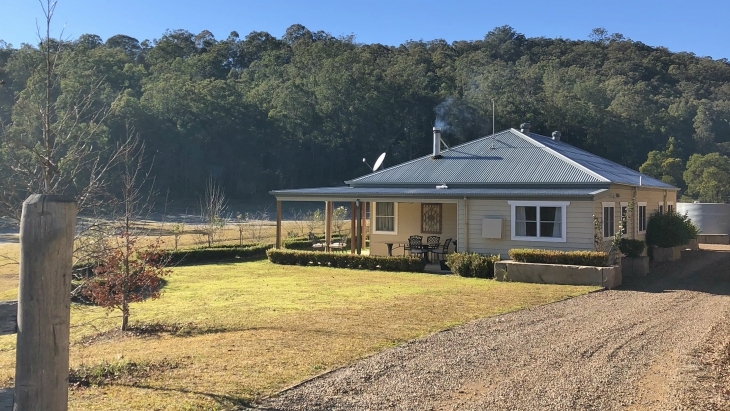 By: Grace Titioka, ellaslist
It's a catch-22 living in the city. There's so much for families to see and do during school holidays and weekends – museums, galleries, theatre and musical shows, cafes and restaurants…the list is endless! Yet, everyone always seems to have the same idea at exactly the same precise time and next thing you know, you're dealing with road rage over a Bondi Beach car park or going on duty as queue jumping police at a popular Alexandria café. Or is that just me?
Escaping The Hustle
So our rare occasional trips out of the city are always highly anticipated. Nothing like getting on the M1 and knowing you're heading somewhere with peace and tranquillity.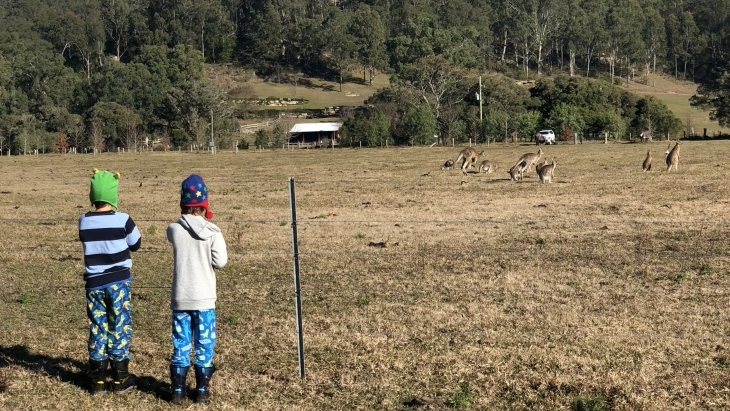 While my family and I have been to the Hunter Valley for a quick day trip, I've kept the area on our family bucket list. Mother intuition just kept telling me it was a place we had to get back to. It was just a matter of finding the perfect family accommodation – something roomy yet cosy, affordable but with atmosphere…not asking for much am I?
Live The Gypsy Life
Gypsy Willows is quietly tucked away a few kilometres from historic Wollombi. After a two and half hour scenic drive north of Sydney, we turned into a long gravel driveway to be immediately greeted by kangaroos, cows and horses and even Shetland ponies! The kangaroos were grazing so close to the car and so relaxed, my children's squeals of delight didn't even scare them away.
Built in 2016, Jim the owner does a fantastic job of keeping the beautiful bedroom property in pristine condition and maintaining its quaint, homey feeling.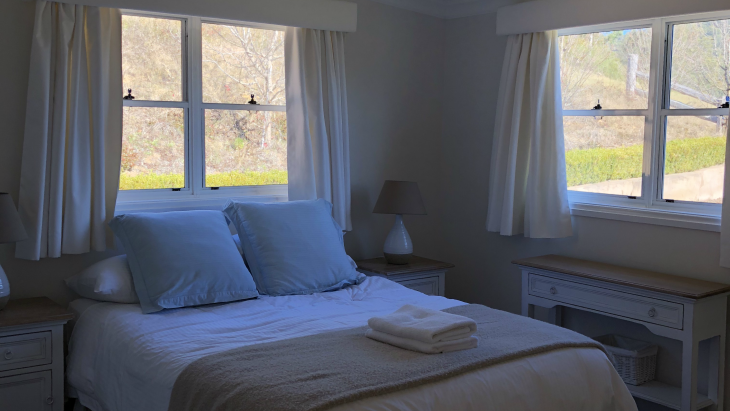 The three ensuite bedrooms are airy and homey, the queen sized beds fluffy and inviting. (There's something about fresh country air that always makes me sleep so well!) There's also a pool (looks like we'll be back in the summer!) and a fireplace. For me – a lover of bubbles and a long soak – I fell in love with the main bathroom's huge bath tub!
Being a family guilty of overpacking every single trip and with children who have a terrible aversion of picking up after themselves, I was also relieved there were spacious walk in wardrobes.
And while you are very much away from the hustle and bustle of city life, the house is well equipped with Wi-Fi, Foxtel and a blue tooth speaker.
The More The Merrier
As our twin boys were happy to share a bed, we had one spare bedroom which made me think how great Gypsy Willows would be as a get together for two young families. Especially if one family had a newborn/toddler as there's a spare baby cot (along with a high chair).
There's also a front loader washing machine and dryer – perfect for my family with grubby boys getting right in the dirt and dams every day. From the bath towels, to the bed linen to the kitchen appliances – it's all top notch high quality and everything makes you feel truly at home.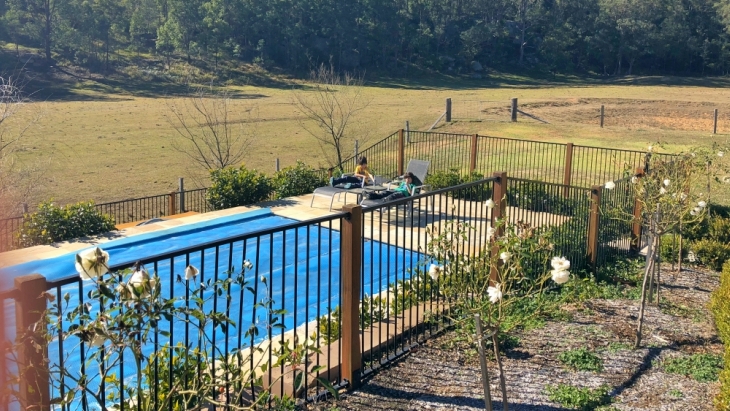 Personal Touches
We arrived late on Friday afternoon without having packed any food or groceries, so it was wonderful to see a fridge with fresh milk, eggs and even bacon and yoghurt! The pantry also had essentials of bread, muesli, tea and capsules to use with the coffee machine!
Then there was the crème de la crème – a bottle of local sparkling wine in the fridge!This was very much enjoyed whilst sitting by the fireplace. Welcome to the Hunter Valley!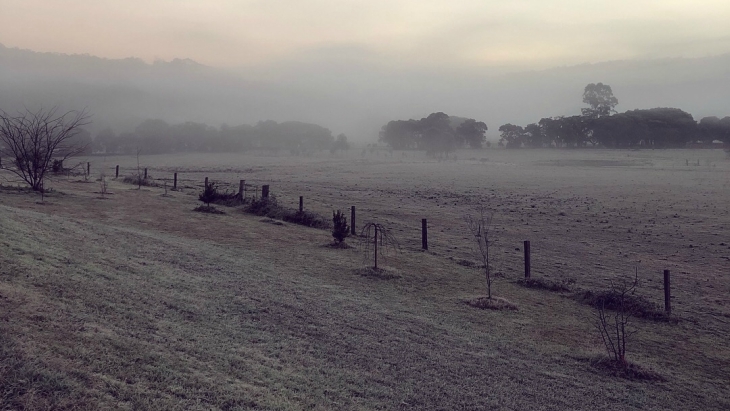 City Slicker Out, Country Folk In
Seeing the mysterious mist and frosty grounds that first morning was truly breath-taking. My boys hadn't seen anything so magical. We threw on some jumpers and beanies, slipped into our boots and went for a long walk around the property where there were dams to explore, hills to climb and more wildlife to quietly observe and appreciate.
The children's look of joy and contentment when we got back to the house and rekindled the fireplace is safely stored in my memory banks.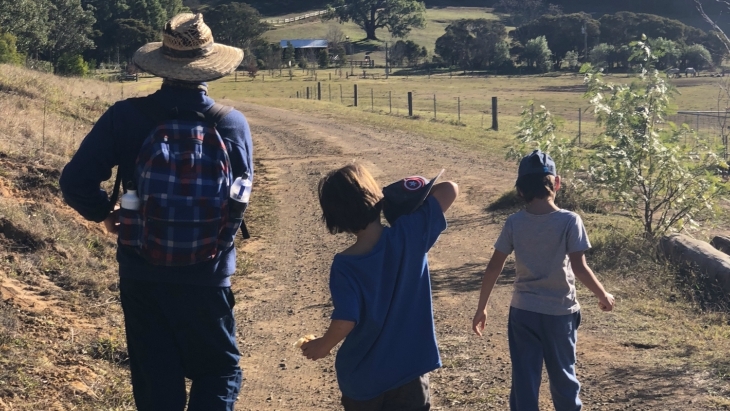 Wonderful Wollombi
While the mornings were crisp, the day quickly warmed up and after detailed instructions from Jim, we headed out on a bush walk to the main village of Wollombi. If there's one method in teaching your children how to rough it, it's a steep bush walk! But again, the beautiful nature and animals was a great reminder of the amazing adventure they were having.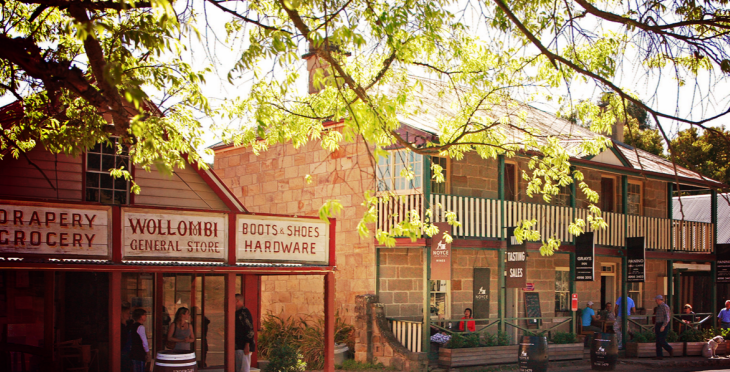 Wollombi is a cute little village with antique shops, museums, art galleries, wine cellars, cafes, restaurants lining the main street.
The Wollombi General Store is a must see. Built in the 1850's its character is still very much intact with wooden floorboards and shelves. Selling all sorts of lovely local products (creams, soaps, jars of jam, pickles and chutney) as well as the bare essentials, their chocolate milkshakes (for the boys) and coffee (for me) get the big thumbs up!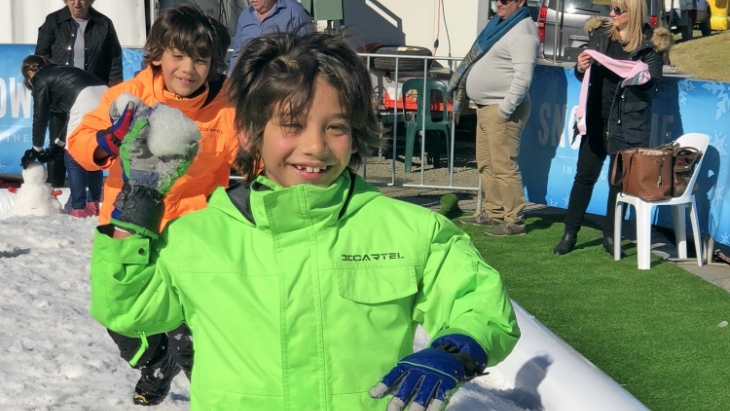 Winter School Holiday Tip
As Pokolbin is only a 40 minute drive, we planned our stay so that instead of heading straight home on our last day, we took a detour to Hunter Valley Gardens' annual winter festival 'Snowtime In The Gardens'.
Thanks to our memorable experiences in Gypsy Willows, we can put a hearty, satisfying tick next to the Hunter Valley on our family bucket list.
A second property with 2 bedrooms and a pool is currently under construction, ready for bookings in late spring, early summer. Whether we invite another family to join us or we plan our own trip – either way, we'll be back!
Booking Details
You can check availability and book online at www.gypsywillows.com.au
Email: [email protected]
Rates vary on either a mid week or weekend stay and number of guests. While there is a two night minimum booking, give Jim a call (0413 988 888) for one night stays
Jim's very personable and accommodating and will even drop by to say a quick hello during your visit.
Have you signed up to our newsletter? Join ellaslist to get the best family and kid-friendly events, venues, classes and things to do NEAR YOU!