Best Places Near Melbourne To See Snow
Best Places Near Melbourne To See Snow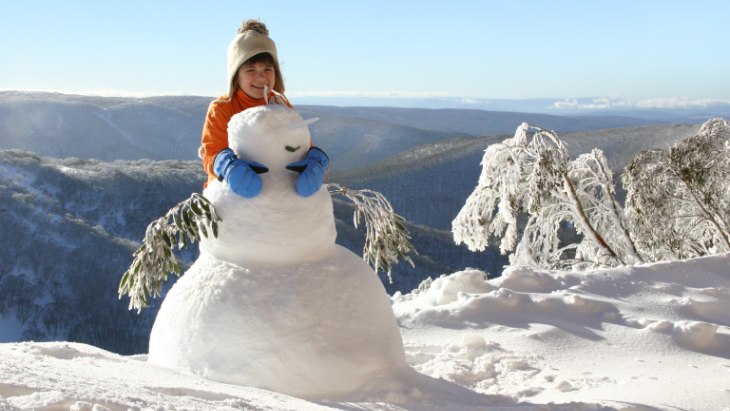 Winter in Victoria is a chilly time and in the mountain resorts not far from Melbourne in June, that means snow.
Get the winter gear out of the closet. It's the perfect place to take the kids for a day trip or a quick weekend getaway.
There are other soon to be snow capped options available as well, depending on your budget and your free time. Here's a snapshot of some of Melbourne's top choices for a family trip to the snow:
1. Mt. Donna Buang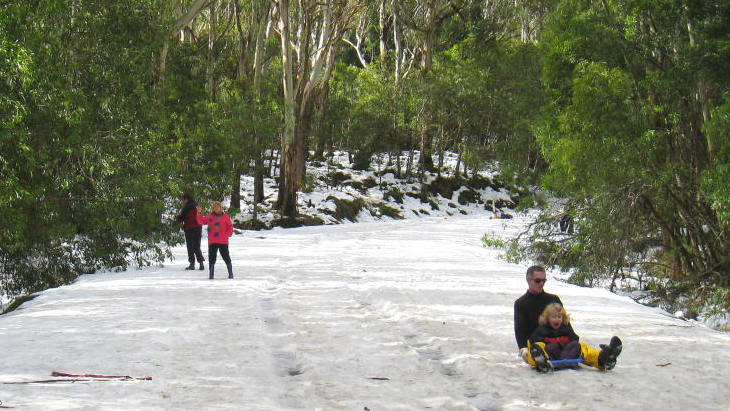 Mt Donna Buang summit (1,245m) is located in the Yarra Valley, overlooking Warburton in Victoria only 88km away from Melbourne making it the closest snow destination for a quick day trip.
It is a very popular destination for Melbourne families to do some snow play and enjoy toboggan runs. There are 3 different toboggan runs, a designated snow play area, barbeques, car parking, toilets and a scenic drive up to the summit. Families are welcome to bring their own equipment. Toboggans are available locally as well.
Mount Donna Buang is a spectacular place to be at any time and a 21 metre high lookout tower on the summit provides panoramic views of the Yarra Valley, Dandenong Ranges, Melbourne, and the Alps.
What You Need To Know
The Don Valley Road is usually closed in winter - so drive through Warburton and turn left at the Warburton Motel sign up Donna Buang
There is no cost to access Mt Donna Buang. FREE Snow Play...Woo hoo!
Visitors are welcome to bring their own toboggans and snow toys, although there are hiring facilities on the mountain
For more information, see the facebook page.
Check here for latest snow reports
2. Falls Creek

Falls Creek is Victoria's largest area of skiable terrain and the fact that it's home to the National Cross Country Skiing Team is proof that it's a great location to get your family out and about in the snow.
If your kids also love downhill skiing, there are a total of 90 runs to choose from with a good few catering for beginners. Victoria's longest green (easy) run is also here while most of the others are for more advanced skiiers. For older kids who enjoy the adventure of staying up late, night skiing is also available a couple of times a week.
In exciting news for this season, a $9 million high-speed squad replaces the old triple chair in the Village Bowl.
To help your little ones get the skills they need to keep them safe on the slopes, this resort has a variety of age-grouped classes on offer – for 3-6 year olds, 6-12 year olds, and Teen Academy for 13-17 year olds. A snowboard program is also available for 3-5 year olds.
What You Need To Know
Phone: 1800 2 FALLS Visitor Information Centre (03) 5758 1202
Prices: To work out the costs of lift tickets and passes you and your family will need to enjoy the snow, do your research and look for special deals that pop up from time to time.
Skiing season runs from June 9 to October 2 (may vary depending on weather conditions)
More information: visit the website
See latest snow report here
3. Lake Mountain Alpine Resort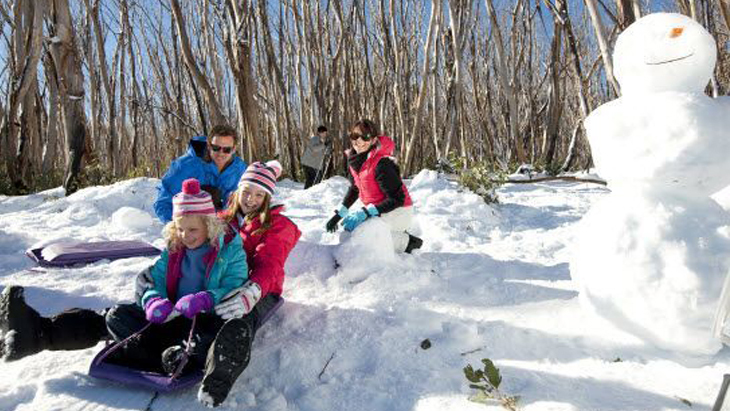 This snow-covered slope has a lot going for it – and probably the main thing is its proximity to Melbourne.
Imagine seeing snow just two hours from the CBD! It's not the place to go to when you're looking for downhill skiing action but when it comes to other snow activities, Lake Mountain has the whole family covered.
Let's start with snowmen. Once the kids are done adding the carrot to his nose and you've taken you obligatory social media snaps, there are four slopes for toboganning thrills. If your kids are little, be prepared for a big workout – they'll probably only last a few trips back up the hill before their legs give way from tiredness, so to keep the fun happening, you might be the one they call on to pull them back up for another turn.
If all that strenuous exercise gets too much, you can move at a calmer pace by hiring some snowshoes and heading out on one of the five snowshoe trails.
What You Need To Know
2WD can access the area but when snow falls are heavy, snow chains are still recommended and can be hired in Narbethong and Marysville.
Telephone: 5957 7222
Address: 1071 Lake Mountain Rd, Marysville
Skiing season starts from June 10th
More information: visit the website
See latest snow report here
4. Mt Baw Baw Alpine Resort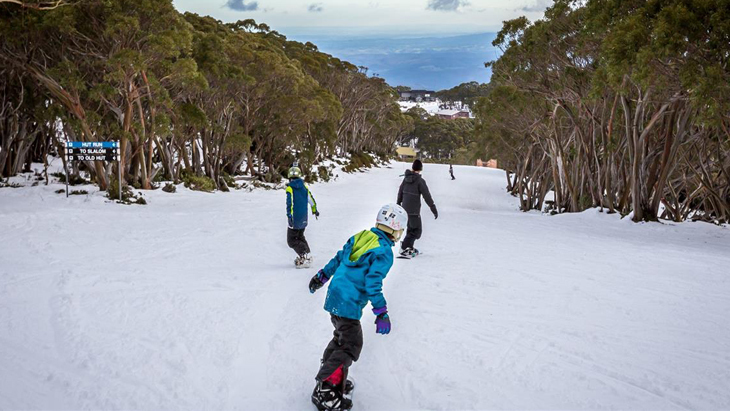 It hasn't got the reputation of some of the other more popular resorts – and it is definitely smaller – but, for travel ease, Mt Baw Baw is the closest downhill ski resort to Melbourne. On a good traffic day, it's about 2.5 hours from the CBD.
The names for the toboggan slopes – including Frosty Frog Hollow and Frantic Frog Park – say a lot about Mt Baw Baw's kid-friendly focus and the 30 kilometres of cross country ski trails are good for family adventures.
As well as skiing and snowboarding lessons, your kids might also love the Howling Husky Sled Dog Tours. Although you could cram an action-packed day in and still make it home to fall into your own bed, the accommodation options are good, with everything from apartments, lodges and cabins available.
What You Need To Know
Phone: (03) 5165 1136
Address: 32 Currawong Rd, Mount Baw Baw.
Skiing season starts from June 10th
More information: visit the website
See latest snow report here
5. Mt Buller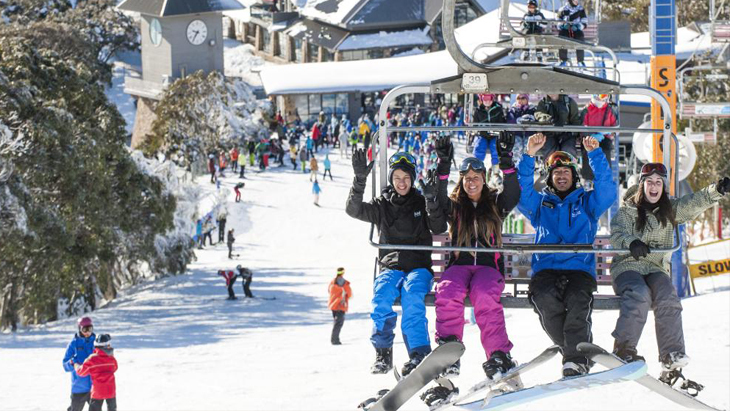 The downhill runs here are loved by skiing fans and because it's only about a 3-hour drive from Melbourne, it's one of Australia's most accessible snowfields. Mt Buller gets very busy – the accommodation at the resort has space for 7000 people.
Kids of all ages are well catered for. If your children plan to add snow skills to their trip, they can join in with Bunyips (3 to 6 year olds), Buller Kids (7 to 14 year olds), and Buller Teens (15 to 18 year olds).
And for the seriously adventurous kids in your tribe? Team Buller Riders coaches kids aged 10 to 18 years old to help them excel at mogul skiing, slopestyle and aerials.
Of course, it doesn't have to be so structured. A visit here might be just about building a snowman or two, drinking some hot chocolate and falling over a few times on your skis. Just have fun!
What You Need To Know
Mt Buller is 248kms north-east of Melbourne, via Mansfield.
Phone: (03) 5777 6077
Skiing season starts from June 3rd
More information: visit the website
See latest snow report here
6. Mt Stirling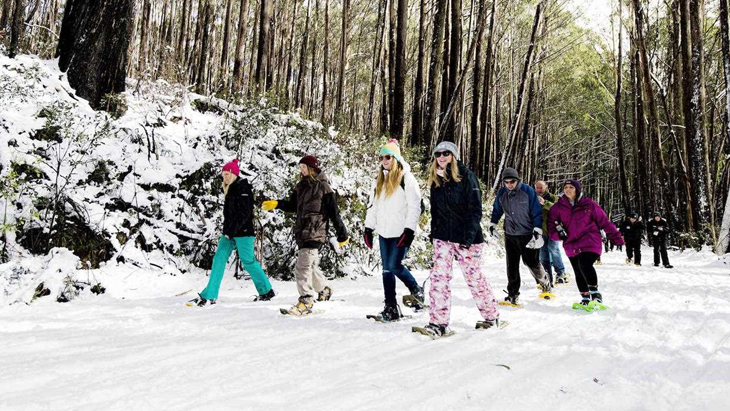 This is an underdeveloped reserve and it's definitely aimed at more experienced snow-lovers.
But, as a place to drive to see the white stuff, it's as good as any.
Cross-country and snowboarding trails are free to access but there are no lifts or other luxuries. Ski patrols and mountain huts still help keep you safe. If getting your kids back to nature is your thing, strap on some snowshoes and get moving. Two walks here do have signs to guide you through the beautiful mountain ash and snowgum forests for that winter wonderland experience.
What You Need To Know
Expect a three-hour drive from Melbourne, via Mansfield.
Phone: (03) 5777 6077
Address: Alpine Central, Summit Road, Mt Buller
Skiing season starts from June 10th
More information: visit the website
See latest snow reports here
7. Mt Hotham
It's not an ideal day trip but it is spectacular – with wonderful scenery along the picturesque Great Alpine Road.
Whether your kids are beginners or more experienced – their needs are catered for here. The resort has 13 lifts that service 3 terrain parks and 35kilometres of cross-country skiing. Snow play? Dog sled tours? Ski school? Snowboarding lessons? Gear hire? Accommodation? It's all on offer here, at a price.
To understand all the different costs for passes and classes, explore the website for more info. Throwing a snowball at each other? That's free…
New for 2018 is the amazing Glamping accommodation in eco domes.
What You Need To Know
Mt Hotham is 372 kilometres from Melbourne, via the National Highway.
Skiing season runs from 10 June to 1 October
More information: visit the website
See latest snow report here
More Snow Fun Here
Where To Go Skiing In NSW
Mt Baw Baw Launch Weekend
Kid Friendly Ski Fields Near Melbourne
Don't forget to like us on Facebook for more family inspiration!
Have you signed up to our newsletter? Join ellaslist to get the best family and kid-friendly events, venues, classes and things to do NEAR YOU!