Best Hotel Kids Clubs In The World
Best Hotel Kids Clubs In The World
Mums & Bubs
Toddlers
Preschoolers
Kids
Teens
Family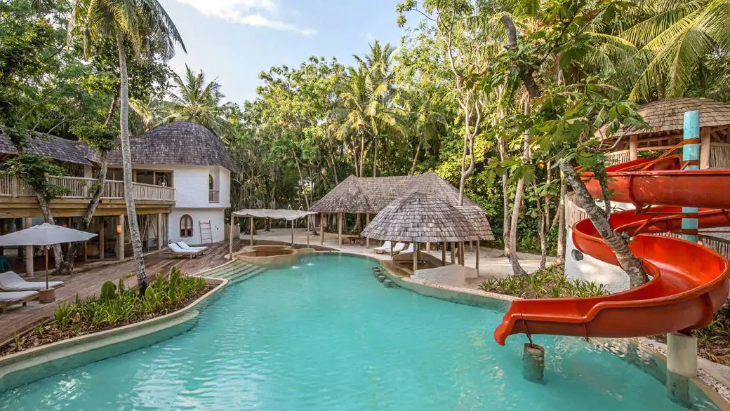 Kids' clubs – the saviour of holidaying parents everywhere.
But they aren't all made equal. Some simply have a pool, a few pieces of poor playground equipment and some blunt colouring pens (queue toddler tantrum). On the other end of the spectrum you have the all-inclusive deluxe clubs set on magnificent resorts- the kind that your kids will never want to leave.
We've rounded up the best kids clubs in the world set on seriously luxe resorts. So all that's left to do is "you" time, whether that's exploring, relaxing or perhaps even holding hands with your partner on a long, adult stroll without stopping for "One, Two, Three...Swing" every few minutes.
Happy little troopers, happy parents...we are sold.
Club Med La Pointe aux Canonniers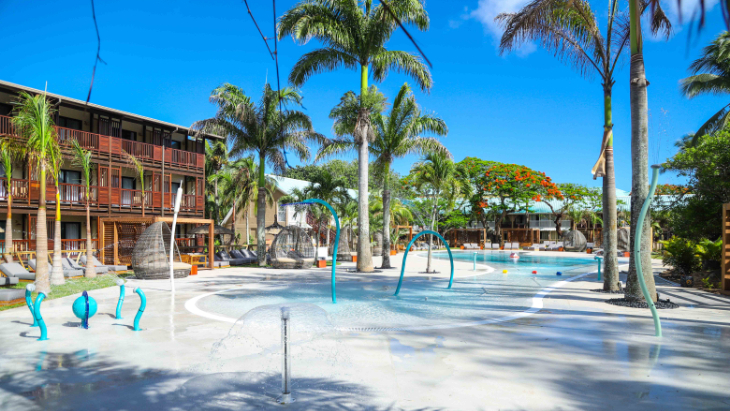 Club Med La Pointe aux Canonniers is a postcard-perfect Resort. The newly renovated resort offers a vibrant, colorful getaway in the Mauritius with a beautiful sand beach and picture perfect turquoise lagoon.
Their world class kids club is broken down into three age appropriate experiences. The first is the Petit Club Med (2 to 4 ages) which includes early learning activities, walks and outdoor games, nutritious meals and creative activities. The Mini Club Med (4 to 11 ages) includes an awesome dedicated space inspired by nature and the sea. Activities include sport, games and creative activities and the Juniors' Club Med (11 to 18 ages) offers a host of waterbased activities. They can learn to snorkel, ski, wakeboard plus plenty of land based fun too.
There is also a baby room available 24hrs a day complete with baby food, microwaves, milks, sterilisers, bottle warmers and more.
Whilst the kids are whisked away having the time of their life at kids club, you can kick back at the newly created Zen Zone featuring adults-only infinity pool and beach bar, restore your energy at the calm haven of the new Club Med Spa or get adventurous with waterskiing, and other aquatic and land sports.
And if you miss the kids after a couple of days (or hours) and are ready for some quality time as a family, Club Med has just rolled out a twist on Kids' Clubs with a new program of activities that offers families the perfect time to connect and have fun together. It's called Amazing Family and as much as we love some time off from the kids, we think this is great!
The family program includes basketball, kite competitions, Olympic games, aqua gym, giant board games, family yoga, wildlife walks or local cooking classes and even a a life-size treasure hunt around the resort grounds to uncover local culture, flora, fauna and wildlife.
Club Med La Pointe aux Canonniers has something to keep the entire family happy!
Soneva Fushi, Maldives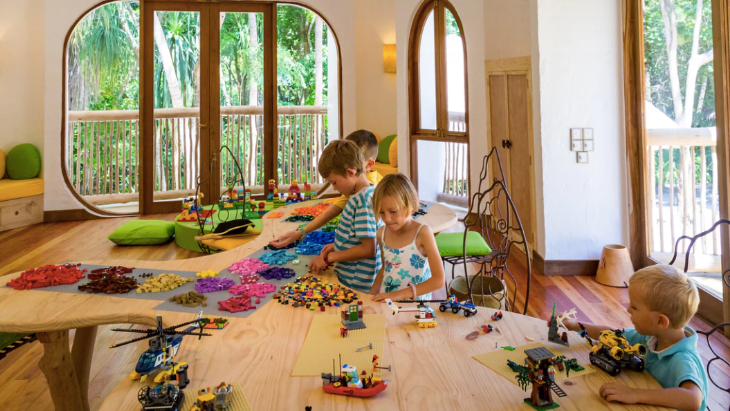 Soneva Fushi in the Maldives is a resort like no other in the world- an adventure playground with a kids club that is simply, out of this world!
Let's just begin with the chocolate room. Yes, that's right. A Willy-Wonka style chocolate room with complementary and never-ending chocolates like cardamom chocolate truffles, passion fruit pralines and chocolate cake. The inner child in you (and your children) will find any reason to keep visiting this delectable room.
Onto the kids club, known as the Den, for kids aged 4 years and over- an adventure playground where kids can splash in two freshwater swimming pools with kiddies' pool bar, spiralling red water slide and giant pirate ship! They can also let their imagination run free with a Lego room, dress-up room, music room where they can learn a new instrument, a cinema room, library, arts and crafts space, table tennis table, oversized board games, children's herb garden and a kitchen where they can take cooking and mocktail making classes.
There is also a space specially made for teenagers and loads of fun activities scheduled throughout the week from movie nights and spa days to surfing lessons, island scavenger hunts, cupcake decorating and pool parties. What fun!
Outside of the Den, Soneva Fushi offers amazing experiences for family time. You can watch movie screenings beneath the starry Maldivian sky at Cinema Paradiso (and even hire out a private screening for something extra special), you can take to the seas with their Marine Biologist for a guided snorkelling trip with colourful fish and coral species and finish the water fun with a picnic, complete with a personal chef and waiter on hand, cruise out into deeper waters to see pods of dolphins frolicking in the waves or explore the wonders of space with the 3D Astronomy technology.
This resort is what kiddy (and adult) dreams are made of.
Michès Playa Esmeralda, Dominican Republic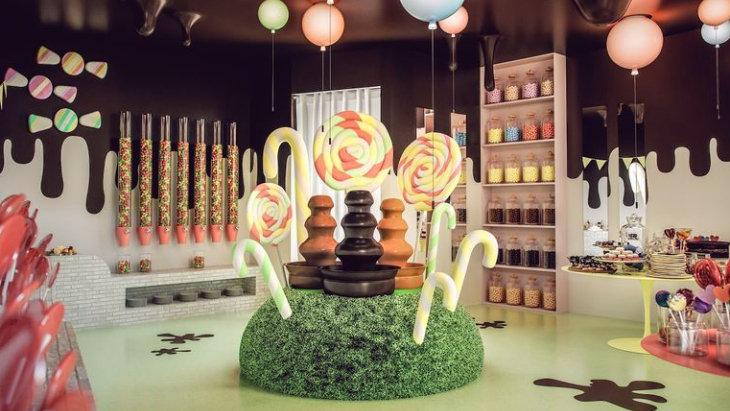 A secret chocolate room, I repeat, a secret chocolate room. Club Med have taken their kids offering to the next level by creating a first-of-its-kind kids 'speakeasy' filled with sweets!
Find it at Michès Playa Esmeralda resort in the Dominican Republic at its Cacao & Co. family restaurant. The cool factor doesn't stop there though: kids will have to crack the entrance code by solving secret clues throughout dinner (aka they'll be entertained long enough to finish their veggies while Mum & Dad polish a bottle of wine). Once dinner is finished they'll embark on a quest to find the location of this secret room and when the vault finally opens they'll get to dig into unlimited chocolate, ice cream, cake and loads of other sweets!
This is one kids club us adults are gonna whinge about - it's not faaaaaaaiiiiiiiiiiiiiir!
Opening November 2019.
Lakes by Yoo, Cotswolds
Lakes by Yoo is an 850-acre private estate offering breathtaking lake views and a contemporary and seriously stylish escape to the English countryside. The luxurious and contemporary designer lakeside and woodland second homes provide the most amazing atmosphere for families to enjoy their time together.
Many of the lakeside properties were designed by chic celebrities with one of the most stylish country homes on the estate designed by none other than supermodel Kate Moss. How's that for luxe?
The amazing kids club offers a wide range of activities from bushcraft to arts and crafts, air rifle experiences to bee keeping and fishing. They cater for a core group of ages 4-10 years and the activities are planned with this age in mind. However, older children are welcome and younger children may also come along if accompanied by an adult.
They will have your kids chasing chickens, putting on plays and trying out watersports. There's zip lining, biking and swimming, to puppetry, pizza making and animal-petting. It's guaranteed nobody will get bored.
And when you are ready for some family time the beautiful secluded and secure estate offers so many family friendly activities. You can cycle lakeside, get involved in some fun watersports or swim and relax in the 17-metre heated pool with panoramic views of Clearwater Lake.
Kingfisher Bay Resort, Fraser Island
In Australia's very own backyard is the picture perfect Kingfisher Bay Resort, Fraser Island. Built into the rainforest and just metres from the beach, this eco-resort sits on the world's largest sand island, and offers the perfect base to explore the crystal clear lakes, lush subtropical rainforests and the World Heritage wilderness that Fraser Island offers.
The world class Junior Eco Rangers program for kids ages 5-14 years runs every school holidays and weekends and offers an interactive wildlife experience. Run by the experienced ranger team, kids will learn about the island's environment through action-packed activities such as fishing frenzies, bushwalks, beach games, scavenger hunts, campfires with stories, songs and marshmallows and stargazing adventures.
So if you are looking for a memorable family holiday with an awesome kids club close to home, the Kingifsher Bay Resort offers an amazing adventure that the kids will be talking about for weeks on end!
Sani Resort, Greece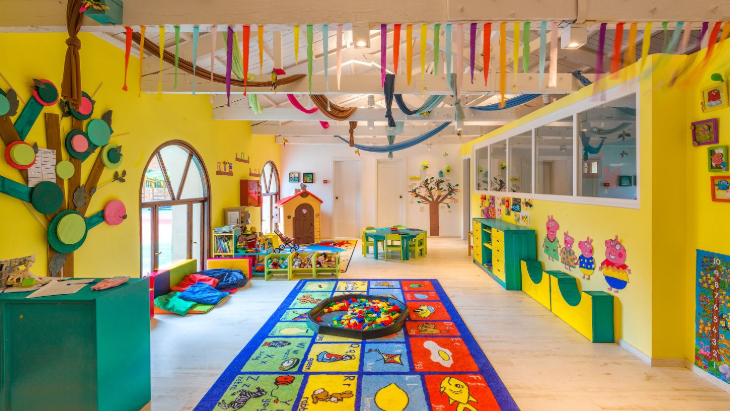 The Sani Resort is a charismatic complex of four separate hotels surrounding a striking marina in the Kassandra peninsula, Greece, filled with baby and kid-friendly facilities, several pools and 18 restaurants to keep even the fussiest eaters spoilt for choice.
Accredited by Worldwide Kids (a world class accreditation) the Melissa Mini Club is for kids 4-12 years offering mini-Olympic Games on the beach, short excursions, picnics and parties, treasure hunts, table tennis, water ball, volleyball, gymnastics, Kids aerobics, shell collecting, a sand castle castle day, cookie-making and more.
The teenage club for 12-17 year-olds offers dj-ing, archery, beach volleyball, dancing, football, sailing academies, and a super cool hang-out venue.
The resort also has several outdoor playgrounds, swimming lessons available for the under-4s and there's a junior and teenage spa, with dedicated treatments.
But wait there's more...
One of the most popular things the resort offers is an on-beach "babewatch" service (the first 30 minutes are included in the price of your room); a genius invention where the bambinos can hang metres away from you in a secure, shady environment whilst you enjoy a swim, sunbath, snack or even a read of a novel!
From toddlers to teens, this resort has all you need to enjoy a fun-filled family holiday.
Thailand's Soneva Kiri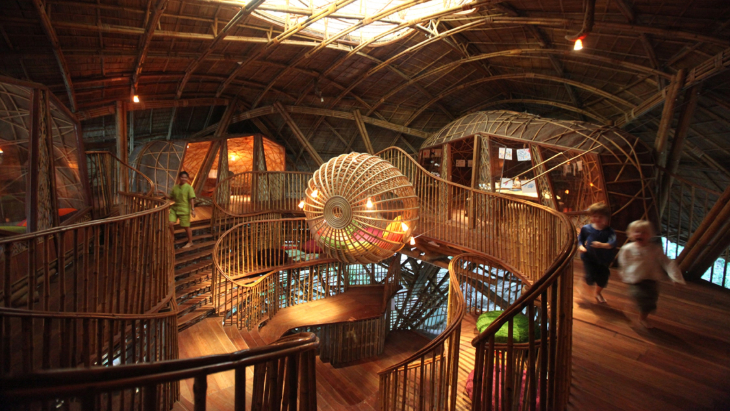 Soneva Kiri is a tropical paradise with 36 luxury residences bordered by a lush jungle of palm trees and a white sand beach.
Some of the family friendly highlights include a chocolate room that you can raid whenever you like, an observatory from where you can count the constellations and cracks on the moon, an eco-friendly version of the Olympics for the little tots and FREE ice cream served every, single day!
Onto the kids club or "clubs" as there's not one but two age specific kids' clubs. The Eco Den for kids aged 1-5 years offers activities like Thai snack making, aqua aerobics, and jungle swimming. The older lot (aged 5 to 12) have exclusive access to a gigantic manta ray shaped bamboo structure sitting above the trees with a slide to zip in and out, an art and craft room, book room, music room and a games room. Activities include learning the Thai alphabet, playing instruments, creating their own jigsaws, rainforest hikes, visiting local schools and even snorkelling with a marine biologist.
The kids clubs and their eco-educative programs are guaranteed to score a smile and tire the little troopers out.
Cool Zone At The Shangri-La Rasa Sentosa Resort, Singapore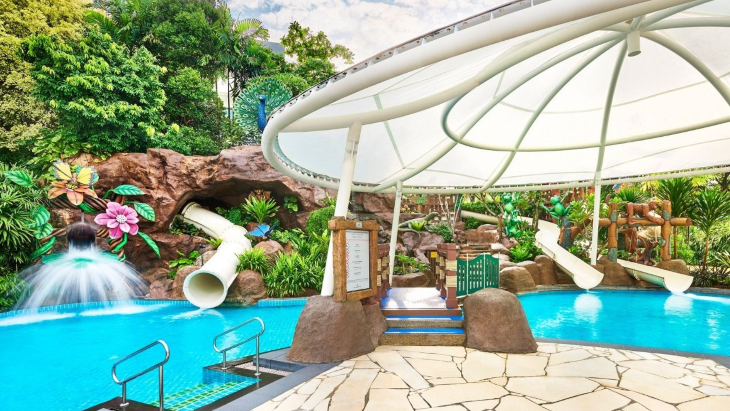 If you didn't think that Singapore was a particularly family-friendly travel destination, think again. From the uber-fun Changi Airport to the visually stunning and oh-so-colourful Gardens By The Bay, Singapore is a great spot to take kids on a family holiday. If you're looking for a family-friendly resort in Singapore, you can't go past the Shangri-La Rasa Sentosa Resort, especially once you check out their Cool Zone kids club. The Toots Club for 5-12-year-olds has a two-story treehouse slide in addition to many other activities, supervised games, swimming in the kid's only pool and waterslide, arts and crafts and plenty more. The Mini Toots Club is perfect for kids under 5, and the Fun Zone is stocked with Xbox, Playstation, Foosball, Table Tennis and other games the whole family can enjoy.
More Travel Inspiration Here
Best Kids Clubs In Australia
Where To Stay In Fiji With Kids
Where To Stay In Hawaii With Kids
Have you signed up to our newsletter? Join ellaslist to get the best family and kid-friendly events, venues, classes and things to do NEAR YOU!