The Best of June for Kids in Sydney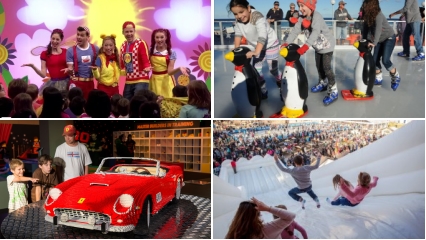 Welcome to June! Brrr…winter is definitely here! But don't use the frosty air as an excuse to stay indoors. Winter is the secret season as there are so many fantastic kids activities happening. So get out those beanies and scarves and start exploring.
Here are a few of our Highlights –
KIDS SHOWS


Octonauts Live!Operation Reef Shield
Captain Barnacles and his trusty crew join forces with a host of colourful Australian reef dwellers on a mission to save the Great Barrier Reef!
23 – 25 June, Chatswood & Wollongong
Hi-5 House of Dreams Tour
With the help of Chats, the Dream Master, and her magical Dream Catcher, your Hi-5 friends journey on some wild, wonderful and wacky dream adventures.
28 June, Luna Park ; 7 – 8 July, Chatswood
Dinosaur Zoo
Meet awesome prehistoric creatures, from cute baby dinos to some of the largest carnivores and herbivores that have ever walked the planet!
24 – 27 June, Parramatta
Roald Dahl's "The Witches"
Think you can outwit a witch and outrun a mouse? Then get ready for The Witches! Brave boys and girls are in for a wicked time with this mind-boggling and madcap one-man show.
30 June – 4 July, Darling Quarter
Puppet Show Fun at Puppeteria
Australia's oldest established puppet company JERAL PUPPETS, will be presenting four exciting programs during the 2015 Winter school holidays.
28 June – 13 July, Randwick & Castle Cove
LEGO LOVERS
Brick Man LEGO Experience
The only LEGO certified builder in the Southern Hemisphere, Ryan McNaught, brings his world first spectacular exhibition made entirely from LEGO bricks to Sydney.
27 June – 12 July, Sydney Town Hall
FAMILY FESTIVAL FUN


Come play with us at PLAY[ground]
PLAY[ground] is an exciting hub from which families can participate in a variety of workshops and activities, exploring ideas which shape the future of our city.
6 – 8 June, Hyde Park Barracks
Bondi Winter Magic
Bondi Winter Magic brings some fun family events plus Australia's only beach-side ice skating rink back this Winter!
20 June – 12 July, Bondi Beach
Winter Garden
The month long free festival of icy goodness creates a spectacular outdoor hub offering entertainment on and off the ice, for young and old.
19 June – 19 July, St Mary's Cathedral, Sydney
Parramatta Winterlight
Winterlinght offers a massive outdoor rink, beautiful themed food, Ice Rink Bar and outdoor cafe area under the beautiful lights.
26 June – 12 July, Parramatta
Cronulla on Ice
Come along to Cronulla Plaza for winter ice skating fun for the whole family! The ice rink will be bigger and better than ever.
27 June – 12 July, Cronulla
SCHOOL HOLIDAYS
School Holidays are around the corner (27 June – 12 July) so it's time to get planning. We have all the best holiday camps, workshops and activities featured right here on ellaslist.
Simply visit our SCHOOL HOLIDAYS section for some great ideas to keep the kids busy during the break.
For more kids events and activities and to help you plan ahead, take a look at our BOOK AHEAD section.


Reviews
Thanks for your comment Lisa, I can't wait to take my kids to some of these fabulous events! May bump into you :D Arielle
This is really useful! I'm going to try these out.