Sydney❜s Most Kid-Friendly Libraries
Along with museums and art galleries, our beloved libraries will reopen on June 1, 2020.
Naturally there will be strict social distancing and good hygiene measures in place, but we are excited to hit the books again! Oh and you can truly devour those books because when they are returned, they will be shelved for a 24-hour quarantine period.
Why We Love Libraries
A kid-friendly venue that is full of creativity, education, music, imaginative fun - and free? What's not to love about libraries! It might not be the first thing you think of when you're looking for a day out with young kids, but if you look a little closer, you'll find that your local library is a treasure trove of joy that will fill your child's mind with the good stuff and set up some healthy habits for life.

Here are some of our favourite kid-friendly libraries and what they offer your family. A hint - it's more than just books!
Green Square Library, Zetland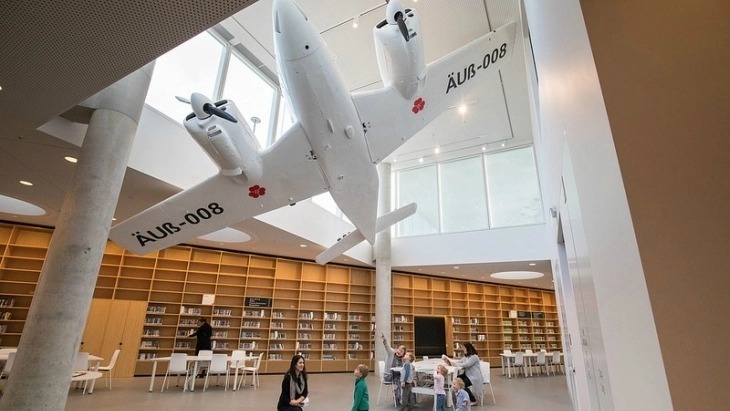 The newest library in town, City of Sydney's six-storey Green Square Library has established itself above and underground, reclaiming land that used to be a swamp! The award-winning design is complete with a glass entry pyramid that lights up at night and an aeroplane. This really is all kinds of wonderful. A Piano Room with a view, a Guitar Library and the comfiest-ever Kids Space are some of the other awesome features here, and we're in love with the Rainbow Reading Room... you'll never want to leave!
Woollahra Library, Double Bay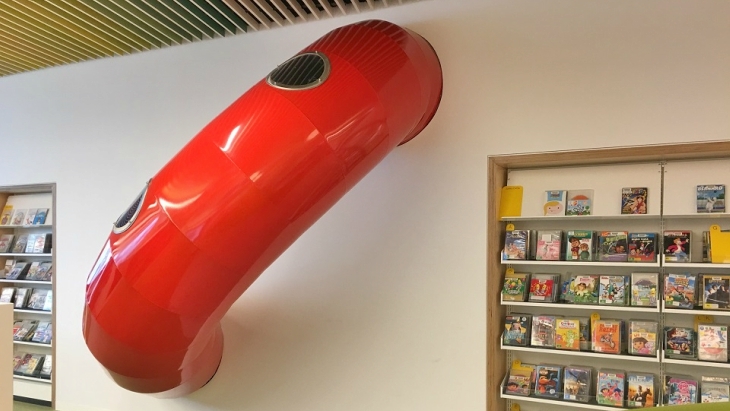 Let's be honest, this one stands out because it has a slide - a slide in a library! You can just go to a park if you want a slippery dip, but what the Double Bay Library offers little people is much more than that! The state of the art library is full of wonder including a 'living wall' of greenery and a conveyer belt to return books that you can watch through the peepholes. The secret garden is the most enchanting kid's area of the library, where they hold their children's program, including Book Babies, Rhyme Time and Story Time. When there are no classes, it is a great place for kids to play on iPads or sit and read. Just watch out for little ones shooting out the end of the slide... There is also a Games Space on level 2 and a Mini Makers Club for school-aged children, plus school holiday activities and special events.
Marrickville Library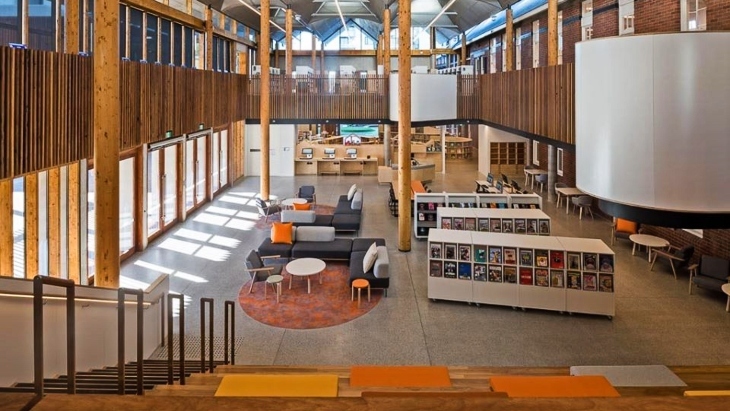 The highly anticipated new Marrickville Library and Pavilion is now open and is a must-visit destination for all book lovers! Repurposing the old Marrickville Hospital site, the stunning, custom-built library is set within a vibrant community hub and is a whopping three times larger than the old one! There is a new junior library, loads of garden space, a children's playground and, in a win for parents, an on-site cafe by inner-west faves Double Roasters! There is a regular Little Library Lovers programs for babies, toddlers and preschoolers and an after-school Bookworm Kids Club for all kids 8-12 to explore their love of reading and develop their creativity.
Rockdale Library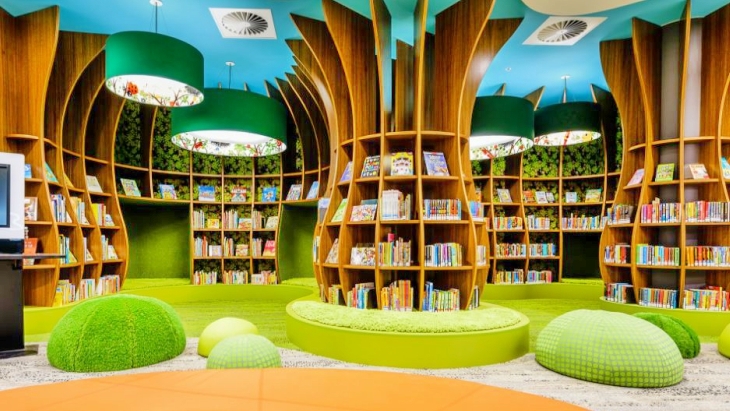 Rockdale Library underwent a huge makeover and totally redefines what you think a library is! For starters, the kid's section looks like something out of a Lewis Carrol novel! There are lots of spaces for children of all ages, lots of vibrant colours and lush greenery. They can find a nook to curl up with a book and be lost in their imagination for hours. You can also attend Baby Rhymetime, Storytime and Toddlertime - their amazing kid's program full of stories, songs, craft and games.
Hurstville Library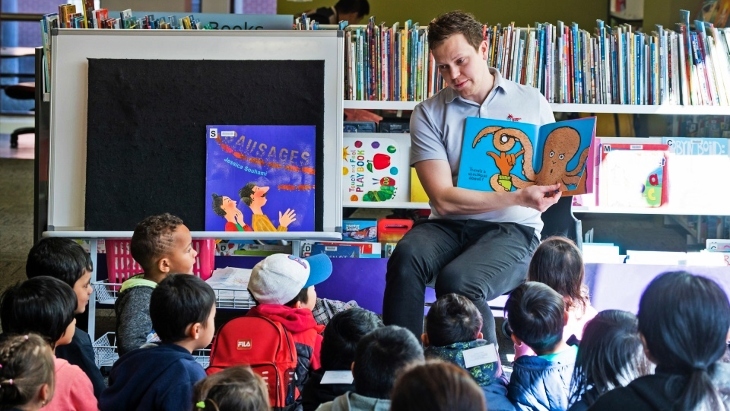 It's big, it's clean, and you can borrow toys as well as books from the 'Library of Things'! At Hurstville Library there is so much on offer that will help instil a love of books in your child. As well as Story Time and Rhyme Time for younger kids, the library also has a dedicated after school program for children aged 5 -10 years. The After School Book Club brings great stories to life with craft, games and acting during school term. There is also a Lego Club and a Code Club.
Max Webber Library, Blacktown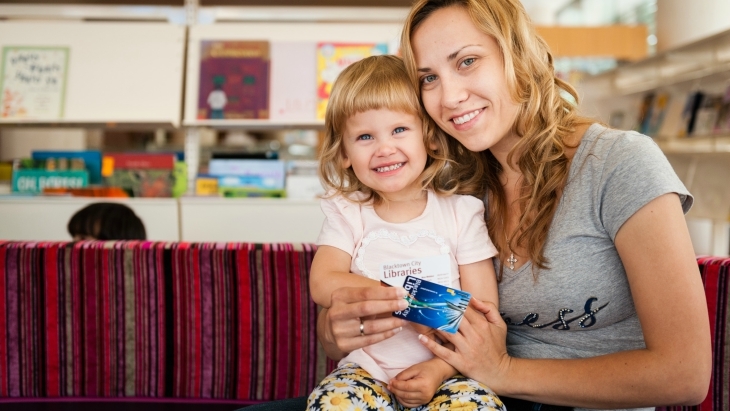 Go for the books but enjoy the outdoor ping pong table too! Borrow paddles and balls to play on the free table just adjacent to the library! As well as the traditional Rhyme Time and Story Time, Blacktown Library also has Around the World Storytime - a fun-filled, multicultural hour of stories and crafts that visit a different country each week. Bookworms will enjoy spending time in the children's and youth areas of contemporary space as they develop a love of books and stories.
Balmain Library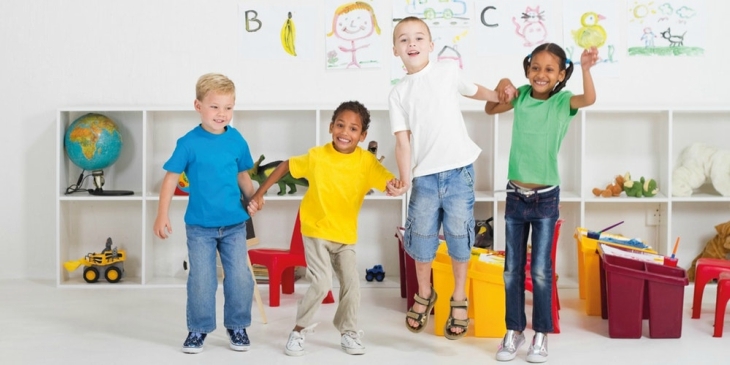 The Little Library Lovers program includes Rhyme Time, Wiggle and Jiggle and Story Time, plus there's an Under Construction Lego Club for school-aged kids during term. This library in the historic Balmain Town Hall has something for everyone! Balmain Library also hosts fun school holiday activities and special events. There's a whole kids section out the back for these programs, but you can come in at any time to chill out with a book or play with the selection of toys.
Randwick City Library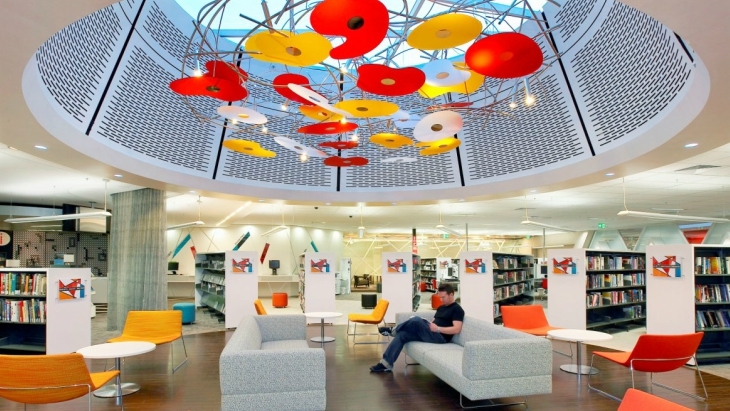 This family-friendly library knows that books will always be the calling card but sometimes it takes a bit more to get people through the doors. They run special events like gaming and 3D printing workshops, science clubs and encourage kids to write book reviews for other guests to read. Randwick City Library also runs summer reading programs with incentives for kids to read during that school break, plus there's a huge toy and game library so you never have to buy your kids toys (that they only play with for a few days) again!
State Library of NSW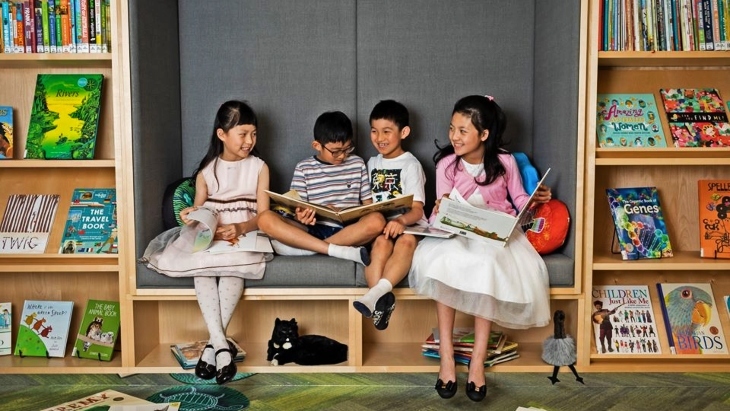 You may not have considered this historic library in the CBD but it has undergone a huge renovation and launched an amazing Children's Library. The beautiful new maze-like space at the State Library of NSW is brimming with Australia's best children's books and was created to nurture curiosity and a love of reading. There is an array of engaging activities for kids including Story Time, Family Sundays and school holiday fun. There is also a Family Room dedicated to their youngest visitors and their carers, where you can drop-in and have some fun with books, puppets, dress-ups, games and activities curated specifically for under 5's.
Mona Vale Library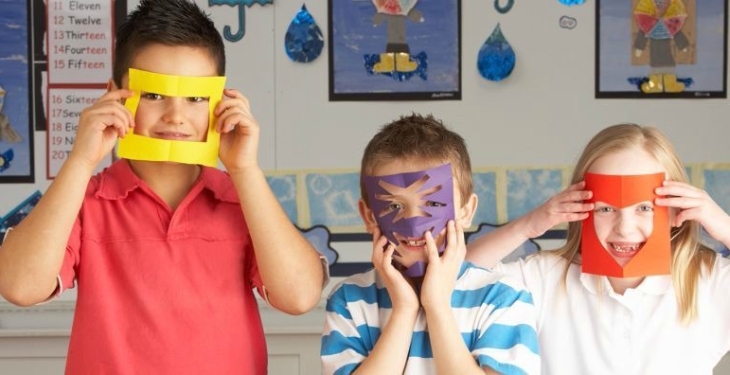 From digital learning activities to literacy games, animal exploration, LEGO and, of course, storytelling, Mona Vale Library is a flurry of educational activities 7 days a week. Catering to children of all ages, the centrally-located library runs 4 dedicated kids' services as well as playing host to thousands upon thousands of books to illuminate their growing minds. Digital Kids, Fun at the Library, Recommended Reads, and Homework Help are the activities on offer and are free to all library members.
More Fun Outings In Sydney
Sydney's Best Indoor Climbing Centres
Best Scavenger Hunts in Sydney for Kids
Best Kids Cooking Classes In Sydney
Have you signed up to our newsletter? Join ellaslist to get the best family and kid-friendly events, venues, classes and things to do NEAR YOU!