Six of the Best Food Experiences in Auburn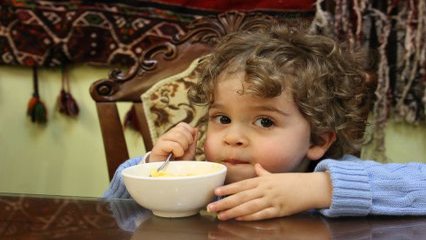 By Stephanie Boyle, ellaslist explorer
Most of us would love the opportunity to jet off across the globe, little explorers in tow, each year. But for the majority of us this simply isn't possible for a variety of reasons. This doesn't mean however that you have to forgo giving your children the opportunity to experience different cultures. After all, we're lucky enough to live in one of the most multicultural cities on earth!
Tasting Culture
One of the best ways for little people to get their first taste of a new culture is simply that- by tasting the cuisine. Auburn in Sydney's West is said to be home to people who have come from 40 different nations. This diversity is certainly reflected in the suburb's restaurants, cafes and supermarkets. We're regular visitors to this vibrant suburb and I'd like to take this opportunity to share with you my family's favourite places to dine, snack and shop for interesting groceries.
1. Sofra Restaurant
Address: 35-39 Auburn Road, Auburn
Ask a local and everyone will give you the name of a different kebab house on Auburn road that is their family's favourite and go-to for a quick and simple meal. There's certainly no shortage of them! But for my family, it's without question, Sofra.
Kebab's here are not your run of the mill rotisserie. They're skewered pieces of lamb, chicken or spiced mince cooked over the coals. My son loves watching this spectacle- it's always good to have a bit of theatre with your food! Their salads and dips are fantastic and the vibrant colours will appeal to the fussiest of eaters (my son included)! The Turkish bread in Auburn, including that served at this cafe, is worth a mention too- it's light, fluffy and utterly delicious. Forget that stuff you buy in the supermarket, this is the real deal!
2. Mado Cafe
Address: 63 Auburn Road, Auburn
Mado is an Auburn institution. To enter its doors is to be immediately transported to Ottoman Turkey. It's an Aladdin's cave of Turkish treasures – metal work, kilms, slippers, turbans and Orientalist art. For children, it's an absolute wonderland. And while it may not sound like it with all of those treasures around, it's extremely welcoming of children and you'll be surrounded by families. But it's not all about the décor of course. Mado is the perfect spot for afternoon tea (though you can have a pretty terrific and authentic lunch or dinner here too!) and is famous for its Turkish ice cream. The little ones will be blown away by the dondurma (ice-cream) which can be eaten with a knife and fork thanks to a magical combination of mastic and salep, a flour made from the ground tubers of orchids.
3. Visit an ethnic supermarket
When I was little, one of my favourite things to do with my parents was to go to little supermarkets selling foods related to a particular cuisine. It was completely fascinating to me (and still is to be honest!) to see the different brands, foods I'd never heard of before and things I couldn't even identify. It's a terrific way to encourage an adventurous spirit and palate in your child.
Gima market is packed to the rafters with Turkish delicacies and their freezer section is particularly fantastic – kofta, gozleme and manti are all yours to take home for dinner. The Afghan supermarket on Station Road is also interesting. Don't leave without some nuqul- they may look like traditional sugared almonds but they are truly delicious. And Tongli supermarket on Queen Street has a fabulous range of Asian grocery items.
4. Impress Cafe-
Address: 31 Queen Street, Auburn
Impress Cafe is a wonderful place to grab a quick casual lunch with the family. The cafe is roomy and comfortable, easily accommodates prams and staff are quickly on hand to offer a highchair if needed. While its menu contains some traditional Turkish items such as lentil soup and a hotpot of lamb and vegetables, there are also a huge number of classic cafe meals with a Turkish twist that will appeal to the entire family. The kofta roll gets rave reviews from everyone who tries it and the burgers, kebabs and pizza are delicious.
5. Take home some traditional sweets
While I appreciate that sweets shouldn't be part of the every day, Auburn is home to some of the best sweet stores in Western Sydney and it's a great opportunity to try something completely new. Whether it's Turkish delight from Real Turkish Delight on Station Road, baklawa from Gaziantep, melt in the mouth biscuits from Menzils, Chinese rockmelon cake or sesame balls from Nice Bakery, Auburn definitely has something for the big and little sweet tooth of the family!
6. Persian Cuisine at Khaybar or Darband Restaurant
Although Auburn is perhaps best known for its Turkish food and community, in recent years, the Afghan and Iranian communities have really made their presence felt here. Persian cuisine is wonderful for children since it is largely mild but thoroughly delicious and consists mainly of rice, grilled meat, salad and bread and the spices used are subtle. Khaybar and Darband are very welcoming of children and it's not uncommon to see them packed with families, particularly on weekends. If you're looking to try something different that you won't find too many places in Sydney, Persian cuisine may be for you!
Stephanie Boyle is currently a stay at home mother with two gorgeous children.
Prior to becoming a mum she trained as a lawyer and worked in various Government positions. She is currently completing a Masters of Teaching. Stephanie and her Algerian husband Kamel have two sons, Ayman (3 years old) and Younes (3 months) and they are doing their best to raise their sons as tri-lingual global citizens. When Ayman arrived three years ago, it became immediately apparent to Stephanie that neither of them were homebodies and so they set off on what would become three glorious years (and counting!) of adventure and excitement throughout Sydney and its surrounds. Stephanie believes that childhood should be pure magic and she is on a continual mission to make this the case for her sons. She loves discovering new places and activities, throwing amazing parties and running a bookclub for her boys and their little friends. In addition to her reports for ellaslist, you can also follow Stephanie and her boys on
Instagram @moukinina
.
Reviews
awesome review - we are off to Auburn (from Bondi) now to check it out & the cherry blossom - mado cafe sounds fun for the kids!!! thank you