Sarah & Duck's Big Top Birthday At The Sydney Opera House Review
Mums & Bubs
Toddlers
Preschoolers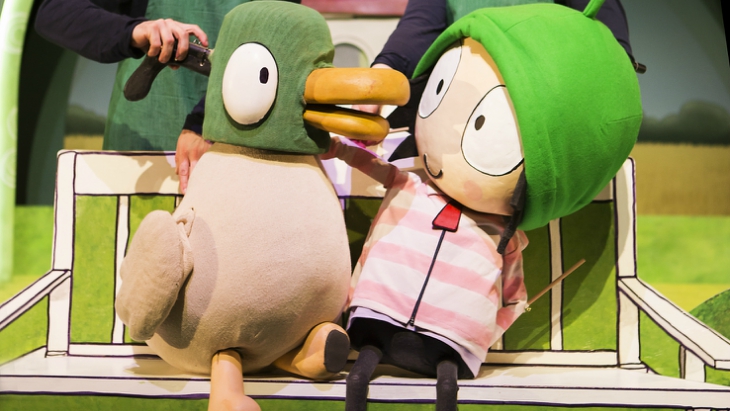 By: Victoria Mackinlay, ellaslist
Dec 9, 2018
Sarah and Duck .... quack! … Sarah and Duck … quack!
It's Scarf Lady's birthday and Sarah and Duck decide to throw her a party to celebrate the occasion. But of course they need the help of all of their human and non-human friends who each showcase their special talents to entertain the knitting fanatic (and the audience) at the party. I won't ruin all the surprises but expect to see Duck playing a human - , well, mallard - cannonball.
The show is perfectly paced for little ones' attention spans (it's targeted at ages 2-6), with lots of short scenes and songs and quick and engaging set changes. The sets cleverly transport you from Sarah's garden to their "Media room", to Umbrella's under-the-stairs nook and there's a magical underwater scene at the zoo.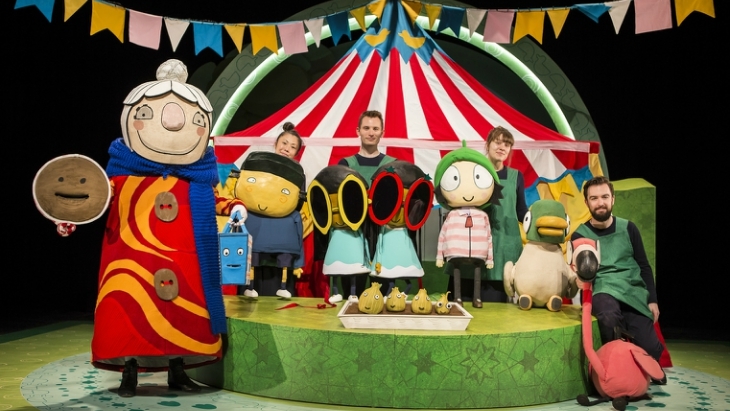 All of the main characters from the TV show appear in the production. The Shallots generated shrieks of laughter and delight from the kids, and Bag was full of his trademark dry sarcasm for the grown ups. We were very happy to see our favourite character Moon who, during a particularly trippy scene featuring some ridiculously-named constellations, almost sent us to sleep.
The puppets and puppeteers are great. I particularly liked Bag who had moving eyes and mouth and the kids gasped and then squealed with delight when Duck makes his quacking entrance. Sarah and Duck are perfect 3D replicas of their cartoons and Scarf Lady is a human in dress up which allows her more freedom to move (and dance) around the stage.
The narration and dialogue is prerecorded which is good because the voices are highly familiar for the kids, but it leaves no room for spontaneity and limited room for interaction with the audience. When there is interaction, it is well received and the few moments of audience participation are real highlights.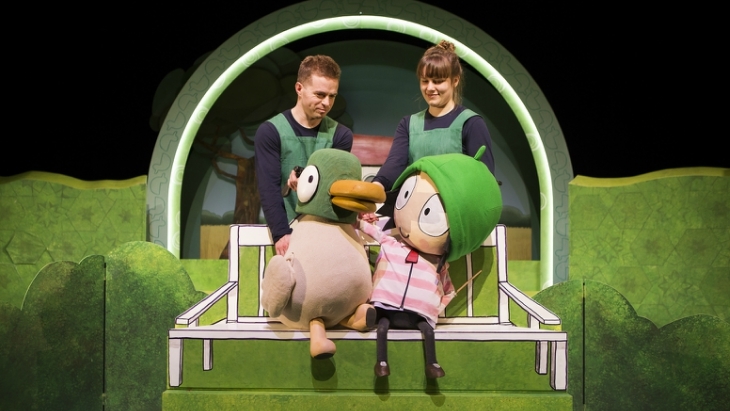 After the show I asked a 4 year-old fan (who was dressed up as Duck) leaving the auditorium what he thought. "I'm just sad that it's finished," he responded looking down at his feet. It's OK chap, there's plenty of Sarah and Duck to watch on ABC iview, perhaps with some lemon water to cheer you up?
ellaslist Top Tips
The front three rows (stage right if possible) make the most of the interaction with the characters and special effects.
There's a merchandise stall selling the cuddly characters but the Ducks sold out quickly so get in early if he's your favourite!
The show ran just short of an hour with no interval so make sure you do your toilet trips beforehand.
There's free ticketed pram parking and bag searches apply.
The Details
When: 6 – 23 December 2018
Where: Sydney Opera House
Cost: Standard tickets from $29 + $8.50 Booking Fee
Want More Kids Theatre?
Best Shows for Kids this Summer
Kids Puppet Shows At Puppeteria
Charlie and the Chocolate Factory