Purr-fect! Have a Cuppa and a Cuddle at Sydney❜s Cat Cafes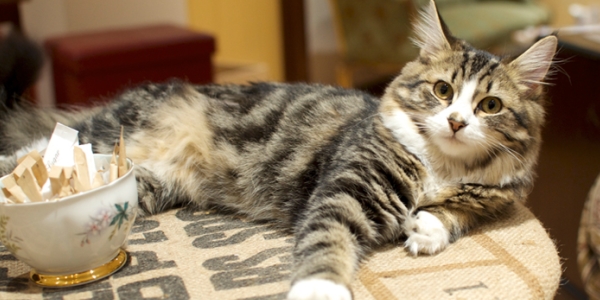 By: Serina Hajje, ellaslist
Here's the purrrr-fect opportunity to combine two of the best things ever- hot beverages and curling up with friendly kitties! Across Sydney several cat cafes are opening their doors for cat lovers and soon-to be cat lovers.
Is This Furr-real? What is a Cat Cafe?
Cat cafés are like any other cafes with the special addition of felines. Entrance is usually given at an hourly rate and visitors can play, feed and take pictures with the furry inhabitants of the café.
All the benefits without the hassle
These unique and quirky places have been popping up around the world after successfully wooing Japanese and Taiwanese city dwellers. It's a perfect chance to let the kids play around with the felines without the hassle of dirty litters, scratched furniture and expensive vets. Being around these cheeky friends are great for unwinding after a busy day and for taking some quiet time out.
One Cat-paccino please


Many of these cafes are kid-friendly too. One of Sydney's best cat cafés, Catmosphere, will have a fun, cat-inspired menu from "cat-paccinos" to freshly baked cat shaped cookies.
"Cats – and all animals, really – bring connection to the present moment, which is all there is, really. It's easy to lose this truth when your life is rushing from here to there," said Wenee Yap, owner of Catmosphere.
Wendy Wu and Emma Murphy, owners of The Cheshire Cat Café believe it's essential for kids to appreciate and respect animals and are always welcome so long as there is an adult with them.
Kid-Only Days
"In terms of services, we are open to any suggestions from the community. Possibilities include kids-only open days, where only kids with their parents will be attending. This ensures a more 'private' meet and greet with the cats…We will also have kid-friendly cat-themed merchandise either complimentary or for sale," Ms Wu and Ms Murphy said.
But be quick! Bookings are essential and rooms are usually limited to a certain number of visitors.


To help you prepare for the feline frenzy, here is a list of Sydney cat cafes!
Catmosphere Cat Café: 66 Foveaux St, Surry Hills
This cat café has gone with the theme of space! It's dedicated to intrepid cat astronauts & cat lovers alike. For those concerned about hygiene,the word is that there will be a felines-only area separated from the food zone by a special airlock. While entry to the café is free, they are restricting bookings to the two cat rooms to 25. Catmosphere is open from Monday-Friday 10am-8pm, and Saturday-Sunday 9am-8pm. There are a number of packages on offer: It's $20 per person for the 'Coffee and Cookies with the Cats' package, covering entry to the cat room as well as one coffee and one cat-shaped cookie. There's also the 'Coffee with the Kitten Cadets' package where you can sip tea and cuddle with some seriously adoptable kitties for just $22. Or maybe try the 'Party With the Cat-Stronauts' package to make your next celebration purrr-fect.
Sydney Cat Cafe: Somewhere in the inner city suburbs
This is a café where guests can come to relax and spend time with resident cats, who live permanently at the café….. and they're all adoptable, so be careful if you get a little too attached!
Opening in 2016, specific date unknown.
Café Purrfection: Unit 18, 30-32 Barcoo Street, Roseville
This café prefers to focus on interacting with the cats rather than providing food so feel free to bring your own. There is a fee of $20 per hour and the cats are hand-picked for their friendly nature, and each was at one point homeless. They have a strong focus on ethics, and helping these cats heal people when their pets pass away. Open 7 days a week, with family packages available where 4 people get in for just $60.
Reviews
I cannot wait to visit ALL the cat cafes in Sydney! great idea !