Melbourne's Best Toy Stores
By: Claire Halliday, ellaslist
A great toy store can be a parent's best friend.
Once the staff get to know you, they understand how you sometimes need to shove something at them with pleading eyes and trust them to hide it under the counter, or double-bag it to hide it from prying eyes. They also get to know your sense of panic when you walk in ten minutes before a birthday party starts and beg them for advice and gift-wrapping to ensure the right gift is ready to give.
Here are some of our suggestions for the best toy stores in Melbourne.
1. Dafel Dolls & Bears
While we understand that not everyone loves dolls and/or bears, for those who do, this place is a treasure trove.
Dolls? Tick. Bears? Oh my, yes.
Collectors of all ages love this store but for a quality gift for a new baby or a child who appreciates something special, this is a store you'll love.
What You Need To Know
There is no website – how old-school is that? But coming in here tells you all that you need to know and works as an outing for your little ones (as long as you buy them at least one small thing to stop them leaving empty-handed, of course…)
Phone: 9654 3882
Address: The Block Arcade, Melbourne
2. Jasper Junior
Their website says that they supply to Santa. And it's not hard to believe.
The owners here make shopping a breeze – especially if you browse online first. A drop down box on the website lets you search toys by age – so easy!
The store has been operating since 1996 and the staff know their stuff. With a huge range of toys from construction to costumes, this is a great place to stock up on gifts for every child you know.
The focus is on quality brands and toys that are timeless so it's not the place to come for every latest fad.
Teddy bear-lovers will have their needs met with plenty of cuddly options and there is also a great selection of puzzles, keepsake toys and ride-on toys too.
What You Need To Know
If you're too busy to come in, there is also the ability to order online, with a delivery service available.
Phone: 9650 6003
Address: 331-339 Bourke Street, Melbourne
More information: visit the website

3. Gepetto's Workshop
Parents will love this place just as much as children. The focus here is puppets of all shapes and sizes – from cute, fuzzy hand puppets to old-fashioned marionettes for brilliant imaginative play.
All the other toys have a nostalgic feel – from kaleidoscopes to jack-in-the-boxes and spinning tops and plenty to make little ones smile, no matter what the occasion for a new toy.
What You Need To Know
There is also a second Gepetto's in nearby Olinda at 25 Main Road.
Phone: 9755 3300
Address: 371 Mount Dandenong Tourist Rd., Sassafras
More information: visit the website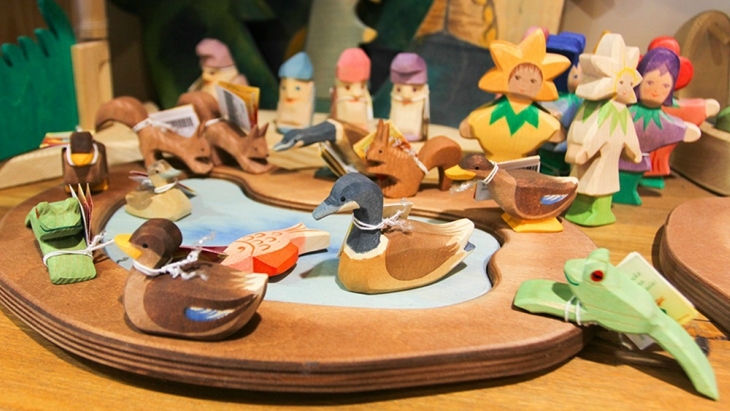 4. Honeybee Toys
This toyshop has a point of difference many parents will appreciate – quality and sustainability.
The focus is on wooden toys that educate and inspire – and they are made with paints that are non-toxic, from sustainable forests.
For online orders over $180, shipping is free, or you can come into the store and lose yourself in the wonderful array of imaginative things to touch, move and play with.
Steiner schools love this store – the toys are all about letting the child make the most of their own creativity.
Musical instruments, puzzles, books, things to build and things to help decorate beautiful bedrooms. Gift vouchers are also available.
What You Need To Know
Looking for the latest Barbie? Don't come here. Toys for young children are a specialty and it's all about natural timber and things that help young minds grow.
Phone: 9500 8632
Address: 264 Glenferrie Road, Malvern
More information: visit the website
5. Child & Adult

It's a small space but packed with toys for all ages. There are lots of board games and puzzles, plenty of toys for babies and toddlers, and, when it's Christmas time, plenty of knick-knacky stocking fillers that are perfect.
The toy range is a mix of classic old-fashioned, with a great Klutz range of quirky things to do, plenty of soft toys and hand puppets and lots of weird and wonderful things to fiddle with too.
What You Need To Know
Need advice on the ideal present for a certain age group. The staff here are brilliant. And they gift-wrap.
Phone: 9528 1203
Address: 329 Glen Huntly Road, Elsternwick
More information: visit the website
6. Toys'R'Us
Yes, Toys 'R' Us has gone into voluntary administration but there are still stores all over Victoria which are open for business and selling toys at up to 30% off. Find them usually located in the major shopping centre complexes - it's the place to go when you are tired of ringing around to find that thing your kid saw on TV. Chances are, it will be here. Being a massive space, they have big ticket items too – bikes, swing sets, trampolines and more, with sporty games, plenty of Lego and lots to look at.
What You Need To Know
Phone: 1300 869 778
Address:
This chain has lots of stores across Victoria. This store locator can help you find your closest:
www.toysrus.com.au/store-locator
More information: visit the website