Melbourne's Best Bilingual Playgroups, Kindergartens and Schools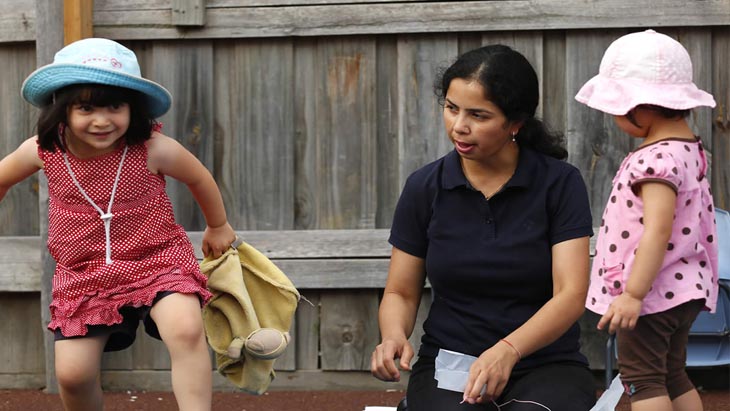 By: Claire Halliday, ellaslist
Sprechen sie anglais?
Parlez-vous Deutsch?
Let's talk bilingual, baby.
Whether you originate from international heritage and want to make sure your roots are not forgotten, or you're as English speaking as can be but you have aspirations to language enrichment for your little ones, bilingual education is yours for the taking, at schools, kindergartens and even childcare centres across Melbourne.
In the Victorian public school system there is currently one special school and eleven primary schools offering designated bilingual programs, including:


Abbotsford Primary (Mandarin)


Aurora (Auslan)


Bayswater South Primary (German)


Benalla P-10 College (Indonesian)


Camberwell Primary (French)


Caulfield Primary (Japanese)


Footscray Primary (Vietnamese)


Gruyere Primary (Japanese)


Huntingdale Primary (Japanese)


Kennington Primary (Auslan)


Lalor North Primary (Macedonian)


Richmond West Primary (Mandarin)
For more details, check out this lis
1. Kimmba Bilingual Learning
Melbourne's first bilingual early learning centre offers three languages – Mandarin, Spanish and German – for children aged 0-6 years old.
All the classics of a pre-school experience are here – circle time, stories, dance, song, show and tell, art and craft and more – but what's different is that they are presented in a bilingual setting, with a broader aim to encourage better community cohesion in our increasingly multicultural society.
The government-funded 4-year old kindergarten bilingual program is a great precursor to studies at a bilingual primary school.
What You Need To Know
This original East St Kilda location was the starting point for this innovative early learning centre, with a new centre recently opened at Doncaster Shopping Town too.
Phone: 9525 8313 (East St Kilda)
Address: 2 Balston Street, East St Kilda
More information: visit the website
2. Renown Kindergarten
If you're a fluent French speaker and want your children to grow up with a thorough grasp of your native tongue, sending them to this lovely kindergarten is definitely a wonderful start. Renown Kindergarten has a fantastic reputation as a sought-after 3yo and 4yo kindergarten program but every Thursday and Friday, a section of the kindergarten is used exclusively by The Ecole Française de Melbourne (EFM), to help children improve their learning of the French language as a flow-on from what is already happening at home.
What You Need To Know
For bilingual babies keen to hone their French in a traditional kindergarten environment, this place is perfect but be aware that the delivery of education is not bilingual itself. All sessions here are delivered in French only and perfect for families who may be made up of one native French speaker who wants to help their little one have a solid grasp of the language from the start.
Phone: 9509 6872
Email: [email protected]
Address: 20 Cliff Street, South Yarra
More information: visit the website
3. Camberwell Primary School
It's all about immersion here, with an extensive bilingual program that offers French from the start of the day and for half of each school day.
Many language experts believe that being surrounded by another language helps children acquire vocabulary quickly and begin to respond in the target language. With some core subjects – such as science and maths – taught in French, children are exposed to the language in practical, everyday ways to help them understand it properly.
What You Need To Know
This restricted enrolment school only takes children from the local neighbourhood.
Phone: 9882 4663
Email: [email protected]
Address: 290 Camberwell Road, Camberwell
More information: visit the website
4. Il Giardino D'Infanzia (Italian Playgroup)
Italian immersion through games, art activities, singing and dancing.
It's a focused and fun two-hour weekly get-together, with a group leader to guide the way. Parents/carers bring a plate of food to share.
Mangia, mangia!
What You Need To Know
Phone: 0422 416 147 (Daniela)
Email: [email protected]
Address: Ivanhoe Scout Hall, 52 Ford Street, Ivanhoe
Session time: Monday 10am-12midday
More information: visit the website
5. Kalimera Kids Playgroup Oakleigh
Does this bilingual Greek playgroup Greek playgroup aim to Cultivate the Greek language and culture for children between the ages of 18 months and five years old? Vαι!
The program here has been designed to teach Greek as a second language in a way that is fun and easy.
What You Need To Know
Phone: 0414 777 600 (Georgia)
Email: [email protected]
Address: Oakleigh Hall, 142-144 Drummond St, Oakleigh
Session times: Friday 9:30am & 11.30am
More information: www.kalimerakids.com.au
Playgroup Victoria promotes a huge array of playgroups across Melbourne and regional Victoria and a quick glance at their list shows playgroups that deliver education-focused activities in Latvian, Dutch, Korean, Russian, Turkish, Serbian, Burmese, German, Japanese, Arabic, Hindi, Lithuanian, Mandarin and Maori tribal languages – and more.
To find a playgroup near you, visit: http://www.playgroup.org.au/FindaPlaygroup/Playgroup-Results.aspx?category1=Cultural%20Specific&pgs=1
Reviews

Reviews get lonely too
Be awesome and write a review