Mario Toys: The Ultimate Mario House DIY for the Festive Season!
Mario Toys: The Ultimate Mario House DIY for the Festive Season!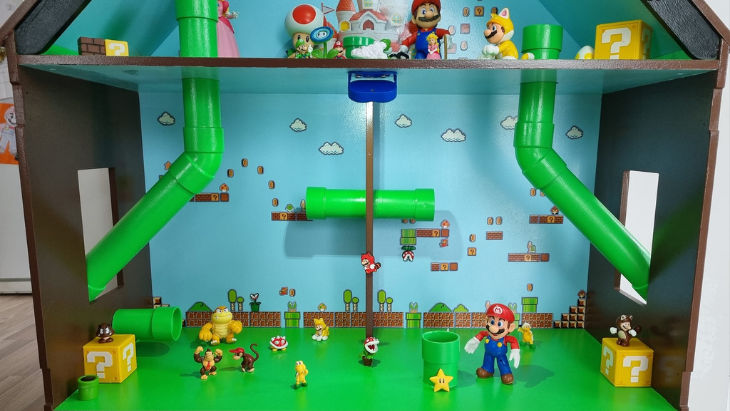 As the festive season approaches, one creative mum has taken the spirit of giving to an extraordinary level. Pauline, a member of the "Kmart Hacks and Decor" Facebook group, recently showcased a stunning take on DIY Mario toys, with a Mario-themed house she crafted for her child's Christmas present. The response was nothing short of spectacular, with parents from the group eager to replicate her imaginative design.
From Kmart Bargain to Mario Toy Fantasy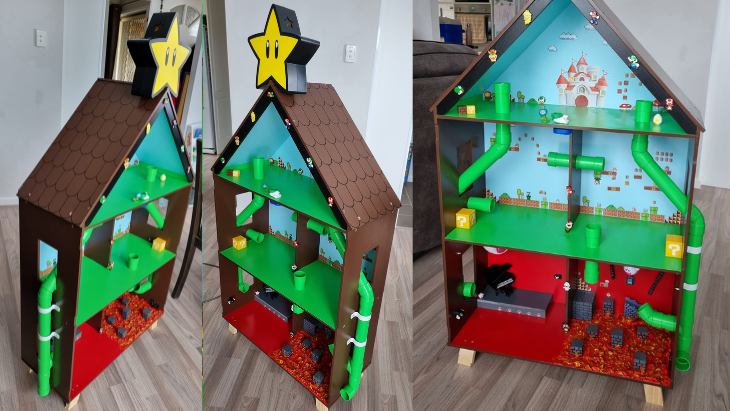 Pauline's project was fueled by her son's passion for the Super Mario Bros. series and her own childhood memories of the game. "He loved the movie, so I used the movie for ideas," she said, explaining the meticulous details, such as Bowser's miniature piano—a playful homage to the character's cinematic portrayal and a unique addition to the Mario toys collection.
The materials for this whimsical abode, a veritable treasure trove of Mario toys, were sourced with both ingenuity and thriftiness. Starting with a Kmart dollhouse, which she purchased for a mere $30, down from $100, Pauline then gathered PVC piping, brackets, a dazzling super star light for the roof, and an array of paints and brushes. The costs added up to a few hundred dollars, with the PVC piping and paints from Bunnings alone amounting to approximately $70 each. However, the joy these Mario toys brought was priceless.
The Power-Up of DIY: Crafting with Love and Creativity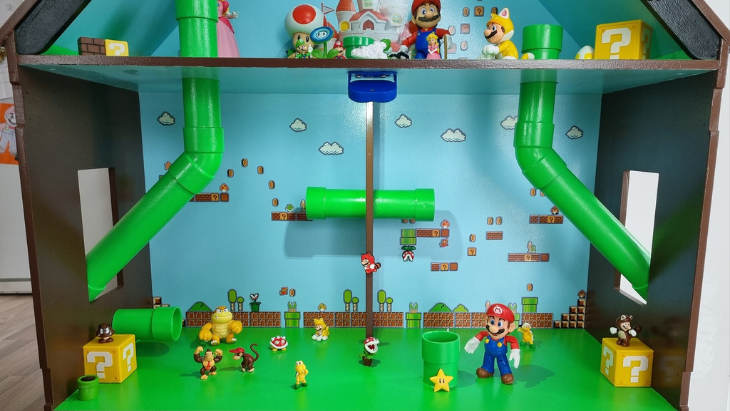 Among the flurry of questions from admirers of Pauline's Mario toys masterpiece, one stood out: How did she achieve the incredibly detailed backgrounds that set the scene for her son's adventures? With a blend of resourcefulness and creativity, Pauline reveals, "The castle is a printed and laminated image I found on Google. For the rest, it's a mix of adhesive contact paper, vibrant Mario Bros magnets, and playful croc charms." These elements combined to create a backdrop that was not only visually captivating but also full of texture and depth, bringing the fantastical world of Mario toys to life right in their home.
Pauline's dedication to the project is evident in the four months she spent assembling the playhouse, a testament to her love for Mario toys and DIY craftsmanship. Despite the challenges life threw her way, she found solace in the task, "I did it when I felt like it and around everything else," she shared. Her attention to detail is evident in every hand-drawn tile and each character perfectly placed within the scene.
Level Up! Materials and Costs for Your Own Mario Toy House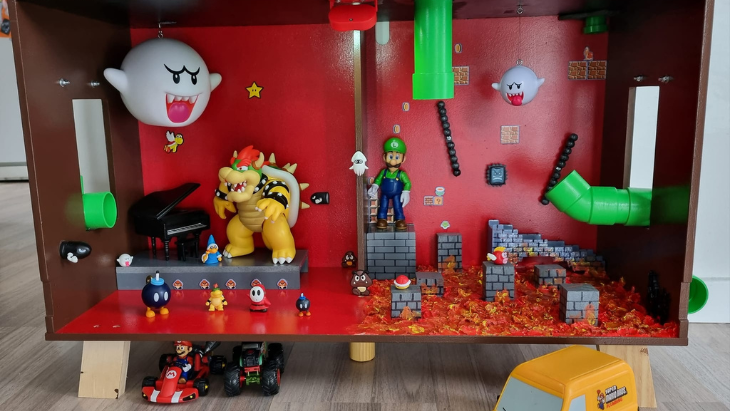 While the idea of selling her creations has crossed her mind, Pauline has decided against it, considering the substantial time and cost involved. Yet, she remains generous with her advice, encouraging other parents to embark on their DIY journeys with Mario toys.
This heartwarming story isn't just about a DIY success; it's a narrative that underscores the magic of Christmas and the lengths to which a parent will go to make their child's holiday unforgettable. Pauline's Mario house is more than a toy; it's a symbol of love, a handmade kingdom where imagination reigns supreme.
As we celebrate these Christmas holidays, let's take inspiration from Pauline's project and remember that the best gifts come from the heart, often accompanied by a touch of creativity and a dash of Mario charm.
Thank you to Paulina for sharing her story with us!
Want More Christmas Cheer?
The Most Festive Christmas Events in Sydney 2023
The Top Christmas Gifts for Kids 2023
The Best Advent Calendars for 2023

Have you signed up for our newsletter? Join ellaslist to get the best family and kid-friendly events, venues, classes and things to do NEAR YOU!