Make Your Own Cardboard Doll House
All Ages
Toddlers
Preschoolers
Kids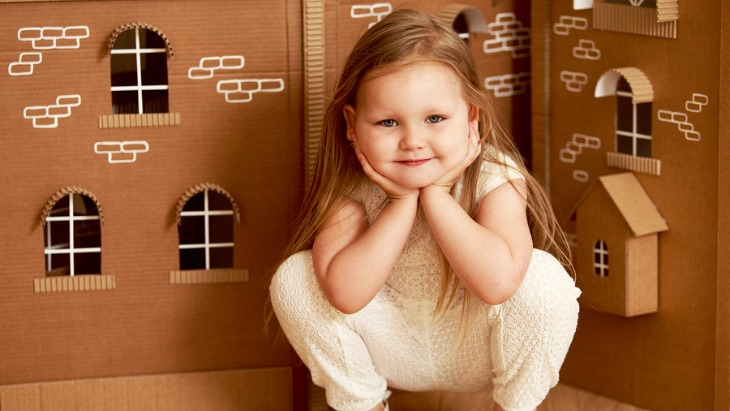 What's a little girl's bedroom without a dream house for her dolls and figurines? The costly Sydney property market might put constraints on extra bedrooms and expansive lounge rooms, but when you create your own doll house, there are no limits to the mansion you can manifest.
If you're anything like us, the highlight of the movie Suddenly 30 with Jennifer Garner and Mark Ruffalo was without a doubt the cardboard 'Jenna Dream House' that a teenage Matt created for 13-year-old Jenna, which he kept hidden away until his 30s. Romantic, and a pretty impressive effort on the construction front.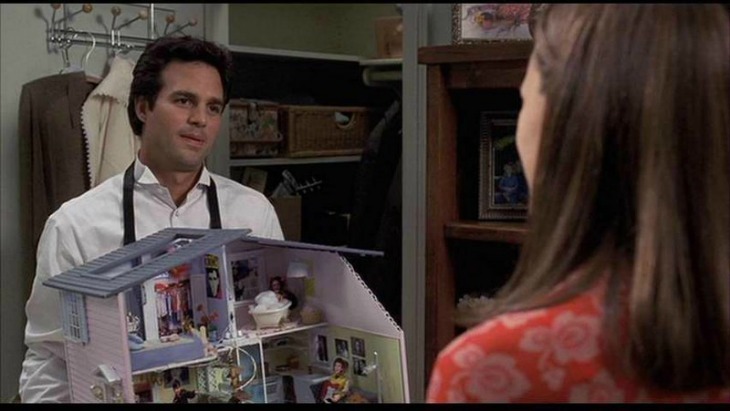 Source: For Okray Lovers
The good part about DIY cardboard doll houses is that there are no rules. Whether you want a shoebox style roofless one that you peer down into, or cut one side off a much larger box and create a multi-storey home, they're all pretty simple to make, look great, make use of materials that would've gone to waste, and are fun to play with and decorate. Here are some ideas, tips and tricks:
Cardboard Bed
Whether it's for a Barbie, Superman or monkey toy, you can help your child make the perfect bed to accommodate their toy friends, the perfect addition to a cardboard doll house. Ambrosia Girl has figured out how to make one with interlocking pieces, meaning no sticky tape or glue is required!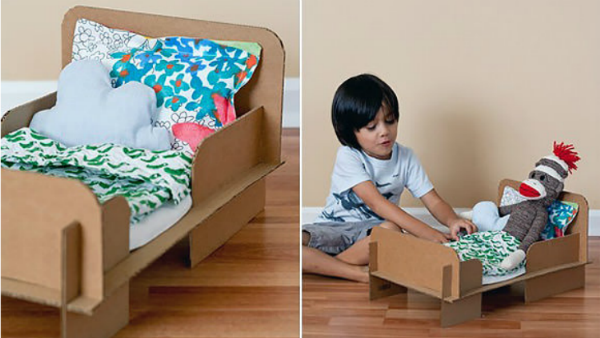 Source: Ambrosia Girl
Wall-less Doll House
We love this style as kids can really get in there and decorate each room of the house, and see exactly what's going on. Decorate each room with a different wall paper, and create mini chairs, beds and tables to fill it up.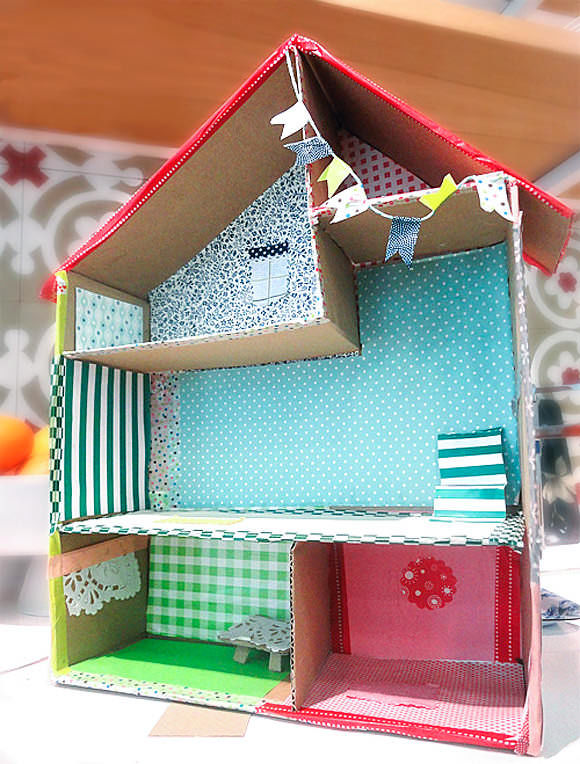 Source: Handmade Charlotte/Doce Menos Diez
Just look at the detail you can go into- paint windows and flower pots onto the cardboard, stick birds on the roof, and even put it on a stand to give it some extra height.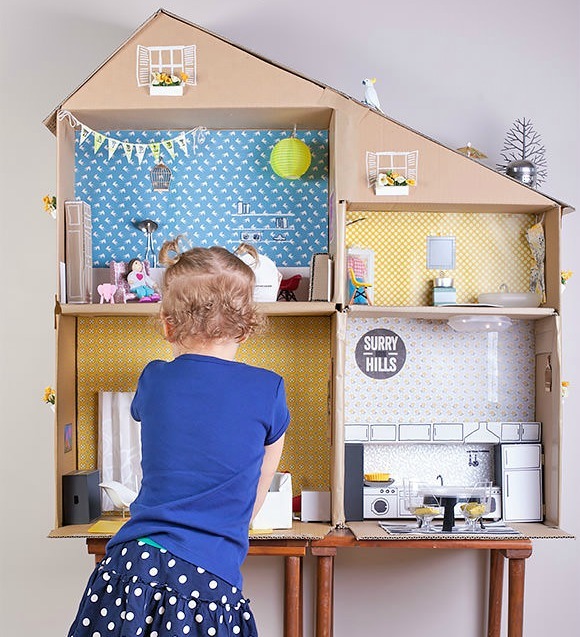 Source: Handmade Charlotte
Extra Spacious Doll House
This one's bigger than your average cardboard doll house, but we love it! Perfect if your child's dolls are larger in size. Artful Parent takes you through a step-by-step method to make one, complete with a holey roof so that little arms can reach in for playtime. It's big enough to go paint crazy, too!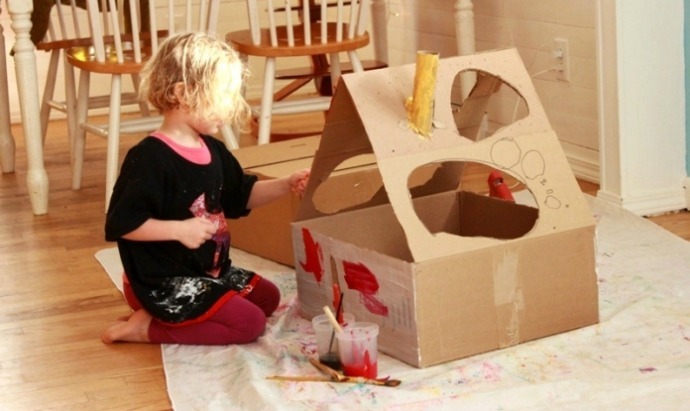 Source: Artful Parent
Tall Doll House
This multi-layered doll house requires boxes of different sizes and scissors! The ground floor will be your most spacious, with a rooftop bedroom with a view. Don't forget the paper roll chimney! Perfect for older or taller children.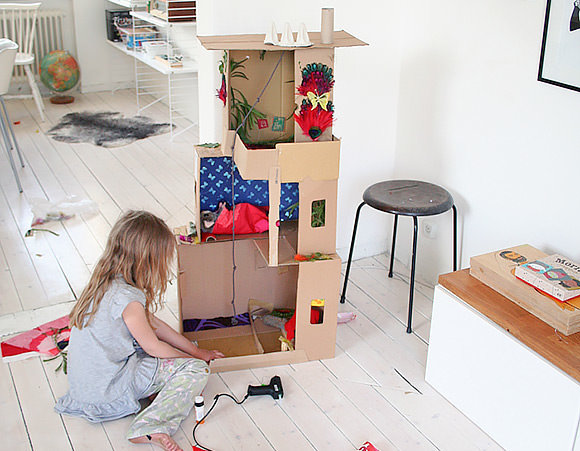 Source: Handmade Charlotte/Aprill Aprill
My Cakies even offers instructions on how to build a cardboard doll house in a rather jigsaw-like manner, with not a lot of sticky tape or glue required. This one has both a back and front of house which means more room for dolls and play.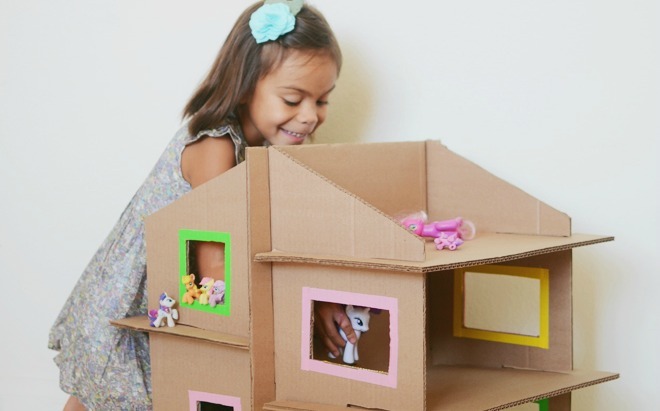 Source: My Cakies
Scandinavian Style
This doll house can fold down flat at the end of playtime, and can be reconstructed into a differently shaped house each time! Use a black marker to create pieces of furniture. This one is perfect for extra tiny little fingers, though they might need a little help with the construction. Instructions available from Deko.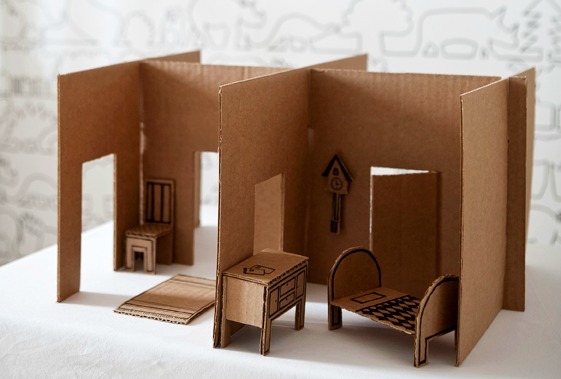 Source: Deko
Even More Iso Fun For Kids
Get Kids Craft and Activity Kits Delivered To Your Door
Vegetables You Can Grow Indoors During Lockdown With Kids
How To Celebrate Your Kids Birthday When You're Social Distancing
Have you signed up to our newsletter? Join ellaslist to get the best family and kid-friendly events, venues, classes and things to do NEAR YOU!