Loocl - Great last minute deals for Mums and Families
Family
Kids
Mums & Bubs
Parents Only
Teens
Preschoolers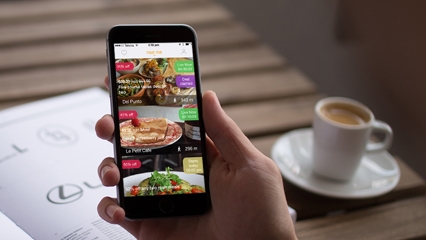 By: Natalie Stanley, ellaslist
I love a good deal. I'm a mum to a 2-and-a-half-year old toddler with the energy of a rocket ship. So I don't have time to dither over the 'net trying to find discounts. That's why when a fellow mum in my mother's group picked the venue of our weekly catch-up based on a new deals mobile app called Loocl, I had to get my hands on this app.
So, what is Loocl?


Loocl is a new start-up based in Sydney's eastern suburbs where businesses such as local cafes, restaurants and stores offer instant deals to people close by. These deals typically last a few hours at a time and offer significant last minute discounts (as high as 50%).
Why is Loocl so Great for Mums?



As a mum, I loved that I could find great daily deals at all times of the day – not just over the lunch-time rush, but also morning coffee and afternoon cake time and mid week when I'm out and about with my son.


I'm also a creature of habit so using the Loocl deals encourages me to try out new places that I wouldn't have normally gone to.


Plus I like being able to support businesses in my local community.


And best of all, I love getting a great deal. Just the other day, I noticed on Loocl that The Beach Burrito company are even offering

FREE

kids meals which seems to be such a rarity these days in Sydney.
How do you use Loocl?
When our editor Lisa came up with the idea to trial one of the local Bondi cafes with Loocl during my working day I was perhaps a little over enthusiastic!
As a part-time working mum, I rarely get the opportunity to take a lunch break, never mind a change from the same boring salad I seem to revert to day in day out!
Without hesitation I downloaded the latest version of the app and checked out deals  in the Bondi area. While Loocl have been operating in Randwick, Coogee and Kensington for a few months, they're brand new to Bondi. But there are already a decent range of deals.
What a Delicious Deal!
I was particularly excited to see Myoko Sushi Bar pop up, (one of our favourite Sunday evening haunts pre-kids!) and that was it, the Wagyu Beef lunch Box Bento deal was on!
In true multi-tasking working mamma style, I started the process of claiming the deal on the strut down to the restaurant, nearly knocking over some poor unsuspecting tourist!
Easy to Use


It was pretty user friendly for a techno-phobe like myself (once I worked out how to close the help page by clicking on the right hand corner!) and I was ready to go. I arrived at Myoko and enthusiastically pointed out the Bento Box deal to the waiter. She calmly smiled and nodded as she took my order. It wasn't too long a wait before I was back down memory lane enjoying a delicious Japanese meal sans toddler!
Right, so let's count all the Wins -
Tummy Full of yummy food – tick
I did my 'bit' for the environment, helping to eliminate food wastage – tick
I get to take advantage of a deal at a great popular restaurant that I probably wouldn't normally be able to afford – tick
Local businesses get more customers through their doors and a solution to their masses of food waste – tick
So it may sound cheesy, but with Loocl, we're all winners!
OK, I need to confess something…
What I didn't tell our editor that when I put my hand up for a free lunch was that I had actually already used Loocl …whoops! I live in the Randwick area and Loocl is already really well estabslished in cafes around there. So I've taken advantage of a couple of deals. One that particularly sticks in my mind is the 2 x delicious fluffy scones and Tea deal at Bianco Nero Espresso, an absolute steal at $5!
Loocl is Addictive


This App is seriously addictive, the day after my lunch experience, I found myself searching for local deals so I could escape to do some work from the house with a sick child and hubby at home. And there I was back at Bianco Nero for an amazing regular coffee at just $1.75! Of course I had to stay for the scones $5 deal.
These little deals can make such a difference to a morning out with the little one  when you feel the need to justify every $1 spent! So if like me you live, work or play in Coogee, Randwick, Kensington or Bondi, (I am lucky enough to do all 3!) the Loocl APP is definitely for you.
Word of warning though, once you start you won't be able to stop!



Reviews
So simple to use, Loocl helps me save money & find great spots to eat!
Loocl's great for when I'm in the eastern suburbs as I can always catch a deal. When are you coming to the city?
Loocl is an awesome app. Can't wait until it moves to the inner west. We've got so many great local and small business who could really use a helping hand like this. Win win for customer and businesses alike.
This is a great app, so happy I can now use it in Bondi!!
I have used Loocl deal a number of times and love this app! Its not only a great way to save, but it allows me to try new places within my area. I'm lovin this Loocl!
Really easy App to use with great local deals I would have never have known about! Love it!
Amazing app, great savings
Great app - easy to use and can get some pretty cool deals around town. Definitely a must have!!
What a great idea. It's fantastic to see a new app that provides something more tangible than another time-wasting cat roulette game. Can't wait for it to come to the city.
I LOVE Loocl! I live in cafe's and restaurants with my little guys during the week and it's so great to get the knowledge of 50% off deals straight to my phone :)
Brilliant app! Definitely recommend. Fantastic savings.
I love this app, whenever I head to Coogee or Bondi to work I always have a look and see what's on offer, there's usually something to tempt me.a great idea!