Livvi's Place Five Dock Is Back And Better Than Ever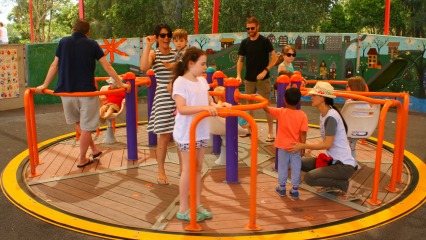 I'll admit it, I'm an inner west mum and I've never been to Livvi's Place in Five Dock – or any of the locations for that matter. But as rumours started spreading of its relaunch I began to get excited. Friends started telling me about this amazing park that was closed for renovations. Then I noticed the Facebook mums groups were abuzz – was it open yet? Will it be better than ever? Is there water play? When it finally re-opened this month I just had to check it out.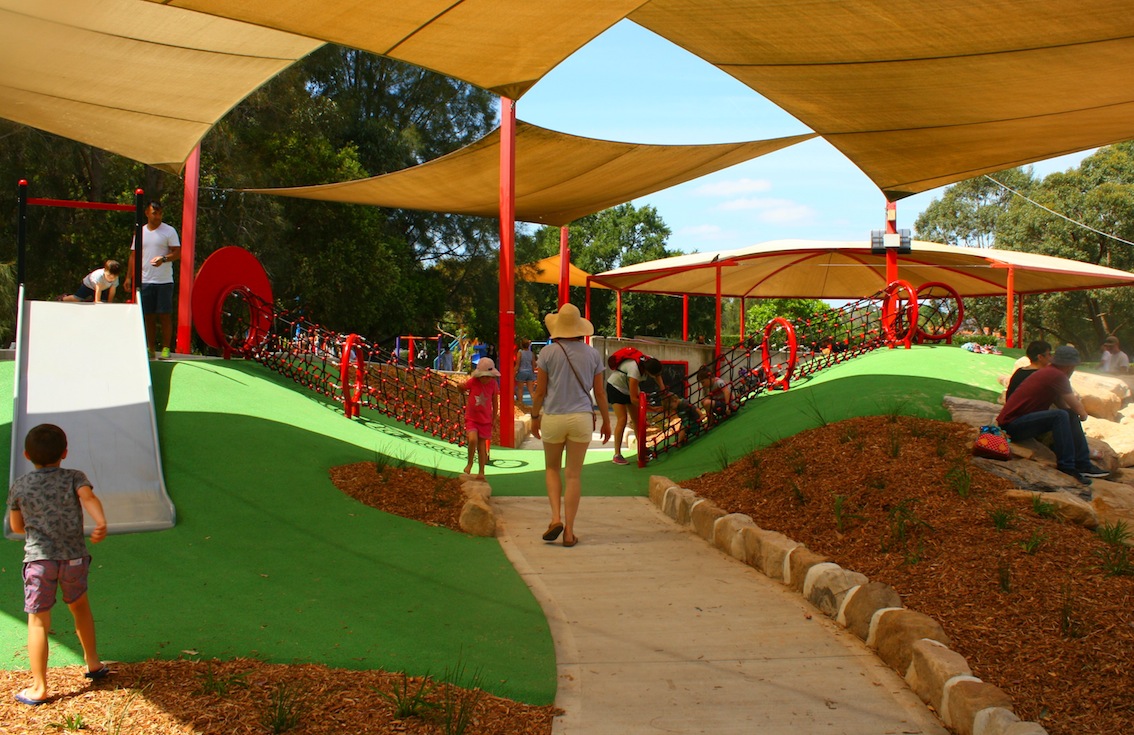 As a Livvi's Place novice, I can't say how much it has improved, I can only go by what I've heard and that's an astounding yes. For me personally, I can't believe how much this playground offers to the public – for free!
An Amusement Park In A Playground

There's lots going on when you walk into this playground and it can be overwhelming for an over-excited toddler, you just don't know what to do first! The most eye-catching attraction has to be the merry-go-round which looks like something you'd find at a fun fair – I actually looked around to see who was selling tickets or manning this thing. As it turns out the kids are manning it, with buttons to press depending on how fast you want it to go. Sounds frightening but of course it is completely safe and the kids just love it. My toddler tentatively stepped on and parked himself on a seat while the older kids jumped on and stood up, hanging from the railing as they spun around.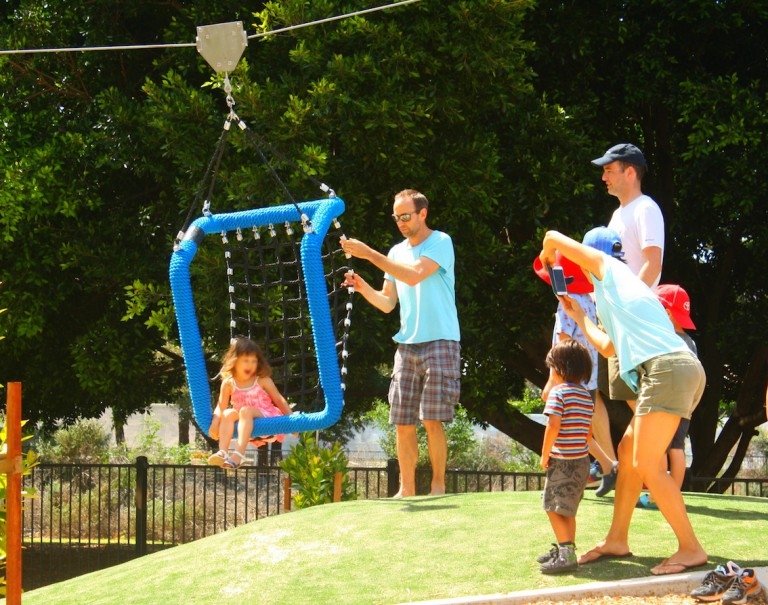 The other crowd-pleaser has to be the new flying fox which had kids and their parents lining up in anticipation. It looks like a chair lift you'd see at the snow and goes for miles (well, metres but it feels like miles) and the kids are nuts for it! Not sure how much the parents who have to run after the chair and pull it back up the hill love it, though!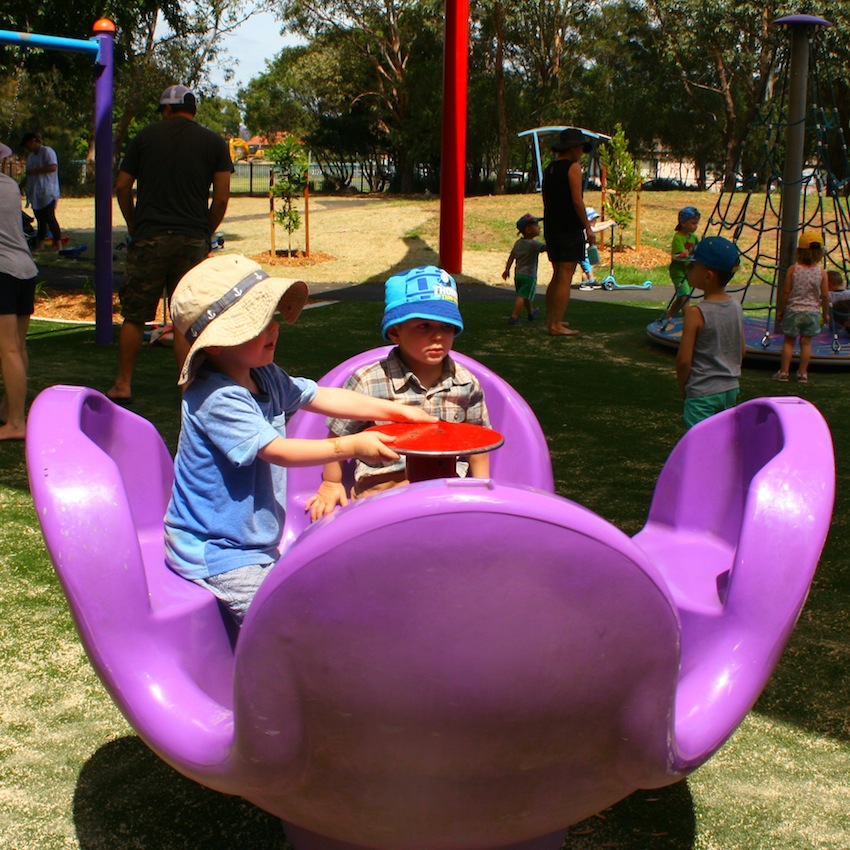 Nearby is what I would call a toddler park with swings, a small slippery slide and what looks like a mini tea-cup ride – more like a sippy cup ride I'd say. My toddler loved this as he spun it around and controlled how fast it went (not very fast, bless him).
In the centre you have your slides (with ramps, not stairs) and a ropes course for little Spidermen and Spidergirls. Amongst the picnic tables and barbecues there's also gigantic musical instruments so your picnic has wonderful entertainment provided. In short, there really is something for everyone – from the budding creatives to the little daredevils.
The All-Uniting Water Play Park

There's something about water and sand that gets kids really excited. Sure, you could take them to the beach but this sandy water play park at Livvi's Place is like the beach without any of the hazards. For starters it's shaded and there are no crashing waves or tides. Just taps and a sink the kids can climb onto and fill buckets and containers or drink from and make sandcastles in the sand pit. There's also lots of rocks, shaped into a kind of natural grand stand where parents can sit and watch their kids play.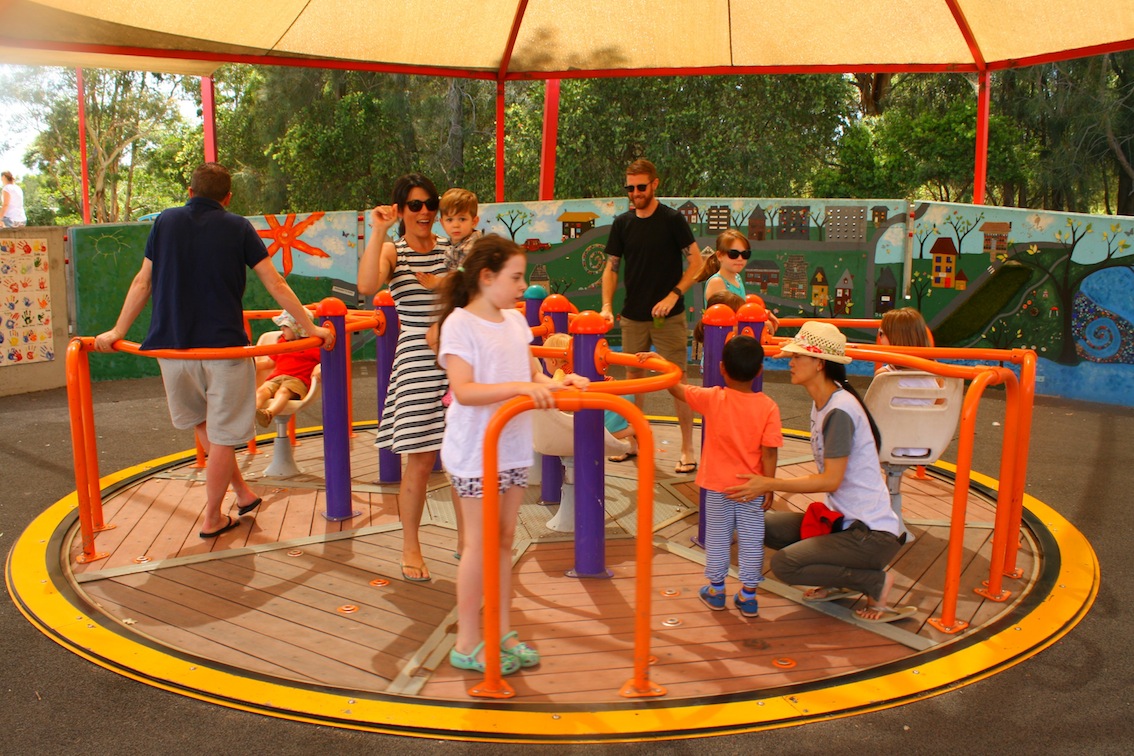 An All-Inclusive Playground

For those who haven't heard of Livvi's Place, it's an award winning playground which was an initiative of the City of Canada Bay, Touched by Olivia Foundation and Leighton Contractors. The playground was developed to reduce the barriers experienced by those with special needs, and allow children of all abilities to play together, side-by-side.
There's a kiosk outside of the playground where mums and dads can get takeaway coffee and kids can get treats like banana bread and milkshakes. Some of the profit made by their coffee sales is returned to the Touched by Olivia Foundation, so you won't feel guilty for having two flat whites!
I can't believe it's taken me this long to discover Livvi's Place. I will definitely be back.
Check Out More Playgrounds On ellaslist

Sydney's Best Old Fashioned Playgrounds
6 Of The Best Playgrounds In Sydney
Best Fenced Playgrounds In Sydney
Reviews
Enjoyed the place very much the first time we went. Since the 2nd visit the merry-go-round is out of order and the next time we went even the water play was gone. Really a pity that the two main attractions are not there anymore.