Introducing Attractivity - an Indoor World of Entertainment!
Preschoolers
Family
Kids
Parents Only
Teens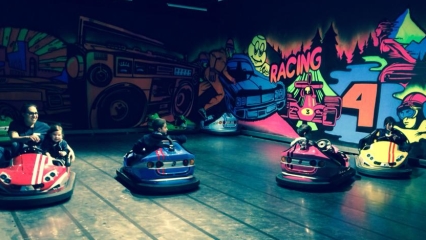 By: Hayley Christofi, ellaslist
We love to bring you all the best that Sydney has to offer for families, especially when its a bit of a scoop! Brand new to Sydney and a first for Australia is Attractivity; an indoor world of entertainment with something for everyone. Located in what is fast becoming a real entertainment hub, Sydney Corporate Park in Alexandria, its going to be a welcome destination for all ages.
We were amongst the first to experience this awesome space with 5 kids aged 6-10 years shortly after the doors opened. As soon as we walked in through the sparkly new entry our end-of-term weariness disappeared, our excitement peaked and energy levels soared.
Armed with our All U Can Play (3hrs) Cards the kids went wild.


First stop and one the kids kept going back to was The Laser Frenzy, which resembled a scene from Entrapment. Ducking and weaving, over and under the moving laser beams that bounce off the walls and ceiling proved to be a big hit, especially with the varying degrees of difficulty.
Next up, Climbing Ropes, which, as a mum, did fill me with a certain amount of dread! Not so the fearless kids. Strapped in a harness they were balancing on the high ropes within no time and loving it! Safety is a priority, the staff have had intensive training and were great with the kids. They even assisted in getting them down again when my request fell on deaf little ears.
There is so much to keep everyone entertained, including 5 Frame Tenpin Bowling  that works so much faster than regular Bowling and prevents younger kids getting bored. There are huge comfy sofas and a bar to keep everyone happy. The Dodgem Cars are speed controlled to offer different experiences for different age groups and there's a Scarefactory Maze, Cravens Crypt Shooting Gallery and shiny new amusement machines.


But a real highlight for all of us and a personal favourite was the XD Theatre – The Dark Ride, one of the most exciting rides I've ever experienced. Its an interactive motion ride that delivers a multi-sensory adventure with several different themed experiences (suitable for 7+). Watch out for the helicopter ride!
Points for Prizes
And if all that isn't enough, at the end of our play, the kids got to exchange their points for some really cool prizes. Points are collected on cards and can accumulate over multiple visits to make those bigger prizes obtainable.  Make sure the kids have pockets so that they can keep their play cards safe.


Attractivity is highly entertaining on all levels. It's a great contemporary space with polished concrete floors, multiple screens and neon lights. Their restaurant, The Munchery is also worth a pitstop with some refreshingly different food choices.
When I finally managed to get my kids out of Attractivity after 4 hours of non-stop entertainment their very first question to me was: "When can we come again Mum?" Soon, very soon!
HOT TIP: This place is going to be super popular amongst all ages! Make the most of these opening weeks in School Holidays before the rest of Sydney discovers its awesomeness!

Where: 160 Bourke Road Alexandria
Contact: www.attractivity.com.auor call (02) 8397 3000
Opening Hours: Open 10am – 11pm, 7 days a week.
Price: Entry is Free, with various different ride packages available. More Details about Pricing.
Reviews
The best new attraction in Sydney 2015! A centre of indoor activities and attractions for all ages. The kids and adults will be entertained and when it gets too much sit back in the comfy seating and enjoy a drink or something to eat. I highly recommend you visit. Remember to check out their facebook page for additional offers particularly in the holidays or for special events.