How To Stay Motivated For Swimming Lessons In Winter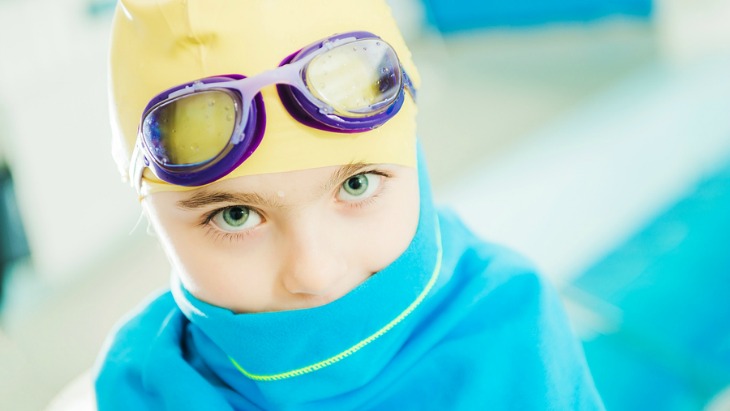 ellaslist COVID-19 update: Please note that all the information on the website is correct at the time of publication. Please check the relevant website before visiting a venue or destination for the latest COVID-19 information. ellaslist is not responsible for any cancellations or closures.
It's easy to lose the motivation to take your kids to the pool when it's cold. Even though a lot of Sydney's pools are heated, the thought of stripping the kids down to their bathing suits and then getting them back to the car with wet hair can be a little off-putting. But it's so important to keep swimming during Winter, especially for young kids who are just starting to learn.
We asked the experts for some tips on how to get you and your kids back in the pool during these cooler months.
Keep Up Your Good Work
The saying, "Summer bodies are made in Winter" can apply to swimming lessons - you're preparing them for a Summer of safety by keeping the essential skills fresh in their minds. After all, consistency is key. "Students learn from repetition," says Paul Bruce our Director of Swimming at City of Sydney. "Coming to swimming lessons weekly throughout the year helps children continue to practice and strengthen their swimming skills. Once Summer comes around, students that have swum over winter do not need spend weeks revising previous learnt skills. Due to their continual progression they can begin to learn new skills to further develop their overall swimming ability."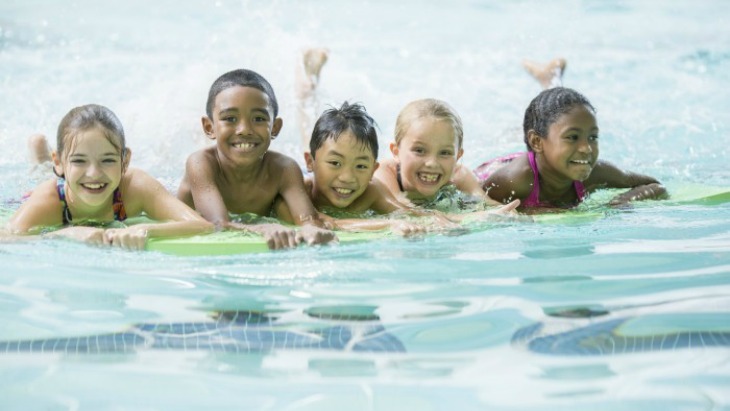 Build Their Confidence
Follow the beloved Dory's advice and "just keep swimming". As Paul explains, "Regular weekly swim lessons help develop confidence in students by encouraging them to overcome fears and achieve goals. Swimmers become more calm and comfortable in the water, and build confidence through overcoming challenges, increasing their belief that they can do it! Long breaks from swimming can reignite fears of the water in children, this results in more time rebuilding their confidence rather than progressing their swimming."
But Won't It Make Them Sick?
It's a bit of a misconception that swimming in winter will lead to colds and flus, when really it's about applying some common sense. "Swimming during winter is not directly related to developing colds and flus," says Paul. "It is important however, that you chose a swim school with a warm air and water temperature. Often indoor pools are more suitable for swimming in the cooler months. It is important that your child stays warm before, during and after the lesson as well as avoiding the water if they are already unwell. Most indoor pools adjust the water temperature to accommodate for the cooler weather. You will also notice a change in teaching methods to ensure all children and constantly moving and keeping warm in the water."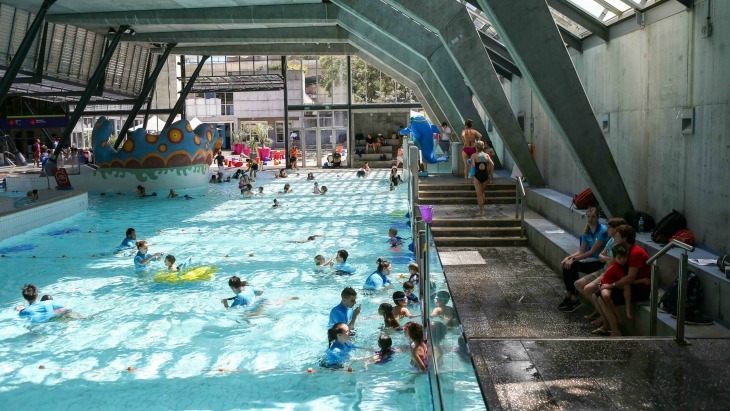 Find A Really Heated Pool
Some pools say they are heated but they're more like a tepid bath or sometimes the outside air is so cold that you can't even bring yourself to get out (or in for that matter). "We recommend you visit Cook+Phillip Park or Ian Thorpe Aquatic Centre indoor facilities. The pools are warmed to a lovely 30 degrees which means it's much warmer IN the water than out," says Paul. And contrary to popular belief, infections are not spread through heated pools. "Most pools are treated with chemicals that eliminate bacteria," explains Paul. "We do advise to stay away from the pool if you or your child is unwell, however this is not only in winter."
Staying Warm In The Water
Some parents think they need to go and buy an expensive wetsuit to keep their child warm in the water. However, unless they're going to swim in the ocean, this isn't advised. "Instead of a wetsuit, we recommend student wear a rash shirt to lessons during winter," says Paul. "Wetsuits are often made of a thick material which increases buoyancy in the water. This gives children a false sense of security in the water and affects their body position when swimming." As for the dreaded getting out of a warm pool scenario, just have your bag packed with the essential winter warmers! "Make sure you pack plenty of layers and once the class is completed jump into a warm shower," advises Paul. "Pack a hair dryer or use the facilities' dryer. Don't forget to pack a beanie or warm hat as a lot of body heat is lost through an uncovered head. A warm drink tops off the kit, either a soup or a hot chocolate is perfect."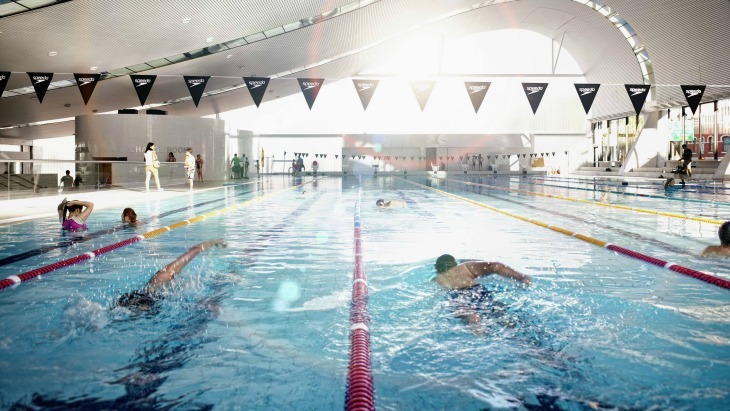 Combine A Swim With A Workout
While the kids are in lessons, why not find a pool with a gym so that you can work up a sweat while they swim. That way you still get a good workout and will be filled with happy endorphins come the end of their lesson. Also, you won't feel so guilty when you get stuck into the hot chips post lesson! "Both Cook+Phillip Park and Ian Thorpe Aquatic Centre have attached fitness facilities including free weights, classes and brand new cardio equipment for parents and teens. You can purchase a Family Membership package so the whole family can stay fit and healthy," adds Paul.
Click here to find out more at Cook+Phillip Park
Click here to find out more at Ian Thorpe Aquatic Centre
More Winter Fun
Where To Pick Winter Fruits Near Sydney
Where To Go Ice Skating With Kids
Best Winter Activities For Kids
Have you signed up to our newsletter? Join ellaslist to get the best family and kid-friendly events, venues, classes and things to do NEAR YOU!