How To Ease The Squeeze? ellaslist Tests Out A New Way To Outsource Your Household Chores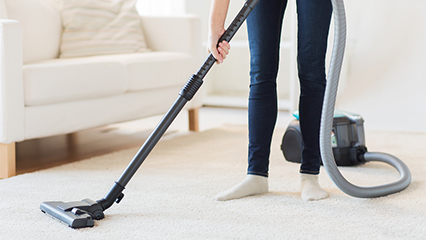 By: Marie Ashworth, ellaslist
It's easy for things to start piling up at home when you're practicing the fine art of juggling family, work and everything else in between. The latest 2015 HILDA Survey (Household, Income and Labour Dynamics in Australia), found women spending around 16 hours a week on housework, more than double the amount performed by men. They also spent more time caring for children, running domestic errands and babysitting. Yet women are increasingly working and earning more, with almost one in four the main breadwinner in the family. The stats say it all.
When it's time to ease the squeeze, outsourcing your household and garden chores is the way forward. It takes the pressure off and frees up your time to do things that really matter; doing fun stuff with your family or enjoying some much-needed 'me-time' whether that's hitting the gym or sharing a bottle of wine with friends.
Outsourcing Made Simple For Sydney Mums

Finding trusted people who can help and who you're happy to have in your home is not always easy. It's something busy Mumpreneurs, Noga Edelstein and Elke Keeley have experienced themselves. It's one of the reasons why they created UrbanYou, a one-stop-shop for booking pre-approved cleaners and gardeners. We caught up with Elke to find out more.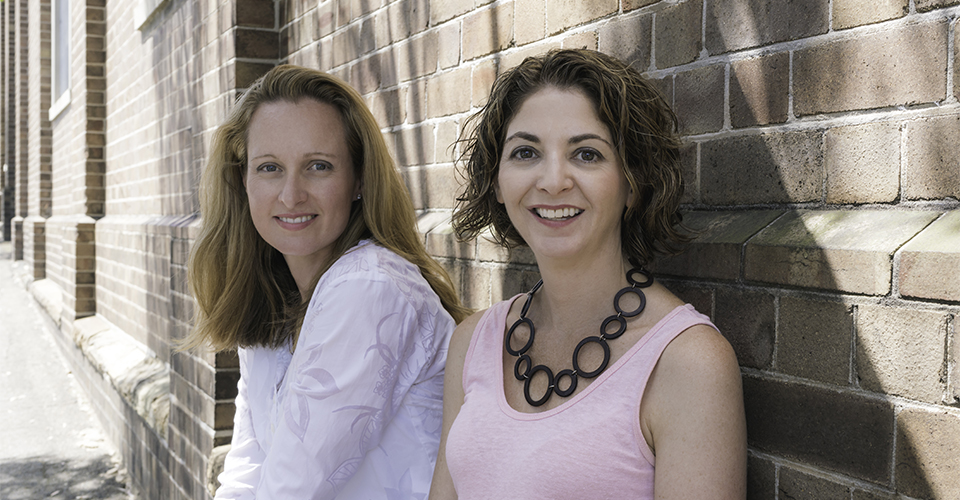 ellaslist: What inspired you to set up UrbanYou?

Elke: While working together at Yahoo!7 we were overwhelmed by the seemingly never-ending routine of juggling family and work commitments. At the time, we were both using home-services to help us keep our home chores under control, but found it extremely time consuming to find reputable service providers who actually turned up! And so out of pure frustration with the state of the home-services market, UrbanYou was created. We're making it just as easy to get your home cleaned as it is to buy a book from Amazon.
How long has UrbanYou been operating?

UrbanYou, formally known as UrbanOutsource, launched in 2014 and has since established a trusted network of Sydney's best local cleaners and gardeners, and helped hundreds of busy people with over 30,000 hours of household chores completed!
We spent the initial years perfecting the experience for our consumers and providers. This has been very successful with over 90% of trial users converting to regular customers and over 95% rating their experience as four or five stars. And with the recent launch of the new platform, we're making it even easier to help you manage your busy urban life.
What makes UrbanYou unique?

As busy working mums, we understand the challenge of finding balance juggling family and career, and needing reliable household help. You could say, we are the ultimate consumer!
UrbanYou focuses on providing a quick, reliable solution and is the only on-demand platform tackling the whole home, offering cleaning, gardening and carpet steam cleaning.
Technology is also a key area for us. We're constantly looking at ways we can innovate and introduce new technologies that make the services more convenient for customers and service professionals alike.
We're also unique in that we only use our trusted, pre-screened network of service professionals, provide a Satisfaction Guarantee, and friendly Customer Care team based in Sydney.
What household services do you offer?

UrbanYou service professionals remove the drudgery from life and leave sparkle behind. Whether you're after a seasonal spring clean to refresh your home, or a weekly clean to maintain the shine, network of specialist cleaners follow a detailed Checklist or would be happy to tailor your service. We also offer exit cleaning designed to pass the fussiest of agent inspections, and carpet steam cleaning using industrial equipment. For the outside, a one-time garden clean-up will revamp your space and prepare for an ongoing maintenance schedule.
What areas in Sydney do you cover?

UrbanYou has a network of professional cleaners and gardeners throughout Sydney.
Why can customers trust your helpers?

When inviting someone into your home, we understand the importance of safety and trust. UrbanYou puts each service provider through a rigorous verification process, including background and police checks, service testing, and continual performance reviews. Plus, all UrbanYou bookings are backed by a Satisfaction Guarantee and our Customer Happiness team is here to help 24/7.
Can you give us an idea of costs?

All services are instantly quoted online, with cleaning and gardening bookings priced on a per hour basis. You can enhance one-time cleaning services by adding "extras" such as fridge or oven cleaning. Or, trial a weekly or fortnightly cleaning schedule for as little as $32 for a 1-bedroom apartment when using promotional code Ellas30.
Booking Made Simple

It's a simple, quick process that can be done from your desktop or mobile in an instant. First, you select the service you need, then give more details and choose a time before booking a pre-approved experienced cleaner or gardening expert. Once your appointment is confirmed, you make your payment online. Simple as that, done!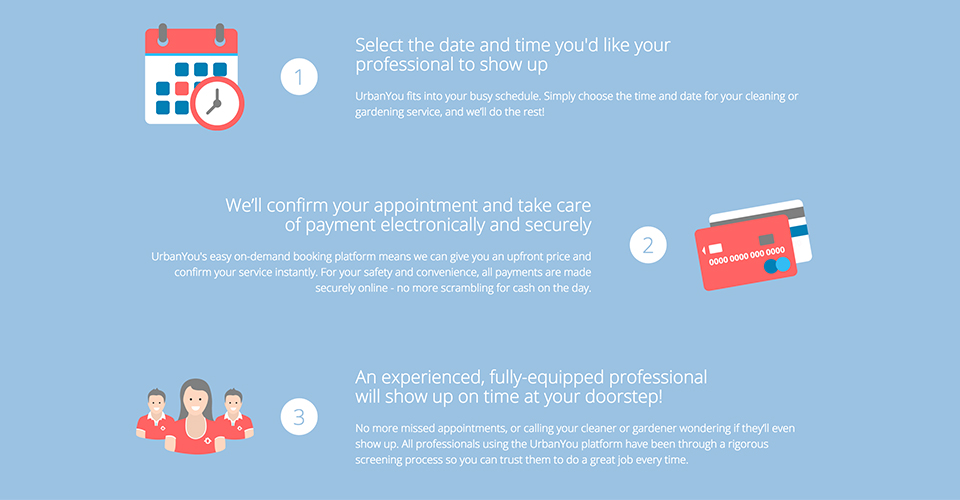 ellaslist Tests Out UrbanYou

I booked a FOUR hour home clean service for 8am so I could let the cleaners in and show them around before I left for daycare drop off and work. Angie and Luciana arrived as a team on the dot, introduced themselves and explained they'd be working together for 2 hours. They brought with them all their own cleaning products and equipment and after a quick look around with me, got on with the job in hand straightaway.
The Results

My hubbie unexpectedly worked from home the day of the clean. I received a very brief 'Spic & span!' text from him so I had an inkling I'd be happy with the results. My son and I walked in to the cleanest, sparkliest and freshest smelling home we had ever experienced (even more so than the day we moved in!).
Raising The Bar

Now, I think I have fairly high standards when it comes to dust, dirt and general grubbiness. If things get too messy I start to feel out of control so I try to keep on top of things and was expecting things to be cleaner but not looking that much different to normal. I was wrong.
Seriously Shiny

Our kitchen was seriously shiny. No grubby finger prints on the cupboard handles. The hob's stubborn stains had disappeared. And the unidentifiable marks on the stone splashback, which had been around since we moved in, were gone.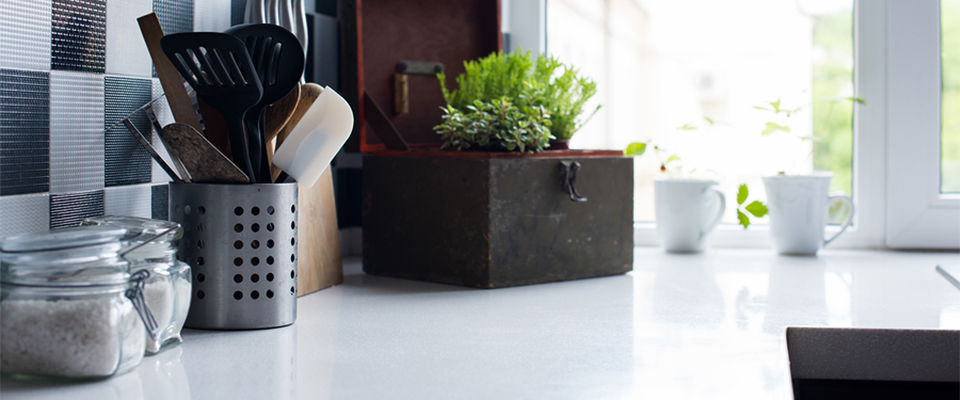 Bathroom Blitzed

Our bathroom was immaculate and sparkling. My hubbie commented that Angie had even gone to the trouble of cleaning the fly screen – not an easy task as the window is above head height.
Gleaming Windows

As well as all the regular tasks such as cleaning the bathroom and kitchen, and mopping the floors, Angie and Luciana did things I hadn't got round to for a long time (correction ever!). The floor to ceiling windows and patio doors in the lounge and bedroom had ingrained dirt and 3-year old high handprints across them. They were so thoroughly cleaned, I swear they were letting more light in!
The Playdough Busters

It wasn't until later in the evening that I noticed our heavily textured sisal rug, a haven for dried out playdough, popcorn and whatever else slides out my son's hands, was completely and utterly spotless. Whatever method they used, it certainly worked better than anything else I've tried.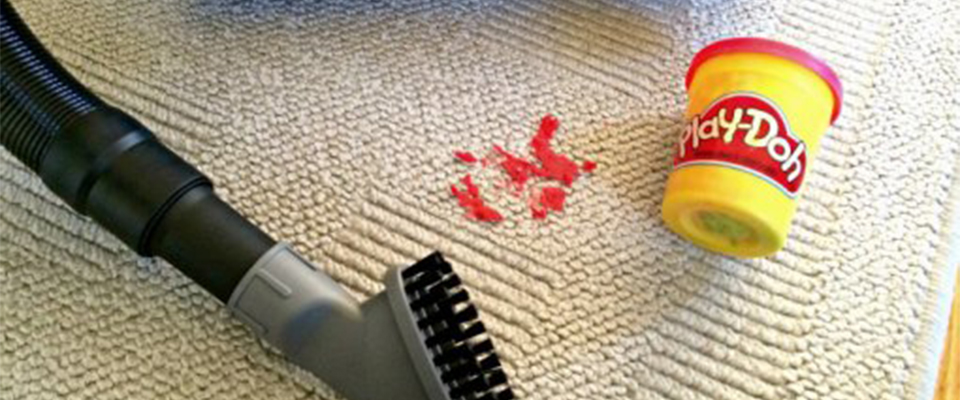 Coming Home To Clean

What a great feeling to return home after a hectic day and step into a world of clean. Yes, there was the happiness that I didn't need to factor in the time to do it myself but it was more the actual multi-sensory joy of entering an apartment so clean, it would pass the most stringent hygiene standards.
Worth The Money

Our home clean cost $128 and was worth every cent. Angie and Luciano were clearly very experienced at what they do. And with the right equipment, products and methods they managed to get through a home clean which would have easily taken me the whole day. That's precious time I would rather be doing fun things with my family or setting aside to work which is why I know I would never have got round to some of those cleaning tasks.
Highly Recommended

I have family and friends waiting to hear my feedback and I'm going back to them with a 100% go book it! Whether you're looking for a one-off spring or end-of-lease clean, a regular home clean or one of the other services UrbanYou offers, I would highly recommend them. The booking process was simple, the results were fantastic, I had complete trust in the cleaners I'd just met knowing that all their service providers are vetted and approved.

ellaslist Special Offer
BOOK an UrbanYou home clean or gardening service today and SAVE $30! Simply visit www.urbanyou.com.au, and apply code "Ellas30" for discount.
Reviews
I must say i'm quite fussy, but i've been really impressed with UrbanYou so far. My cleaner Jenni is fantastic, their pricing is reasonable, and the customer service team are very helpful.
I booked a cleaner with UrbanYou based on Ella's List recommendation and they were awesome! Really easy to deal with, the cleaner was lovely and professional, and I couldn't be happier with the results. I've booked them in for regular ongoing cleans.