Got Dinosaur-Obsessed Kids? Get Prehistoric at these Great Melbourne Spots to see the Ancient Giants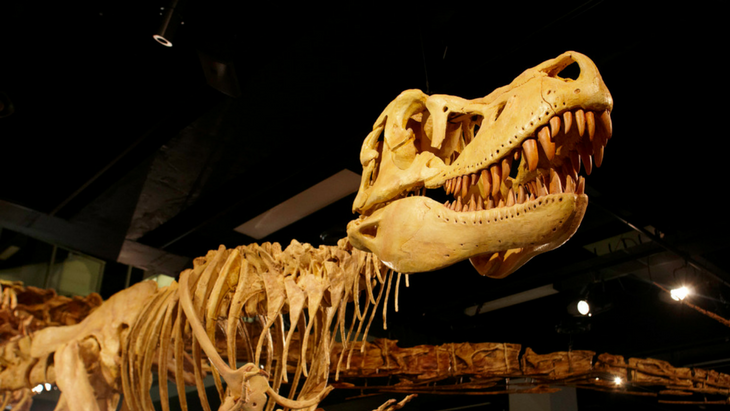 It's almost a rite of passage for every child: The Dinosaur Obsession Era.
You're on your 78th viewing of The Land Before Time, your kid can pronounce Triassic dinosaur names better than you can, and you can't move for prehistoric paraphernalia in every corner of your home. Fortunately we (and Melbourne!) have got your back! Indulge every kid's love for giant extinct animals at any of these fabulous places.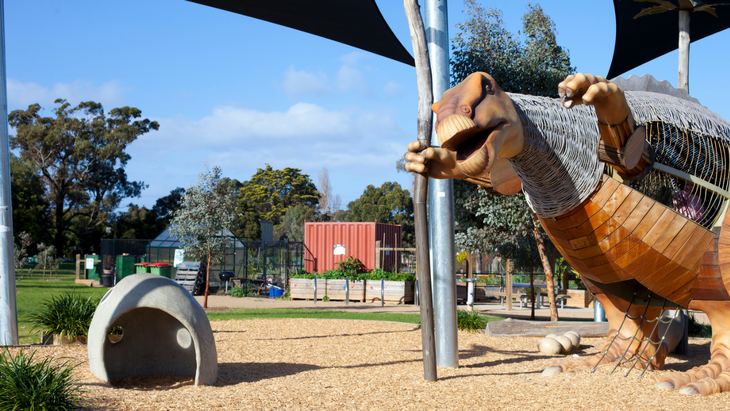 McNish Reserve
Not only see a dinosaur: climb IN a dinosaur!
McNish Reserve in Yarraville is a super-sweet little playground full of Jurassic-themed equipment for kids, and the Queen of the Park is none other than a gigantic Mimi the Muttaburrasaurus.
We love the cubby house made from dinosaur eggs and the expansive grassy fields to play your own dinosaur games on.
See our full review here.
Find it: Court St, Yarraville
For more info: maribyrnong.vic.gov.au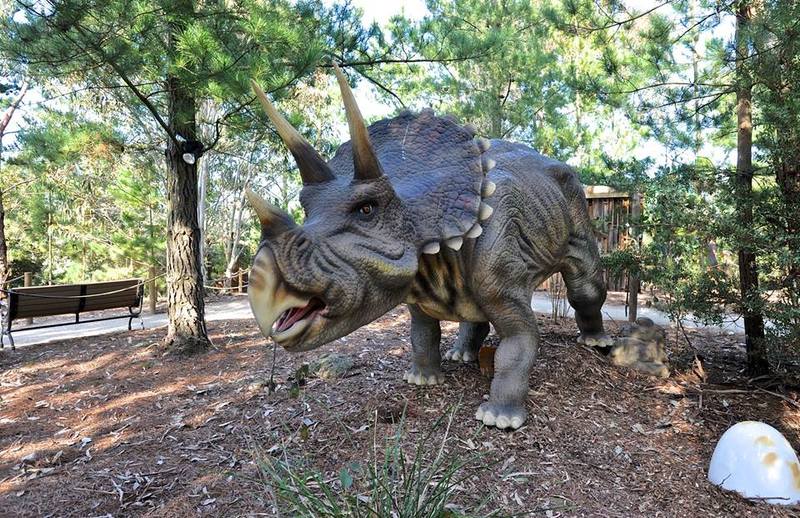 Dinosaur World
Dinosaur World is chock-full of realistic animatronic dinosaurs, all who walk, roar and move just like the real thing!
The park's two walking dinosaurs – one of which is a raptor – come out to visit kids throughout the day, and there are also 'Dig and Discover' activities, which enable kids to put on their paleontologist caps and chip away at fossils.
Step through the gates and travel back millions of years to experience the dinosaurs up close as walking dinosaur "Wilson" comes out to say hello at 11.30am, 1.30pm and 3.30pm. Baby raptor "Wilbur", baby triceratops Lollipops and baby T-Rex Nibbles are also available for a pat throughout the day.
Where: Frankston – Flinders Rd & Oneills Rd, Somerville
Cost: Adults $15, children $12
More info: see the website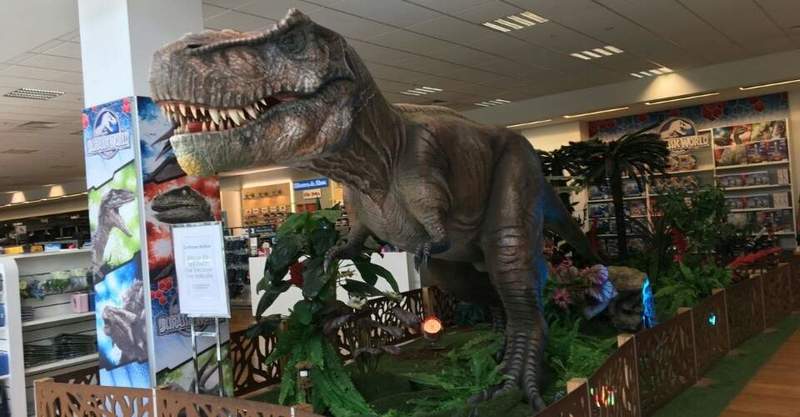 MyKids, Myer Emporium
Hidden in among the LEGO and dress ups is a fully animatronic T-Rex, roaring and shaking his head at unsuspecting shoppers and happy kids.
MyKids is basically a wonderland for children with its full-sized Barbie and Disney Princess installations and a ride-on Thomas the Tank Engine - not to mention more dinosaur toys than you'll ever be able to get out of there without buying!
Where: Myer Kids Emporium 287 Lonsdale St, Melbourne
More info: see the website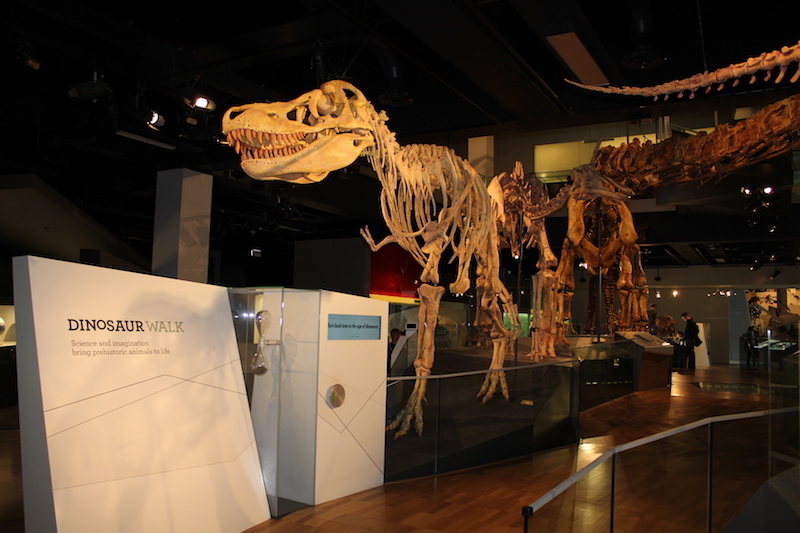 Dinosaur Walk
Of course the Dinosaur Walk at the Melbourne Museum should be your first port of call! Check out the real dinosaur skeletons, fossils (including eggs, teeth, and poop!), megafauna artifacts, videos, interactive displays, and tons of prehistoric items to gawk at.
You can't miss the 25m long Mamenchisaurus, the soaring Quetzalcoatlus, a prehistoric bird-like creature hanging above your head. Check out the wingspan!
Where: 11 Nicholson St, Carlton
Cost: Adults $14, kids FREE
More info: see the website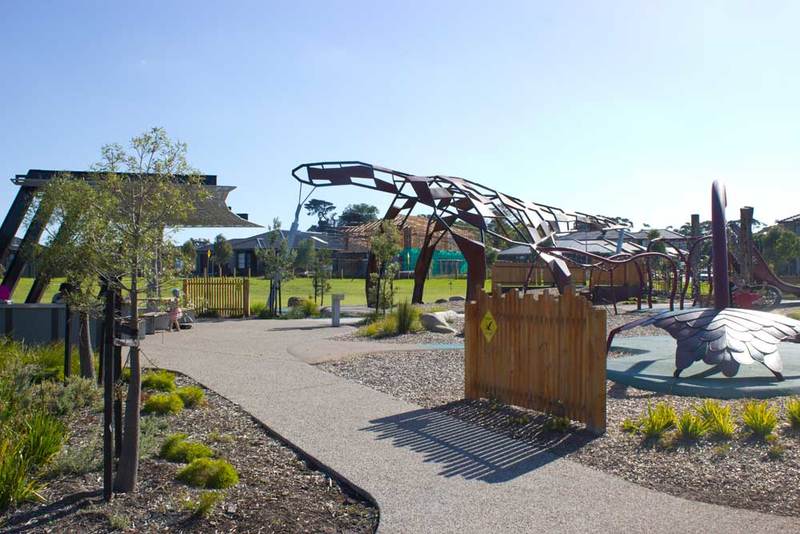 Megasaurus Playground
The giant Megasaurus climbing structure lords it over a bunch of cool equipment at this brand new park in the Livingston estate, Cranbourne.
The play equipment is all designed to reflect a prehistoric era, with metal dinosaur structures to climb, brontosaurus dinosaur framed flying fox, pterodactyl basket swing whos steel feathers form little hiding place underneath, and a massive stegosaurus with a musical surprise!
The landscape has been kept natural... all except for the secret dinosaur eggs in the dry creek bed... see if you can spot them!
Find it: Newington Drive, Cranbourne East
For more info: Head to the website.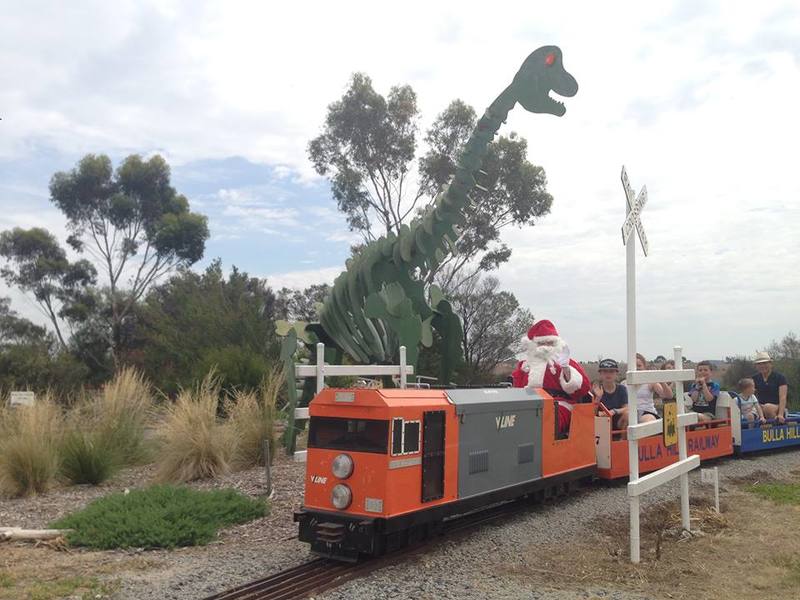 Bulla Hill Railway
At Bulla HIll, families can take a little journey on board a steam or diesel locomotives around a scenic track that is home to features millions of years old - 67 million, to be exact!
The ride takes approximately 10 minutes and during the ride, you will pass over bridges, and through cuttings with scenic views of Mt Macedon in the background. Dinosuars can that can be seen are the 9m-long Triceratops horridus (which means "three horned face"), T-Rex, Stegasaurus Armatus, Diplodocus Longus, Allosaurus Fragilis, Brachiosaurus Altithorax and more. Get your cameras ready!
Find it: Recreation Reserve, Green Street, Bulla
For more info: Head to the website
Main image credit: Melbourne Museum