Get Up Close With Aussie Animals at Featherdale Wildlife Park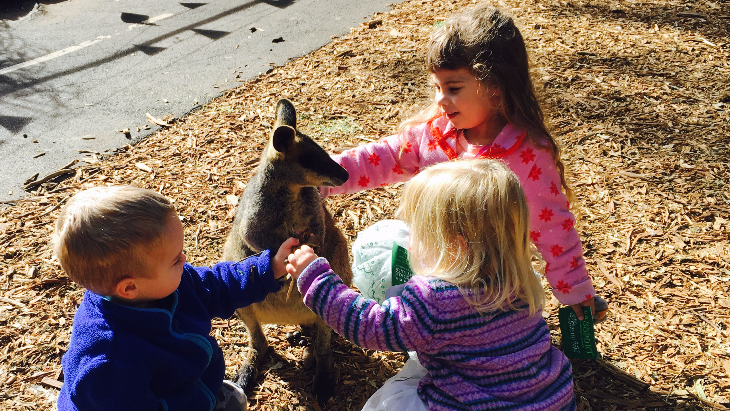 By: Lisa Wolff, ellaslist editor
It's not every day that you get to have breakfast with a koala or have a private cuddle with a baby Joey, an authentic billy tea or feed a wallaby. Featherdale Wildlife Farm not only houses the biggest collection of Australian native animals in the world but it also offers unique special experiences that the whole family will remember forever.
We are so lucky to have Featherdale on our doorstep - or only 45-minute drive from the CBD. It's the perfect stop off on the way to the Blue Mountains and a great place for an action-packed Mother's group get-together.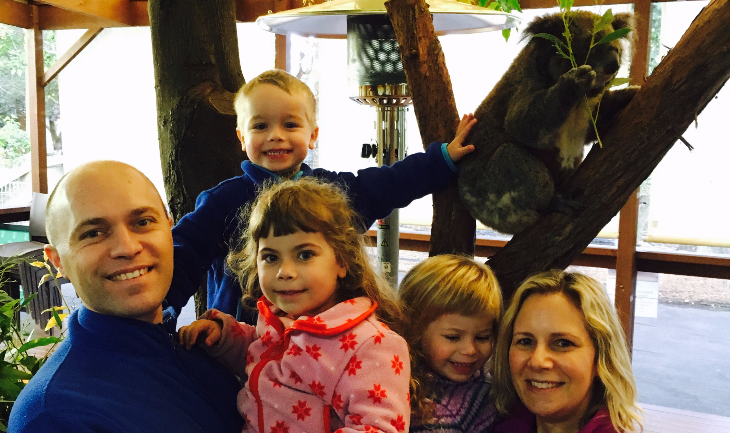 A visit to Featherdale is all about getting up close to the animals which is a dream come true for our touch-crazy toddlers. The only time we had to tell the kids not to touch was at the Cassowary enclosure. A nip from that beak wouldn't have been fun! The cute wallabies stopped jumping for just long enough for the kids to have a gentle pat before springing away again. The kangaroos were eager to nibble the grass from the cups (which cost $2 each). We even gave the wombat a tummy tickle. There are demarcated animal refuge areas so if the attention is all getting a bit much, the wildlife can take a break.
But what makes Featherdale better than the rest is their amazing animal encounters. These are really something special and I recommend you book at least one of these experiences before coming to visit. I promise you will not be disappointed!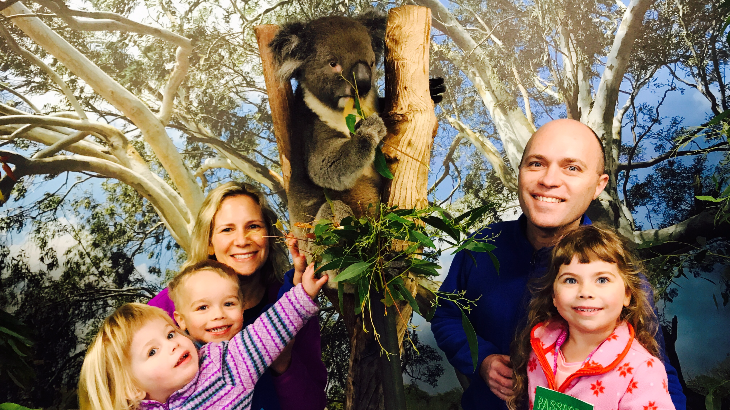 You can pick from:
Breakfast With A Koala
What makes this opportunity so special is that you get to enter the park before anyone else does. The brekkie is held in the Drovers Hut and the morning starts at 8:15am with a plate of food - including a ham and cheese croissant or a plain pastry for vegetarians, fruit salad and a muffin. There is also juice, water and your choice of hot drink. Then the guest of honour makes her grand entrance. In our case, we were joined by Molly, the 11-year old koala who obligingly perched on the branch and nibbled on his gum leaves while we snapped away. We had the chance to pose with Molly and give her a pat. Her keeper, Sarah, then brought her along to the table so we could have a really up-close look and another pat. Wow, that was really WILD!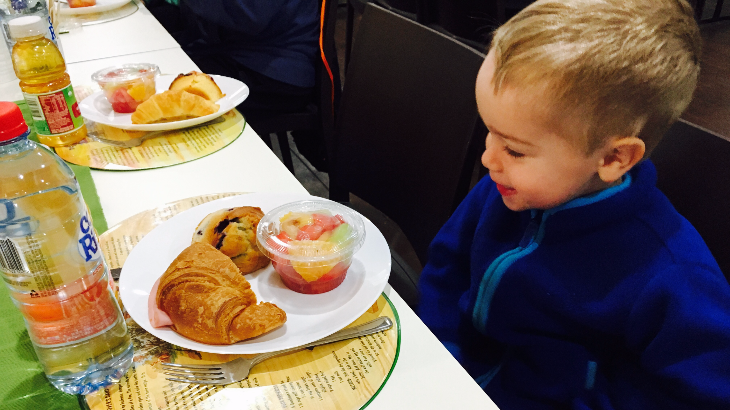 Animal Encounter
This is the five-star experience - the chance to get a private and intimate meeting with the animals. The encounter can accommodate up to 6 people and we were introduced to Jess, the head trainer at Featherdale.
Jess told us we would be meeting three special animals and they were already in the room with us. We all looked around but curiously we couldn't see any hint of an animal. Where (and what) were they? Jess picked up a bag and we saw a cute little face poking out of it. We were introduced to a little 6-month old Joey. Tabbitha, the adorable baby 'roo had been rescued and brought to Featherdale when her mother had been run over. The kids were so excited to get a turn each to hold Tabbi.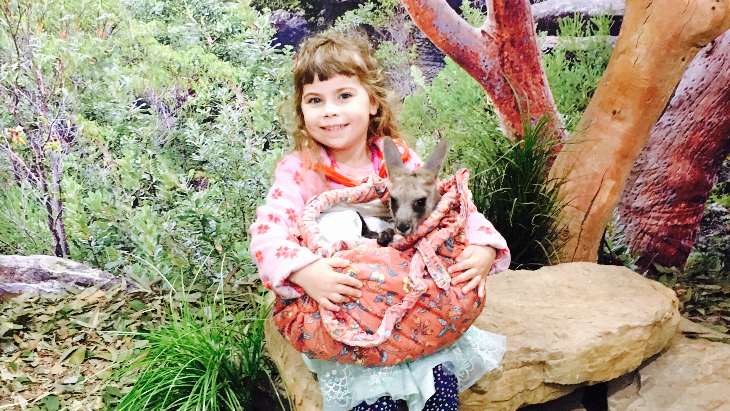 Next up, we met Pudding, the ring-tailed possum, and we each got a chance to hold the baby and feed it a piece of apple.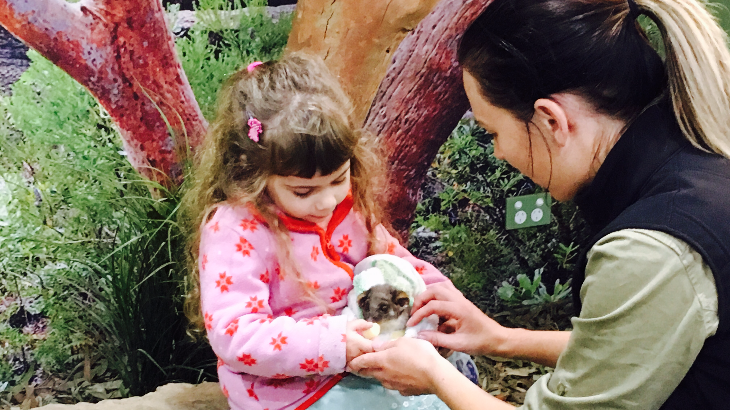 Last up was the tiny sugar glider which we fed a feast of meal worms. My son and hubby volunteered to eat a worm too (I wasn't brave enough). Apparently, they taste like peanut butter. There was a photographer in the room with us and two photos are included in the package (hard-copy and digital) and you could purchase extra ones if you wanted (we did, as they were such special memories).
There are animal encounters for mammals, birds and reptiles and it's best to book these special experiences in advance.
Personal Koala Encounter
Featherdale has a new walk-through Koala Sanctuary which takes visitors through a path through the Eucalyptus trees and a close-up view with the park's most popular animals.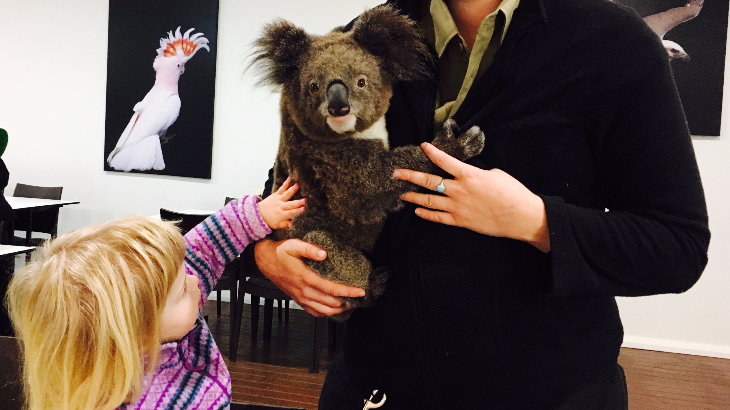 The kids really wanted a take-home souvenir of them cuddling a koala so we did a personal koala encounter, where we go to pat a koala, have a chat to the zoo keeper and have a photo taken. There are a variety of different packages to choose from, starting from $20. No bookings are required for the koala encounters!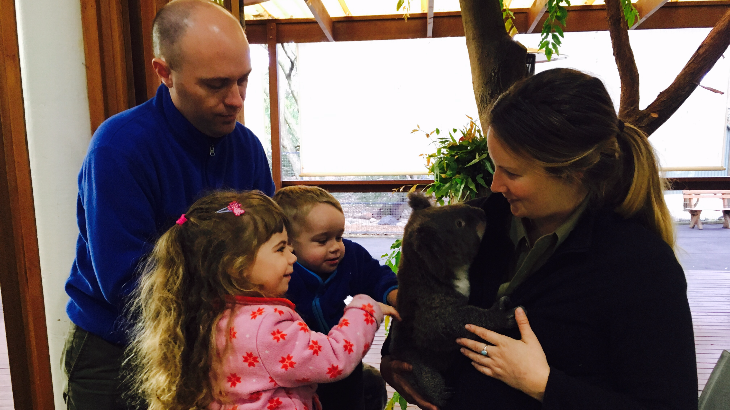 Meet The Dingos
We were so lucky during our visit that the park had a new litter of Dingo pups and we had the chance to hold and pat one. This special experience only happens occasionally when the dingos are babies so keep an eye out on the Featherdale Facebook page for updates.
Besides the unique encounters, there are so many other animals to see. There are crocodiles, echidnas, wombats, Tassie devils and gorgeous birds. There is also an enclosure with massive kangaroos as well as a farmyard with sheep, goats, chickens, a donkey and a pig.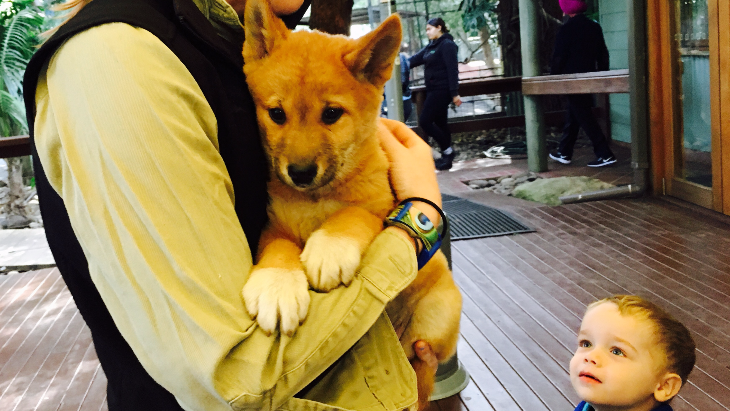 Featherdale is such a perfect animal park for kids. We love that it's not too big so that you can actually see all the animals in one visit. Give yourself at least 2 hours for a visit. It's completely pram-friendly and the paths are flat and easy to navigate with a stroller. We love that it's interactive and the kids are encouraged to touch and get up close to the animals.
We like that there is a cafe on the premises with a selection of hot meals, sandwiches, toasties, wraps and cakes. There is a kids' menu with nuggets, burger and a hot dog. But you can also bring your own food and there are plenty of tables and benches in the shade to enjoy your snack. There are also electric barbeques in the picnic area.
Featherdale is a brilliant venue for a kid's party. The park offers amazing value-for-money packages which include just about everything.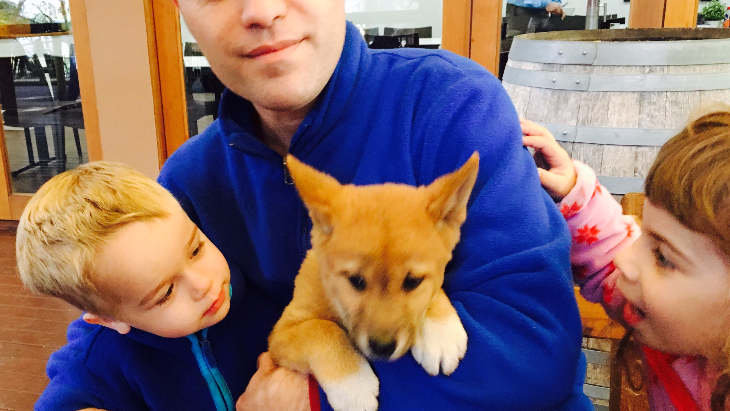 Kids Go FREE In July
These July school holidays are the perfect time to visit as for the entire month of July, Kids will receive FREE admission to Featherdale Wildlife Park with the purchase of a full-priced adult ticket! More information here.
Reviews

Reviews get lonely too
Be awesome and write a review