Get Road Trip Ready: Top Tips For Child Car Safety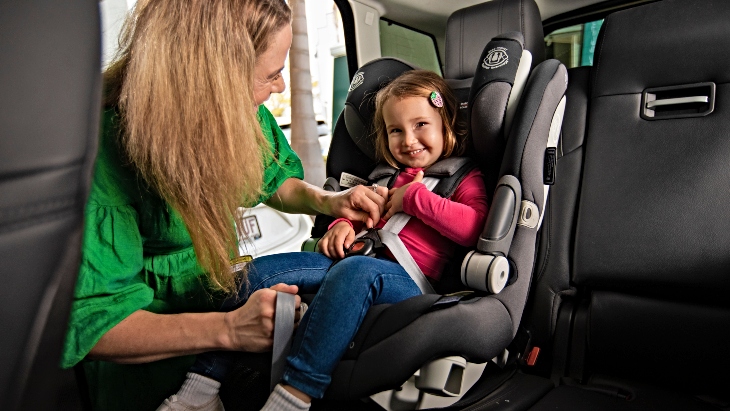 Now that travel is well and truly back on the map, we're busy planning our family adventures and seeking out some well-deserved escapism!
There is nothing like packing up the car and venturing beyond the city limits to some far-flung slice of paradise, but before you hit the road it's a good idea to make sure you've got one of the most important road-trip essentials covered - child safety.
Protecting our kids is the most important work we'll ever do, especially when we're on a busy motorway. That's why Transurban is working with Kidsafe to give parents easy, accessible tips to help keep our precious cargo safe while we're driving.
Top Tips For Child Car Safety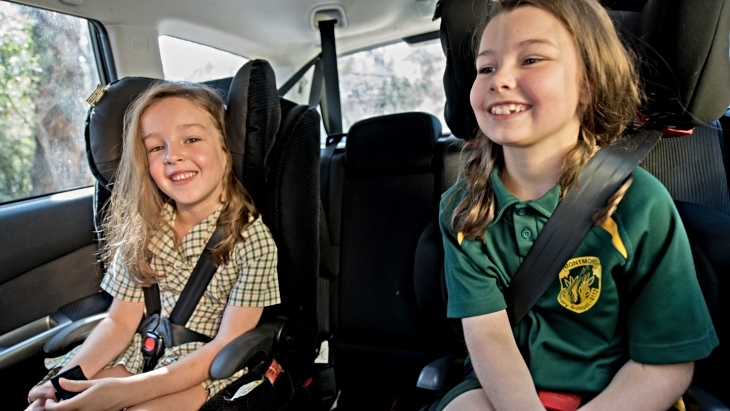 Young children should always be in a correctly fitted child car seat that is most appropriate for their age and size.
Do not move your child to the next child car seat until they have outgrown their current one.
Ensure their child car seat is approved to the Australian Standards.
Make sure your child is secure in an appropriate child care seat for every single journey.
Use second-hand car seats with caution and make sure they have all the appropriate fittings and have been checked by a qualified professional.
The safest place for children when travelling is in the rear of the vehicle.
Get your car seat fitted or checked by a qualified professional for maximum peace of mind!
If you hang onto your car seats to pass down to your younger kids, it is comforting to know that older car seats can still protect a child in a crash. However, it is crucial that they are thoroughly inspected to ensure they are still in good condition; within 10 years of manufacture date; and not missing any parts or instructions. Plus, if a car seat has been in a serious accident, it needs to be replaced.
As your little ones grow, if they are over 4 years old, and have outgrown their harnessed forward-facing car seats, booster seats are effective in protecting children in the event of a crash, when used correctly with an adult seat belt. It is also good to know that we now have lots of choices and can actually purchase a child car seat, with an in-built harness for up to 8 years old.
When Can Your Child Ride In The Front Seat?
As your mini travel buddies approach tweenhood, the lure of sitting in the front seat becomes strong! While kids love the thrill of being upfront, the safest position is in the back seat and they should wait until they are at least 12 years old to ride in that coveted hot seat. That is, however, not the major factor when it comes to making that transition. What is most important is that your child passes The Five Step Test.
The Five Step Test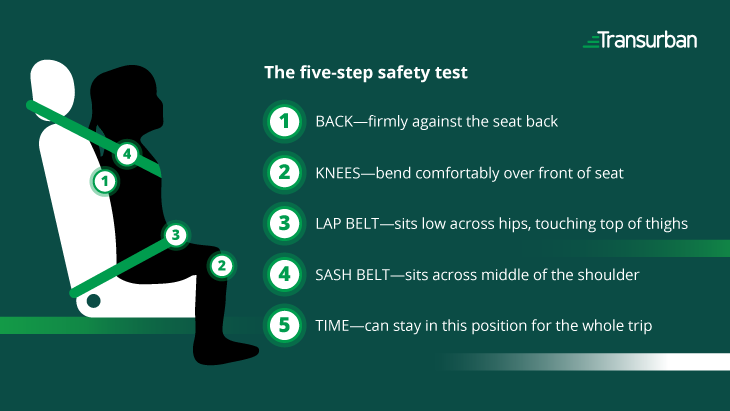 Check out more research-based information from Transurban and Kidsafe at transurban.com/kidsafe. Happy travels!

For information on your local qualified professional child car seat fitter visit:
NSW: roadsafety.transport.nsw.gov.au
QLD: kidsafeqld.com.au/child-car-seat-fitting
VIC: kidsafevic.com.au/find-a-fitter
Get On the Road
The Ultimate Holiday Road Trip Survival Guide
The Best Weekend Getaways Near Sydney
The Best Day Trips from Sydney
Have you signed up for our newsletter? Join ellaslist to get the best family and kid-friendly events, venues, classes and things to do NEAR YOU!