FREE Family Fun At The Museum of Contemporary Art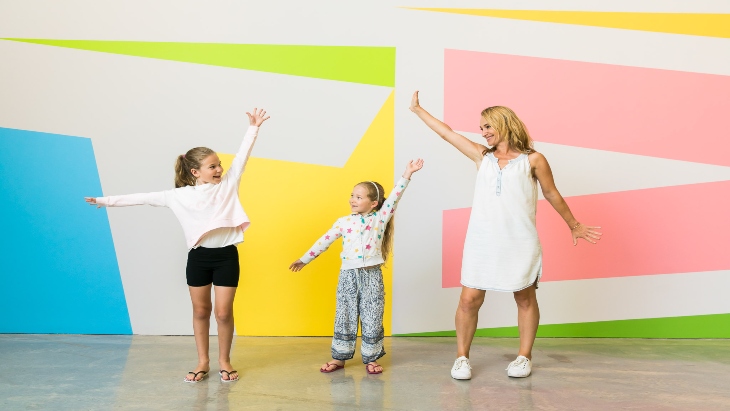 Creativity is king when it comes to nurturing a child's development, so what better way to encourage imagination and exploration than with a creativity-focused program run by the Museum of Contemporary Art Australia. What's more, the MCA is now an official Creative Kids provider to help families enjoy discounts on children's programs through the $100 NSW Government Creative Kids Rebate.
The Government rebate is a $100 Creative Kids voucher given to eligible families to put towards a creative program of their and their child's choosing. So if you've got a drama queen or craft king on your hands, you'll want to make the most of this rewarding rebate. The rebate has been so successful in nurturing creative minds that educational bodies such as the MCA are also jumping on board.
To cultivate creative potential, the MCA have put together a Creative Kids Family Bundle for families to participate in their extensive list of school holiday programs throughout 2019. One Creative Kids Voucher can be redeemed for the whole family and allows a whole year of family fun for free!
The Fine Print
The MCA Creative Kids Family Bundle allows unlimited entry for two adults and up to three children in the same family for:
Three Contemporary Kids school holiday programs running from 14-18 April, 9-13 July, and 1-5 October 2019.
Entry to Break Up, Make Up on Sunday 16 November 2019. This unique two-hour workshop allows families to explore artist Cornelia Parker's inspiring exhibition of reclamation and experimentation and create their own repurposed artwork.
MCA School Holiday Programs On Offer
The immersive school holiday programs for the MCA 2019 calendar are designed for mini art lovers aged four plus and their parents. Your Creative Kids Family Bundle will allow entry to these three programs run throughout the year, concluding with Break Up, Make Up and entry to Cornelia Parker's exhibition in November.
14-18 April 2019 – The National 2019: New Australian Art
This exhibition presents the work of 24 Australian artists who use sound to express their artistic ideas. Families will have the opportunity to look, listen and make some noise when they collaborate to create unique instruments from unusual found materials. Families will also have exclusive access to Lucas Abela's Pinball Pianola, an interactive sound installation.
9-13 July 2019 – NAIDOC Week
National Aborigines and Islanders Day Observance Committee (NAIDOC) is a week not to be missed. Celebrate the heritage of Australia through work by Aboriginal artists in MCA Collection: Today, Tomorrow, Yesterday. Fun collaborations and art-making activities complete the program.
1-5 October 2019 – Shaun Gladwell: Pacific Undertow
A fascinating journey of epic exploration is on the cards in Shaun Gladwell: Pacific Undertow. In Shaun Gladwell's largest survey exhibition to date, the artist combines different media to depict his fascination with colonial and art histories, and the technological possibilities of 21st-century art.
For more information and to redeem your family bundle, visit the MCA website.