ellaslist Discovers The Free Family Fun Sundays At ACMI in Melbourne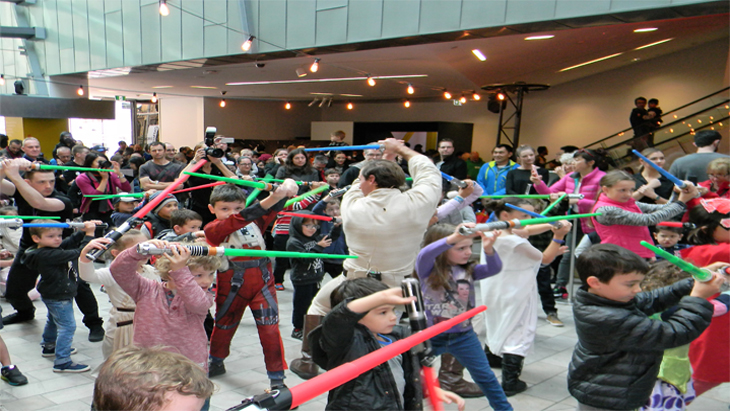 By: Lauren Hall, ellaslist
So I have a bit of a secret… The last time I saw a Star Wars film was sometime back in the mid-1980s, when my older brothers would watch the original three religiously on our brand new VCR, but being a mum of a little boy who has become enchanted by The Force, I am now reliving the magic that is Star Wars. To coincide with the 40th anniversary of the original Star Wars film, the Australian Centre for the Moving Image (ACMI) in Federation Square hosted a celebration of all things Jedi for their May Family Sunday event.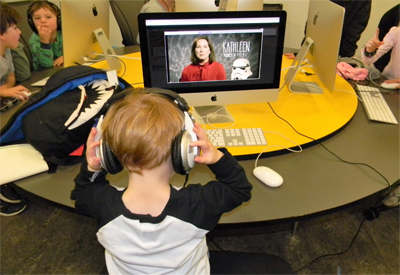 Living the Star Wars dream
Choc-full of interactive activities, including Padawan Training, the chance for little (and big) fans to explore the galaxy as well as building a Star Wars Lego ship to animate with, the Star Wars celebration was a non-stop fun day out that brought the magic of the film to a whole new generation. The little ones were coached through their lightsaber moves by Jedi masters, which was a perfect introduction to the day.
Other activities on offer included a chance for young techies to learn how to code a Star Wars game in the hands-on computer lab, the very popular Lego building tables with complimentary Lego kits, a green screen set where Star Wars landscapes provided the perfect backdrop for budding movie stars to see themselves on screen and a chill out space showing the best of Star Wars fan films.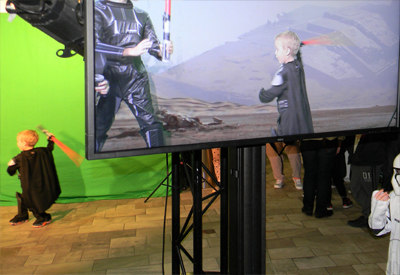 Something for everyone
The Star Wars Family Sunday had activities that suited children aged 3 right through to teens and ACMI open up their amazing spaces to enable visitors to see, touch, create and engage with the films and pull the curtain away to provide a real insight and learning experience into how these timeless classics are made. ACMI's Family Sundays are all about taking children of all ages through the magic and power of the moving image and fuel the imaginations of future storytellers and creators to experience film, gaming and animation.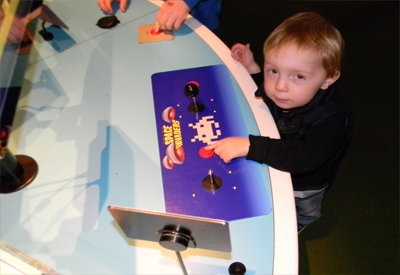 Re-energising at the pit stop
During our visit, we stopped by the Café for lunch. The café is a family-friendly space with big wide booths and plenty of options for children. The seasonal menu provides plenty of choices and the coffee was excellent and provided a convenient pit stop to refuel before exploring ACMI and Federation Square.
Interactive games and exhibits
We are so fortunate in Melbourne to have ACMI and a visit will find families experiencing Screen Worlds, a fascinating and interactive exhibit of how the moving image has evolved over the past 100 years. Children can experience old school video games and challenge mum or dad in a game of Space Invaders or Pong, see screen memorabilia such as the Mad Max car or Big Ted from Playschool. The exhibits are engaging, fun and interactive so ensure you allow enough time during your visit to take a wander through the Screen Worlds exhibition.
Free family Sunday fun
ACMI's Family Sundays are held on the first Sunday of every month and are a fun and entirely free experience for families. Upcoming months will see Get into Gameplay a day of live gaming, virtual reality and giant board games in June, Stop! Motion Animation with the opening of Wallace and Gromit and Friends exhibit in July and Winter Fantasy and Fables where games, performance and song will bring classic stories to life in August.

Our visit to ACMI's Star Wars Family Sunday resulted in two exhausted little Jedi's wielding their posters as lightsabers and I have to admit, I'm excited to catch up on the latest episodes of the Star Wars series. Thankfully not on the old VCR!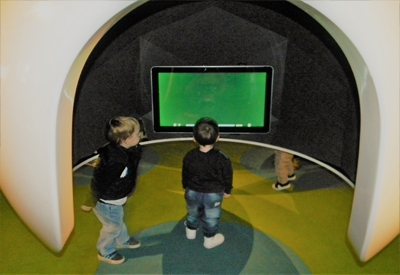 What you need to know
- The Family Sundays are busy! They run from 11 – 4, so aim to time your visit early, especially if you have little ones and a pram.
- Aside from food and drink and merchandise, the Family Sundays are FREE!
- Allow plenty of time to work through all the experiences. The lines can get long, so make sure you allow time to really enjoy the activities.
- Sundays mean cheaper parking in the CBD. Wilson Car Park on Flinders Street, opposite Federation Square offers a flat rate of $8 on Sundays, or you can park at Federation Square car park for a flat rate of $16.
- Being so close to Flinders Street station and tram stops, public transport is always a good idea when coming in to the city.
- ACMI is situated over a couple of levels. There is excellent accessibility for wheelchairs and prams via lifts, however it can get busy, so the pram became tricky.
For more information: see website