Exploring Melbourne's Laneways with Kids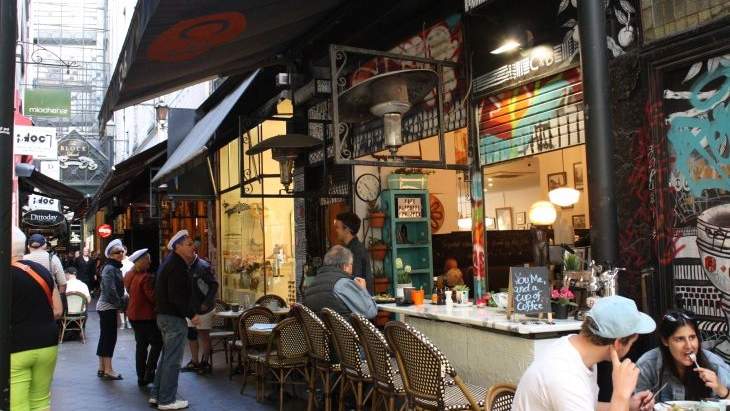 By: Katie Oliveira da Silveira, ellaslist
Melbourne's world-renowned laneways are hives of gastronomy and art, and they lure thousands of visitors every year with their sights and smells. These bustling hallmarks of Melbourne-town make for exciting and highly atmospheric places for families to visit; kids will be positively wowed by the combination of music, international cuisine and street art that lives in these little enclaves. Here are six fabulous laneways within central Melbourne that kids will get a kick out of.
1. Hosier Lane
Just try to find someone not taking photos here. This famous cobbled bluestone lane is home to some of Melbourne's most bold street art and it absolutely pops with colour – people flock far and wide to check out this grungy corridor.
Kids will love the incredible murals that deck the walls of Hosier Lane, and they will also love being able to peep through a small window and watch the chefs at Movida execute their craft. In fact, while you're here, pop in for some tapas with the kids, it's one of the best places for it in Melbourne.
Hosier lane is located opposite the Australian Centre for the Moving Image (ACMI), and there is plenty of room for families with prams to explore the length of this lane.
Where: Off Flinders Street, Melbourne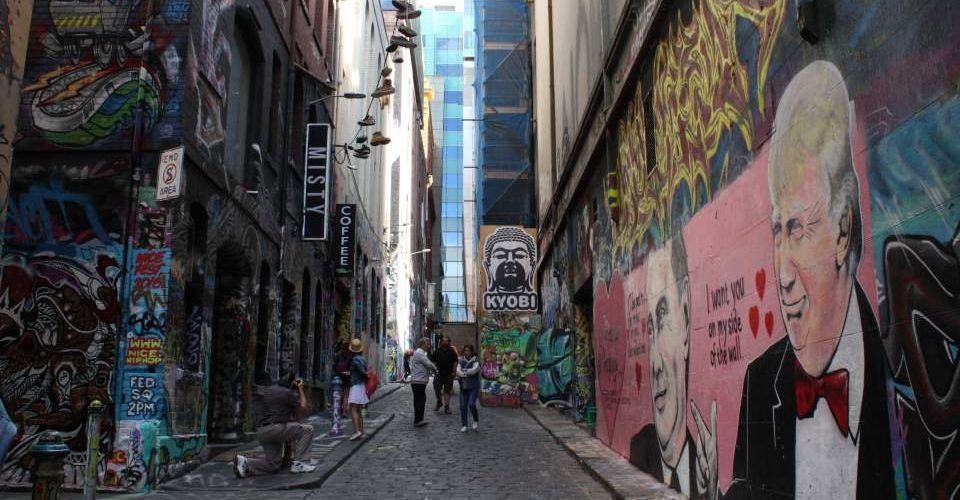 2. Centre Place
Pick a colour, any colour. Chances are you'll find someone with hair that colour, dining at a cozy eatery nestled within Centre Lane.
Possibly the most popular of Melbourne's lanes, Centre Lane is a major hit to the senses: vivid colour, irresistible smells, the sounds of café chatter and welcoming waiters. It's always busy here, and with a lot of people stopping to check out menus and patches of wall art, and with a few steps at the top end to tackle, it's probably a good idea to pop Bub in the carrier rather than bring a pram to this one.
Mid-way down Centre Lane there is a fabulous café table positioned right next to a garage door that is fully decked with street art. It's a memorable spot to enjoy some drinks or nibbles with the kids while you soak up the surrounds.
Where: Between Flinders Lane and Collins Street, Melbourne.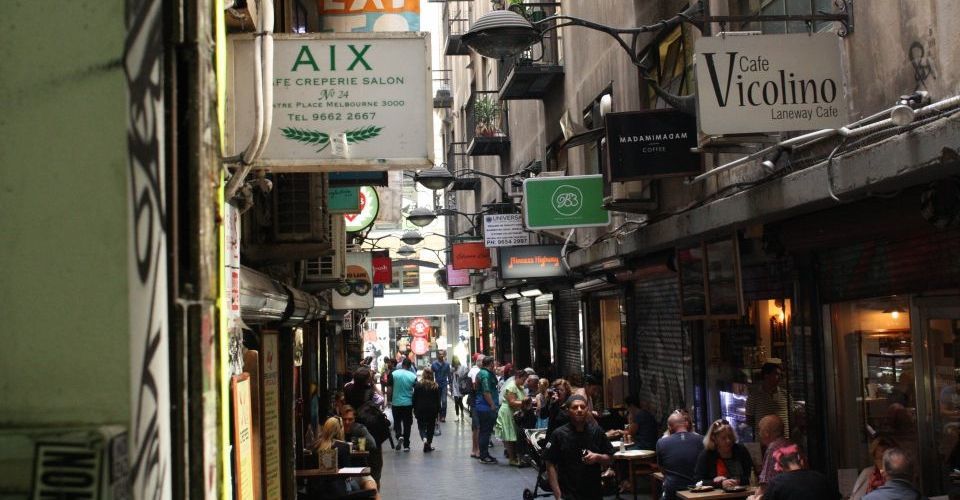 3. Degraves St
Off busy Flinders St, right opposite the train station, you'll find beautiful Degraves St, a lane from which the smell of Italian cooking wafts – all day, every day. About three quarters of the street is packed with dining tables, which gives a pretty clear idea of just how popular this lane is for alfresco dining – and quality food.
From burgers to cupcakes to elegant cafes, there are loads of delicious treats on hand at Degraves St to thrill the littlies.
This smart little lane is always popular with families, and it has a wide footpath suitable for prams.
Where: Between Flinders St and Flinders Lane, Melbourne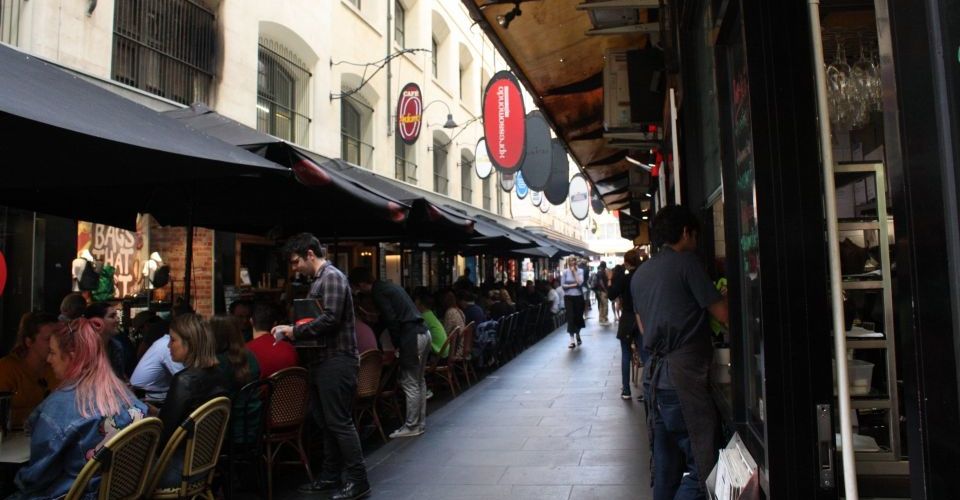 4. Block Place
For distinguished eating and a fantastic, cozy atmosphere, this is the place. It's also THE place for cake, playing home to the famous Hopetoun Tea Rooms – cake heaven.
Block Place links right up with well-loved Block Arcade, a heritage Victorian building, complete with domed ceiling and mosaic flooring that is spacious and full of inviting stores – including Haigh's Chocolates. (Grab some chocolate freckles for the kids while you're here, they are out of this world.)
Again, this is not a spacious lane, and if you are taking baby, best to use a carrier rather than the pram.
Where: Off little Collins St, Melbourne. Entry also via Block Arcade, Elizabeth St, Melbourne.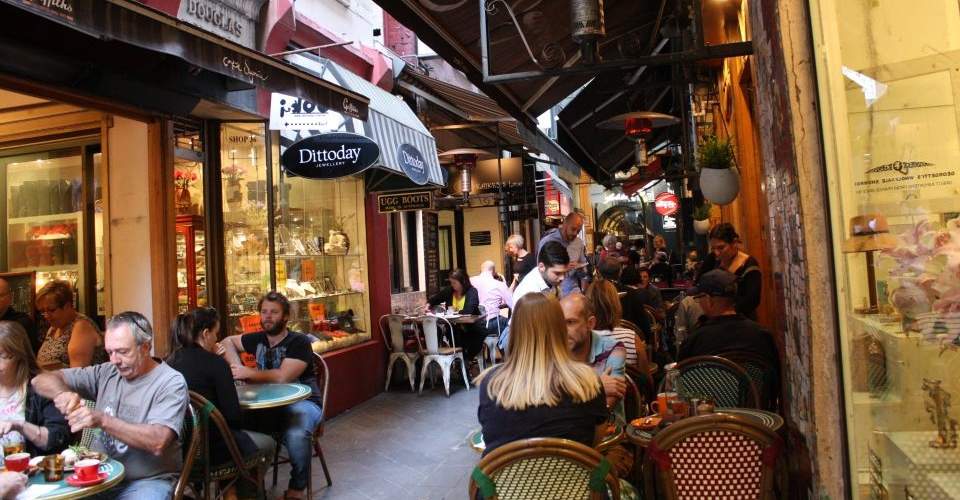 5. Union Lane
Forget the food, this one is all about art. Big time. Street artists flock to this long, narrow lane because it offers such a large, uninterrupted explanse of wall just waiting to be cloaked in layers of paint. Kids will see such a huge variety of art along Union Lane, including character art and enormous lettering – it's quite a sight.
There is plenty of room for prams through this one, and with busy Bourke Street mall at one end, you are right in the centre of the city's action.
Where: Between Bourke St and Little Collins St, Melbourne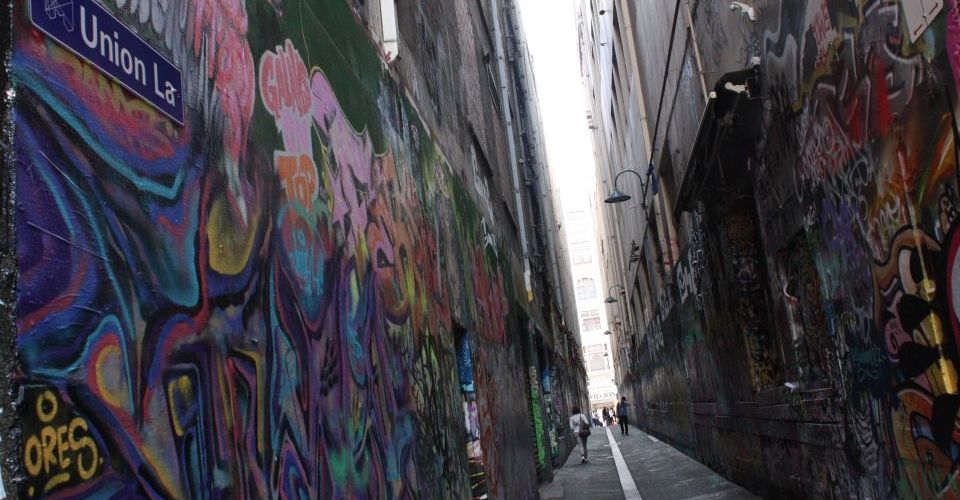 6. Hardware Lane
Step inside Melbourne's Europe. Hardware Lane has a fantastic euro vibe, helped along by the red brick pavers, buskers and eatery after eatery that serve up food to remember for a long, long time.
The beauty of Hardware Lane for children is that it is something of a gastronomic geography class. From France to Italy to Mexico to Korea, kids will feel as though they are trotting the globe as they make their way along this famous lane, absorbing the culture that oozes from each little outlet.
Where: Between Little Bourke and Lonsdale St, Melbourne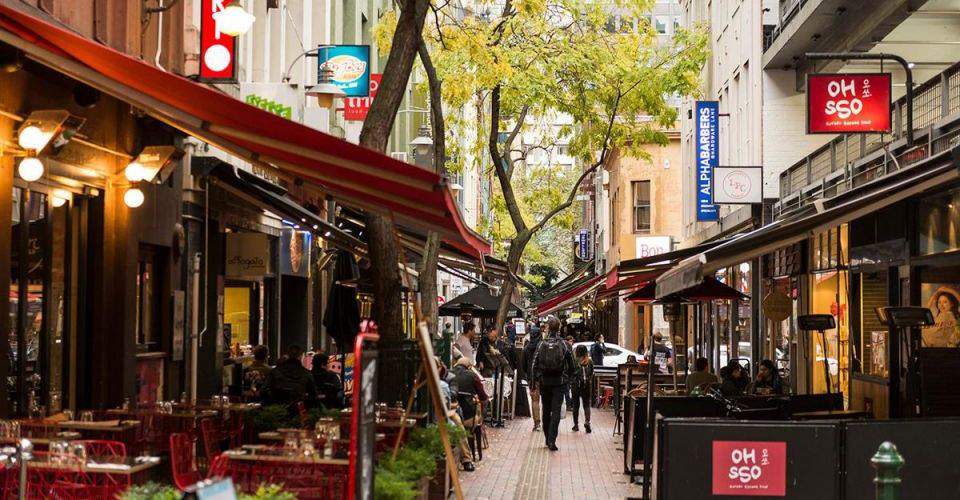 Source: Visit Victoria