ellaslist Reviews The Very Kid-Friendly Little Rock Cafe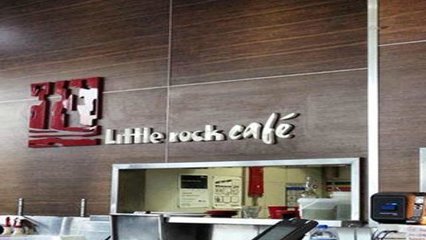 By: Lenore Pearson, ellaslist explorer
Pulled Pork Burger, Iced Caramel, Fanta Spiders and BabyCinos are just a selection of the delectable choices available at the Little Rock Café.
With a comprehensive and versatile menu, this moderately priced, family friendly café is located in our local shopping mall in Baulkham Hills. It is a popular choice among locals especially my family. It never disappoints, and the kids always enjoy visiting Little Rock for a special lunch treat.
What Makes It Kid Friendly?
Little Rock Café offer a separate kids menu with substantial choice for both breakfast and lunch. They have an outdoor covered play area that is gated and suitable for under 5 year olds and there are a range of children's books available to read at the table while waiting for a meal. The Play area (My Funland) was recently relaunched as a partnership with Touched By Olivia Foundation to create an all-inclusive playspace for all abilities.
Grown Up and Kids Food
Good news parents – the café is licensed and BYO wine only with $2.50 corkage per person. They offer a delicious and generous menu choice for adults and serve a scrumptious breakfast until 12 noon with a price range starting from $3.90.
Starters from $12.90 to $19.90
Mains from $17.90 to $27.90
Sweets from $3.90 to $14.90
Burgers from $10.90 and to quote my husband who ordered the Pulled Pork Burger it is "out of control good!'
Kid's meals include pizza, pasta, burgers, nuggets and chips, fish and chips and salad.


Gluten Free and Vegetarian options are available.


Highchairs are available and room to accommodate a pram if needed.


Outside covered play area.


Magazines are available for adults to browse and books to entertain the kids while waiting for your meal to arrive.


The café can seat up to 180 people so it's ideal for group bookings of all kinds.
Why Would Your Kids Love To Go Back?

To try the different flavoured 'Spiders'. My eldest loved the Fanta spider!
Service is prompt and attentive…who has a patient child when it comes to food?? My kids were impressed with how quickly they were served and the play area was a hit with my younger two.
Top Tip

Bring something extra to entertain older kids, younger kids love the play area but my 9 year old took one look at it and decided it wasn't for him.
Make sure you grab an outdoor table with the view of the play area.
In a Nutshell
What makes the cafe kid-friendly - Kid's menu, Spiders (the drinks not the creepy crawlies), pram accessible, play area
Atmosphere – Relaxed, easy going and fun
The Food – YUM!, especially the burgers
Value-for-Money – Good. Prices aren't cheap but food is more on the gourmet side in taste and presentation
Special features and Fun bits – Spider drinks, fabulous little play area
Who is the cafe best suited for? - All ages of kids – but the play area is suited to under 5's
What did you love – The food, the home-made goodies, the play area
What You Need to Know
Open 7 Days – Mon – Wed & Fri: 6:30 am – 4:30 pm, Thurs: 6:30 am – 8:30 pm, Sat & Sun: 6:30 am – 4:00 pm
Phone: (02) 9639 4446
Address: Stocklands Mall, 375-383 Windsor Rd, Baulkham Hills
More Info: Little Rock Cafe on Facebook
ABOUT LENORE PEARSON
Hello! My name is Lenore, proud mumma to three gorgeous kids, amazingly awesome wife to one cool dude and self-professed travel addict! I started out my career as a primary school teacher for five years, which, second to having my own kids, was extremely rewarding for me.
While I was pregnant with baby number 3, and slowly going insane pacing (waddling) up and down the house, I felt I needed to keep my mind active and decided to take up a Diploma in Travel and Tourism, because I clearly wasn't going to have my hands full enough with three kids!
I am all about exploring. For me, living a full life is about collecting amazing experiences from as many incredible places as possible. Travel and adventures fuel my imagination and I love sharing them in the hopes of inspiring the explorer in each of us! Along with my family, I have been fortunate enough to have discovered lots of places already.
I am super excited to be an ellaslist Explorer, aiming to provide very real and practical information for families looking to create their own adventures and experiences. I am forever researching new and exciting things to do with the kids and I look forward to sharing them with you.
I have also just launched my own travel blog 'Little Miss Piggy' a treasure trove of travel inspiration and unique experiences in and around Sydney and abroad.
Reviews
Sounds great will be sure to check it out. Cheers