ellaslist Reviews LEGO Deep Sea Experience at Manly SEA LIFE Sanctuary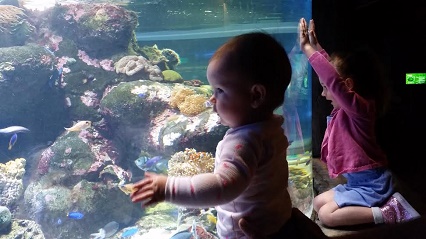 ellaslist COVID-19 update: Please note that all the information on the website is correct at the time of publication. Please check the relevant website before visiting a venue or destination for the latest COVID-19 information. ellaslist is not responsible for any cancellations or closures.
By: ellaslist explorer
A short stroll from Manly Wharf is the Manly Sea Life Sanctuary. The Sanctuary is well sized and resourced which makes it appealing for families that have children of all ages. Best of all, it is completely inside which makes it a perfect day out despite the weather. The Manly Sea Life Sanctuary is an underwater haven for sea creatures and provides for a fun filled and educational day out for the family.
An Underwater Experience!
Miss 5 excitedly entered the tunnel which takes you from the main entrance through to the aquariums and announced she was "under the water". The tunnel has lighting which gives the allusion of being in the sea and set the tone for a fun filled underwater adventure.
As we entered Underwater Sydney in the central area of the Sanctuary we were met by various tanks which are home to different water creatures. Both girls were mesmerised by the colourful marine life in the large centre tank and we spent 15 minutes excitedly looking at the different fish and talking about their colours and even found "nemo". As we moved around the room we found seahorses, an octopus, turles, baby crocodiles and eels- just to name a few!
Interactive Talks
As the time was approaching for the JAWsome Sharks and Friends talk we made our way down the stairs to Shark Harbour. The tunnel was quickly filled by many people also interested in attending the talk which at times made it hard to hear what was being said. The guide talked about their shark conservation program and helped to identify who was who out of the sharks which were spotted during the talk. The guide also talked about their stingrays and turtle program and explained that for some of the animals living at Manly Sea Life Sanctuary this is the safest place as they have life long injuries which prevent them from being released.
At the end of the talk an opportunity was provided to allow any questions to be asked which is great for those with curious minds! It was during this time that miss 5 learnt that baby sharks learn to swim inside of their egg and that when they are born they are completely independent which was great as it followed on from her life cycles subject she had covered during term 3 at school. As we exited Shark Harbour we stopped for a quick picture with the mermaid (a must for most!) and then continued up the stairs to the interactive rock pool.
A Hands On Experience With Sea Life

The interactive rock pool is a great resource which allows you to get hands on with some of the creatures and features of underwater life. Both girls loved this area and the staff member was helpful and friendly. Miss 5 was able to hold a shark egg and also touch the "shiney" shells. Miss 8 months was happy to have a quick splash with some water!
Waddling Penguins!
Next stop was Penguin Cove. Underwater windows on the way up the stairs gave us a great sneak peak of the penguin's underwater movements.Penguin Cove has amphitheater style seating and also a standing room. We took the opportunity to have a quick snack break and then began exploring the area. A board tells visitors the names of the penguins and how to identify them which resulted in a game of "find the penguin" for miss 5. We also purchased some fish food for $2 which helped to entertain miss 5 until the talk and penguin feeding session began.
An Exciting New Feature: Lego Fun
As we made our way back to the Underwater Sydney area, miss 5 spotted the Lego table. During these school holidays to help celebrate the release of the Lego City Deep Explorer range, participating Sea Life attractions are giving children age 3 and up the opportunity to build their own Lego creatures and enter to win fabulous prizes from the Lego Deep Sea Explorer range by uploading their entry and saying why they selected that creature. The Lego table was consistently busy on the day of our visit but despite this the wait time seemed to be reasonably short as children came and went to the different areas in the room. The helpful staff member explained that kids under 3 can't participate due to the possible choking hazard of the small Lego pieces.
Playground Fun
After a short play at the Lego table, miss 5 caught sight of Shipwreck Shores. Shipwreck Shores is a great indoor play area which was filled with squeals of delight and excitement on the day of our visit. Tunnels, a boat, slides, swinging poles and water play activities ensured that there was something for kids of most ages who may want to have a quick play before heading out of the Sanctuary.
Top Tips
Plan your day. The website has daily schedules outlining when the talks, tours and feeding times are scheduled. We made sure we arrived in time for the JAWsome Sharks and Friends Tour as we knew this was when miss 5 was likely to have the longest attention span and would subsequently allow enough time for a quick snack break before the Playful Little Penguin Feed. Information about each days schedule can be found here.
Consider transport (getting there and whilst inside of the Sanctuary). We have previously utilised public transport to travel to Manly which has been easy to navigate, but decided on this occasion to drive. The drive from South Sydney took approximately 45 minutes. In the streets surrounding the Sanctuary there is 2 hour parking. On the day we attended we were lucky enough to find parking in the street directly outside of the Sanctuary.
Inside there are numerous stairs to navigate which would be difficult with a pram. We carried miss 8 months during our visit as she is quite wriggly and likes to be part of the action, though many had their smaller children in carriers.
There is a pram parking bay inside of the Sanctuary however this is not secure and relies on an honesty system so I recommend either bringing a cheap stroller or a pram lock if you need your pram either before or after your visit.
Arrive for tours and talks 10-15 minutes ahead of the scheduled starting times. Tours and talks are popular amongst visitors and spaces quickly fill. Arriving slightly early will mean you have the chance to get a seat (when available), be close to the presenter to ensure you can hear what is being said and also gives the kids a chance to ask questions at the end which may be prompted by the new and exciting facts they hear.
Pack some food and snacks. The Sactuary does not sell food or drinks inside of the venue. If you prefer not to transport food and drink items with you there is a coffee shop directory opposite the entrance or many different options within a short walking distance.
Buy your tickets online ahead of time. By buying online you will save a minimum of 10% off the standard ticket price. Tickets can be purchased here.
Reviews
Love this!! Thanks for the pointers I had no idea this even existed!!