ellaslist Reviews Fairfield Adventure Park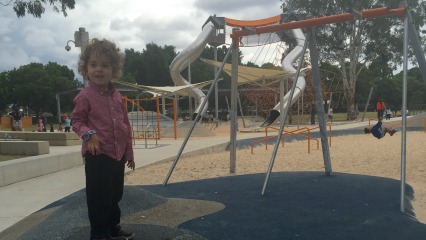 By Stephanie Boyle, ellaslist explorer
One of the things that I love the most about Sydney is the fact that you are forever discovering something new. Finding out about Fairfield Adventure Park came as a complete shock, albeit a very pleasant one, since it is so close to my home and yet I've never heard anything about it!
One of the Best Playgrounds in Sydney
Fairfield has a rather unfortunate reputation as one of Sydney's most disadvantaged areas and so it was certainly a surprise that one of the best playgrounds in Sydney is located here. Fairfield is certainly in good company – Sydney's West is overrun with amazing, well maintained parks from the willy wonka-esque Newington Armoury in Silverwater, to the family friendly and spotlessly clean Holroyd Gardens in Merrylands, to the untamed rural setting of the Western Sydney Parklands.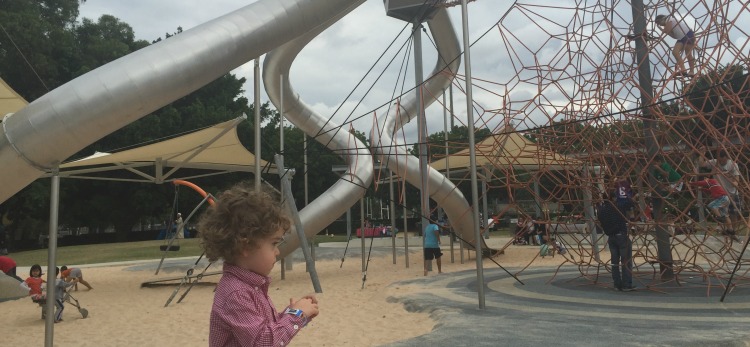 How to Get to Fairfield
Fairfield Adventure Park is easy to find on foot from Fairfield Station or by car (it's situated just off a major road – Horsley Drive). It's a new addition to an older green space, which in itself is a lovely place for a stroll, and was opened in late 2015.
The Park is situated right next door to Fairfield Leisure and Aquatic Centres which means that in the warmer months, you could pop in for a swim and then burn off any left over energy on the play equipment or vice versa. There is ample parking although I could imagine that on hot days when pool visits are at a premium, this could become an issue. That being said, we arrived on a Sunday morning when the park was filled with families and drove straight into a spot.
Terrific Party Venue
While there isn't a cafe, there are BBQs and picnic tables and a lovely little rotunda where some visitors had set up for a birthday party. The park would be a terrific party venue with a lot of shady areas on the periphery of the play equipment and I could certainly imagine myself throwing a no-fuss party here in years to come.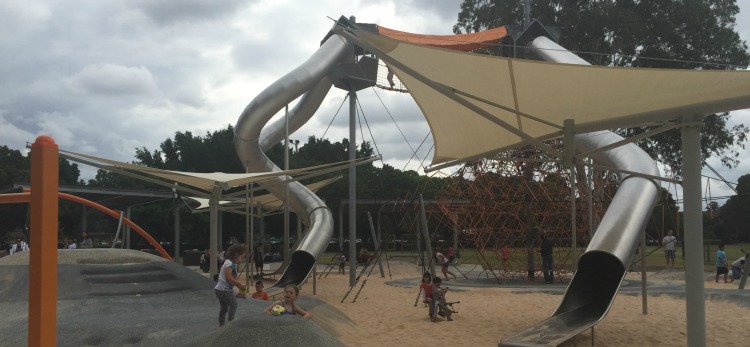 Fun for Bigger Kids
The main focal point of the playground is an imposing 11-metre high climbing frame which takes you up to a sky bridge and platform where children can choose to venture down one of three spectacular slides. While my three year old initially jumped at the opportunity to go down the slides (albeit with his daddy), it soon became apparent to us all that there was no way they could both make it up the climbing frame.
For older more confident children however, most likely from the age of six upwards into their teens, this amazing structure would keep them entertained for hours. There was one part of me that secretly wanted to scale the mountain and zip down the slide by myself!
The 33 metre long flying fox too would be incredible fun and the squeals of laughter coming from that direction would seem to attest to that!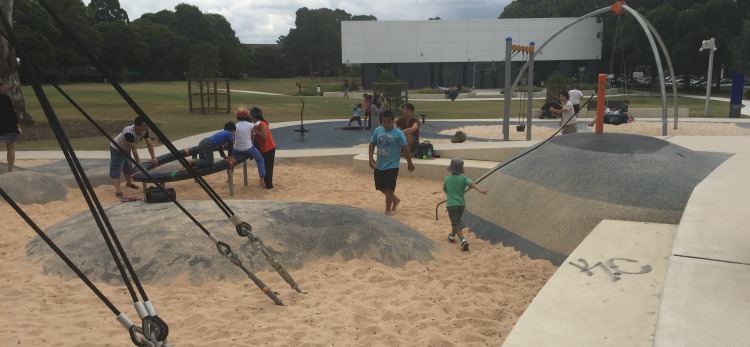 And for the Little Ones….
It may appear initially seem that younger visitors to the park have been ignored but this is not the case. There are enormous sand covered areas so bring your buckets, spades and sand-safe toys! My son had an absolute ball on the trampolines, swings and smaller climbing frame. Strange as it may sound, he also really enjoyed watching the antics of the older children and marveling at how high they could get on the large climbing frame.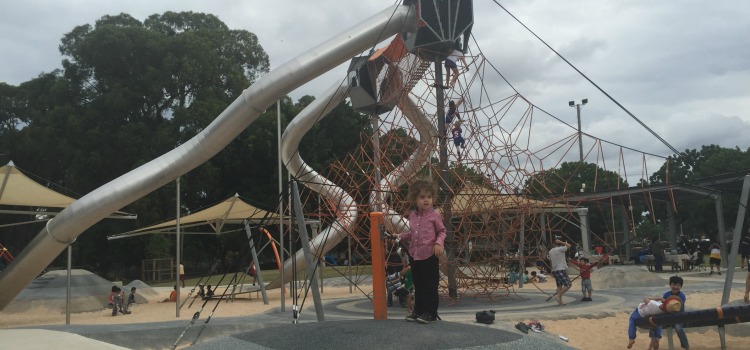 Although the bulk of the park's equipment was a little beyond the reaches of my two little ones, my three year old expressed a strong desire to return when he's 'big'. It was actually really wonderful to see a council reaching out to older children, who are often the ones who find themselves at a loose end, and providing them with a space where they can channel their boundless energy into something positive while reconnecting with the joy and freedom of childhood.
I would thoroughly recommend that those of you with older children take the trip out to Fairfield to visit this wonderful park. Bring a picnic and make a day of it. You'll have a very tough time getting your children off those amazing slides!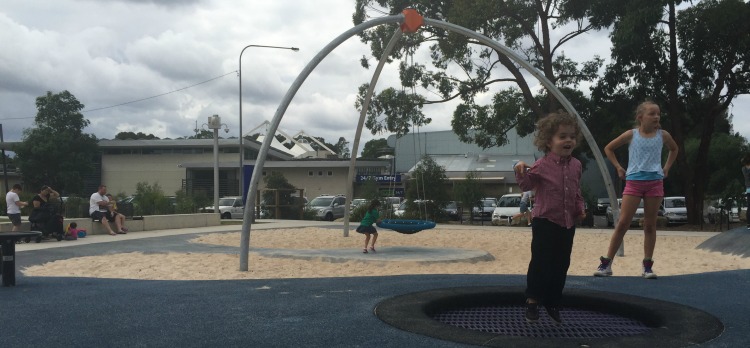 Stephanie Boyle is currently a stay at home mother with two gorgeous children.
Prior to becoming a mum she trained as a lawyer and worked in various Government positions. She is currently completing a Masters of Teaching. Stephanie and her Algerian husband Kamel have two sons, Ayman (3 years old) and Younes (3 months) and they are doing their best to raise their sons as tri-lingual global citizens. When Ayman arrived three years ago, it became immediately apparent to Stephanie that neither of them were homebodies and so they set off on what would become three glorious years (and counting!) of adventure and excitement throughout Sydney and its surrounds. Stephanie believes that childhood should be pure magic and she is on a continual mission to make this the case for her sons. She loves discovering new places and activities, throwing amazing parties and running a bookclub for her boys and their little friends. In addition to her reports for ellaslist, you can also follow Stephanie and her boys on Instagram @moukinina
Reviews
Hi The gym inside has a cafe Run by a lovely family . Coffee is good . And yes he opens 7 days a week , you can the leisure centre and check his opening hours .
Brilliant review - thanks for being so thorough!