ellaslist Puts Aerobed - The Ultimate Airbed To The Test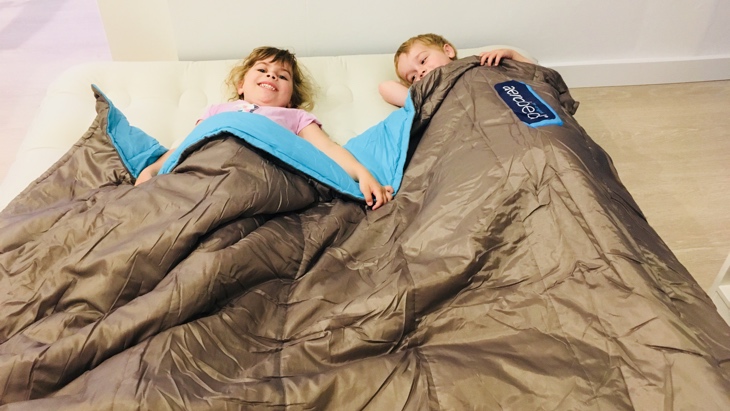 Brought to you in partnership with Coleman & Aerobed. Grab an Aerobed in store from David Jones, Harvey Norman or Domayne this season and you'll receive a free cosy quilt valued at $79 while stocks last.
By: Lisa Wolff, ellaslist
Did you know over 8.7 million international visitors come to Australia every year to enjoy our sunny shores! and Summer and Christmas are when our families descend into our homes en-mass - it all comes around much faster than you think when you suddenly remember your kind offer on the phone six months prior - "sure you can stay with us"
This year my mum and dad will come to stay again - normally not an issue - but since we've recently moved into a compact (read: tiny) apartment near the city, the thought of stuffing another human into our cosy abode is the stuff of nightmares.
Quest For A Portable Bed
In prep, Hubby and I walked around the rooms - playing virtual Tetris! "Move the kids' beds into our room….push the cupboards over there"…. And then, once we'd created space from nothing, the question remained, what do they sleep on? There's certainly no room for an additional bed but more importantly, there is nowhere to store it after they leave.
A few weeks ago, my kid's friends wanted to do a sleepover all in one room. So we had actually bought an el-cheapo blow-up mattress from a discount department store. Even when we manually pumped it up to capacity, it still felt as if we were lying in the middle of the ocean. But there was a bright side - in the morning, we could deflate it, roll it up and store it easily in the cupboard.
Aerobed to the Rescue
When our friends at Coleman, called up to tell us about this amazing deal they are running with their super premium Aerobed, I jumped at the chance to be a product tester and the next day we were sent their Queen version which popped out of a very compact box.
Immediately - the Aerobed is nothing like the first air mattress we bought. They may be very very distant cousins, but when it comes to the hierarchy of blow-up beds, the Aerobed is practically royalty.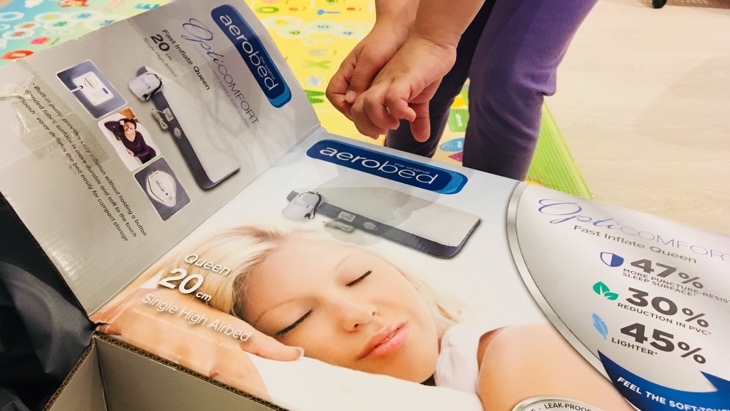 Quality & Quick & Easy Inflation
My kids were more than happy to be self-appointed testers. The first thing I noticed, was that the outer material was robust and didn't have a plastic feeling at all - instead, a luxurious velvet pilled fabric. There is no manual pumping either. All you need to do is plug in the attached plug into a wall socket and within two to three minutes, the bed is inflated automatically. The kids thought this was magic!
Once inflated, you could change the dial to silent adjust, during which the bed would slowly let air out until the desired firmness is reached.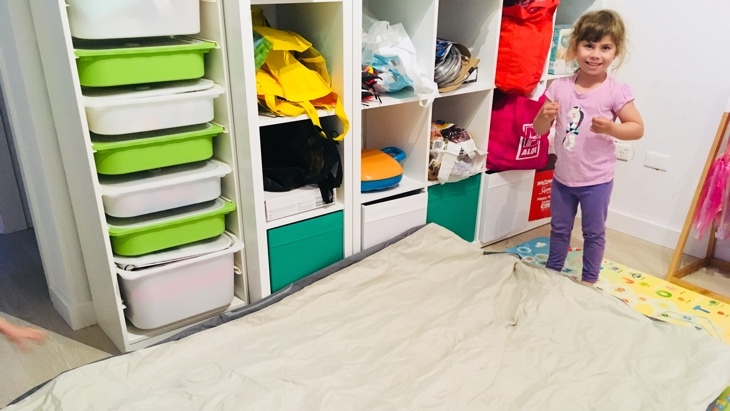 So Firm And Comfy
I was so impressed how firm the bed inflates - you would never believe that this is actually an air bed. While it's certainly not designed to be a trampoline, the kids put the bed through the jumping test and it was awarded 5 stars for durability and fun.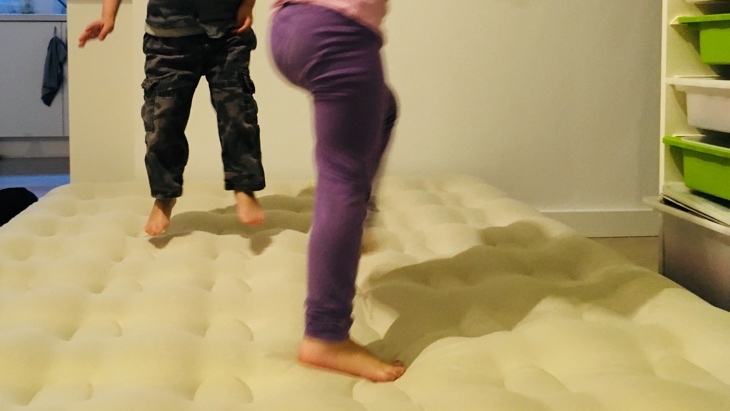 We set the bed up with sheets, the new quilt and pillows and all piled in to try it out. And we loved it, no rolling together, no squeaking, no firing your sleeping partner off their side when you get in - it held our weight and provided a perfect firmness for a comfortable sleep.
Compact And Easy To Pack Away
And of course, the best part was that in the morning, we simply opened the valve to let out the whoosh and then plugged it in again to remove all the excess air. It was then easy to fold and store in the carry bag. A 2-minute job to clear the space.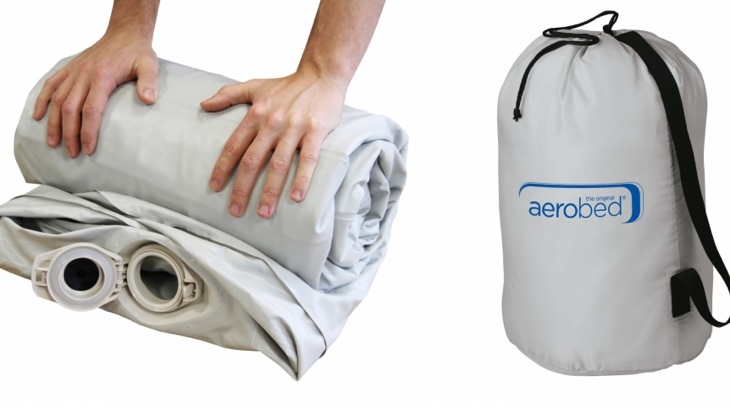 Find Your Favourite Aerobed
The Coleman Aerobed range offers a great selection of different sleeping products. There are double high air beds that are basically two mattresses one on top of each other. There are also different sizes - ranging from Single to Queen. The Aerobed can be purchased from David Jones, Harvey Norman and Domayne. Check websites for pricing.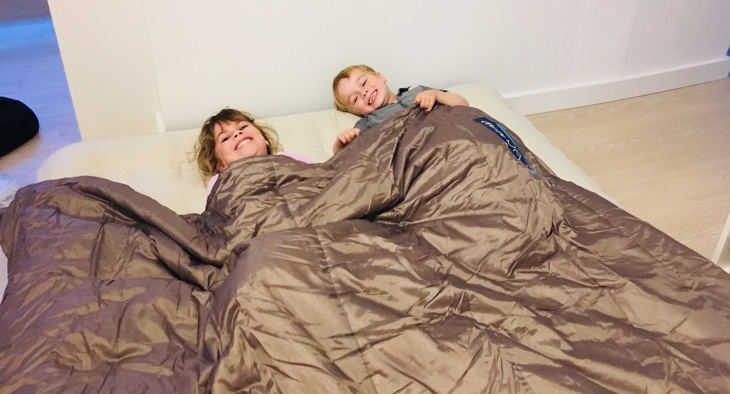 Final Words
Yes, the Aerobed is more expensive than the cheap version we originally bought but you certainly get what you pay for - no comparison - in a pecking order of blow up beds - the Areobed really is royalty and the quality of the Aerobed is immediately noticeable. I would have no hesitation to set the Aerobed up for our future visitors, knowing that they wouldn't wake up with an aching back or need sea-sickness pills to go to sleep! So if like us, you are limited with space and are looking to have an extra bed on hand for kid sleepovers or visitors, we'd say a big yes to making the investment into this product. A big thumbs up from us.
Very compact box - easy to store
Come in 3 sizes, youth, twin, full & queen
Double high option on single and queen if you want a more permanent bed
Reasonable prices for the quality and durability
Nice fabric with a velvety touch
Plug in to blow up in minutes - magic!
Super firm - no rolling to the centre
Adjustable firmness to suit you
Still 100% firm in the morning
Deflates in Minutes - easy to get back in box for storage
INSTORE OFFER: This Season Nov - Jan 2018 you can grab an Aerobed in store from David Jones, Harvey Norman or Domayne - purchase instore this season and you'll receive a free cosy quilt valued at $79 while stocks last. This plush quilt cover fits over the bed and has a comfortable cotton interior and satin exterior.
Reviews
We have one of these - it's the best bed. I have 3 kids and they are always in our bed, so sometimes me or my hubby need a place to get a proper nights sleep. Really good quality and easy to pack away as well.