ellaslist Learns Martial Arts at Trifu Dojo!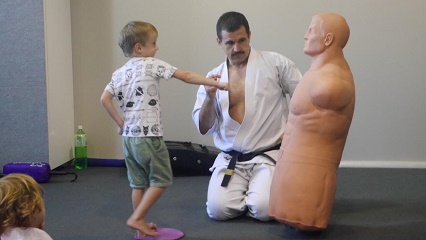 By: Sarah Stores, ellaslist explorer
As a parent to pre-schooler and toddler boys I am always on the lookout for an activity that will engage and interest both boys at the same time. This has proved elusive until this weekend when we took both the boys to a Trifu Dojo Martial Arts class. Trifu Dojo is a family business run by a couple who are dedicated and passionate about sharing their love for martial arts and are clearly very experienced about sharing this with children from a young age. I was immediately comfortable in the presences of Sensei Daniel and Lynne as well as all the other instructors. Both my boys immediately warmed to them and were excited for the class.
Our Happy Mini Ninja

Oscar, our 2 year old, started first with a mini ninja class which is aimed for children from 1.5 to 2.5 years old (with some parent participation). Over the last 4 months we have trialed several activities for Oscar and we were keen to find something that he would like and that would engage him. We have tried a sports class, a music class and other 'participation' classes. All have ended in disaster with our little guy screaming as soon as he entered the room and usually dragging our hand and/or the bag right to the exit. So, we approached the Trifu Dojo class with some trepidation. But we shouldn't have worried.
Excitement & Engagement

From the moment Oscar walked in he was excited, engaged and actively involved in his surroundings and the class. The teachers were exceptionally patient and flexible with Oscar and the other kids in the class. As any parent will know – the 1.5 to 2.5 age range is a challenge when it comes to listening and participating and the teachers handled it with patience and ease. The only tantrum that Oscar had was that he wanted more and he wanted it now!

Time for the Ninja Turtle!

Next up was our Ninja Turtle loving 4.5 year old Max. He was primed and ready to learn how to be a ninja. He had watched Oscar's class patiently and was so keen for his turn (side note: this is the first time that the words 'Max' and 'patient' have ever been used near each other). The instructors took the kids ranging from 3-5 through a series of exercises from how to shuffle your feet, to how to duck and jump from any obstacles, the right way to stand and how to hold yourself.

Hello Bob

By far Max's favourite part was when Bob the plastic torso was brought out and kids were taught the right way to hit Bob. The teachers delicately reinforced at each point that the techniques were only to be used when doing karate and never at home or in the playground. Max adored the whole class and for the next 3 days he has been showing off his new skills to everyone he sees. He has also internalised that they are karate skills rather than regular skills and already has developed a respect for the skill. He was even sad when we couldn't go again the next day.

Perfect For Our Boys

This really is a fantastic activity for over active little boys. It is the perfect avenue for them boys to learn about martial arts and the right way to channel and harness their focus and concentration. I would highly recommend the classes and Lynne and Daniel as teachers.
Trifu Dojo classes run on most days and in several locations across Sydney's East and CBD. Find out more about Trifu Dojo or visit their website here!
Reviews
Proud mum who knows nothing about karate
..karate is great for girls too! My daughter could barely walk when she started at 3, and now she has six national titles! Thank you Daniel and Lynne!