ellaslist Feels the Beat with Einsteinz Music
Mums & Bubs
Preschoolers
Toddlers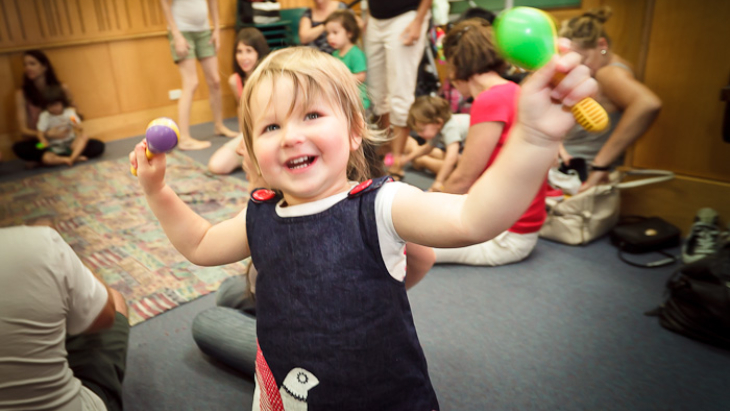 "A Peanut sitting on a railway track, its heart was all aflutter. Train came roaring round the bend. Toot Toot! Peanut Butter!"

This is my favourite song at our Einsteinz Music Classes. It's fun, catchy and rhythmic and it's one of those tunes you'll be humming along in your head for days. I love that there is not an electronic anything to be seen at Einsteinz (well, except maybe my phone snapping some adorable pics) – it's all about the instruments, guitar accompaniments, singing, dancing and kids having fun.
Feel the Beat with Einsteinz Music
Einsteinz Music is
THE

class for kids

I've been doing Einsteinz Music classes for three years now since my eldest was about 6 months. I had heard from the chatter within my mother's group that Einsteinz Music is THE best class for little ones. And of course, with Gabi being my first and the subject of all our focus, I just had to get her a spot.

I remember calling Robyn, the chief conductor and owner of Einsteinz Music throughout Sydney, and practically begging her to find me a place in the sought after babies class.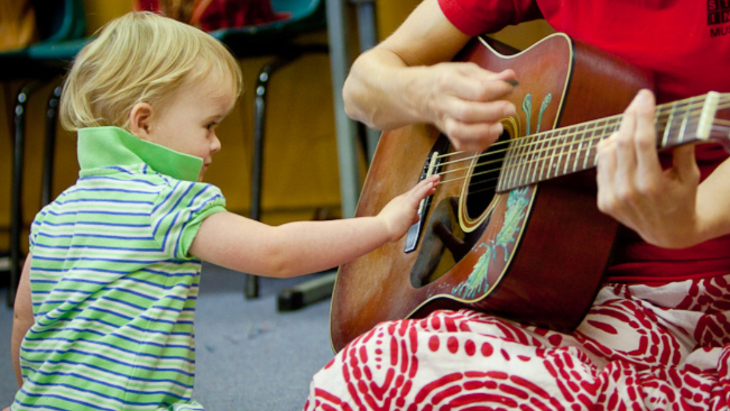 We Love our Teacher
Well, I'm happy to report that we got a coveted spot on the colourful mat and we've been loving the music ever since. Our teacher, at the Bondi Beach Pavilion Venue, has always been Jules. We just adore Jules. She is a natural with kids, a talented musician and just resonates calm. I've actually never seen her lose her cool, which I think is a miracle when teaching a crew of highly energetic toddlers.

Einsteinz was also the very first class I did with my twins. Juggling two six-month-old babies is a challenge at the best of times and I must admit, that first term was a bit of a blur as I secretly prayed that they wouldn't both 'lose it' at the same time. I have always found though that the other mums/dads and grandparents were always so friendly and were happy to help if I needed an extra pair of hands.

The twins were wide-eyed with wonder during the classes and thrived on playing a variety of instruments. The drums were always their favourite.
Putting the Toddler Music Class to the Test
I took them back to Einsteinz Music a year later to try out the toddler class. And it felt like walking back into a loving family. The songs were all familiar, even though there were a smattering of new ones, wonderful Jules was still upfront and the kids were having a ball. This is an easy class for multiples or siblings. The room is cosy and the door is closed during class so there is no chance of runaways. Plus the action songs keep the kids engaged throughout.
Kids in the Spotlight
The class kicks off with the 'hello' song and each child gets a few seconds in the spotlight as Jules calls out their name. Jules often plays the guitar while singing and my little Jakey would sit up in front mesmerised by her moving fingers. Jules mixes up the songs so every class is a little different, even though you get to know the words and actions pretty quickly. Kids love familiarity so they enjoy being able to recognise the songs and sing along.
Puppet Play
Freddo Froggie the puppet came to visit and we all sang 'Galoomph went the little green frog' and the children had a chance to pat and hug the puppet. My Paige was particularly fond of her Froggie friend and gave it lots of cuddles.
Kids are the Musicians
Then the kids got a chance to play instruments. This week each child got a set of tapping sticks and Jules demonstrated how to tap the sticks together and on the ground. Soon, the kids were tapping along to the rhythm and drumming on the floor. Then they each got shakers and tambourines and the room was filled with the sounds of toddlers shaking it up. The children are free to roam around and it's very cute watching them interact with each other.

Jules then took out her magical instrument. It's a colourful mini-keyboard that you blow into (apparently it's called a melodica). And it's magic because when Jules plays it, the kids are absolutely silent, watching her mesmerized.
Bang! Bang! Bang!
But the kids instantly came out of their 'trance' at drum-time. Jules has a variety of drums of all shapes and sizes and Jake and Paige wanted to sample every one. We drummed away to 'we all live in a yellow submarine' and I think the grown-ups were having just as much fun as the kids. It was time to say goodbye and the kids energetically drummed along to the farewell song.

My two were grinning from ear to ear. They had loved every minute of Einsteinz Music and I loved interacting with my kids in such a fun musical environment. We can't wait for the next class.

But in the meantime…

"Coffee beans sitting on a railway track, all in a row. Train came roaring round the bend, Toot Toot, Ba-by-Cino…"

How Einsteinz Music Began
Einsteinz Music was born at the back of the Einsteinz Toy Box toy shop in Leichardt in 1999. Initially named "Funky Time", the lessons grew in popularity and a few years later expanded into a stand-alone business, renamed Einsteinz Music, when the toy store closed.

Einsteinz Music now instils a love of music in over 500 children weekly in venues in Bondi, Coogee, Rose Bay, Leichhardt, Lilyfield, Neutral Bay, Randwick and Rozelle.

What class would be best for my child?
Einsteinz Music Classes are divided into different ages groups:
Babes on laps: 6 months until children are walking & on 1 sleep a day
Toddlers: 1 – 2 years
Juniors: 2 – 3 years
Preschoolers: 3 – 5 years
Where are classes held?
Classes take place in:
EASTERN

SUBURBS

– Bondi, Coogee, Double Bay, Rose Bay & Randwick

NORTH

SHORE

– Neutral Bay

INNER

WEST

– Leichhardt, Lilyfield & Rozelle

For more information on enrolments, teachers, timetables or classes, visit Einsteinz Music's website, call 0431 338 143 or email [email protected]

For the latest musical updates are posted on the Einsteinz Music Facebook Page.
Tell them ellaslist sent you!
Reviews
I've taken both my children to Einsteinz and they've both LOVED it! We still sing the songs today (nearly 4 years on) and the CD lives in the car. Highly recommend the class!
I took my daughter to Einsteinz for a year and she loved it! We bought one of their CDs and still sing the songs... she outgrew the class we were in but I'd consider taking my 2nd peanut when he's big enough!!