ellaslist Checks Out Pockit - The World's Smallest Folding Stroller
Family
Mums & Bubs
Parents Only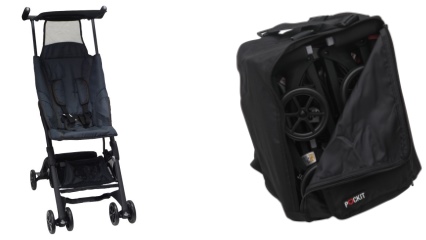 By: Lisa Wolff, ellaslist
You are not going to believe this! Just imagine a stroller that folds up small enough to fit into a backpack. No, it's not a hoax and it's not one of those super-fandangled inventions that tease but never deliver. This is available now and with a few clicks (and your credit card details) you can be a proud owner of the World's smallest folding stroller!
Lightweight and Tiny
The stroller that has swooped in to save mums from bulky prams is called the Goodbaby Pockit Stroller and not only is it lightweight (4.5kg) but it folds into a tiny box shape (measuring a compact 35cm x 30cm x 18cm). That's smaller than most mum's handbags.
The Ultimate Holiday Stroller
It's an innovation that is going to revolutionise travelling with little ones. You can use the stroller in the airport and when you're done, you can simply fold and pop it straight into the overhead luggage compartment or slide it under your seat.
It's a cinch to fold and snaps back to its original size in a second. It's perfect for kids aged 6 months upwards and is suitable up to 24 kilograms.
Sounds too good to be true! We can't wait to try it out ourselves.
The stroller is available for pre-order. It will cost around $300 including shipping.
Check out a demo of the stroller below. Seeing is believing!
[fbvideo link="https://www.facebook.com/TheBabyGuyNYC/videos/vb.324403437086/10153300003777087/" width="500" height="400" onlyvideo="1"]
Reviews
I would like to know how I can order this pram
Hi can I order a stroller? Will I get it before dec? Thnx