Crazy Chocolate Cake - No Bowls, Eggs, Milk, or Butter!
Family
Toddlers
Preschoolers
Kids
Teens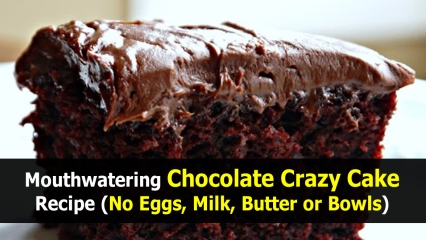 With our busy lives, who has time to make a cake…and let's don't even think about the washing up!
This Crazy Chocolate Cake has: No Bowls, Eggs, Milk, or Butter! We've tried it…and it works. Tell us what you think!
CRAZY
CHOCOLATE
CAKE
RECIPE
(from TipHero)
Serves 10
Prep Time: 10 minutes
Total Time: 45 minutes
INGREDIENTS
– 1-½ cup all-purpose flour
– 3 tablespoons cocoa powder
– 1 cup sugar
– 1 teaspoon baking soda / bicarbonate of soda
– ½ teaspoon salt
– 1 teaspoon white vinegar
– 1 teaspoon vanilla extract
– 5 tablespoons vegetable oil
– 1 cup water
METHOD
Preheat the oven to 180 Degrees Centigrade. Grease an 20-cm round cake pan.
Add all the dry ingredients directly to the pan and mix.
Make 3 depressions – 2 small and 1 large – in the mixed dry ingredients. Pour the vinegar in one of the small depressions, the vanilla in the other small depression, and the vegetable oil in the large depression. Pour water over all, and mix with a fork until smooth.
Bake on the middle rack of the oven for 35 minutes, until an inserted toothpick comes out clean.
Allow to cool. Top with your favorite icing and enjoy!