The Best Christmas Toys for 2023
The Best Christmas Toys for 2023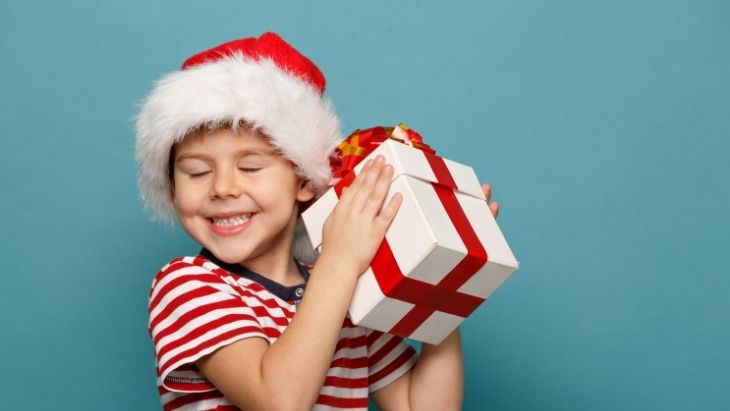 It's beginning to cost a lot like Christmas, are we right? Christmas is upon us, and you know what that means? It's time to start shopping for the best Christmas toys for 2023.
Our best Christmas toys for 2023 guide includes plenty of Christmas toys to gift the little ones this year, so there's bound to be something that your little one will be gaga over this festive season.

Merry Christmas, everyone!
The Best Christmas Toys for 2023
Educational Toys
The best Christmas toys for 2023 don't have to be all about plastic toys and noise-makers! There are plenty of educational toys, games, and books making the rounds that are super fun for the kids and will keep their brains in tip-top shape.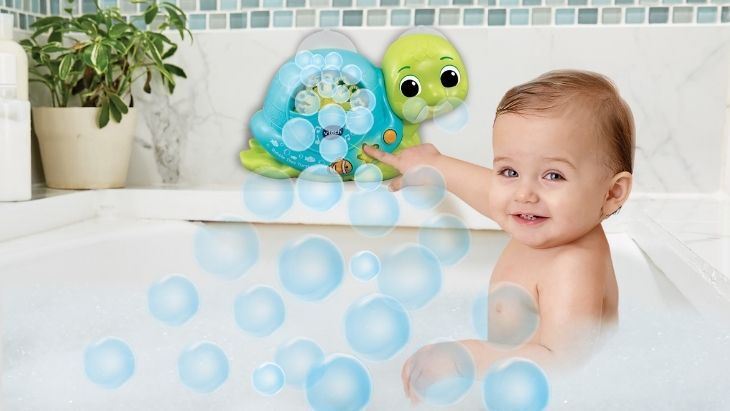 Get ready for some bubble-popping fun with the Bubble Time Turtle from VTech! ($39.99). This adorable turtle makes bubbles magically appear in sync with the music and delightful sounds. Press the buttons shaped like clown fish and light-up starfish to meet friendly sea creatures and enjoy entertaining sing-along songs and melodies. It's a fantastic way to dive into an ocean of joy and learning!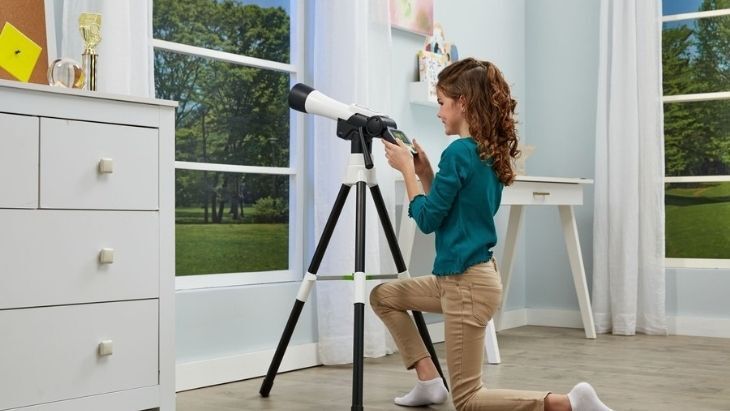 Unveil the wonders of the cosmos with the incredible LeapFrog Magical Adventures Telescope ($179). This telescope is your child's ticket to exploring the night sky and the beauty of nature during the day. It's a real telescope that offers a powerful 110x zoom, allowing young astronomers to get up close and personal with celestial objects. Plus, it's as easy as switching between the Northern and Southern Hemispheres in the Settings menu to expand your stargazing horizons!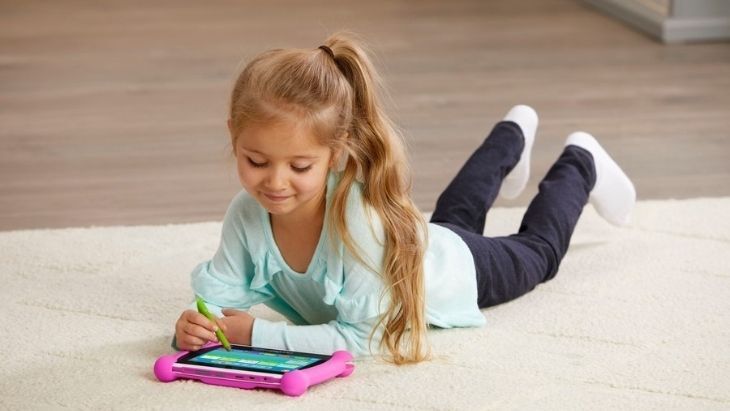 Say hello to the all-new, faster, and smarter LeapPad Academy from LeapFrog ($249), designed to inspire academic success. With a selection of 20 educator-approved apps, it's the perfect tool to enhance reading, maths and science skills, and unleash creativity.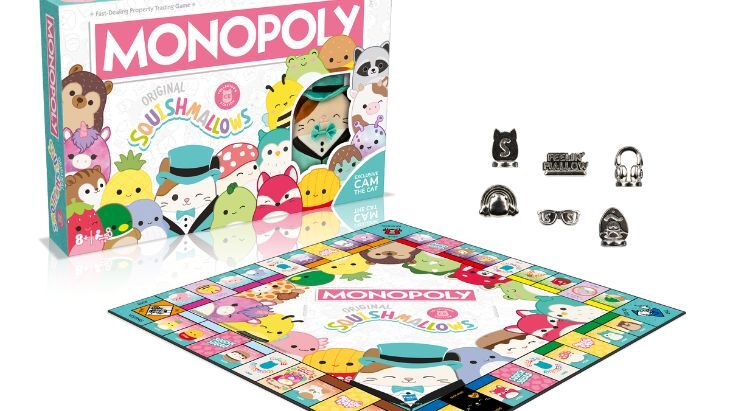 Board games are one of our absolute favourite types of toys to gift for Christmas, and this Squishmallows Monopoly ($55) ticks all the boxes. Squad up with the plushiest version of the classic family game you'll ever play! This original Squishmallows Collector's Edition lets players buy, sell, and trade their favourites from the Classic Squad to the Fantasy Squad, including Fifi the Fox, Rosie the Pig, Leonard the Lion and Benny the Bigfoot!
Want to shop for more educational Christmas toys? Check out Hape Wooden Monster Maths Scale ($59) and the LeapFrog Magic Adventures Interactive Globe ($129).
Outdoor Christmas Toys
Living in the Southern Hemisphere makes Australia one of those lucky countries that celebrates Christmas under the glorious hot sun. Make hay while the sun shines this season with these outdoor Christmas toys to get the kids out in nature and enjoying the favourable weather this summer.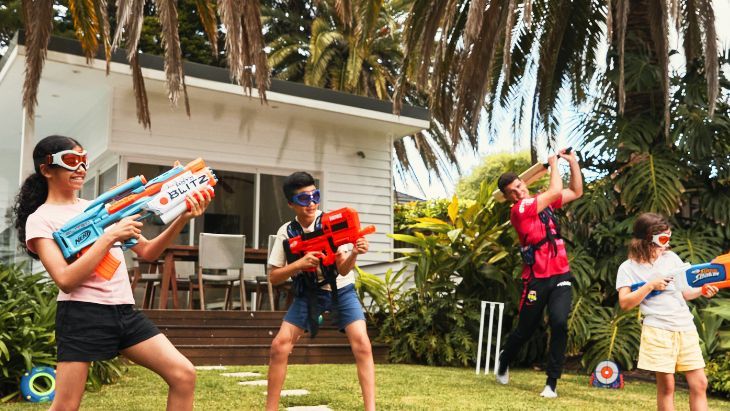 The perfect enticement to get kids outside and off their screens this summer, NERF blasters ($14.99 - $84.99) are a safe, exciting, and affordable way to bring the fun outdoors! If your kids love Minecraft, Roblox and Fortnite, NERF has an incredible range of blasters that promise to really bring the video game experience to life—all whilst getting your kids outside and active! What more could you want in a Christmas gift?

For the ultimate outdoor adventure this Christmas, the Disney Junior Mickey Mouse Funhouse Adventure Spyglass ($46.75) is a must on our list of the best Christmas toys for 2023! Inspired by the Disney Junior Mickey Mouse Funhouse series, the Adventure Spyglass can extend to 14 inches, includes 11 Mickey Mouse phrases and sounds, and features a secret hidden treasure map!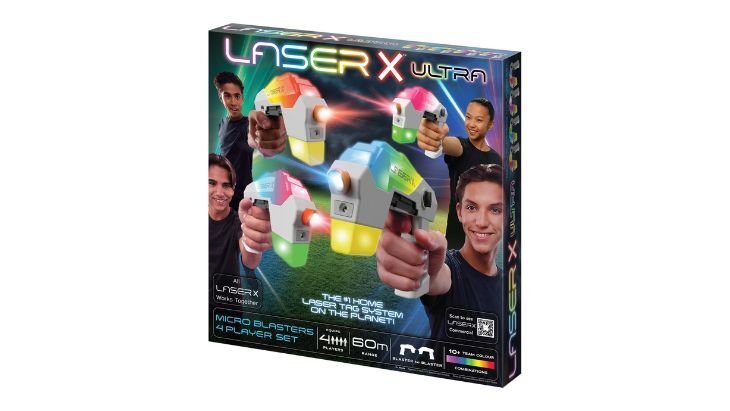 Laser X Ultra ($65) is the ultimate home laser tag game that brings the excitement of a laser tag arena right to your own backyard! With an epic range of 60 metres, Laser X Ultra ensures intense laser tag action in any environment!
Looking for more of the best Christmas toys for spending time outdoors in 2023 and 2024? Some more of our favourites include the Circuit Soccer and Tennis Kit ($45), Touchable Bubbles ($9.99), Wahu Mega Slide ($69), Little Wombats Kids' Gardening Tools ($51.95), and Jumbo Flamingo Float ($29).
RELATED: The Best Beach Towels for Summer
Electronic Toys

Some Christmas toys for the older kids or tweens, check out what electronic toys and gadgets are the best Christmas toys for 2023.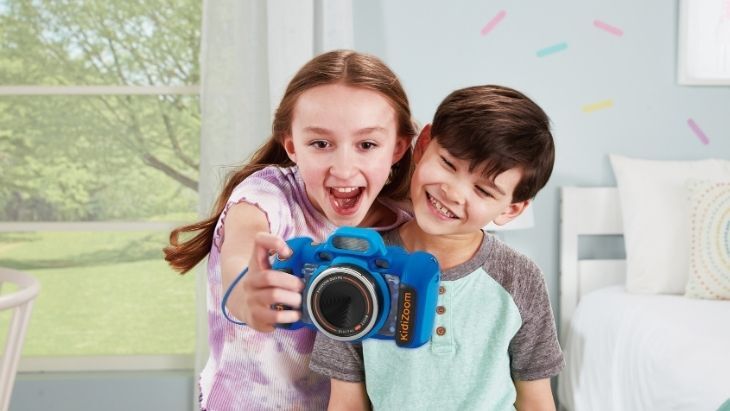 The latest innovation in the much-loved VTech Kidizoom Duo Camera series makes a great Christmas gift for kids this year—the Kidizoom Duo FX ($99). Kids can unleash their inner artist with its high-resolution 8-megapixel camera for amazing shots and a 2-megapixel rear-facing camera for selfies, plus get creative with live AR face filters and entertaining photo effects. It also comes with five games to play, a Chin Puppet Theatre, a Cartoon Studio, panoramic photos, and an MP3 music player.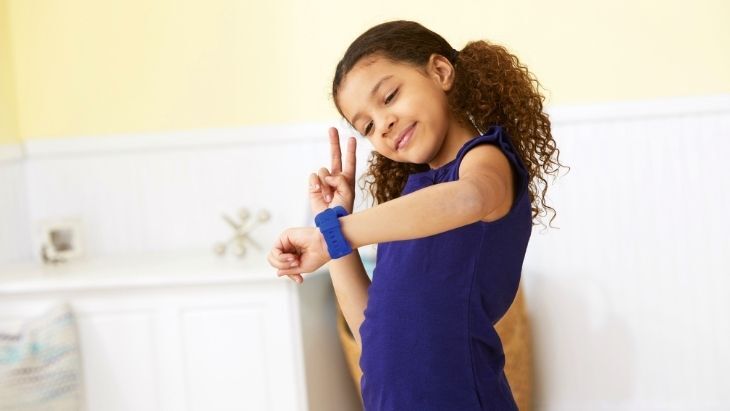 Equipped with dual cameras the VTech Kidizoom Smartwatch MAX ($95) captures everything from cool selfies to action-packed videos. With customisable clock faces, you can play games and learn to tell the time in style. This perfect-for-kids watch also transforms into a music player, and, for a touch of magic, embark on a real-world monster hunt with the Monster Detector AR game!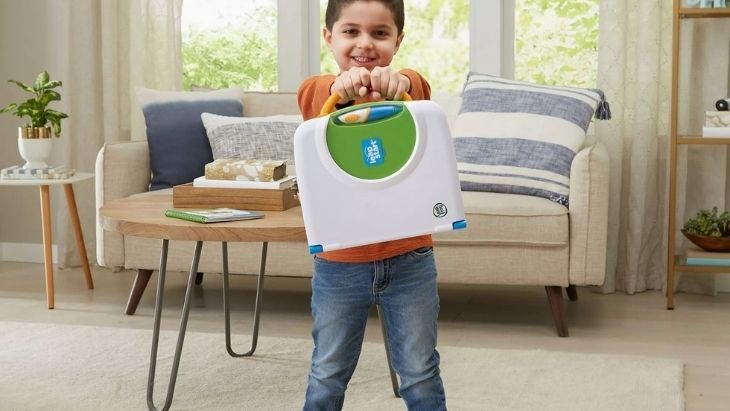 The brand new Bluey LeapStart Bundle ($79) is an interactive learning system designed to make kids excited about counting, reading, problem-solving, and more through engaging replayable activities. The secret behind the LeapStart magic is a special stylus that reads hidden dots on each page, sparking questions, challenges, songs, jokes, and so much more. With a vast collection of over 400 activities spread across a library of 25+ books (available separately), LeapStart introduces kids to essential skills in imaginative and fun ways.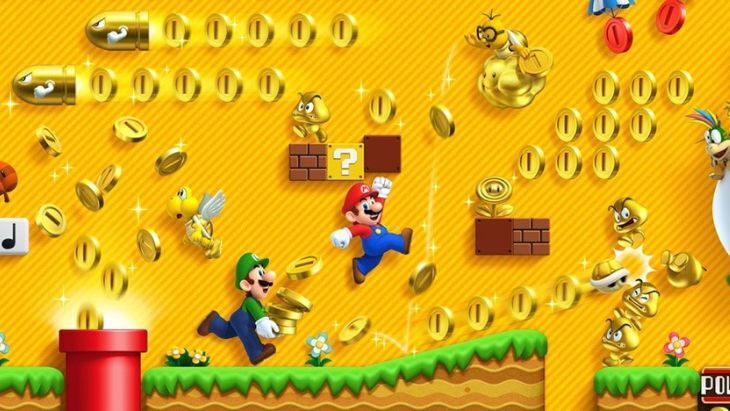 After 11 years since the last game in the series launched, Nintendo releases the new Super Mario Bros. Wonder on Nintendo Switch ($69), bringing surprise and delight to an entirely new generation of young gamers – as well as reigniting powerful memories harboured within the hearts and minds of previous players.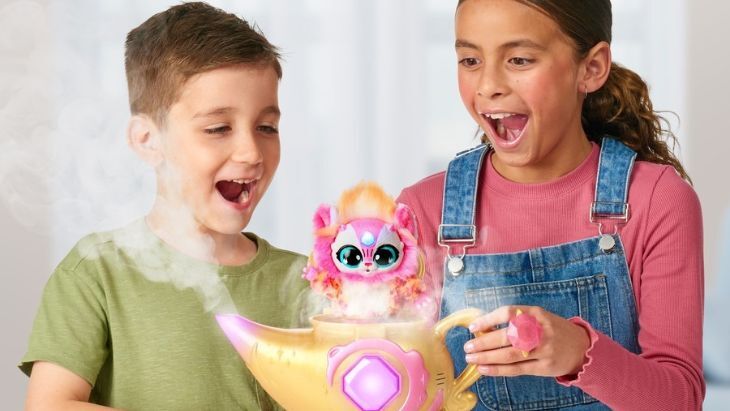 Experience pure enchantment with the Magic Mixies Magic Genie Lamp ($89). Within this captivating golden lamp lies a Genie Mixie ready to be set free! Let your child take centre stage, follow the magical steps, and witness real magic unfold in this feature-packed, misting Genie Lamp. With over 60 lights, sounds, and reactions, the excitement is boundless.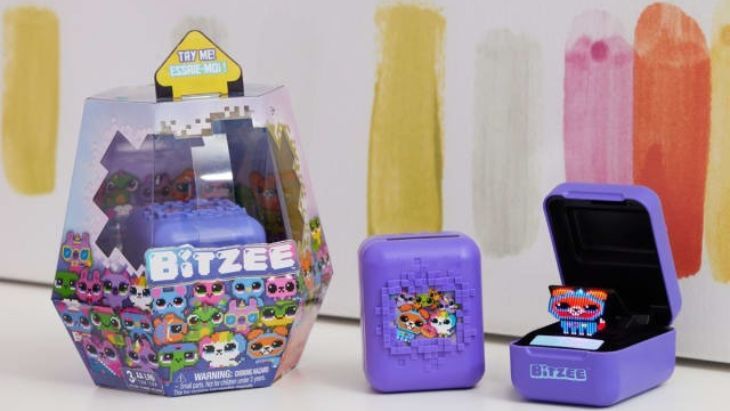 An awesome choice for Christmas toys for kids this year, Bitzee ($39) is the interactive pet that responds to your every swipe, tilt, shake, and touch with delightful sounds and reactions. Starting as adorable baby puppies, these virtual pets thrive on love and care, just like real pets. Play, feed, rock to sleep, clean up, and shower them with love to see them grow from baby to adult and even transform into a Super Bitzee! Unlock each unique Super Bitzee pet, explore stylish outfits and engaging games and a whole lot more.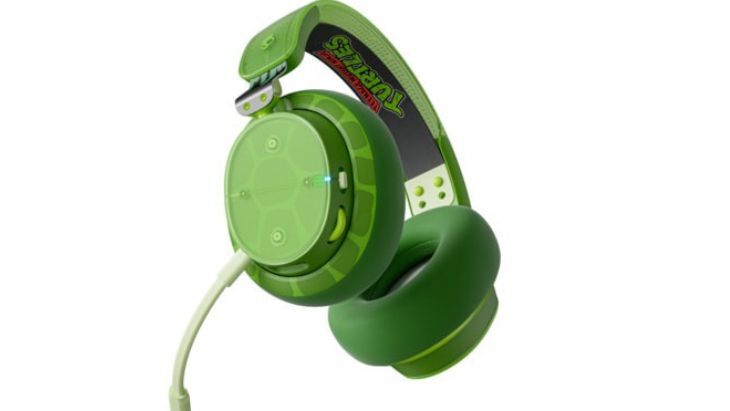 For the tech-loving kid in your life, we love the Skullcandy x Teenage Mutant Ninja Turtles collaboration. The limited edition Multi-Platform Wireless Gaming Headset ($249) boasts transparent and glow-in-the-dark elements to turtleshell earcups and a radioactive headband—a real homage to all-things Teenage Mutant Ninja Turtles. Meanwhile, the Push® Active True Wireless Earbuds ($179.95). are loaded with tech, including Skullcandy's custom-tuned audio to deliver music you can really feel.
Creative Toys & Imaginative Play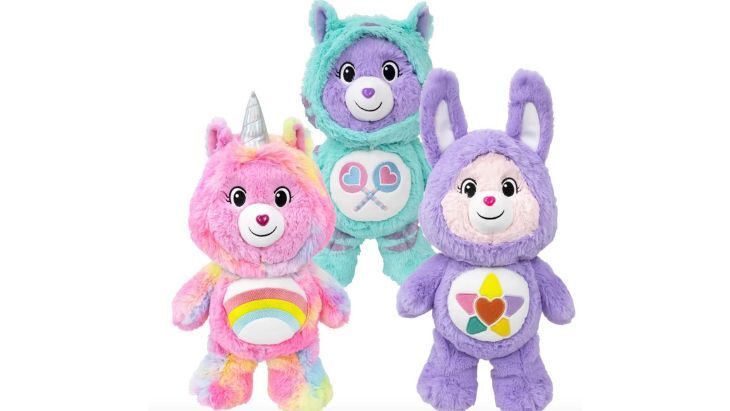 Get ready for the snuggliest adventures ever with Care Bear Snuggle Pals! Your favourite Care Bears are ready to snuggle up in their cutest outfits and have some rainbow fun. Cheer Bear is now a magical unicorn, Share Bear is a playful kitty and True Heart Bear is a cuddly bunny; each showing off their unique personality.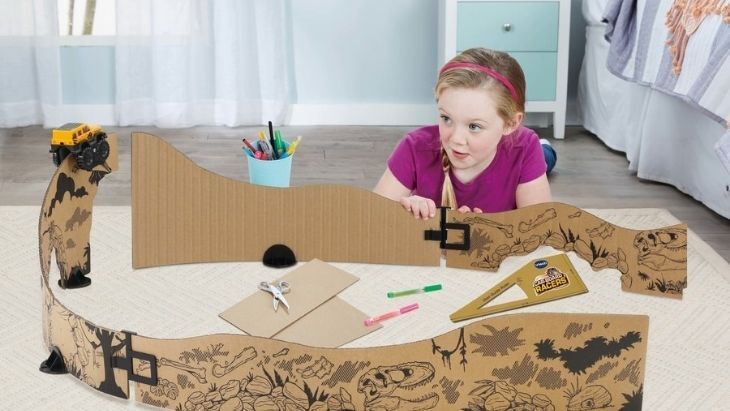 The VTech Car-Board Racers Off-Roader & Track ($39) is the perfect gift for imaginative kids this year! Kids will love to dive into their own world as they construct their own unique racetrack. Link the tracks using connectors and set them up on the stands in anticipation of the thrilling race! Put your powerful Off-Roader on the dino-themed racetrack and get ready for an exhilarating ride around the track's twists and turns.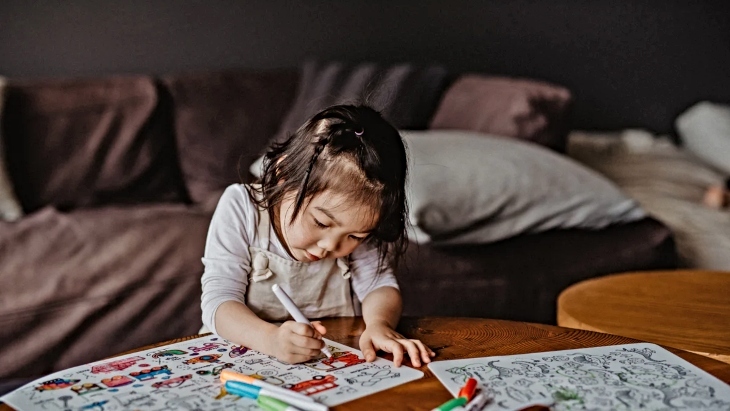 For eco-conscious creatives, HeyDoodle sets are the perfect go-anywhere Christmas toys for endless hours of fun. Their signature silicone colouring-in mats are available in an array of fun themes, and each pack comes with nine non-toxic erasable markers, all in a handy carry case ready for play on the go. There are also MiniMats and Storystacks.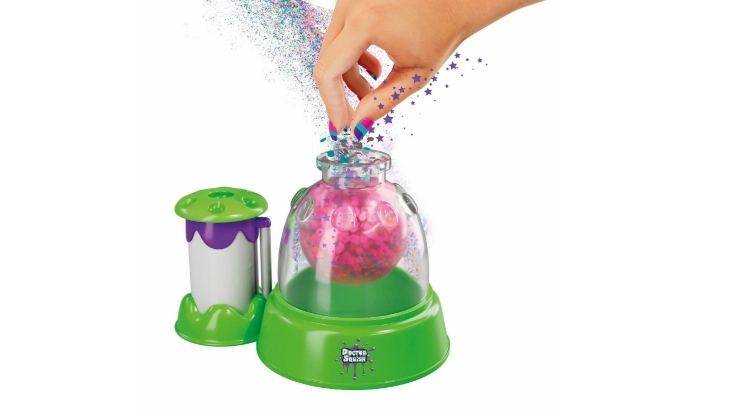 Fans of squishy toys and objects will love creating their own squishy creation with the super-cool Doctor Squish Squishy Maker Station ($64). Everything you need to create delightful squishies can be found in this pack. Use the easy-to-follow instructions, and voila, you'll have your very own Squishy - can parents play too?!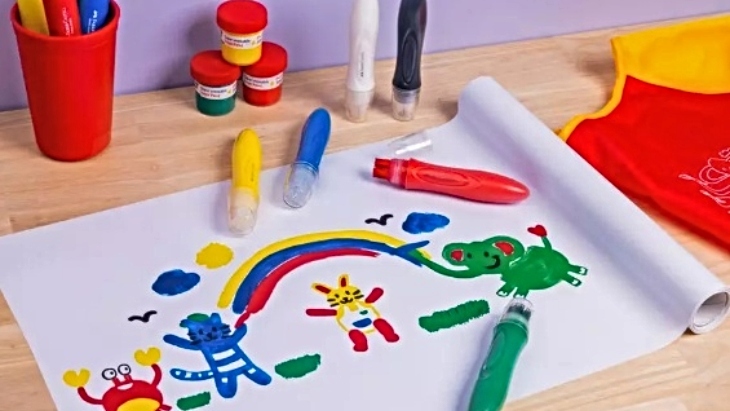 Help little artists bring their imaginations to life this Christmas with the super cute new Little Creatives range from Faber Castell. Designed especially to help tiny hands discover the joy of art play, these colourful tools will inspire young art lovers to explore their creativity with clever products that are bursting with fun. The Little Creatives range of art materials includes jumbo washable markers, easy-grasp crayons, play-safe scissors and jumbo squeeze paintbrushes. Available from Target starting at $3.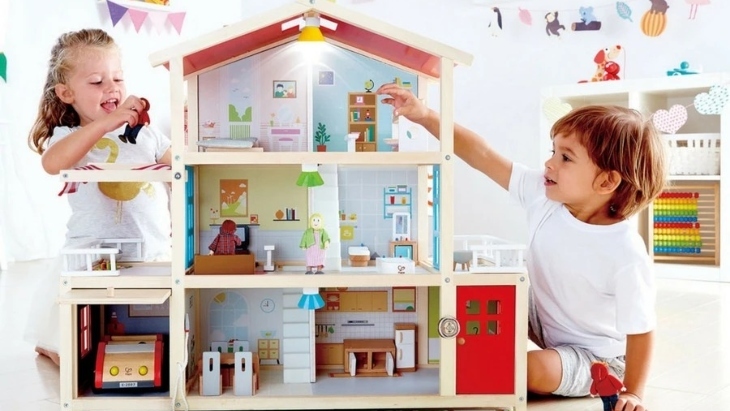 Hape Wooden Doll Family Mansion ($334) - They don't call it the mansion for no reason! The Hape Wooden Doll Family Mansion is ginormous and includes a master bedroom, children's room, living room, bathroom, two balconies, dining room, kitchen, hallway, garage, a garden area, swimming pool, four dolls, seven doll furniture sets, PLUS working lights and a working doorbell - wow!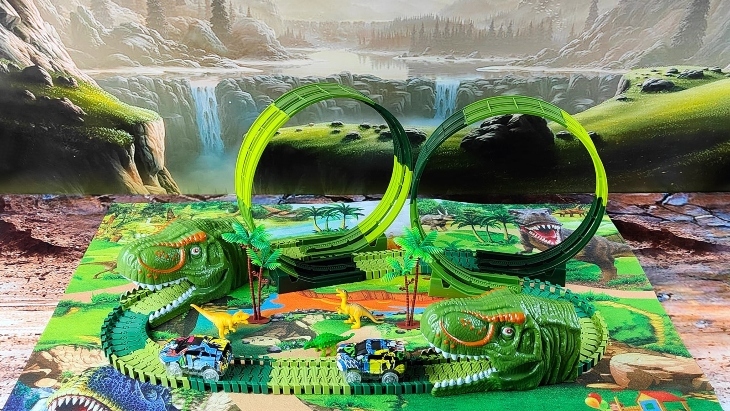 More creative and imaginative Christmas toys making the round this season include the mega-cool BrightRise Dinosaur Track ($186) and - drumroll, please - Polly Pockets (from $18) are making a comeback!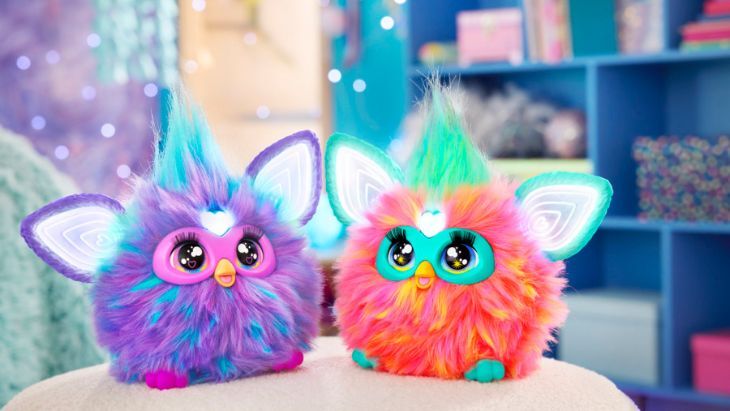 Furby ($79) makes for an ideal gift for kids who embrace the joy of a lifelong buddy to cherish. This latest Furby generation features a fresh appearance and technological enhancements designed with Gen-Alpha kids in mind. It offers 5 voice-activated modes, over 600 responses filled with lights, sounds, and 10 distinct songs. It even comes with fortune-telling and meditation modes!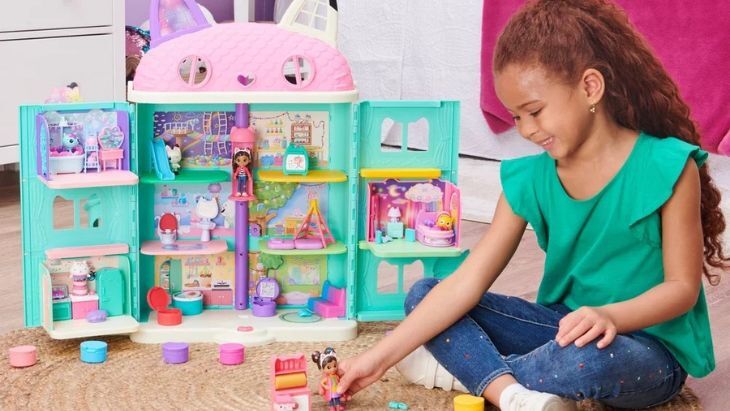 Their very own dollhouse world awaits with Gabby's Dollhouse Purrfect Dollhouse ($99). This fantastical kids' dollhouse is packed with exciting features to discover, including a Dollhouse Delivery tower, a working Cat-A-Vator, sounds and so much more!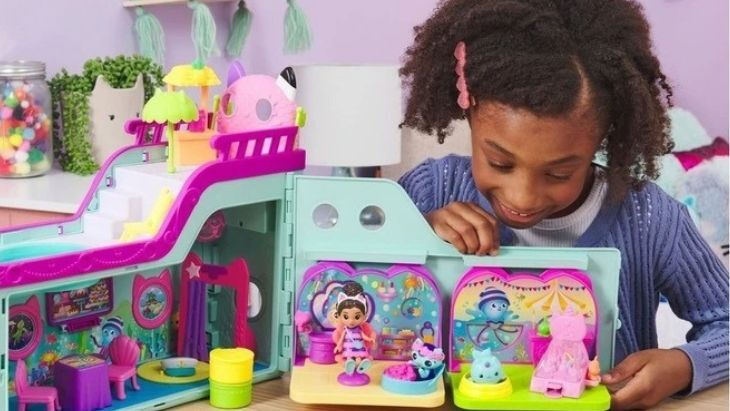 Gabby's Dollhouse Cat Friend Cruise Ship ($84.99) is an incredibly fun Christmas gift this year. This set includes a Gabby Girl doll and MerCat figure, along with tons of dollhouse accessories and furniture—a must-have for fans of the show that enjoy creating pretend play adventures!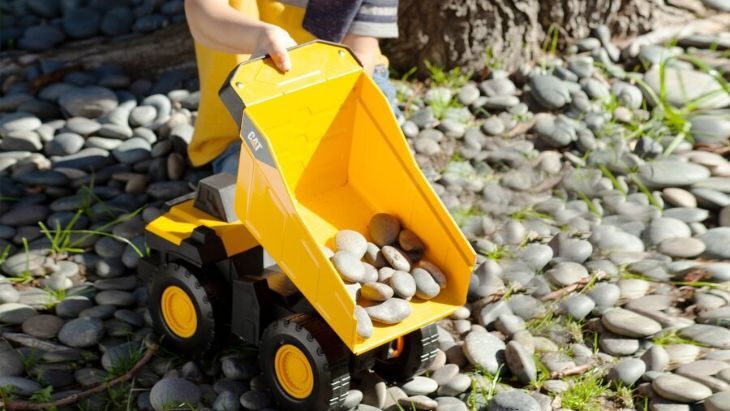 Designed for the most demanding of jobs the CAT Steel Dump Truck ($62) is ready for action! Built with sturdy steel construction and large wheels this 43cm vehicle is just the like the real thing. CAT steel toys feature a lifetime guarantee so you can be comfortable knowing this product is built to last.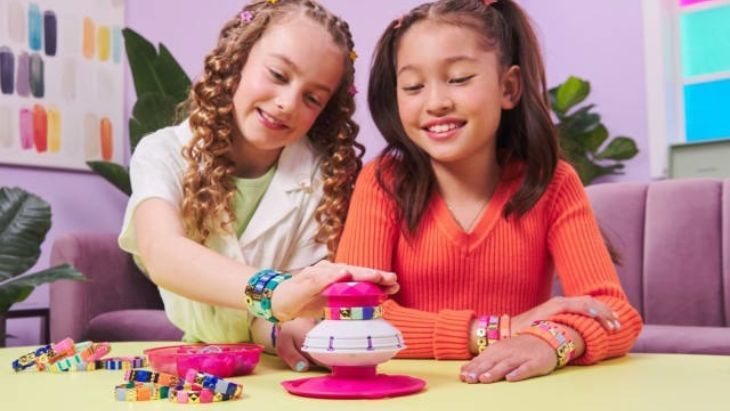 Introducing the Cool Maker PopStyle Bracelet Maker ($29), the ultimate DIY bracelet kit designed to spark your child's imagination! Geared towards kids aged 7 and up, this kit empowers them to unleash their creativity, build confidence, and craft unique friendship bracelets. With the super-easy pop-on bead system, creating and recreating 10 distinct bracelets is a breeze – no knots, cutting, or clasps involved!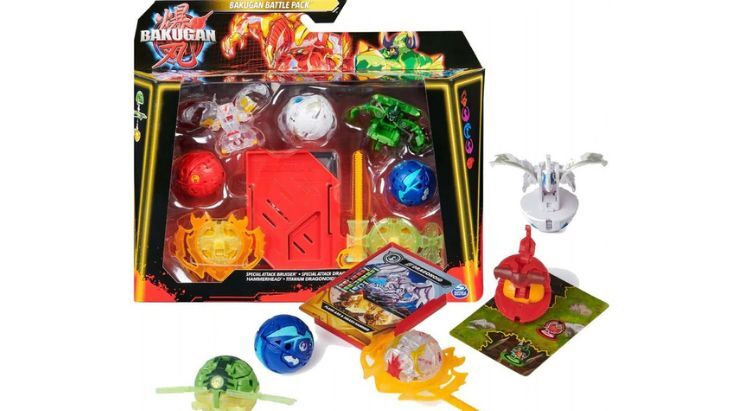 Create your very own Bakugan army with the exciting Bakugan 3.0 Battle Pack ($59.99)! Bring together and engage in epic battles with your favorite characters from the show, striving to become the ultimate Bakugan Battle Brawler. This set includes 2 Special Attack (Spinning) Bakugan, 3 Core Bakugan, a rip card, an XL rip cord, and multiple trading cards. Spin your Bakugan for a Special Attack using the XL rip cord or rip card, or roll your assembled Bakugan on the Gate Cards to witness their incredible transformation.
Superhero Toys & Dolls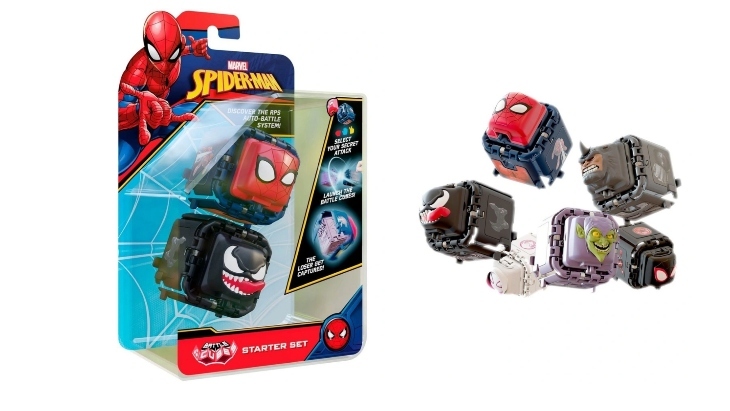 Did you even have a childhood if you didn't have a bunch of superheroes, action figures and dolls in the toy box? Add these awesome superhero toys and dolls to your list of the best Christmas toys for 2023.
Marvel Battle Cubes – Avengers/Spiderman Twin Pack ($24.99) - These awesome pocket-sized Marvel Battle Cubes are taking the game of rock, paper, scissors to a whole new level! All you have to do is select your secret attack, set your cube to battle mode, and get ready to battle it out against your opponent! The winner gets the token, and the loser gets captured!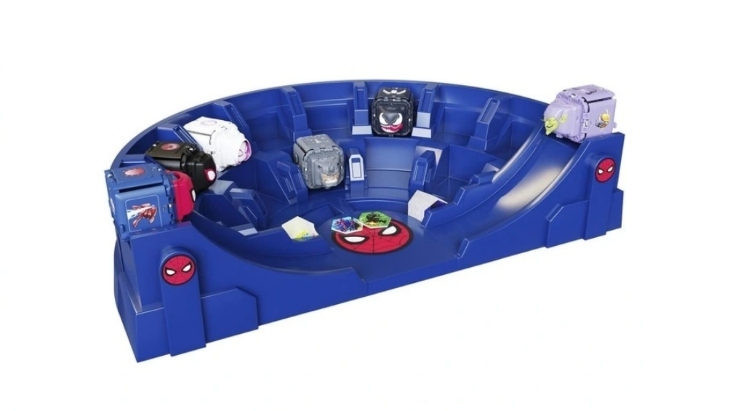 Marvel Battle Cubes – Spider-Man Battle Play Set Arena ($49.99) For those serious about their Marvel Battle Cube score, take on your opponent in the specially-designed Marvel Battle Cube Arena and see who comes out on top!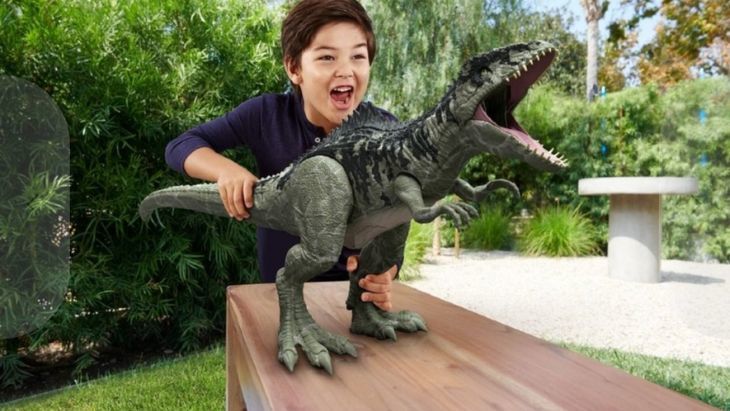 Jurassic World Super Colossal Giant Dino ($88) - Get ready for thrilling action and adventure with this Super Colossal Giganotosaurus figure based on the dinosaur species introduced in Jurassic World Dominion. At about 33cm high and more than 91cm long, the Giganotosaurus has a cool marbleised finish, realistic skin texture and colour, posable arms and legs, and extra-wide jaws that can open and close!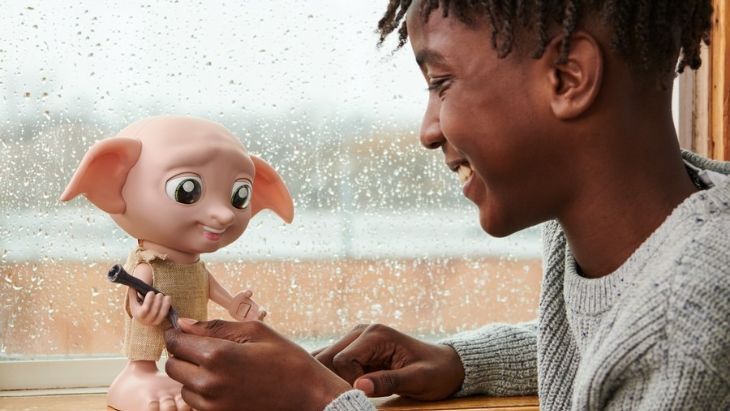 Embark on enchanting Wizarding World journeys with the interactive Magical Dobby ($69). For young witches, wizards, and Muggles alike, the magic of Harry Potter comes alive through the beloved house elf, Dobby. This delightful interactive Dobby figure is a magical companion, featuring over 30 sounds and phrases, along with animated movement in his eyes, ears, head, and arms.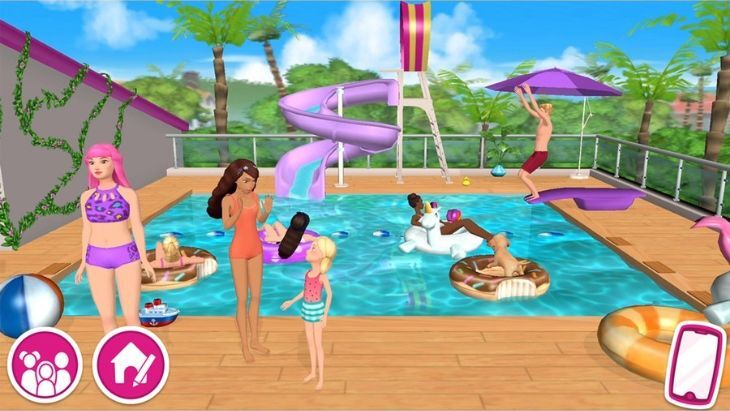 Dive into the world of Barbie like never before with Barbie DreamHouse Adventures ($59), now available on the Nintendo Switch. Craft your very own Barbie DreamHouse experience filled with exciting activities like baking, cooking, dancing, gardening, home design, engaging mini-games, and epic pool parties!
LEGO Toys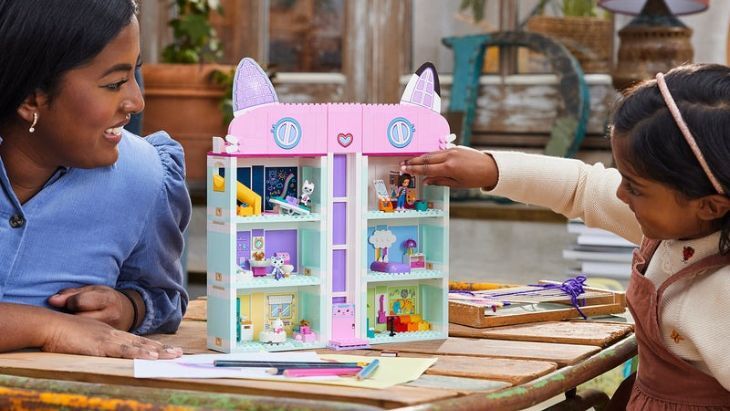 One of our favourite picks from LEGO®'s incredible range this Christmas is the LEGO® Gabby's Dollhouse ($99). With a whole lot to explore on every floor, this Dollhouse features eight rooms connected by a sliding elevator, and each room is packed with activities. After they've baked in the kitchen and gotten crafty in the art room, kids will love a rooftop party on the rotatable dance floor!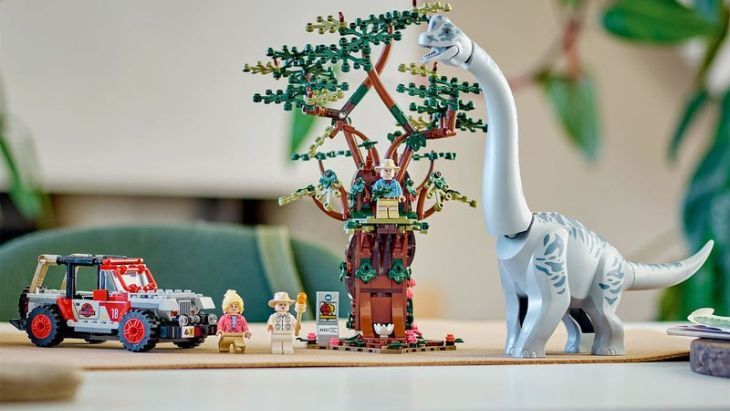 The LEGO® Jurassic World Brachiosaurus Discovery ($119) is another surefire winner of a Christmas toy for kids this year. It features a posable Brachiosaurus, the tallest LEGO dinosaur figure to date, plus a buildable toy Jeep Wrangler and a tree. The Jeep has space for the 3 mini-figures, and the tree has a viewing platform and detachable leaf elements to 'feed' to the Brachiosaurus. How cool!
What Else to Shop for This Christmas
Christmas Gift Ideas for Mum
Check out These Personalised Christmas Stockings
The Best Christmas Gifts for Teachers in 2023

Have you signed up for our newsletter? Join ellaslist to get the best family and kid-friendly events, venues, classes and things to do NEAR YOU!