Catmosphere- Where Cats And Coffee Collide. Purrrfect!
Preschoolers
Family
Kids
Mums & Bubs
Teens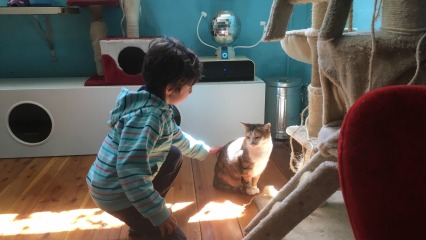 By: Amanda Lieber, ellaslist explorer
We love cats and I love coffee, so what better way to combine the two than head to Catmosphere, Sydney's Cat Café in Surry Hills.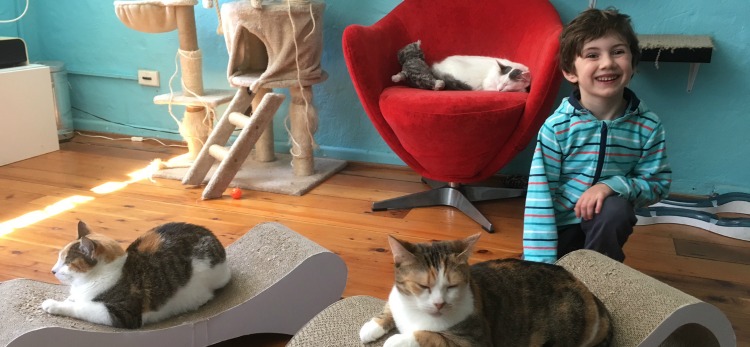 Cafe With A Mission

Catmosphere acts as a foster home for cats and kittens that need assistance. Their mission (which they have chosen to accept) is to help socialise these Catstronauts aka 'rescue cats' and to find new loving homes for these adorable furry feline beings.
The "Space Academy" room, houses the rescue kittens, also available for adoption through their partner rescue groups 'Kitten University'. The café works closely with World League for Protection of Animals.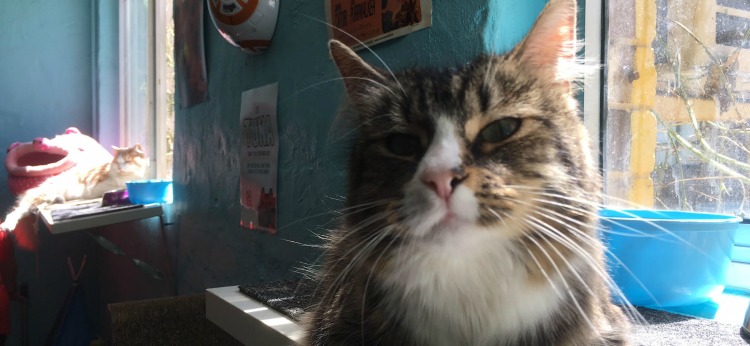 How It Works

You need to book and reserve a specific time slot, either a 30 minute session (with kittens) or an hour session (with cats). They only allow 10-12 people in per session.
Morning times are best as the cats are most active, and it's usually quieter, however during school holidays it gets very busy.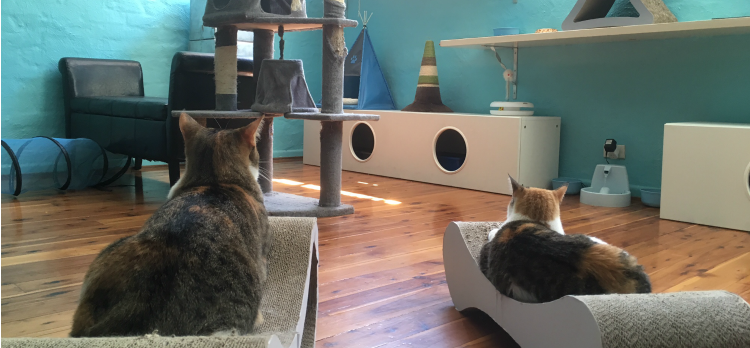 Coffee and Hygiene

Each guest is required to wash and sanitise their hands upon both entry and exit from the cat area.
For hygiene purposes, the cafe and cats are in separate areas, no food is allowed in the cat rooms, these areas are separated by airlock doors (in accordance with Sydney City Council regulations)
You can take your coffee into the room, hot drinks are served in disposable cups as they need to have a lid on them, feel free to take your own keep cup.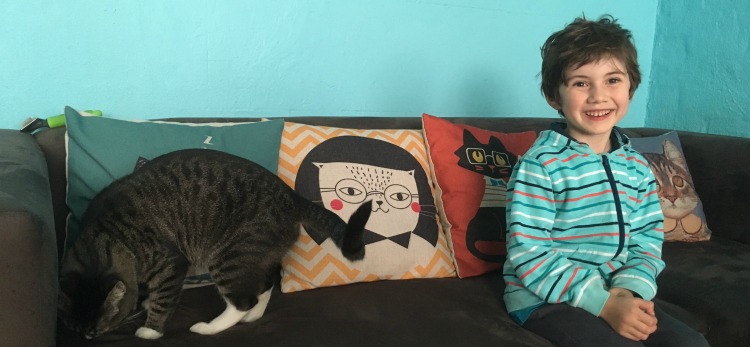 Delicious Highlight

When you leave you get a delicious homemade cat shaped biscuit, freshly baked everyday on the premises. They use honey instead of sugar, are slightly ginger bread flavour (they are working on a gluten free option).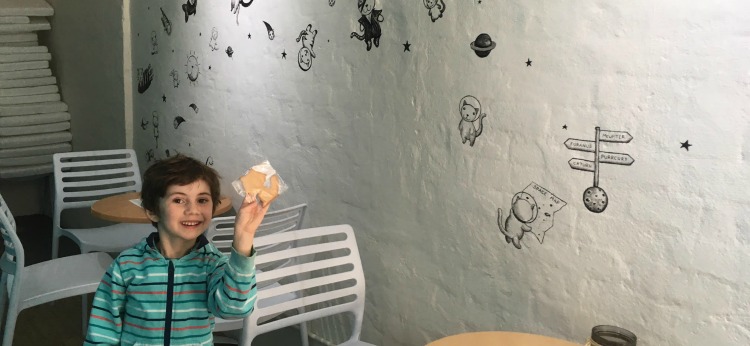 Cat And Kitten Rooms

The main cat room is upstairs. An open plan room with a couple of chairs and tables and a couch with gorgeous cushion covers (available for purchase) for the humans, and lots of cat seats, hideaways and of course boxes. It's decorated according to their space theme.
The kitten room is on ground level, wheel chair and pram accessible.
They have a little courtyard outside with a striking mural on the wall.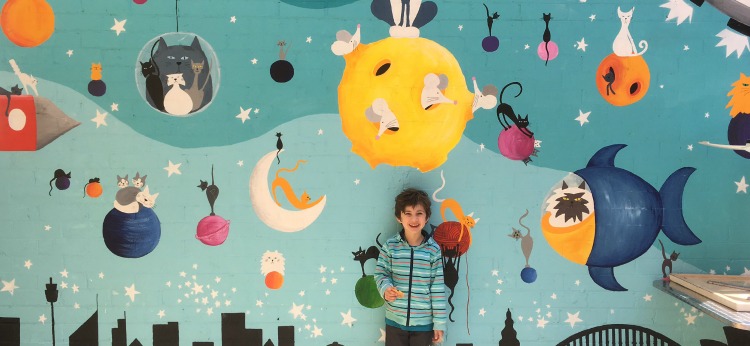 Lovers Of Furry Friends

I chatted to one of the owners, Darren Eldred, 'operations manager' he is incredibly passionate about his café and animals in general. He is devoted to working with the welfare of animals and their humans, including another charity, TEAM DOG, assisting owners and their animals with legal issues.
Your Entry Fee assists the café in supporting the needs of the cats; vet bills, desexing, feeding and general maintenance, so the charities have less to worry about.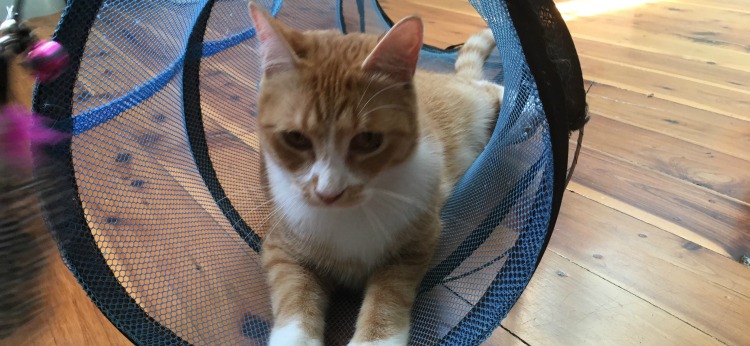 Try Something A Little Different…

Fancy a unique experience, try a spot of Yoga with the cats, Monday and Thursday evenings at 7pm, bookings are essential.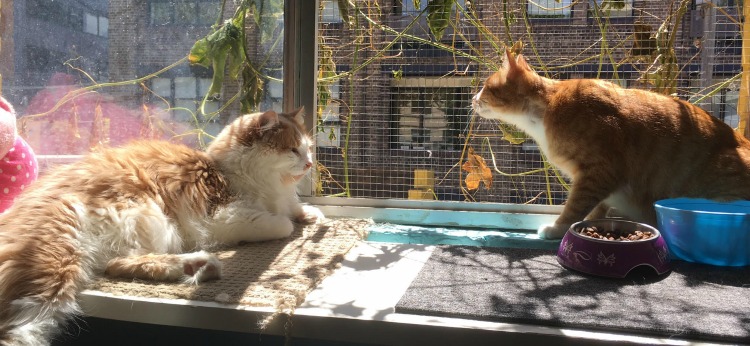 When You're All Purred Out

After the café, we headed up to Shannon Reserve for a packed picnic, just a short walk from the café, up a slight incline (corner Crown and Foveaux Street, opposite the Clock Hotel).
They have just redone the lawn so it's fresh and lush. There is a great climbing frame with a bridge, a slide, hanging bars and swings, and loads of park benches- or you can sit under a tree.
There are quite a few cafes/ restaurants nearby where you can buy some delicious food for lunch.
The equipment is built in such a way that it seems to keep the children occupied and interested for ages.
The park is unfenced so keep a watchful eye on your little ones.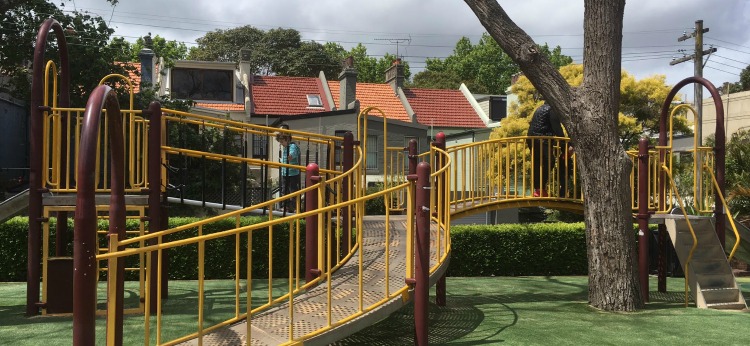 In a Nutshell

What other mums say: They love the experience, the coffee is delicious and it's an enclosed space where they can relax for a while, knowing their child cannot escape.
Mum's favourite moment: My son giggling and interacting with the cats.
What my son thought: 'I love it, I want to come back and play again'- and the cat shaped biscuit!
Best Moments: When the cat jumped to catch the toy fish my son threw into the air, cue infectious laughter.
Special features and fun bits: Brushing, snuggling, and playing with the cats.
Who is the cafe best suited for? Anyone who loves cats, this is the purrrfect place.
What makes the cafe kid-friendly? The gentle cats and the enclosed space.
Atmosphere: Friendly, relaxed, amazing experience!
Getting there: Very easy to get there by public transport it's only 3 minute walk from Central Station. Loads of pay street parking, slightly further up the street on Riley Street 2 hours free parking.
TOP TIPS: They don't serve food. There are plenty of cafes around.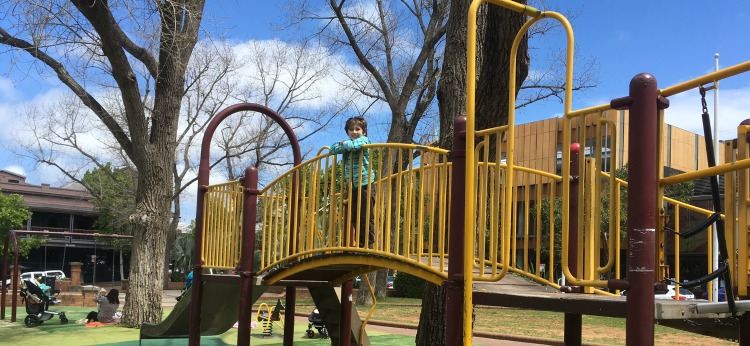 What You Need To Know

Opening Times: Monday – Wednesday 10am-6pm, Thursday & Friday 10am-8pm, Saturday & Sunday 9am-8pm
Cost: Children under 3 free, 4yr-9yr $10, 10yr-adult $20. Cheap Tuesday only $15 per hour.
Members Offers: They have various membership options which include discounts on merchandise and free entry.
Host an event with a difference: Contact them for birthday parties, work functions etc.
Phone: 0450 701 485
Address: 66 Foveaux Street, Surry Hills
More Info: Visit their website.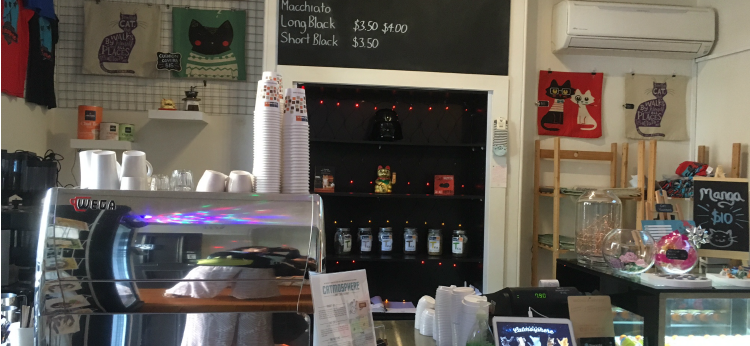 Check Out More Kid Friendly Cafes On ellaslist
Reviews
V helpful review will take my cat loving daughter for a visit. Thx