Catmosphere Cat Cafe Launches A Cinema For Felines
By: Alex Harmon, ellaslist
Does your feline like to recline? Perhaps she loves to relax with a kitt-flick. Or only has time for films directed by Quentin Tabbytino. Well, we've found the purrrrrr-fect night out for you and your wise best friend. Catmosphere Cat Cafe in Surry Hills is lauching the first ever Cat Cinema! Yes, we didn't think we could love this cafe enough (check out our review here).
So, you can't actually bring your own cat as a date night 'plus one' as that could get dangerous but Catmosphere tell us there are plenty of rescue cats to cuddle up with.
"Our guys are all accustomed to the cat cafe life and so far have adapted well to the giant projection screen invading their home!" says owner Darren Eldred.
During April and May you can enjoy some of the best (and worst) cult classics on their 120″ screen while chilling with some of the most amazing cats in the world. During your two hour stay you'll get a caramel popcorn milkshake (vegan-friendly option available), some cat companions as you sink into your beanbag, and a cinema experience like you've never had before.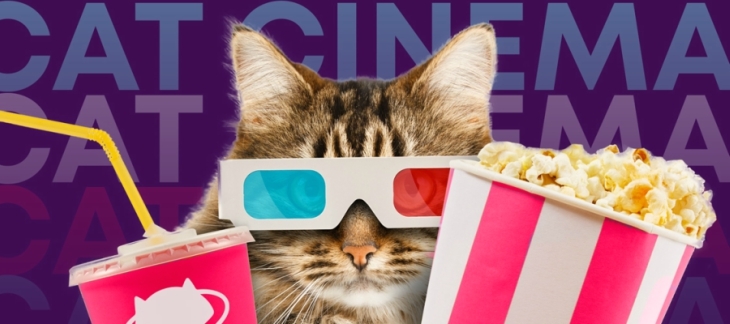 Subscribe to their mailing list here to get updates on Cat Cinema before anyone else.
The first film on the agenda is Must Love Dogs.... kidding, the premier film is Frankenstein (April 29). Find out the full schedule here.
We're sure the cats will have the time of their (nine) lives!