Best Things For Kids And Families At Vivid 2019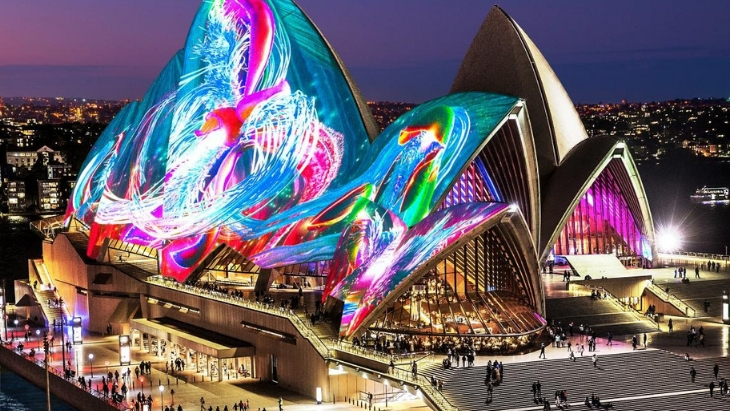 It's that time of year again, folks! Vivid Sydney, the largest festival of light, music and ideas in the Southern Hemisphere, will light up the city this winter from Friday 24 May to Saturday 15 June 2019—and spoiler: it's offering a star-studded program of events.
You can experience Vivid in eight precincts across the city, and it's Light's On! every night from 6 pm to 11pm—although Taronga Zoo lights up from 5 pm and Chatswood from 5:30 pm.
It's a great excuse to get the family together and spend some time in the city we all love (and let's face it—often don't appreciate enough.) Here are the best things for families to do at Vivid 2019.
Taronga Zoo

Image: vividsydney.com
Taronga Zoo is one of the most popular, and family-friendly, places to experience Vivid, and this year is no exception. The Zoo's iconic moving animal projection show, Lights for the Wild, adds to its illuminated trail of interactive lanterns featuring endangered species.
Showcasing awe-inspiring giant multimedia light sculptures, this year features the star-spangled Asian Elephant, a family of glowing Silverback Gorillas, the iridescent Marine Turtle and the Weedy Sea Dragon, plus Sumatran Tiger Cubs—marking the birth of three new tiger cubs and highlighting the Zoo's commitment to conservation.
During the festival, the Taronga Centenary Theatre is showing a multi-award winning animated short film favourite, reimagined as an amazing 270-degree cinema experience.
Royal Botanic Gardens
Once again, visitors can weave their way through the Royal Botanic Garden Sydney for close encounters with illuminated artworks that reflect and refract both light and nature. The kids will love Beetopia, a giant glowing bee hotel with oversized, colourful native bees crawling all over it.
Glowing, darting, hovering above the ground, Firefly Field is a mesmerising installation of 500 flying light points that simulate the aerial ballet of the tiny nocturnal firefly—and kids are guaranteed to be entranced!
And if you're hungry stop by the old school Fisherman's wharf inspired bar and eatery for some fish and chips and mulled wine!
Luna Park

Image: vividsydney.com
The entirety of Luna Park will come alive this May with brilliant shapes, patterns and colours that light the Midway promenade and enhance high-octane rides such as the new family thrill ride – Volaré.
Situated opposite the Ferris Wheel, with thousands of LED lights shining brightly, the Volaré will perfectly complement the spectacular light show adorning the Ferris Wheel for the duration of the festival.
In addition, the unique history and magic of Luna Park will be celebrated with a grand projection on its exterior. The 'Spirit of Fun' brings to life the artwork, characters and soul of the Park and opens a window into its future of fun. Roving street performers in striking costumes embellished with LED lights promise heaps of fun and the opportunity for some memorable photos!
Darling Harbour

Image: vividsydney.com
A family-friendly destination all year round and especially during Vivid, this year Darling Harbour will host a space-age reboot to entertain and inspire visitors of all ages and abilities.
Around Cockle Bay, mind-boggling electro-automotive super-bots have been sent to sow the seeds of a greener tomorrow. Epic in scale, the light and sound spectacle Robot SPACELand is built around a central 16m high unit, the Ecobot. Tumbalong Lights is also back, and playSPACE brings together super-scale installations that give intrepid explorers an opportunity to walk Under the Milky Way, play with SpaceBalls, interact with an Alien Visitor, share different perspectives with See What I See and travel To the Moon and Back in a wheelchair moon buggy. Low-sensory sessions are catered for too.
Argyle Cut in The Rocks

Image: vividsydney.com
In a partnership first, Academy-Award winning Pixar Animation Studios will illuminate Sydney's heritage-listed Argyle Cut in The Rocks with a creative light projection that will delight visitors of all ages.
"Pixar: 30 Years of Art & Animation," a special project designed specifically for Vivid Sydney, takes audiences on a visual journey through Pixar Animation Studios' creative process - showing visitors stunning projections of images from the early stages of a film's development to the finished product. Kids will love seeing their favourite Pixar characters in the projection, including the beloved duo of Woody and Buzz Lightyear!
Goo! At Circular Quay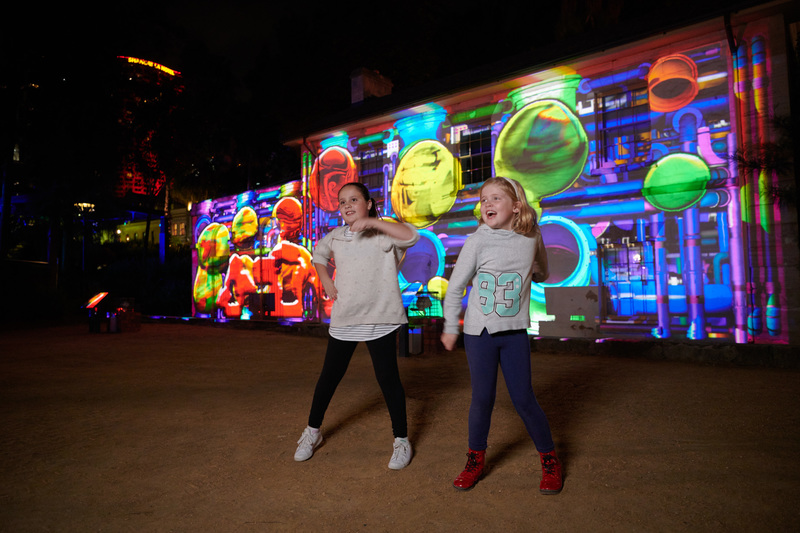 Taking place in the heart of the action, Goo! invites kids and kids-at-heart to play in a virtual fountain of multi-coloured, sticky slime. Join up to three others in the performance area where a series of live, high-resolution scans are recorded and implemented by a unique piece of crafted software, allowing visitors to drive the real-time media with their movements. How cool!
This custom built, real-time fluid simulation will transform Cadman's Cottage into a slime-filled playground that everyone will love!
Vivid Festivities At Chatswood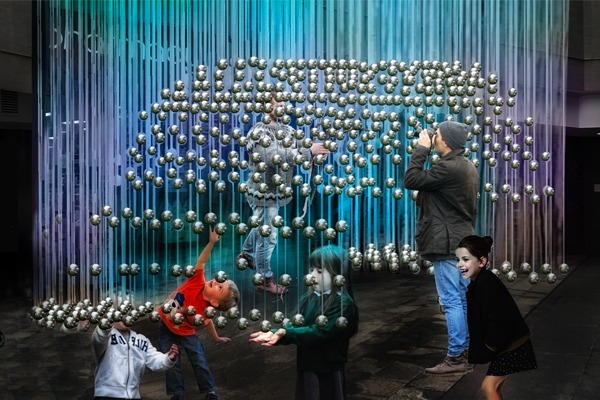 Enjoy the festival without the droves of people over in Chatswood. Among the streets, laneways and public spaces you'll find interactive artworks perfect for little ones with huge imaginations and for the big kid inside us all. We are especially excited about Woodie, the free-moving robot, located at Mills Lane. Woodie draws on the ground with luminescent chalk and his designs are lit by ultraviolet light.
Also the interactive Cascading Harp located at Chatswood Interchange. This grand curtain of light, colour and music symbolises the union of Eastern culture and Western technology. Children will love playing with the cotton ropes hand-dyed in pastel colours, clusters of bells, beautiful lights and soothing music which chimes in sync with the rope movement. Oh and there is glow in the dark mini golf - how cool!
Kiddo Disco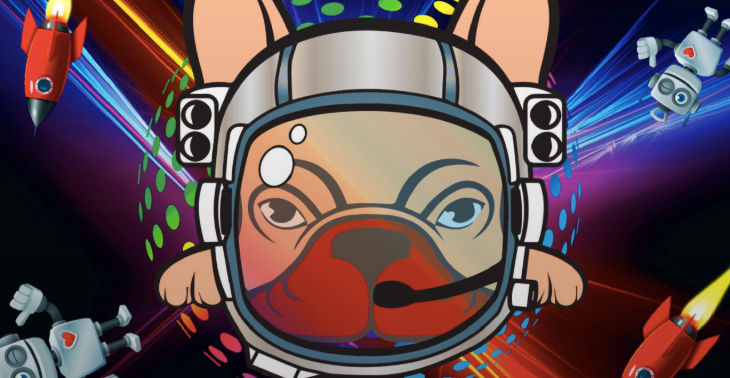 Take your kids to the nightclub you used to frequent, 'back in the day'! Okay, okay, this kid-friendly disco will be quite different from nights out at Home Nightclub us parents will remember, but resident disc jockey DJ Kate Monroe will still be playing awesome tracks to boogie the night away.
Kiddo Disco is part of the Vivid Music Season and will get all kids and kids-at-heart shaking their booties for 4 fun-filled nights from 25 May.
Samsung Electric Playground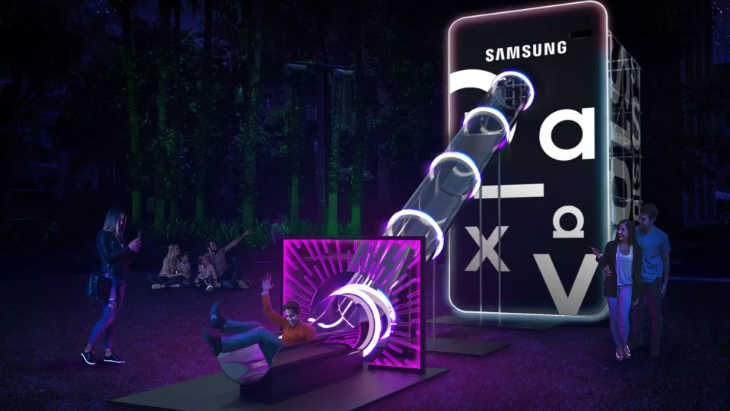 A neon-lit playground for adults - but we reckon the kids will be all over this one! Lose yourself amongst an interactive 'field' of 320 light poles, a reactive LED dance floor, a neon hula-hooping station and a custom-built 'sky walk' for selfies with Vivid views. And the piece-de-resistance, the 6.5-metre-tall infinity slide that has you launching yourself from an oversized Samsung phone!
Conversation Starters' Program At MCA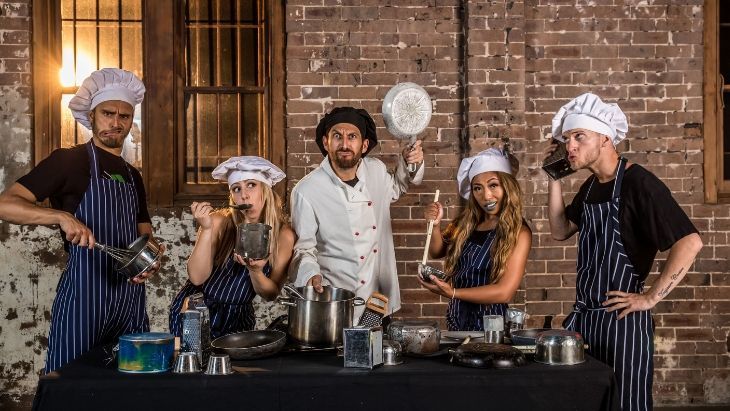 The climate is changing, why aren't we? If the recent election hasn't alarmed you - these series of talks will! Our way of life and the future for our children is under threat. Conversation Starters 2019: Temperature Rising calls for us to stand together and understand how we are entangled in climate change, so we can be part of a positive shift individually and collectively. But it's not all gloom and doom, enjoy live music performances, create art and explore the museum while learning about the environment in a fun and interactive way to get the whole family involved. June 1-2, 2019.
Chroma Dinner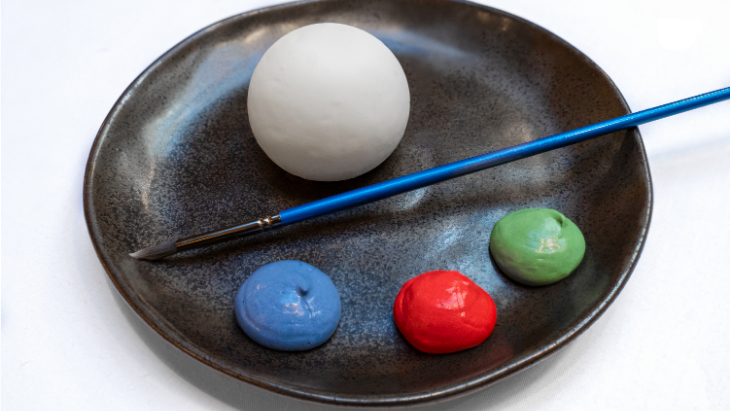 Book a babysitter for this one - this sensory delight is for the grown-up palates only! More than just a dinner, Chroma is a VR & Olfactive experience where each meal is inspired by one colour, scent, sound and light. During Vivid 2019, Four Seasons Hotel Sydney will transform into a dining space with white canvas where you'll view projections on the walls as you dine. The dishes follow the RGB (Red, Green & Blue) colours native to any imagery creation, so be prepared to eat with your eyes! Dinner is $145 per person which includes 4 courses and 4 matching cocktails.
Hero image: Sydney.com
More Things To Do Here:
Have you signed up to our newsletter? Join ellaslist to get the best family and kid-friendly events, venues, classes and things to do NEAR YOU!