Best Places to See Christmas Lights in Melbourne

---
Paddington's Postcards by UNICEF are the Christmas gift that keeps on giving. Your child will receive a fun package from Paddington Bear every month while helping children across the globe. It's the feel-good gift of the festive season. Sign up now!
---
**Please note that these listings are correct at the time of publishing and are subject to change. Please be respectful when visiting houses with Christmas lights and maintain safe social distancing rules.**
After the year we've had, we're willing to bet that everyone's hoping for some serious festive cheer around Melbourne this Christmas. There really is nothing like a cul-de-sac chock-full of Christmas lights to get you in the mood for the Most Wonderful Time of the Year, is there?
Check below for Melbourne Christmas lights in your area, and if you go all out for the holidays, we'd love to hear about it! Let us know in the comments where we can find you or your favourite neighbourhood Christmas lights display.
Where to See Christmas Lights in Melbourne
Tennyson Avenue, Preston
The notion of "go big or go home" is not lost on a few houses in Tennyson Ave - they go very big, at home! Get ready to get in the festive spirit.
Octavia Court, Burwood
With more than 15 years of house-decorating tradition, #11 will be a sight to behold for Christmas 2021! The festive house is usually decked out with lasers, inflatables, a nativity scene, snowman, led Christmas trees, artificial snow, Christmas music and more. Located in a quiet cul-de-sac it is ideal for families with young children to explore.
Rochdale Drive, Burwood East
Not to be missed, this gorgeous light display at number 35 usually boasts a Father Christmas pathway to walk on so you can look at the display up close. Kids will love seeing giant inflatable Santa sitting on an armchair!
Fellows Street, Mitcham
Over 35,000 fairy lights will adorn #35 when they flick the switch this Christmas. There is also a huge inflatable Santa, Sleigh and Reindeer, snowman and gingerbread man. Grab a candy cane as you watch the laser light show and sing along to continuous Christmas Carols.
8 Fellows Street is also rumoured to be jumping on board and putting up Christmas lights in 2021.

Image: Lebanon Crescent, Mulgrave
Lebanon Crescent, Mulgrave
#11 at Lebanon Crescent in Mulgrave usually deck the house with more than 100,000 lights that come alive in Christmas splendour. In previous years there's even been a Polar Express making its way around a track as well as a snow machine, reindeers, animated Santas, musical singing Santas, bubble machines, and more. Number 11 has even won awards for its efforts! This top spot is not yet confirmed for 2021 - stay tuned!
Just a little further down is another king of the Christmas Light race at #41 - also not yet confirmed but well worth a stop-in if they do!

Eames Avenue, Brooklyn
Months of preparation goes into the Christmas lights at Eames Avenue in Brooklyn. While they're not yet confirmed for 2021, everyone is usually invited to come and see the spectacular display at #31. In previous years, the epic walk-in display featured over 100,000 LED rope lights, fairy lights and icicle lights, Christmas snowing musical street lamps and so much more. This display isn't yet confirmed for 2021, but here's hoping...!
The Boulevard, Thomastown
The house at #118 has been a regular family favourite for Christmas lights since 2004, with all proceeds going to the Heart Foundation. This display hasn't confirmed whether or not they'll be going ahead with a 2021 iteration, but it's safe to say we're hopeful!
Langbourne Drive, Narre Warren South
Santa's Toy Workshop, a full front yard of lights, a rooftop display with lots of inflatables, snow, candy canes, and donations to support Make-A-Wish Foundation is how the festivities roll at #116 Langbourne Drive. Although not yet confirmed for 2021, we hope the Langbourne Drivers pull something together for Christmas lights 2021!
Vialls Avenue, Parkdale
If you're in the Parkdale area, head over to Vialls Avenue for some Christmas light sightseeing and you won't be disappointed. Quite a few houses get involved on Vialls Avenue every year and get decked up with oodles of sparkling lights. It's also worth skipping a couple of blocks over to Cedric Street to check out the houses there.
Cooper Street, Sunshine
They've been putting Christmas lights up at #12 for over 20 years now to create Walsh's Christmas Wonderland! Step inside and walk through the gates where there are thousands and thousands of lights, inflatables, a village window, a nativity scene and much more await you! Note: this display is not yet confirmed for 2021 - stay tuned!

Aintree Street, Mooroolbark
Thousands of glittering lights, decorations, giant inflatables, music and more will create a stunning roof display on this Aintree Street residence. If you come on a Friday, Saturday or Sunday, you might also hear Christmas carols.
Tennis Court, Mornington
Sam's Christmas Lights, or as locals refer to them, "Tennis Court Christmas lights" are by far one of the most popular Christmas light displays in Melbourne. Sam is super passionate about his Christmas light displays and certainly goes the extra mile to make sure visitors are left spellbound. Other houses along the court are also usually decorated in bling.
Dalgetty Road, Beaumaris
Melburnians regularly rely on Dalgetty Road to be lit up with Christmas lights displays. #151 usually have a huge display of 500, 000 lights. Walk through the garden to find the amazing window with the Christmas Village. This display has not yet been confirmed for 2021 - stay tuned!
Hoppers Crossing
The Hoppers community really comes together to puts on fantastic Christmas lights display in Melbourne. The Crana Court Christmas lights have been shining bright for the last 20+ years and are worth a visit. Don't miss the amazing displays at Whitsunday Drive, Picardy Court, Hogans Road, Julier Crescent, Gildon Court, Wilson Crescent, Bellbridge Drive and Goates Court. Some of the streets close off to traffic on weekends and busy nights to allow visitors to stroll through and take in the festive spirit.
Other Suburbs with Christmas Lights in Melbourne
Pentathlon Drive and Ann Court, Bundoora
141 Elevation Boulevard, Craigieburn
Meldrum Ave, Mill Park
Morris St, Coburg North
Wirraway Crescent, Thomastown
Oakpark Drive, Chadstone
Devon Road, Pascoe Vale
Vialls Ave, Parkdale
Eugenia St, Doveton
Parkhill Rd, Kew
56 Craig Road, Devon Meadows
60 Hunter Road Camberwell
Hugo Court, Narre Warren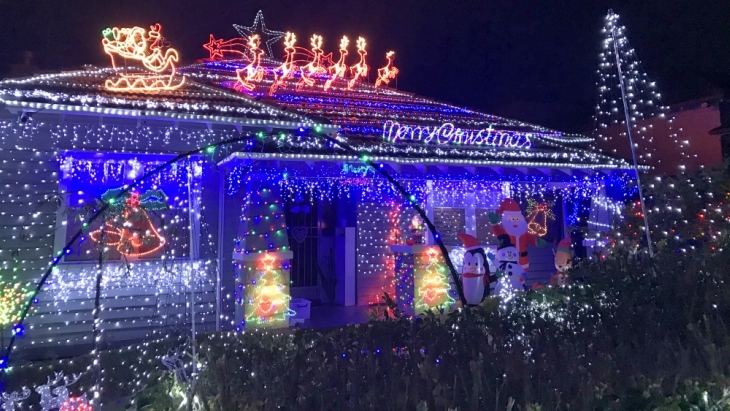 Other festive suburbs where most streets have fantastic displays are Brunswick and Brunswick West, Strathmore (on basically all the streets running north from Woodland St), Doncaster East, Coburg, and Coburg North, Montmorency, Eltham, Heidelberg, Warrandyte, Templestowe, and the Mornington Peninsula.
Keen for More Festive Fun?
The Best Christmas Toys for Kids 2021
20 of the Best Advent Calendars
Christmas Gifts That Give Back

Have you signed up to our newsletter? Join ellaslist to get the best family and kid-friendly events, venues, classes and things to do NEAR YOU!
Main image: Herald Sun
Reviews
10 Hemming Street , Brighton East is a good small display with blow molds and different Christmas display lights. Animated reindeer with Santa in sleigh.
Fantastic display at 10 Pushkin Ct, Doncaster East. Lots of reindeers, penguins, bears. List of 10 things to find in the display.
9 Middlesex Court Cranbourne North - Every year they have a fantastic display, really worth a visit
Vaughan court in Pakenham is very impressive. Definitely worth a look!
Check out leonard street heidelberg heights
This is a great site, thank you for sharing this with us. If you want to add an excellent display to your list there is a house on viney street, Clarinda, each year they add more lights i have no idea where they find the space for them, the house owners are lovely people and they start putting the lights up from September onwards!
Great site. There are also a few more that people in the eastern suburbs might like. Very popular ones are: 29 Kett Street, Nunawading 2 Hibiscus Road, Blackburn North 25 Peter Ave, Blackburn North Southey St, Blackburn North Fellows St, Mitcham 29 Darvall St, Doncaster East Cherry Tree Ct, Doncaster East 96 Pine Hill Drive, Doncaster East 132 Andersons Creek Road, Doncaster East 9 Edwin Road, Templestowe
The ones in Edwin Rd, Templestowe are also very good.
60 hunter road Camberwell!!!