Best Holiday Parks and Resorts for Kids Around Melbourne
Mums & Bubs
Toddlers
Preschoolers
Kids
Family
All Ages
Camping with kids can be an absolute nightmare, or it can be some of the coolest, best ways of bonding with your fam.
Fortunately for us, Victoria has some fantastic holiday destinations (budget-friendly, too!) who cater for parents and kids - and sometimes even pets - and which are super-close to Melbourne.
Here are 6 of our favourite places to set up camp whether that be on a site or in a cabin.
1. Big4 Bellarine
The Big4 at Bellarine is 100% kid-focused, and their aim is to revolutionise the way families holiday with kids.
The campsites are enormous, the cabins comfortable, there is the jumping pillow that just about every kid is obsessed with, cool pools, playgrounds, sandpits, basketball court, gyms, family bathrooms, just about everything you could possibly need for a camping trip where you don't have to bring everything plus the kitchen sink.
Find them: 1801 Bellarine Highway Marcus Hill Victoria
Phone: 1800 455 591
Image Credit: Big4 Bellarine
2. Cumberland River Holiday Park
For the nature lovers, Cumberland River Holiday Park is nestled along the water's edge, with are plenty of cabins and safari tents on offer, and the rest of the 95 campsites further away in the gorgeously scenic valley where mountains meet the cliffs.
Spend your days exploring the Castle Rock and Langdale Pike lookouts, hike the walking trails through the Great Otway National Parks, or take your pick of waterfalls: you're right near Cumberland, Kalimna, and Erskine Falls.
If it's a swim you're after, dip into the Cumberland River swimming hole or the nearby surf beach, or try your hand in the trout stream or fishing off the rocks.
The park has two amenity blocks (the showers require 20c for 5 minutes of hot water), washing machine and dryer, pay phone, playground, free BBQs, washing up sinks with HOT AND COLD WATER (now is that camping luxury or what), half-barrel drums at campsites for your own campfire with hotplates available for hire to turn them into your own BBQs, and a super-well-stocked on site shop. If you find yourself missing something or just want to eat off real plates, Lorne and Apollo bay are close by and full of great things to see, do, and eat.
Pet-Friendly: Crystal Brook Tourist Parks accept pets as part of the family.
Address: 2680 Great Ocean Rd, Cumberland River
Phone Number: (03) 5289 1790
Website: cumberlandriver.com.au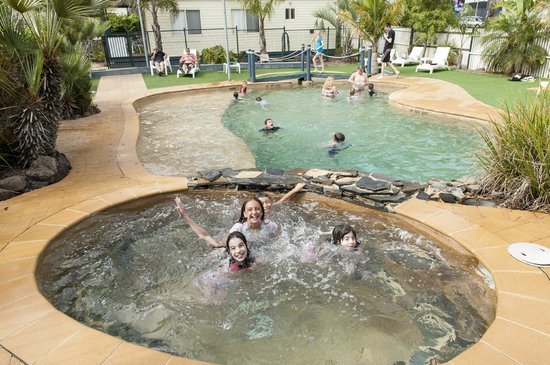 3. Torquay Holiday Park, Torquay
Tons of fun is yours at the Torquay Holiday park - not only is the accommodation clean, comfortable, and big enough for families, but the entertainment is epic - the ubiquitous jumping pillow, pools, spa, games and tv room, BBQs, playgrounds and even a cricket net and mini golf!
You're right near larger adventures too - head to A Maze'n Games, Adventure Park, the Bellarine Railway, Cape Otway lighthouse, or go to the beach, ride a horse, or even go skydiving.
Address: 55 Surfcoast Highway, Torquay VIC
Phone Number: 03 5261 2493
Website: www.torquayholidaypark.com.au
4. Big4 Ballarat Goldfields
For history buffs, this is such a great spot to mix family fun adventure getaways with the historical goldrush era environment - it's only 300m from Sovereign Hill.
Accommodation-wise, you've got a choice of cabins or powered/unpowered campsites, and entertainment-wise, Big4 Ballarat Goldfields is a veritable goldmine! Adventure playground, pedal bikes, pool, a manmade toddler beach, jumping pillow, indoor playland, kids movies, and even a giant chess board!
Awesome things to do in Ballarat history-wise include Kryal Castle, walking tours, the Ballarat Gold Museum, Museum of Australian Democracy, Prime Ministers walk, and memorial wall project - also check out the sculptures in the Ballarat Botanical Gardens.
Address: 108 Clayton Street, Ballarat
Phone Number: 03 5330 8000
Website: ballaratgoldfields.com.au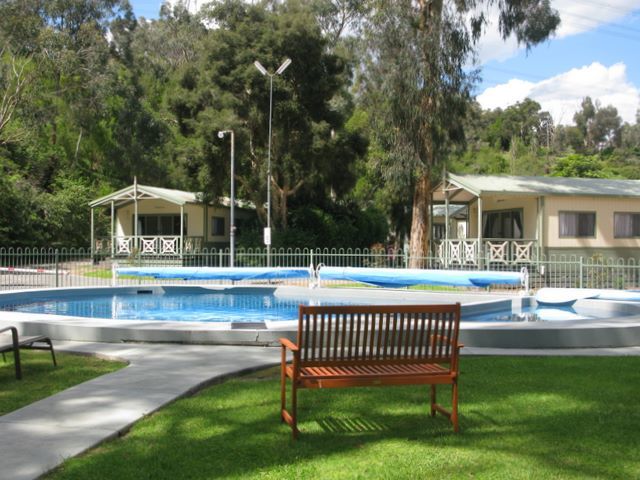 5. Crystal Brook Tourist Park, Warrandyte
Deluxe villas! Pet-friendly cabins! wildlife! indoor and outdoor (aka summer and omg we're camping in winter) kids' entertainment! Crystal Brook Tourist Park has absolutely set themselves up as a family camping oasis.
Bless them, they have even heated their outdoor BBQ areas... absolute genius.
Address: 182 Heidelberg-Warrandyte Rd, Doncaster East, VIC
Phone: 03 9844 3637
Website: www.cbtp.com.au
6. Bluegums Riverside Holiday Park, Eildon
For those who love packing a bag and having everything catered for at the other end, Bluegums has got everything you need to camp with a family (and even the furry canine family member!). Grab a one or three-bedroom cabin with fully equipped kitchens, aircon and heating, TVs and DVD players, or for the more getting-back-to-nature kind, there are powered and unpowered camping and caravan sites.
Facilities include three amenities blocks and family bathrooms, and you'll also find a family recreation room, camp kitchens with gas BBQs, two laundries with washers and dryers, basketball hoops, volleyball nets and two swimming pools. If you run out of necessities, you can also get ice, gas cylinders, wood and fire drum hire in addition to a fully-stocked convenience store.
If you can tear yourself away from this family camping kids' paradise, there's also kayaking, canoeing and rafting in the nearby Howqua, Goulburn and Delatite rivers, or boat, fish and swim in Lake Eildon. Hike the Alpine National Park, The Mt Stirling to Mt Buller Trail, or try your hand at horse riding in the High Country.
Address: 746 Back Eildon Rd, Eildon
Phone Number: (03) 5774 2567
Website: bluegumsriversideholidaypark.com.au